It is important to note that "A Beautiful Day in the Neighborhood" is not generally even about Fred Rogers, or even a behind-the-scenes retelling of his beloved public television show "Mister Rogers' Neighborhood", in fact it isn't even really a conventional biopic. "A Beautiful Day in the Neighborhood" is a candid afterword to a distinguished icon, a journalist story that becomes a therapeutic study of acceptance and kindness from one of America's most revered TV personalities.
Dramatizing and even fictionalizing the 1998 Esquire interview of Fred Roger's (Tom Hanks) by troubled fictional columnist Lloyd Vogel (Matthew Rhys), Marielle Heller's (Diary of a Teenage Girl, Can You Ever Forgive Me?) third-feature film is an affectionate loose-adaptation of Tom Junod's Esquire profile of Fred Rogers, in which Vogel is easily the stand-in fictional character for Junod, Heller's latest film loads the encounter with deep sincerity and honest pathos.
The focus in the film mostly consists of Lloyd as we are invited to tap into his deep flaws that lead him to ultimate character growth. At first we see Lloyd as a cynic, a skeptical and workaholic journalist who is disconnected from everyone around him, including his wife and newborn son. While much of the film is fictionalized in these details, real-life journalist Junod has admitted that he has had his own family complications and the portrayal of Lloyd and Rogers certainly reflects the friendship he had over the last five years of Roger's life.
Tom Hanks is absolutely wonderful here as Mr. Rogers. With complete delicateness, Hanks hones the performance in a very genuine and honest way that never feels manipulative or too glorified. Hanks captures the two facets of the legendary icon. There is Mr. Rogers, the celebrated celebrity of a children's program, and there is Fred, the husband, father, pastor, and friend that the world wasn't too acquainted with. Hanks brings great empathy to the role here, by never turning down any interaction with any fan, he also listens, observes, and reassures with each declarative stride for a friendship with Lloyd. Eventually, Lloyd discovers that Mr. Rogers is every bit as considerate and soothing as his TV persona; Rogers ends up becoming the key for Lloyd's own transcendence that his fractured soul needs, as he holds trauma and heated exchanges with his estranged father, Jerry Volger (Chris Cooper). The interview sessions end up becoming therapy sessions for Lloyd as Mr. Rogers counsels him with all of his gentle approaches that he uses on his TV show. It becomes evident where the movie is going, and even more predictable that Roger's props and puppets from the show will be utilized to tap into Lloyd's repression and wounded psyche.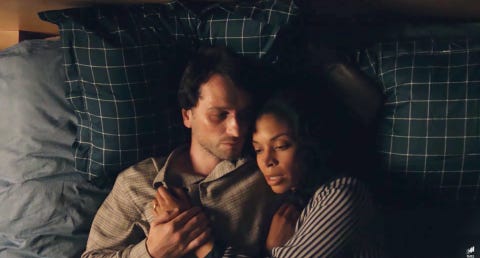 Despite getting a little too cloying and sentimental in some areas–including a moment of passengers singing his theme song out loud. However, director Heller does her best at preventing it from being a schmaltzy mess. "A Beautiful Day in the Neighborhood" actually ends up holding some complex layers as it challenges the pre-conceived notions of Mr. Rogers own persona. "How does it feel to be married to a living saint?" Lloyd politely asks Roger's wife, Joanne Rogers (Maryann Punkett), in a key moment in the film she informs him that he also holds anger issues, challenges, and other complexities that the public will never be familiarized with. Lloyd quickly realizes that Roger's also holds his own complications and challenges.
The on-screen chemistry between Hanks and Rhys is truly affecting, and it's commanding how Heller prevents it from getting too boggled down with sentimental trappings and detours. Heller also makes the material aesthetically creative by shrinking the "Mister Rogers' Neighborhood" to a 4:3 aspect ratio that adds a sense of authenticity. The film even uses other creative stylistic devices that feel fresh and unique, including the introduction of Hanks doing the routine introduction of Mister Rogers's switching jackets, shoes, and singing his famous theme song. Rogers reveals a photo of a literally bruised up Lloyd, and what led to his personal anger and traumas. This may be a kind film, but it's every bit as an intricate one.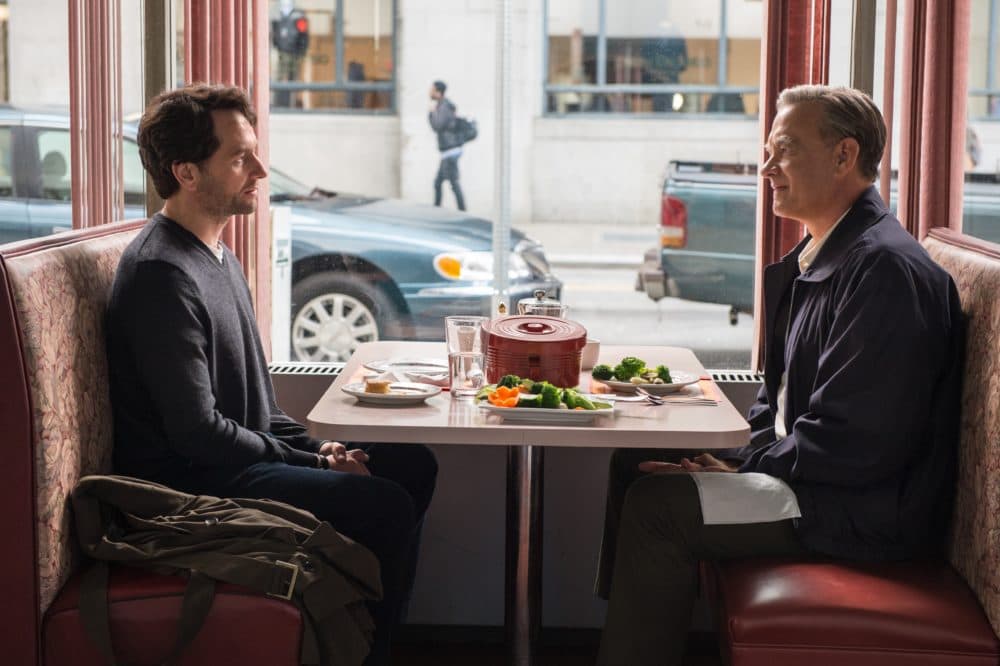 Just as Morgan Neville went to great strides in playing tribute to Mr. Rogers in his moving 2018 documentary "Won't You Be My Neighbor", Heller and screenwriters Noah Harpster and Micah Fitzerman-Blue also capture the principles and essence of Fred Rogers. It is quite surprising and rather relieving in just how Heller and her creative team made it as layered and unique as they did. Also, Tom Hanks here truly rejuvenates the film into a wonderful tribute not only to Rogers, but to the healing power of kindness and empathy.