More memorial and a laugh-fest than a concert movie, this is a spirited chronicle of the memories and reflections from the Beastie Boys surviving members, Michael Diamond and Adam Horovitz in Spike Jonze's "Beastie Boys Story" which took place in front of a live crowd in May 2019. Diamond and Horovitz take the live audience to their punk and hip hop influences to its roots, exploring the origins and giving vivid insights whose controversial lyrics, songs, and personas made an uproar in their stark rise into fame in the music industry.
We watch Mike Diamond and Adam Horovitz give personal details in what led to their success, as they also discuss the late Adam Yauch as well as being represented by Def Jam executive Russell Simmons who saw instant opportunities in the young kids because the demand for white rappers was a success ready to occur, and it surely happened quite quickly. The film gives a soulful, conscious side to the Beastie Boys love and passion for hop hop. The film keeps things lively, with wit and banter on camera, punctuating the acts with archival footage and gags, while Jonze always maintains the viewers interest, focusing as much on Adam and Mike"s charm and wit, and behind the scene insights.
Jonze does allow the material to meander, as some of the pacing suffers passed the one hour mark, and the film and presentation could have benefited from some fun acts or two. The material and personal insights triumph throughout, and it would have been great had they performed a live song together in tribute to Yauch, even if they hold a principle of never performing again.
The Beastie Boys could have just become a "one hit wonder" type of band as their first pop hit, 1986's "Fight for Your Right," became an instant smash hit on the billboards. The best explorations of "Beastie Boys Story" is the growth this iconic band endured from their youth until their adults, not just in their music, but in character too. The band started off rowdy with their misogynistic spectacle of go go dancers and an air penis, in which they eventually led to them getting exhausted from playing the same music over and over.
Their style from their debut album "Licensed to Ill" was very novice with basic metal riffs and minimal beats, which led to them improving and experimenting, with far lesser success with their sophomore album "Paul's Boutique" which was a commercial flop that would later to be hailed as their masterpiece as years passed by. At this point their music had a wide range of different styles and samples, which led them back to their punk influences with the early-'90s hit "Sabotage" that put them back into relevancy.
The music video of that song was also directed by Jonze as this is billed as a "live documentary audience,"  as the duo of Diamond and Horovitz  also run through their history with bullet points which holds a lot of regrets and melancholy in how they felt during their first live shows. They ultimately transformed themselves into the beer-frat boys they used to mock in their album "Licensed to Ill," as they reveal how the record executives refused to pay them their royalties from the success of their first album that they spent years and their livelihoods creating.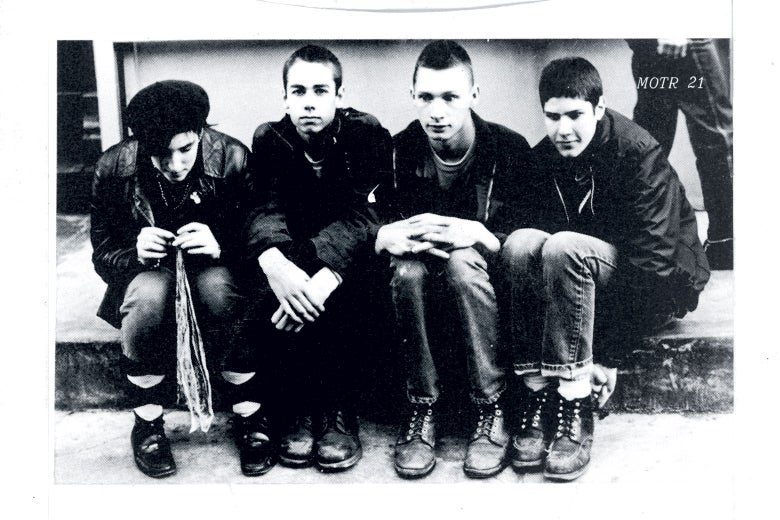 The live concert film is inspired by the book "Beastie Boys Story", in which Diamond and Horovitz published a collection of essays from friends and music critics that also examined the band's fascinating history with photos and prose. "Beastie Boys Story" holds up to the task of being a compelling watch. One of the highlights of the film is when it examines the original drummer Kate Schellenbach who was eventually phased out of the group for being a girl. This shows the attitude towards women in an era that viewed females more as a sex objects, and that their egos couldn't allow a girl to be in a group with "Boys" in their name. They also criticize and regret writing the song "Girls" that certainly holds chauvinist attitudes. This is how the Beastie Boys make reconciliation for their sexism.
The Beastie Boys broke apart in 2012 after the death of its founding member Yauch. As the film examines, Diamond and Horovitz  pay great respect and melancholic tribute to Yauch who they admit was the driving force of who and what they are today, both spiritually and artistically. The Beastie Boys ended up making amends with their art, in which the documentary points out Yauch was confronted for being a hypocrite after he stands up for women in the 1994 "Sure Shot" in which Yauch refuted "I would rather be a hypocrite than the same person I was before."
The Beastie Boys ended up getting a lot more wiser over the years, as they drifted away form hedonism and more towards advocating for progressing humanity forward. Adam converted to Buddhism and developed a friendship with the Dalai Lama, which led to being an activist for peace over bloodshed during China's rule over Tibet which elevated the band's public image in the 90s. The third act of the film becomes an outright tribute to Adam Yauch, to his role of a great activist, collaborator, and most importantly a friend. The film becomes mournful and therapeutic as Diamond and Horovitz open up and reveal their repressed emotions and grief.
Though Jonze defies conventional shot composition and blocking, with a few reaction shots from the crowd, inter-cut with archival footage, there is a sense of space and timing in the film that unravels well with the way it flows and connects together. Between Jonze,  Diamond, and Horovitz  examine the healing power of art and the relationship between music and friendship. The end result is very absorbing and undeniably moving.