After it's unprecedented global success of "Borat," Sacha Baron Cohen's iconic character went onto to be celebrated in pop culture around the world. A cartoonish stereotype, the Borat character was a pure embodiment of American's own bigotry, as well as a reflection for the rest of the world. The thick mustached Kazakh journalist whose hatred, misogyny, sexism, anti-Semitism, and xenophobia made for great satire as it became a memorable modern comedy classic. The film was such a success that Baron Cohen had to retire the character as we never had any sequels or even any appearances of him in is TV series "Who is America?"
Now, with complete uncertainties plaguing our nation's future near the end of Trump's first term in office, with America fatigued from the COVID-19 global pandemic as the country is deeply divided, and massive misinformation and far-right conspiracy theories running amok,  the return of Borat is coming at the most urgent moment. Just like Michel Moore never anticipated making a sequel to "Fahrenheit 9/11" with "Fahrenheit 11/9," Sacha Baron Cohen probably had no idea he would ever return to his amusing alter-ego with his 14-year-old sequel "Borat Subsequent Moviefilm" that is now streaming on Amazon Prime.
Recently fresh off the Netflix streaming hit, "The Trial of Chicago 7," who delivers a highlight of a performance that has the potential of paving him an Oscar nomination, Cohen returns as the TV reporter from the nation of Kazakhstan. Just as he always does, by blending his fictional character and narrative with reality, we see all the uproariously funny pranks and "punks". Everything from Cohen infiltrating  a Pence speech at a conservative convention with both a KKK hood and robe where he instantly takes it off inside the bathroom to put on another costume as he disguises himself as Donald Trump, to an anti-lockdown protest where he gets the crowd to chant racist and anti-Semitic with an improvised country he performs criticizing President Obama. This highlight of the stunt goes to show that America hasn't changed much since Baron Cohen's last satirical target with his original "Borat" film that satirized Bush's America in 2006.
While nowhere near as revelatory or hilarious as the first, "Borat Subsequent Moviefilm" still succeeds as a sequel on its one. Baron Cohen reveals how American politics have gotten even darker and uglier since the Bush years, as this is pointed out how real American's spread baseless conspiracies that Hillary Clinton drinks the blood of infants, and other QAnon online conspiracies and hatred of Democrats. "Borat: Subsequent Moviefilm" unravels as a time capsule of our time that lives up to its reputation of offering one audacious set-piece after the other.
Shot, impressively, during the earlier stages of COVID-19 that divulges how the novel virus impacted the world, we start off with Borat explaining how his "documentary" became an instant hit, yet Borat was sentenced to labor camps and gulags by the nation of Kazakhstan after his movie made his native country a laughing stock in the world. Borat is eventually released from prison in 2020 by Kazakhstan's minister of propaganda and assigns him to travel to America again so he can gain trust of the USA's new "premiere," "McDonald" Trump by bribing him and Mike Pence with the gift of a monkey.
Once Borat is released from prison, he children have grown older, and he even has a teenage daughter, who wants to be just like Melania Trump. Once she ends up traveling by ship with her father, and the monkey disappears, Borat ends up getting the idea of making his daughter, Tutar (Maria Bakalova), a bribe to hand off to Donald Trump instead. In order for this to work, Tutar is recommended to get a makeover and how to become attractive as an American girl. This subplot gives the film some heart along with a message about female empowerment and self-discovery–along with many other visual gags of Tutar and Borat traveling the country and having hilarious encounters with many others that are hit-or-miss. The best one involves Tutar accidently swallowing a tiny plastic baby figure on top of a frosted cupcake. Borat ends up taking her to a female clinic in Texas where he states "I put a baby inside my daughter, and I need you to take it out."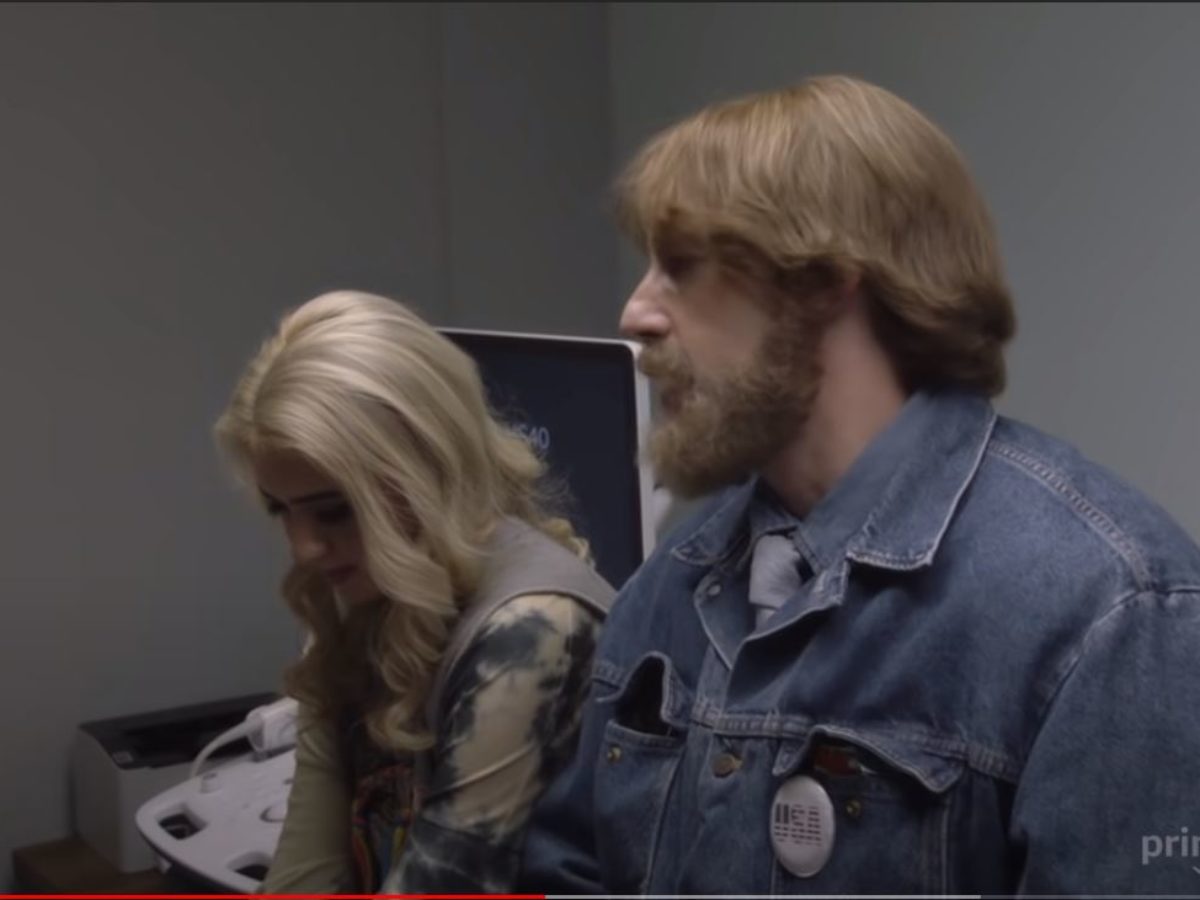 The most brimming satire in this film comes from the film's commentary on the region of Eastern Europe. Directed by Jason Woliner, Baron Cohen and Woliner examine how this is a region where Jeffrey Epstein supposedly purchased a young woman, and where Epstein introduced Donald Trump to Melania. The themes of the abuse of women by powerful and wealthy men remain the primary satirical mark throughout the course of the film. The most heart in the film comes from Tutar's self-discovery of womanhood after she is encouraged by a "babysitter" (Jeanise Jones)–a woman Borat hires to watch over his daughter while he ventures out to make more money for Tutar's breast implants that he hopes to impress Rudy Giuliani–once Jeanise convinces her that she is in fact beautiful and doesn't need plastic surgery: "You're pretty and you're young and any man should like you as you are." You shouldn't wanna be anyone else but yourself." This leads Tutar to contemplate her own idenity before she is sold off as a "gift" to Rudy Giulani.
Sadly, once the bit with Rudy Giuliani did deliver as much because it's already been over-reported on social media and on cable news before the release, the gag would have been far funnier had I not known going in what to expect. Still, "Borat Subsequent Moviefilm" is still highly satirical and reveals America's discrepancies and dysfunctions, but it also showcases the great traits America has to offer including human progress and unity. Even the Trump supporting pals Borat becomes friends with hold moments of empathy after they are repulsed to learn how Borat's "nation" treats women. While the film is a timely reminder on the current relapse of America, and how Trump's indoctrinated followers put politics and division over public safety during a pandemic that is sadly being politicized, and the churning double standards that circle around Trump.
Baron Cohen once again succeeds in creating an uproariously comical and essential satire that has a twist ending that is beyond cleverly hilarious. It's a film that will surely generate hard belly laughs with its combinative political nature that unravels with heart and spirit. Done both with slapstick and idealism, "Borat Subsequent Moviefilm" is a timely snapshot that expertly examines the truths of all the handwriting on the wall during this chaotic Trump era.