Familiarly conceived but a highly amusing satire about a self-defense women's club for unpopular misfit females who have been ostracized by their classmates and faculty.  Emma Seligman's (Shiva Baby) sophomore feature Bottoms certainly benefits from an amusing performance by co-writer and lead Rachel Sennott as PJ, the ebullient and bullied teen who leads the self-defense group with her best friend Josie (Ayo Edebiri), who together form the group to combat bullying, intimidation and other forms of toxic behavior that occur in the high school. Taking a page or two from John Waters in terms of satire and tone, Bottoms will certainly follow Waters path as a cult movie in the making.
Conceptually, Bottoms has a familiar execution where the characters are overly crude and mean-spirited to each other in hyperreal ways. The shtick has been done before with the works of Waters, Gregg Araki, and Hal Hartley, and the result here would probably make each of those filmmakers proud. The film is certainly a queer riff on high school teen movies like American Pie and Superbad, where the characters make pacts to get laid. Seligman plays with these tropes with a fresh voice and insights that never lose their comedic momentum or razor-sharp edge. The result is a smart dark comedy that subverts and combats all at the same time. It also pays tribute to the power of friendship, female empowerment, standing up to bullying, and staying true to oneself. done all in a very absurdist, satirical fashion.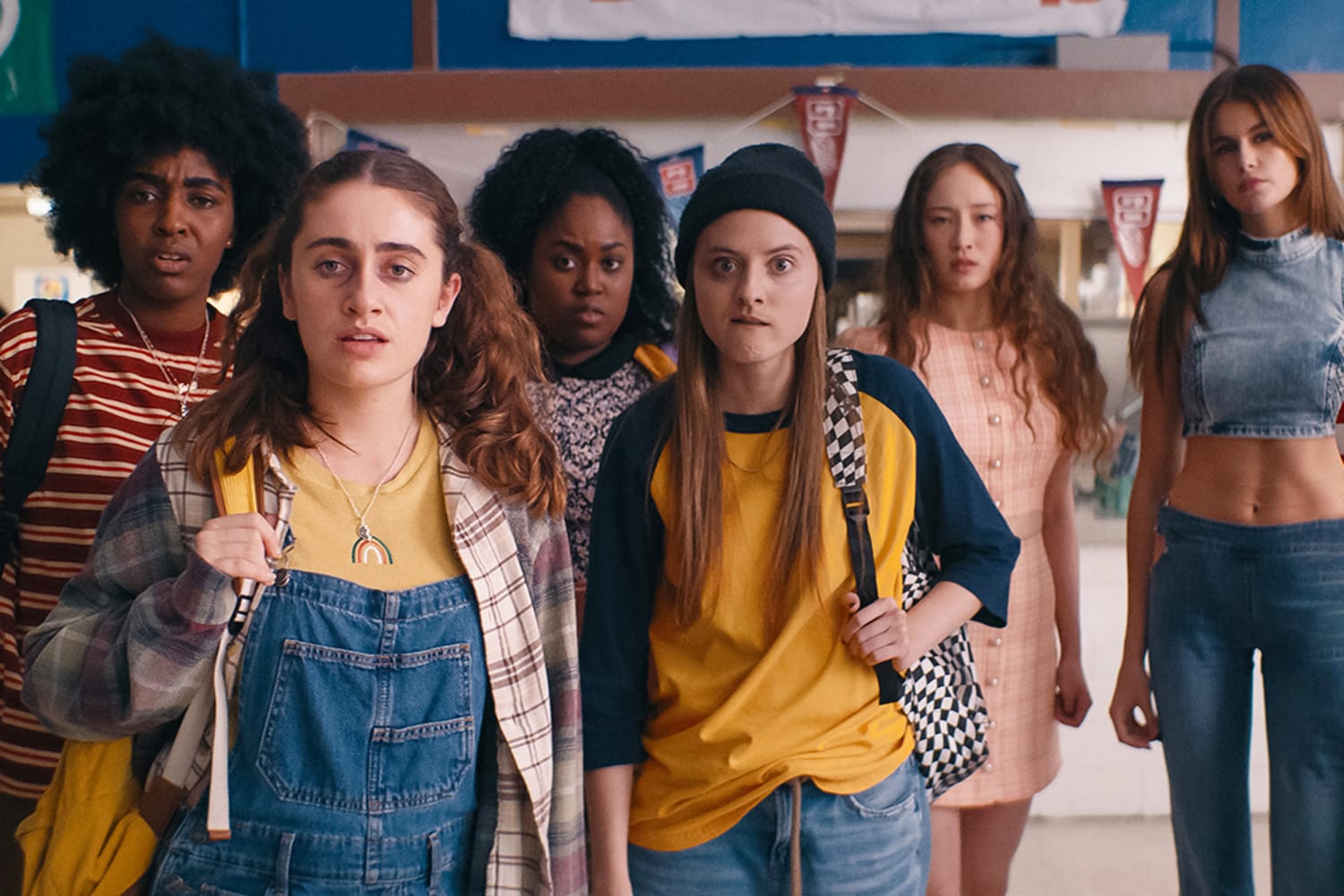 Like Superbad, we are introduced to the best friend duo of PJ and Josie, who are outcasts in their high school. Not because they are gay, but because they are labeled "ugly and untalented gays," as the good-looking gay classmates hold friendships with the popular students. They are both intent on losing their virginity before they graduate and head off to college. With a rumor spreading that both PJ and Josie spent some time in juvenile detention, they end up feeling like bagasse's because of the rumor. To impress the school's cheerleaders they have crushes on, they end up starting their own self-defense fight club, especially after Josie notices Isabel (Havana Rose Liu) getting into a fierce argument with the school's star football player Jeff (Nicholas Galitzine), who thinks he is very kind and sensitive when he's anything but.
PJ has a long crush on Isabel's fellow cheerleader friend Brittany (Kaia Gerber, daughter of 90s model Cindy Crawford), who is very tall and beautiful but just follows Isabel around. As the relationship between Jeff and Isabel intensifies, Isabel, along with her shadow Brittany, finally joins the club, and PJ and Josie feel the club is the perfect opportunity to move in on their high school crushes. Meanwhile, the film gets even more hilarious as PJ and Josie go to their social studies teacher, Mr. G (former NFL star Marshawn Lynch), to be the class's faculty adviser. Lynch is quite hilarious in this, giving bad advice and eventually solid wisdom when the time is right.
Bottoms satirizes high school movie stereotypes while having fun embracing all the cliches. PJ and Josie end up getting framed by the football players as looking like "players" who just started the self-defense club for other motives. But the hyperreal style and tone end up finding some surrealism along the way. The film also works with the comedic duo of Sennott and Edebiri, who deliver fresh chemistry with uproarious laughs.
The film eventually takes a detour away from feeling like But I'm a Cheerleader and finds itself feeling like Heathers. It goes into some dark places as the women's club members open up about some of the men they have been abused by, from jealous ex-boyfriends to abusive stepfathers and talkers. They also open up about sexual abuse, suicide, and other anxieties. There is some thoughtful social commentary that is merged with the social commentary.
While not all the humor works, the film is still a riot and breezes by with its 92-minute running time. As she did with Shiva Baby, Seligman knows how to deliver a film with edge and wit. She knows how to shock and amuse, and Bottoms becomes an exploration of friendship, female empowerment, and how to fend off toxic tormentors.
Bottoms is now playing in limited theaters.