Often message movies about environmental issues can become heavy-handed, yet "Dark Waters", the eighth feature film by acclaimed director Todd Haynes (Far From Heaven, Carol) unravels itself in a sophisticated and engrossing way that never feels too preachy. The film features Mark Ruffalo as a successful lawyer for a reputable law firm that represents chemical companies who arrives back to his hometown, where he will have to decide where his principles lie.
Ruffalo who also served as a producer on the film, along with Haynes and screenwriters Mario Correo and Matthew Michael Carnahan have created an essential film for today's landscape. While there has been a substantial amount of coverage of the environmental issues and concerns regarding dangerous chemicals and high levels of fluorides in the water, "Dark Waters" hopes to remind audiences with its moralizing reflections on the threats and dangers of water contamination.
Robert Bilott (Ruffalo) is a corporate lawyer. Raised in a small town in West Virginia, Robert initially believes that his firm represents public and corporate interests equally. The firm he works for is in Cincinnati, and while things are starting to look upward for him, he gets a sudden, unexpected visit at his office by a farmer from his home town, Wilbur Tennant (Bill Camp). Tennant, who is an old friend of Robert's grandmother, wants Robert to investigate what has been killing the cattle on his ranch. Out of curiosity, Robert returns to his home town and is deeply disturbed and puzzled by what he witnesses.
Robert decides to take matters into his own hands, and carries on with an investigation that puts him at odds with his own law firm that is headed by Tom Terp (Tim Robbins). During the investigation he discovers that it is not only animals are getting severely ill with cancer and other diseases, but people as well. Even newborn infants are being born with grotesque birth defects. After months and eventually years of research, he discovers the existence of a furtive chemical that the mega corporation DuPont is pouring into the local water systems. Robert's determination of Dupont's schemes and legal work takes years, and it ends up potentially undermining his marriage to his wife Sarah (Anne Hathaway) and putting his own health at risk from the overload of stress he endures. But Robert is passionate and knows that the stake of a whole community's environment and health could be in peril.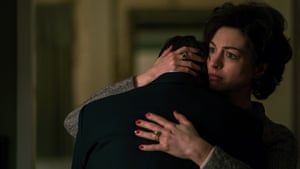 The story becomes a true-life Frank Capra style procedural thriller that is very much in the vein of such films as "A Civil Action", "Erin Brokovich", and "Spotlight." Yet there is something very genuine in Haynes' approach. There is nothing crowd-pleasing about the film, and it avoids being a manipulative Oscar bait movie. There is no speechifying about the little guy, no sentimental trappings, and Haynes even stages the scenes with minimal flash and pizzazz. The real showcase here is Haynes' direction, who is best known for his eloquent masterpiece melodramas like "Far From Heaven" and "Carol" that stand out with their exquisite and vibrant colors. Yet if you look at his earlier films, he has dealt with illness before with "Safe", a 1995 film starring Julianne Moore as a woman enduring her own anxieties of an unknown and unnamed environmental illness.
These commonalities are found in "Dark Waters", and Haynes brilliantly delivers the film with the same unease that was found in his previous works. Haynes, along with cinematographer Edward Lachman, use an absence of colors in this film by utilizing muted grays, cloudy exteriors, and dark blues that heighten the film's unsound and unhealthy surroundings.
What is commanding here is how Haynes and his collaborators avoid trite clichés that often plague this genre. Ruffalo as Bilott isn't some warrior for justice; he is a man that is more interested in the procedures of evidence and facts. You feel his solitude in his David v. Goliath battle against DuPont. The supporting cast of "Dark Waters" is also impressive in how Haynes sheers them away from cardboard stereotypes and routine archetypes. Robbins as Tim Terp begins skeptical and at odds with Robert, only to grow and learn from the evidence that is presented to him. Robbins delivers the film's most empowering and rousing speeches that never feel forced or glorified, but potent. Hathaway also delivers stark dramatic weight for her role that prevents her from being the typical supportive wife that is often pushed to the sidelines. Bill Camp is also first-rate here as the farmer who witnesses his whole livelihood as a farmer deteriorating from the toxins the DuPont Company created. There is a particular anguish and heartbreak to this character that is chilling and shattering.
While the film is about 20 minutes too long and the script loses its dramatic momentum in the third act, there is great empathy to be found in Bilott's fearless courage in finding his true moral compass as he rises to battle a huge corporate giant that puts its own interests over that of a community. There is no winning here–the environmental damage is irreversible, the ground and water is already polluted, and no amount of money can ever reverse the public health implications that have already occurred. While predictable, "Dark Waters" remains a riveting piece of activist cinema that will hopefully provoke debate and bring some greater oversight.