Shia LaBeouf, the former child actor, former teenage heartthrob who once starred in mainstream Hollywood blockbusters, who then became a more serious artist, in which he co-starred in Andrea Arnold's 2016 masterpiece "American Honey"–which was the performance of his career–is back at his independent filmmaking inclinations with "Honey Boy". A very personal and meta film to an original screenplay that LaBeouf wrote is indeed very remedial. Interestingly enough, he could have just directed it like many actors do, but instead, he gave it to music video director Alma Har'el. LaBeouf agreed to cast himself to play a version of his own father, which led to a lot of battered and contused moments that are a reflection into LaBeouf's own psyche and trauma.
It's quite a fearless effort, and LaBeouf goes full force in embodying the torment and complexities his father holds. LaBeouf even goes so far to wearing deep prosthetic devices that changed his speech and mannerisms, one could dismiss this as feeling too gimmicky and overly stylized, yet the creative choices bring a lot of dimension and verisimilitude that is needed for the character and role. The devices allow LaBeouf to hinder his breathing, implying there is severe drug abuse and cocaine addiction. "Honey Boy" is a part coming-of-age story about a young actor breaking out and becoming a child star that endures his own psychological collapse once reaching adulthood, "Honey Boy" gallops with its recollections and memories of a wounded soul, summoning a vivid sense of trauma that folds an abused and violated personality.
There is something more to be found here than just being a catharsis on LaBeouf's life and struggles growing up as a child actor. This is almost like a 90 plus minute therapy session that uses the visual medium as its canvas for LaBeouf to express his anguish in a personal and equally engaging matter. It also allows Har'el to innovate her visual style more that is very apparent in her music videos. Very fictionalized and equally accurate in its raw details about the leap to movie stardom during childhood, "Honey Boy" also examines the corollaries of drug abuse, as well as being an inquiry of who LaBeouf's father really is.
The film's protagonist here is Otis Lort (Noah Jupe at age 12, Lucas Hedges at age 22), while James Lort (LaBeouf) is the father. James is a former rodeo clown who gets paid by his pre-teen son's movie talents, who also holds legal guardianship of Otis. This status undermines their father-son relationship which begins of James becoming an empowering father figure, who quickly fades into a strict and even abusive father that is rarely the father that Otis truly yearns for.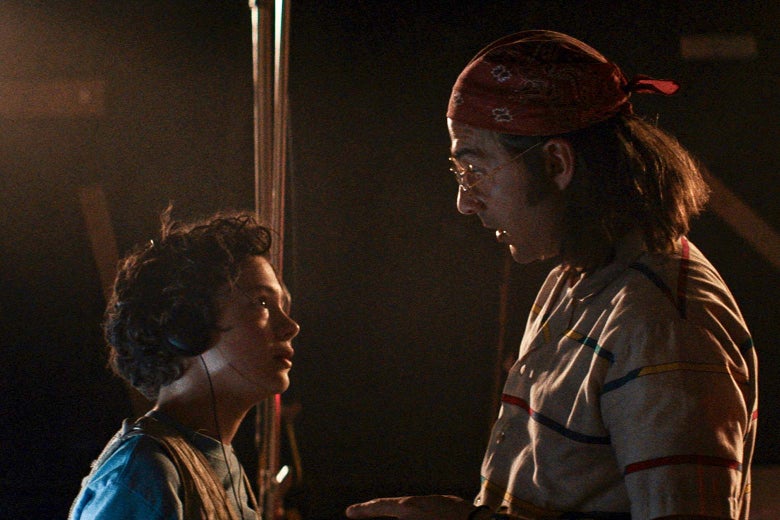 In and out of rehab, 10 years later, an older Otis begins to unravel the torment and agony he experienced with his father. The moments that ensue are complex and a deeply moving form of therapy. Har'el along with cinematographer Natasha Braier shoot the film with a visual vibrancy and dreamy quality that makes it aesthetically rich. Har'el along with LaBeouf's script gives it great service while making the audience feel a variant amount of emotions that are funny, tragic, and even inspirational.
The scenes involving the younger Otis are far more compelling, it's the focal part of the film that is the coming of age and even behind-the-scenes story of Otis and his father being on film sets and residing in rickety hotel rooms. Otis even has an encounter with a misfit friend in the motel community played by musician FKA Twigs, in which their moments together hint at being intimate and potentially sexual. It's a sharp observation how Otis's innocence is being vanished as he also puffs on his father's cigarettes that James also encourages. It also helps that LaBeouf truly delivers a first-rate performance that deserves some Best Supporting Actor Oscar consideration. James isn't a one-note villain here either; his character holds a lot of layers and complexities. He also isn't entirely redeemed either, it's left more observational and ambiguous during the films conclusion.
While the film tends to lose narrative momentum as the story continues, and the scenes of Lucas Hedges aren't quite as resonant as the latter half, you can't deny just how personal and meditative the catharsis is here. In the end you can empathize with the potential pain and despair LaBeouf went through. It's commanding just how fearless and affectionate LaBeouf is in allowing cinema be the mirror into his angst.