Indeed superior to something dull like "Bohemian Rhapsody", but also nowhere near as complex as something like "La Vie En Rose", or as innovative as Todd Haynes "I'm  Not There", and not even as delightful as something like "Stan & Ollie", Rupert Goodle's "Judy" is another standard biopic that doesn't feel fresh, as it takes a lot of the mundane and typical biopic trappings and melodramatic detours. Yet again the film is anchored by a magnificent performance, this time by Renée Zellweger as Judy Garland.
As with most biopics, this is the extended problem in which the lead performance is always Oscar worthy. Zellweger brings a lot of charm and pathos to the role of Judy Garland, and she has the range and the correct amount of emoting to pull of Judy Garland's singing talent and torment. Zellweger currently in front-runner status for next years Oscars, with a few more performances to process that include Alfre Woodard in "Clemency", and Charlize Theron as Megyn Kelly in the upcoming "Bombshell". Zellweger has won the Oscar before for her over-the-top and borderline campy performance in Anthony Minghella's "Cold Mountain", and she just may win her second Oscar for this role.
Zellweger certainly can pull off renditions of Garland's songs, yet her voice doesn't quite recapture the ambiance, yet Zellweger indeed captures the notes, spirit and traits quite well. Let's not forget that Rami Malek won last year for "Bohemian Rhapsody", and he sounded nothing like Freddie Mercury, and he won by lip-syncing Queen songs. Here, Zellweger sings all the songs herself, and her voice has always been wonderful. Remember the 2002 musical "Chicago"? It's overall a commanding and stirring performance that is certainly worth praising.
Overall the performance is filed with great complexity, raw emotion, and torment that still has the Zellweger mannerisms, yet she brings enough charm and remorse to the performance that make it uncanny. Zellweger's likability and charm here navigates the audience through the movie, which is set in the year 1968 as Garland travels to Great Britain to re-invent her career with a itinerary of sold-out live shows at a music theater.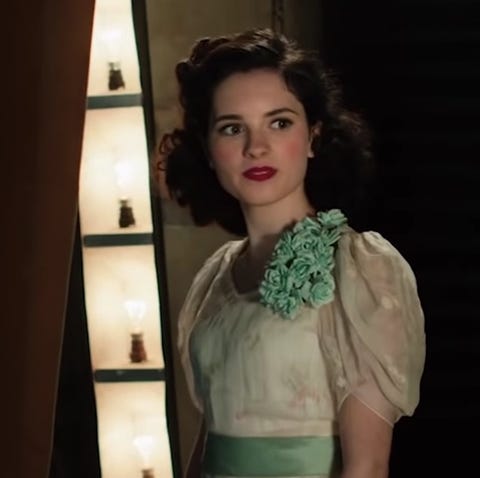 One of the more tender scenes in the film revolve around a gay couple, who are massive Judy Garland fans that have saved up earnings to attend her shows, are pushed to the sidelines until the finale. The film also just wastes too much time in the cold and uninteresting subplot involving Judy's new marriage, to hustler Mickey Deans (Finn Wittrock). These scenes are never engaging or even wrenching, yet they just feel too draggy and familiar. Where "Stan & Ollie" only delivered a few flashbacks, "Judy" continues to get staggered with flashbacks of a young Judy (Darci Shaw), and her awful mistreatment she endured while on set of "The Wizard of Oz", by director Louis B. Mayer, as the production team coerce Judy in taking pills as a young teen to keep thin. While these flashbacks are used to bring more empathy for Judy's trauma and anguish in 1968, they only make the film feel more bloated.
Nevertheless "Judy" is still a deeply moving musical drama, the finale is undeniably poignant as Judy Garland attempts to resurrect herself through the classic song "Somewhere Over the Rainbow", this earned moment in the film will certainly put you in tears. If anything this film will hopefully inspire newer audiences to seek out great Judy Garland pictures like "A Star is Born"(1954), "Meet Me in St. Louis", and of course "The Wizard of Oz".