Renowned filmmaker Mira Nair didn't suffer from sophomore blues with her poignantly fleshed out, critically acclaimed romance titled Mississippi Masala. A very celebrated indie that is now finally getting the restoration that it deserves. After spending years in out-of-print limbo while not being available on any streaming platforms, which proves even the most monumental A-listers like Denzel Washington can't even guarantee a film to be widely available to the public. A film that is now reaching its beloved status wouldn't be widely available for years. It also doesn't help that Mira Nair hasn't made a critical and commercial success since her 2002 masterwork Monsoon Wedding, while having a few other mainstream releases that were commercial and critical disappointments with such films as The Namesake, Vanity Fair, and The Reluctant Fundamentalist. Even her Disney film, Queen of Katwe, didn't quite achieve the commercial success it needed to reach a wider audience. Sadly, this makes Mira Nair a near forgotten director (film buffs from the 90s and 2000s still promote her) that hasn't connected with the newer wave of indie filmgoers that embrace Quentin Tarantino, Wes Anderson, P.T. Anderson, Martin Scorsese, and Christopher Nolan because of their prolific consistency. Hopefully, that will all change with the new Criterion release, which is every bit as wonderful as it was when I saw it way back in the early-mid 90s.
Nair's sophomore film, which is very fresh and flavorful, finds a wider audience with newer generations with the release of the new Criterion. The film is also having a brief theatrical run for its 30-Year Anniversary, in which the film was released theatrically in February of 1992, where it was honored with a Best Film nomination later in the year at the 1992 Independent Spirit Awards, where it was up against Robert Altman's The Player, Allison Anders' Gas Food and Lodging, Abel Ferrera's Bad Lieutenant, and Carl Frankin's One False Move. With the right number of Letterboxed reviews, logins, and social media buzz, this luminous and layered romance might reach a wider audience and hopefully welcome more viewers, especially ones who are champions of Denzel Washington.
Released in an era of Spike Lee and John Singleton, who were releasing films at the time exploring race relations and how they impact individuals and marginalized communities, Nair's film in many aspects actually went lighter but just as bold–if not more bold–simply because she cast her main characters in an interracial relationship without having them be a white lead or protagonist. The film was also not as didactic as Lee's and was delivered with a lighter touch that never felt compromised or sugarcoated.
The film opens in Uganda in 1972, during a time when Idi Amin took power. We see a middle-class Indian family migrating away from India in fear of Amin's power grabbing with his xenophobic separatism. A human rights lawyer, Jay (Roshan Seth), ends up fleeing Uganda with his wife, Kinnu (Sharmila Tagore), and little daughter Mina as they evacuate in a plate as chaos erupts from unrest and upheaval. The narrative jumps to present-day Mississippi in the 90s, where we see the family now situated in the United States. Jay operates a family-owned motel, Kinnu runs a liquor store, and we see Mina (Sarita Choudhurry) all grown-up at the age of 24. While taking a relative's car out for errands, Mina ends up getting into a minor car accident with Demetirus (Denzel Washington), a carpet cleaner, in which they exchange car insurance information and phone numbers. Mina likes the connection with Demetirus because she feels it's a way out from her family-approved date, while Demetrius at first uses Mina to make his ex-girlfriend jealous. Eventually and inevitably, they both end up generating attraction and strong affection for one another.
The love story becomes more of a centerpiece as the story brings a lot of layers of culture and identity. Mina was born in Africa, grew up in the United Kingdom and United States, and she self-describes herself as "mix masala," the Indian term for a mixture of many spices. It's a very complex concept to be of African and Indian descent while considering India to be a spiritual homeland while living in Mississippi. Nair also explores this concept of what it means to be a black American who believes Africa is their spiritual home, but also has never been there. We see these identities and roots collide, and it's rather very refreshing. To this date, we have rarely seen an interracial romance between black and Indian characters.
Sooni Taraporevala's original screenplay (in which Sooni Taraporevala also co-wrote Nair's debut feature, Salaam Bombay!) is an impressively written screenplay that holds many complexities and layers. Both Nair and Taraporvel depict, with great authenticity and vividness, the life of an interracial town while maintaining a highly engaging romance that never resorts to contrivances or being heavy-handed. Instead, Nair and Taraporevala bring more layers and nuances to their characters trying to sort out their lives, as Mina and Demetrius attempt to sort out their love.  While Demetrius can be open with his family about their love, Mina on the other hand, has to be more discreet due to her Indian upbringing that is more trapped by social norms and traditions.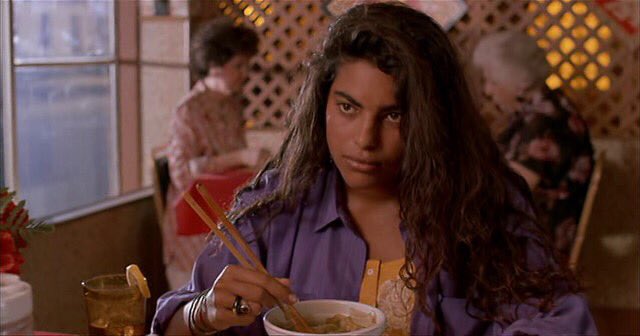 Nair's film ends up becoming an accomplished merger of rich style and impressive storytelling. It was where she was able to find her own aesthetics and visual language of rich colors that echo Pedro Almodovar's decor and wardrobe with influences of Jean Renoir's The River—which is one of the most vibrantly colorful films ever made on celluloid. Nair uses her artifice to make the world feel vibrant and alive, giving it a hopeful lens to examine sociology, interracial dating, and cultural clashes, and the colors represent shimmers of hope that the characters will hopefully bridge a brighter future despite many obstacles.
Throughout Nair's career, she has always maintained that Renoir inspired eye throughout her body of work. In Mississippi Masala, while using all natural locales, she still delivered a luminous texture along with cinematographer Edward Lachman (The Virgin Suicides, Far from Heaven)—from the scuzzy, but still colorful, low-rent hotels, to the pastel-toned wardrobe, to the green forestry, and the sun-drenched Mississippi bayous where Demtrius and Mina have such warm moments together, all make the film a very inviting and tender experience. Steeped in hues, with these settings, we see Dametrius and Mina trapped in a world where they yearn for support and non-judgment that is undermined by the rigid outside world of a more conservative state that makes it difficult for more marginalized groups in terms of socioeconomics and prosperity. The film was restored by Criterion's Janus Films restoration of the film print, and Blu-Ray truly brings out Nair's colors, and the material still feels fresh today, and the film never feels dated like other films from that era. With its meticulous visual style and affectionate story, Nair's film is an irresistible treasure that deserves to be rediscovered.
Mississippi Masala (newly restored) will be screening at the Detroit Instiute of the Arts Detroit Film Theater at 3:00 & 7:00 p.m. on  Sat, June 25 |as well at 2:00 p.m. Sun, June 26, 2022
for tickets please visit Mississippi Masala (newly restored) | Detroit Institute of Arts Museum (dia.org)