Extremely well acted, but just another ordinary Hollywood biopic that is sure to draw some Oscar buzz and please audiences, Respect follows the same formula and structure as countless other biopics, from The Coal Miner's Daughter to Ray to Bohemian Rhapsody. Based on the true story of the late Aretha Franklin, whose troubled life consists of trauma, sexual abuse, alcoholism, and spousal abuse was still able to pull off a brilliant career, despite all obstacles. While still suffering from biopic clichés and many melodramatic trappings that come as conventions of the genre, Respect doesn't break any new grounds stylistically or structurally as a biopic, but it is certainly anchored by an outstanding performance from Jennifer Hudson as Aretha Franklin.
Showing great promise with her musical talents as a young girl, at age 10 it is clear C.L. Franklin is controlling his daughter and his domineering personality ends up playing a dynamic role in shaping Aretha's decisions and even music skills throughout her career. The film follows Franklin"s susceptible years, from about age 10 to 30, as she begins to realize the type of artist she is and the voice she has. With many struggles and hardships, the film does a commanding job in using nuance to break myths of legends that does provide some raw material and empathy that doesn't feel too hurried or overstuffed.
That says something because growing up near the Motor City and spending years listening to Aretha Franklin on the radio, and seeing her local publicity– Aretha Franklin always held an angelic and innocent presence that embodied the folklore traits of how all great musicians should be. As I walked out of the theater, a gentleman in about his 50s in the lobby mentioned to me just how shocked he was in realizing just how much turmoil Aretha Franklin endured. Directed by Liesl Tommy in her feature film debut, deserves some credit for bringing empathy and nuance in presenting Aretha Franklin's personal demons and uphill struggles that have remained mostly covered up throughout the years.
As a small child, Aretha (Skye Dakota Turne) is forced to sing and play music by her imperious father, C.L. Franklin (Forest Whitaker), a charismatic but bitter pastor who travels across the country on missions and showcases young Aretha's talents in his church's sermons and choir. While Aretha was very talented at a young age who even performed jazz tunes at her fathers" house parties–it took several years for Aretha to find her artistic sensibilities and her own singular voice that finally led to some hits.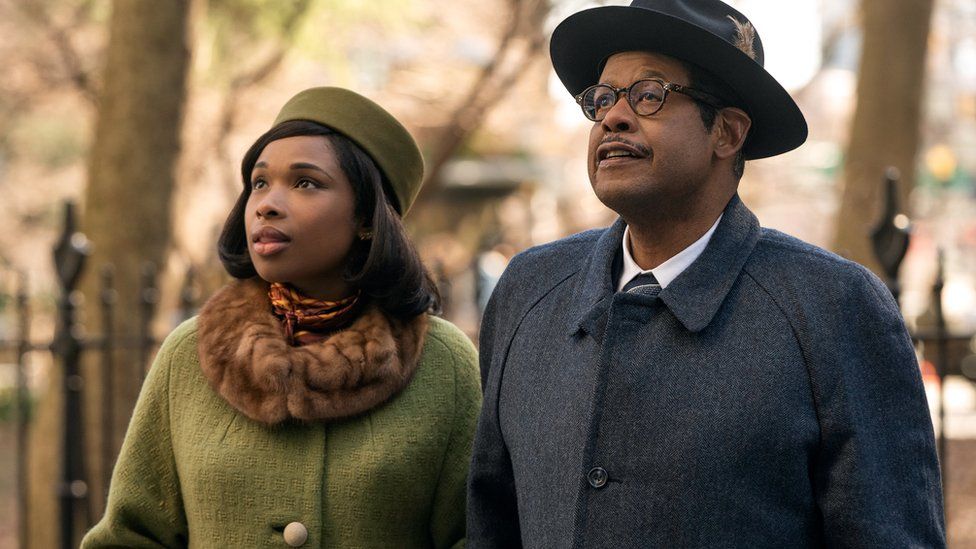 The film flashes forward to Aretha in her 20s (Jennifer Hudson) and the film explores how Aretha's development took so long in part to oppressive men–first by C.L., who ended up guiding her a record label contract but coerced her in signing soulless pop songs that didn't uphold her passion and talent, and eventually Aretha breaks out of her father's control by encountering Ted White (Marlon Wayans), a street hustler who ended up becoming Aretha's first husband and manager, who ended up using his own insecurities and jealousy as a form of control over Aretha's talent and life. The script, written by Tracey Scott Wilson outlines just how naïve and vulnerable Aretha was, her encounter and love with Ted White which led to her own hardships who's hustler lifestyle seemed like a liberating alternative that was contrary to C.Ls, only led to more control, jealousy, along with mental and psychical abuse.
Now despite the film's flaws that follow the basic structure and formula of the Hollywood biopic, the film also feels quite pedestrian on a visual and conceptual level. While director Liesl Tommy's background consists mostly of Broadway and some Television, the film actually isn't completely visually flat. There are times she merges different aesthetics and film stocks for different periods and TV appearances that give the film a more vivid feeling. However, the film doesn't quite hold strong visual grandeur or conceptual moments  that would have matched the first-rate performances by Jennifer Hudson and Marlon Wayans, who both deliver vigorous performances that certainly deserve some Academy Award consideration as the year goes on. Hudson's performance not only deserves praise for the signing talent display that certainly feels authentic, she dives deeply into Aretha's wounded soul and is able to deliver a performance that is both charismatic and vulnerable. Hudson also brings a lot of affliction to the role as she struggles to discover the artist who she wants to be. It's a very expressive performance on every level, both emotionally and soulfully. Hudson delivers a detectable performance that grazes out all the pre-conceited folklore perceptions of Aretha being a one-dimensional iconic saint.
As noted, Respect is a routine biopic that follows the structure to the tee. We even get the inevitable faint and breakdown, and once we get to the late 70s and early 80s we know there is gloom on the horizon. All biopics are always about struggling artists overcoming adversity, but writer Wilson deserves credit for taking her time to develop Aretha's story. Unlike many biopics, Aretha never feels rushed, and when Aretha finally writes, composes, and renditions the song of "Respect" you feel relieved due to just how many failures that came before. This is contrary to Bohemian Rhapsody that felt very hurried and scattered where you never felt the artistic struggles. Not many mainstream films show the amount of waiting and persistence artists must endure before they make a splash, Respect does observe this aspect quite well.
However, the film does feel unfocused and uneven on many levels. We see Aretha's friendship with Martin Luther King (Gilbert Glenn Brown) which King wants Franklin to get more active in the civil rights movement, but once King is assassinated, we get some stances from Franklin on her persistence with civil rights and her support of Angela Davis. But it's never really focused again, and even her child abuse isn't discussed much, and is often hinted as just being "Demons" along with her hardships once Franklin has emotional breakdowns. Even Franklin's battle with alcoholism comes off more as a snip in the movie that doesn't dive as deep as it could have.
Despite these quibbles, it's the performances that truly anchor the film from being a melodramatic mess.  After her triumphant debut in Dreamgirls that led to her winning the Best Supporting Actress Oscar, in a film which was also about 60s R & B that allowed her to showcase her acting and singing talents, Jennifer Hudson is pitch-perfect as Aretha, she once again delivers a splendid performance that should put her in the Oscar race depending how the rest of the competition goes. Every biopic cliché is to be found,  but there are many engaging moments that make up the majority of the movie, especially the scenes of Aretha collaborating and mixing her songs in a studio in Alabama with her producer Jerry Wexler (Marc Maron). The banter between Franklin and Jerry are quite comical and witty.
At two and a half hours, Respect may be too long and at unfocused, but, as a musical portrait, it does play wonderful tribute to a woman who triumphed over her hardships by never giving up, and by combating the controlling forces of the men standing in her way in becoming the artist she wants to be. The film also chronicles how Franklin went back to her roots of her Christian faith to fight her battles of alcoholism by wanting to create a gospel album that featured Amazing Grace–also see the 2018 documentary Amazing Grace which is also about Aretha Franklin. In short, the film is worth seeing, but it could have been stronger on a visual and writing level. It's certainly a film audiences will connect with because biopics are often adored by mainstream audiences. But even as Respect wraps up, it's hard to fully forgive the flaws and missteps.