With half of the year already gone, it's now becoming standard for many publications and film buffs to share their choices midway through the year. It opens the gates for many films to carry on with their legs throughout the year and puts an emphasis on certain films before they get abandoned on a large vessel of streaming platforms. So often, so many films earlier in the year don't carry on to the final top ten lists as studios and distributors tend to save their award-ready films during the final months of the year. There is also recency bias to contend with, and so many smaller distributors rely on good reviews and word-of-mouth marketing as their films don't have the marketing advantages of mainstream studios. While we hear cinema is always on the decline due to underwhelming box-office numbers, as usual, the great movies are often the ones you must search out. With that, there have been a large number of exceptional pieces of cinema that are already worth celebrating. 2023 is already shaping up to be a very strong year for cinema, which should be worth savoring because who knows what cinema will look like in the next year or so due to the implications of the WGA and potential SAG strike? Regardless, please seek out these titles and consider including them in your top 10 list before the year ends.
Are You There God? It's Me, Margaret (d. Kelly Fremon Craig) 
Adapting older source material to the screen with charming and honest effect, filmmaker Kelly Fremon Craig's sophomore feature, Are You There God? It's Me, Marget, delivers a poignant portrait of the life of a 12-year-old girl with sharp wit and rich sincerity. The adaptation of Judy Blume's beloved young adult novel of the same name is wonderfully cast and well scripted, making this delicate film a notable highlight in the female coming-of-age genre. The adapted material is a candid look at young adolescence and an ode to the challenges of growing up. It's told from a fresh female perspective, and it's one of the most satisfying adapted screenplays as of late. Deeply moving but always genuine, sincere, and equally amusing, Are You There God? It's Me, Margaret will inevitably end up becoming a beloved movie and a celebrated entry of the coming-of-age drama just like the book was. (Robert Butler)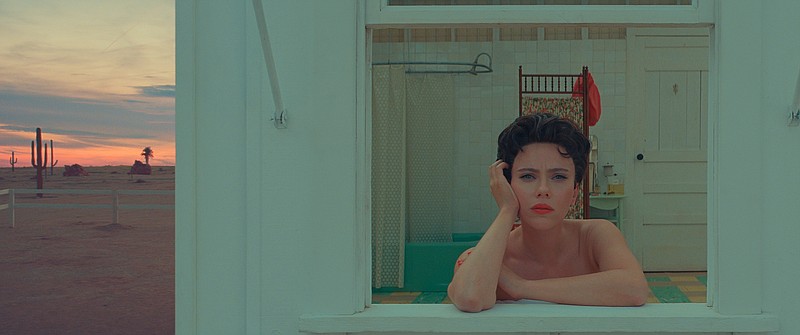 Asteroid City (d. Wes Anderson) 
Sophisticated, meta, and deadpan, Asteroid City finds world-renowned auteur Wes Anderson recapturing a similar story as he has in the past but working on a much larger canvas where he gets to experiment more with narrative structure and take greater risks this time around. Cleverly written and mostly engaging despite some elements not working, this layered ensemble will certainly leave audiences and diehard Wes Anderson champions more divided. The film is more in the vein of his more radically stylized films like The French Dispatch and The Life Aquatic with Steve Zissou, where the artificial style often overwhelms the narrative, but Anderson takes a more embedded narrative approach with his latest that renders some genuine payoffs and characterizations that prevent it from being one-dimensional. (Robert Butler)
Beau is Afraid (d. Ari Aster) 
Every so often, a major studio will greenlight highly ambitious and personal projects for high-profile artists once they reach a monumental success. Ari Aster swings big in his third feature, Beau is Afraid. A dizzying and wildly anxiety-inducing contemplation of anxiety, depression, paranoia, and burgeoning neuroses that stems from domineering mothers. As evident from the trailer, the film echoes the surrealist traits of author Franz Kafka as well as filmmakers Charlie Kaufman and Terry Gilliam with its hyper-real style and absurdist narrative structure. At its center is a lonely man whose life instantaneously gyrates into chaos as he attempts to make it back home after the sudden death of his mother. Most notably, Aster takes us on an episodic journey that offers some compelling ideas about how domineering parents can bring internalized fears and widen our anxieties to the point of being extra-self-conscious of who we are. (Robert Butler)
The Blue Caftan (d. Maryam Touzani) 
A somber but delicate portrait about everlasting love, repressed desires, artistry, compassion, illness, and finally tolerance, The Blue Caftan officially closes the last slate of international films released last year that was Morocco's Official Submission for the Academy Award's Best International Film. Both co-written and directed by Moroccan actress and filmmaker Maryam Touzani, which the film was selected in the Un Certain Regard section at last year's Cannes Film Festivals. It's effectively a domestic drama following a middle-aged married couple. Though very unconventional in its exploration of a marriage love story, The Blue Caftan makes for a very fascinating and unique experience, with Lubna Azabal and Saleh Bakri both delivering dramatically satisfying performances. (Robert Butler)
Blue Jean (d. Georgia Oakley) 
The story of the LGBTQ community across the world is a story of struggle. Struggle for acceptance, struggle for rights, and in many cases, struggle for survival. While the United Kingdom decriminalized homosexuality in the 1960s, legality didn't necessarily come with tolerance. In the late 1980's the Thatcher government proposed Section 28, legislation that would prohibit "promoting" homosexuality by government agencies and schools. I had passing familiarity with Section 28 because of the part it played in the public coming out story of Sir Ian McKellen. But it affected thousands of gay people across the UK for over a decade. In her wonderful debut feature film as writer-director, Georgia Oakley tells the story of Jean, a young lesbian woman living in the era of the passage of Section 28. (Michael Powell)
Godland (d. Hlynur Palmason) 
Austere and magnificently bold, Godland marks a continuation of Icelandic filmmaker Hlynur Pálmason's study of troubled masculinity within severely harsh environments. Heretofore his first feature Winter's Brother had a setting in Copenhagen, Denmark while his sophomore feature A White, White Day took place in Iceland. Both films took place in a contemporary setting, this time writer-director Pálmason shoots in both Denmark and Iceland and branches off with a deeply psychological, increasingly intense study on the depths of the human soul of a 19th Century Danish Priest.  Also serving as screenwriter once again in his third feature, Pálmason is certainly inspired by the films and style of Herzog, most notably Aguirre the Wrath of God and Fitzcarraldo, as Godland draws the greatest comparison to the latter on both a visual and thematic level. (Robert Butler)
John Wick: Chapter 4 (d. Chad Stahelski) 
It's hard to imagine a franchise that finds new and inventive ways to consistently deliver like the John Wick franchise. What began as a quest for revenge over a puppy has spiraled into a franchise with its own deeply rooted mythology, an arsenal of colorful characters and a balletic sense of action not seen in the West since John Woo was making American blockbusters. The fourth, and potentially final, installment of Keanu Reeves' now iconic formerly retired assassin is an operatic and sprawling epic that features an endless array of innovative set pieces that continuously tops itself. John Wick: Chapter 4 is by far the biggest, most ambitious film in the franchise. After the slightly wobbly narrative of Chapter 3, the film begins with a literal punch that wastes no time, dropping the audience right in the middle of the action. Under director Chad Stahelski's unrivalled eye for action and some of the most impressive stuntwork ever committed to Western cinema, this fourth chapter distills all the best elements of the franchise and cuts back on the shaggier elements. Stahelski's gift of storytelling through action is truly unlike any other current filmmaker. The ways in which the filmmaker reveals character and motivation through physicality is, indeed, like a beautiful dance. (Noah Damron)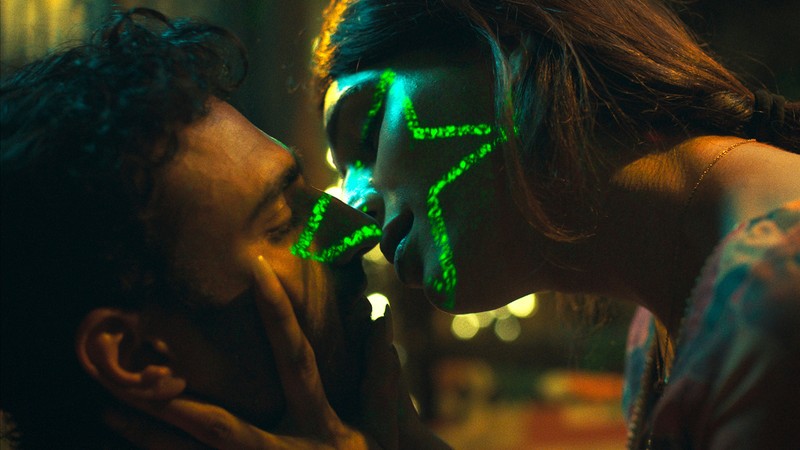 Joyland (d. Saim Sadiq) 
While we have had our fair share of very compelling pieces of LGBTQ cinema recently with such titles as Of an Age, The Blue Caftan, Port Authority, and Lingua Franca, to name a few, they never quite reach the intricate heights found in Joyland. Emotionally piercing, always enthralling, and deeply moving, this Pakistani drama, that is one-part marital movie, another part family drama, and lastly a trans romance story that involves a cis-gender man falling in love with a transgender woman is depicted in some very bold and honest ways. All of the emotionally charged drama and captivating storytelling is bolstered well by Pakistani co-writer and director Saim Sadiq in his extraordinary debut feature. Winner of the Queer Palm Award during its premiere at the 2022 Cannes Film Festival, and winner of the Best International Film at the 2023 Independent Spirit Awards, the film feels like a mix of Pedro Almodovar and Douglas Sirk meets John Cassavetes. The film will inevitably find its audience and will certainly be considered a treasure in the years to come. Arguably this film is a swooning experience, an achingly heartbreaking film that deserves high marks for its remarkable love story and for its candid realism that is never afraid to contemplate or explore. (Robert Butler)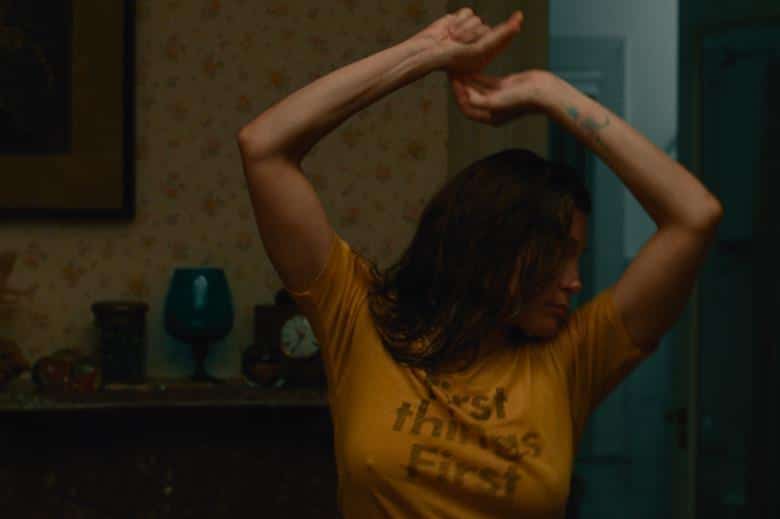 Monica (d. Andrea Pallaoro) 
Italian filmmaker Andrea Pallaoro revisits the central themes of alienation, identity, and family that were found in his first two films, Medas (2013) and Hannah (2017), to even greater impact in Monica, an original screenplay co-written with Orlando Tirado that is another character study of a gorgeous and lonely transgender woman who returns home to visit her estranged ailing mother and brother that she hasn't seen since her transition. With a very observational and austere style, including an impressive soundtrack of 80s New Wave songs and the presence of rising trans actress Trace Lysette as the title character in the lead role, there are some dramatic ambiguities and an abrupt ending that don't entirely work. Despite these shortcomings, the film is artfully crafted, and well-acted enough to make for an emotionally involving experience.
With the recent releases of other films that feature transgender characters played by actual transgender actresses in such films as A Fantastic Woman, Lingua Franca, and most recently Joyland, Monica has a different approach to the transgender approach. While the other films tacked on making ends meet, grief, immigration policies, and complex love, Pallaoro's vision is more of a character study about trans alienation and the difficulties of a trans person having to reencounter a family that once begrudged and disowned who they really are. There is an overriding limitation in the drama in the film, where the drama is left more observed than said, in which Pallaoro uses more body language and gazes within the characters for most of the exposition and even character arcs throughout the narrative, which echoes the work of the great Michelangelo Antonioni. (Robert Butler)
Of An Age (d. Goran Stolevski) 
Coming straight off his artful but uneven art-house horror debut, You Won't Be Alone, which was a period piece set in 19th century Macedonia, Goran Stolevski proves to be quite a versatile filmmaker with his sophomore feature, Of an Age. An affecting queer romantic drama that is divided into two halves with two different time periods of 1999 and 2010. Luminous, melancholy, engaging, and liberating, Stovelski's second feature stars Australian actors Elias Anton and Thom Green, who turn two summer nights during the course of two years that examines the elations of first love, and the complexities of reconnecting. Similar in narrative to Luca Guadagnino's Call Me by Your Name, Barry Jenkins' Moonlight, or Andrew Haigh's Weekend (2011), Stoveski's gay love story still feels refreshing due to how wondrously sensual, intimate, and thematically subversive it eventually becomes. The film's structure and stylization are also revelatory—part road movie, part ode to first love, part coming-of-age saga, and overall, a piercing meditation on regret, Of an Age aims for and achieves a lot, as it encompasses many facets of the human condition. (Robert Butler)
Past Lives (d. Celine Song) 
Past Lives is a great film, great for the ways it examines human reconnection and how certain people from our past can make a profound impact on who we are and what we want. It's a film that examines elapsed time, in which the characters cite the Korean concept of fate called "In-Yun," which ties two people together during the course of their lives, and how a connection holds significance with certain people and things in their past lives. In hir directorial debut, Celine Song plays this concept out with her themes and artistry, establishing a rich style and rhythm that echoes the work of a seasoned master filmmaker. As the narrative untangles with regrets, obligations, and melancholy, Past Lives builds to a remarkable conclusion—a soul-crushing finale that divulges the idea how true human connection will always live on, but even as it becomes a memory, it will be left unfinished as long as we're living, and even at that, according to the Buddhist belief that is left secular in the film, certain human connections are energy that continue to be channeled through the endless voyage of time. If you want a break from franchises, sequels, and superheroes and want something that is worth experiencing on the big screen, Past Lives is that understated gem that you should attend to. It's a perfect little indie movie, one that I hope finds a wider audience and builds stronger legs in the near future. (Robert Butler)
Return to Seoul (d. Davy Chou) 
Cambodian French filmmaker Davy Chou (Diamond Island) manages to pull off a deeply spirited character study and existential journey with Return to Seoul, a moody and convulsively lyrical yarn about a young woman who returns to South Korea the first time since being adopted after she was born and raised in France all in pursuit of meeting her biological parents for the first time. Melding an elliptical narrative with genuine melancholy, Chou's style offers a sensory tone merged with striking visual elements of Sofia Coppola's Lost in Translation, Chou, who is only 39 years old at the moment, has delivered a superbly composed sophomore feature that feels like it was crafted by a seasoned filmmaker. The film is a deeply personal and wise meditation on alienation, geographical dislocation, and self-discovery. Return to Seoul is a journey about the human condition, and like the human condition, it remains intricate. The beauty of Chou's films is that Seoul may be the birthplace of Freddie, but it's also just as parodic and strange. We never see Freddie's French roots outside of a phone call to her adopted mother. We never cut back to France, we aren't given anymore exposition or insights. The film moves from moments of quiet isolation to moments of great joy. On many levels, Freddie is like a drifter in search of answers and an understanding of who she really is. The film allows us to experience her journey, one of curiosity and discontent. All around, this is a thoughtful, vulnerable character portrait. (Robert Butler)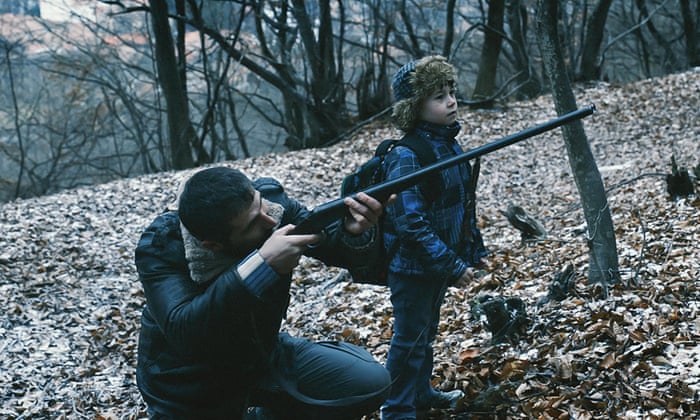 R.M.N. (d. Cristian Mungui) 
After exploring the horrors of the final days of the Nicolae Ceaușescu era where women's reproductive rights were stripped away in his 2007 masterpiece 4 Months, 3 Weeks and 2 Days, Romanian auteur Cristian Mungiu allocates more social commentary on Romania's social milieu with R.M.N, an emotionally charged and artfully crafted blast at Romania's current xenophobia that is obvious in its attempt to draw parallels with other parts of the world where fear of immigrants appears to be on the rise. Mungui's latest film is one of his most thoughtful films—about community, compassion, mob rule, and ethnocentrism. The way Mungiu explores this film, as always, is unsettling and unnerving. Shot with a naturalistic cast in a rural Romanian town, the town feels all too familiar to any small rural town in Europe or North America, in a story of how a community must grapple with drastic changes. An urgent plight for the need for empathy over fascism, Mungiu is certainly inspired by the growing amount of nationalism impacting many nations morals, which is even leading to radicalism and a disdain for democracy, as in the Romanian village just outside Transylvania that feels like a modern continuation of Michael Haneke's The White Ribbon. The film also feels like a condemnation of our current times. (Robert Butler)
Showing Up (d. Kelly Reichardt) 
After debuting a year ago at the Cannes Film Festival in 2022, Kelly Reichardt's eighth feature titled Showing Up finally gets its North American release. It stars frequent collaborator Michelle Williams, fresh off her Oscar nomination in The Fabelmans, in this emotionally restrained drama about a middle-aged woman sculptor named Lizzie, who's attempting to complete a collection of clay figures for an upcoming gallery show in the outskirts of Portland, Oregon. In her first film since the highly acclaimed First Cow, co-writer-director Kelly Reichardt pivots away from her small-scale period filmmaking and returns to a more personal project about artistry and rooted anxieties with firsthand observations about the isolations of being a talented artist. Reichardt has always had a gift for minimal insights, once again providing moments of sincerity and authenticity in a narrative that would appear to have such low stakes on the outside. However, at its core, there is a quiet devastation that lingers in the film about loneliness, human disconnect, and small tensions that build up from the everyday humdrum. (Robert Butler)
Spider-Man: Across the Spider-Verse (d. Joaquim Dos Santos, Kemp Powers & Justin K. Thompson )
Across the Spider-Verse is consistently innovative on a narrative and visual level. This is a film about shattering formulas and upending predetermined outcomes, which is precisely what the film does as a bigger, more elaborate superhero sequel. Despite the extended runtime, the film dashes through its introductions and numerous plot threads with cohesion. The complexity in this sequel's storytelling is quite a feat considering just how different plates it's spinning at once. The blend of CG animation with hand drawn elements is even more audacious than the predecessor, with the filmmakers opting for even more variation in the art styles. A central set piece involving hundreds of different Spider-People is kinetic and thrilling, pulling out all the stops in terms of color variation and the most diverse fusion of animation styles potentially ever. It lacks the electric emotional highs of the first film due to its conception as a part one, and the cliffhanger ending leaves a sense of unfulfillment. However, this is a major achievement that lays the foundation for an even greater conclusion. (Noah Damron)
A Thousand and One (A.V. Rockwell) 
In her remarkable feature directorial debut, A.V. Rockwell's poignantly rendered A Thousand and One goes head-on with some very potent issues such as race in America, our flawed institutions, the duplicity of gentrification, and just how cruel and oppressive these institutional forces can be when, on the surface, they are supposed to level the playing field. The film brilliantly explores race in New York City and America, and it does so without feeling didactic. But at its core, it's a very compassionate portrait of motherhood, and Rockwell pulls off the film with great empathy. It's a film where Rockwell gives assured treatment to her characters and themes. Set in Harlem in the mid-1990s up until the mid-2000s, this emotionally charged American drama benefits from a vivid authenticity that views the story from the perspectives of both a struggling single mother and her orphaned son. An original screenplay by writer-director Rockwell gives fresh insights into the plight of what it means to be a black woman in Harlem and during the Rudy Guliani and Michael Bloomberg eras. With an artfully vibrant directing style, Rockwell should be praised for her engaging storytelling and directing skills. Her visual style flourishes with impressive camerawork, the narrative unfolds with a ferocious vibrancy, and her greatly scripted exchanges are sustained with raw emotion. This is all thanks to the film's superb performances, especially the lead performance by Teyana Taylor, who turns in a very powerful performance that deserves Oscar consideration. (Robert Butler)
Tori and Lokita (D. Jean-Pierre Dardenne and Luc Dardenne) 
It is remarkable just how the Dardenne Brothers are still turning out emotionally charged and emotionally bleak films that hold deeply felt compassion nearly 30 years after making a splash with their 1996 feature film La Promesse. It was a Belgian drama about a father who traffics and exploits undocumented workers, one of whom gets severely injured at the work site. The Dardennes carry on similar themes with Tori and Lokita, but this time the story is told through the perspective of young undocumented immigrants in this absorbing drama, a continuation of the Dardennes' cinema verité style that once again captures levels of deep humanism and despair. It is a devastatingly, shattering portrait of two siblings, Tori (Pablo Schils) and Lokita (Joely Mbundu), who are pulled apart by bureaucracy as Lokita awaits legal papers while her brother Tori lives legally and safely in Belgium at an orphanage. However, both endure even more forbidding adversities than government clearance, as Lokita's pathway to citizenship is further idled once she is held captive against her will and her brother is coerced into selling drugs. And it is right here, in a liberal, democratic nation like Belgium, where inhumane living conditions still persist, where both siblings' challenges meet struggles and a horrible fate. (Robert Butler)