Easily her most passionate and personal film to date, "The Glorias," Julie Taymors' fifth feature, is an overstuffed but highly enjoyable chronicle on the life and times of journalist and women's rights activist Gloria Steinem. Engaging in structure and creative in style, "The Glorias" is both accessible and a non-traditional biopic with a non-linear narrative that is very noble which does justice to the complex, passionate, and empowering feminist icon–who became an essential voice for the Equal Rights Amendment movement during the 1970s.
Dramatizing the life and activism of Steinem as a shift between time periods and age, each performed by a various actress during different periods of her life-the film boasts a terrific cast of actors including the outstanding Alicia Vikander who plays the journalist facet of Gloria's life during an era of misogyny and sexism. Stylistically, "The Glorias" echoes Todd Hayne's "I'm Not There"–the 2007 film which was a deconstructionist film essay about Bob Dylan that also had numerous actors play Bob Dylan at an even larger degree, but Taymor's film is far more commercial and just as ambitious as Haynes, but is still a worthy recommendation mostly for its performances, subject matter, and ideals on display.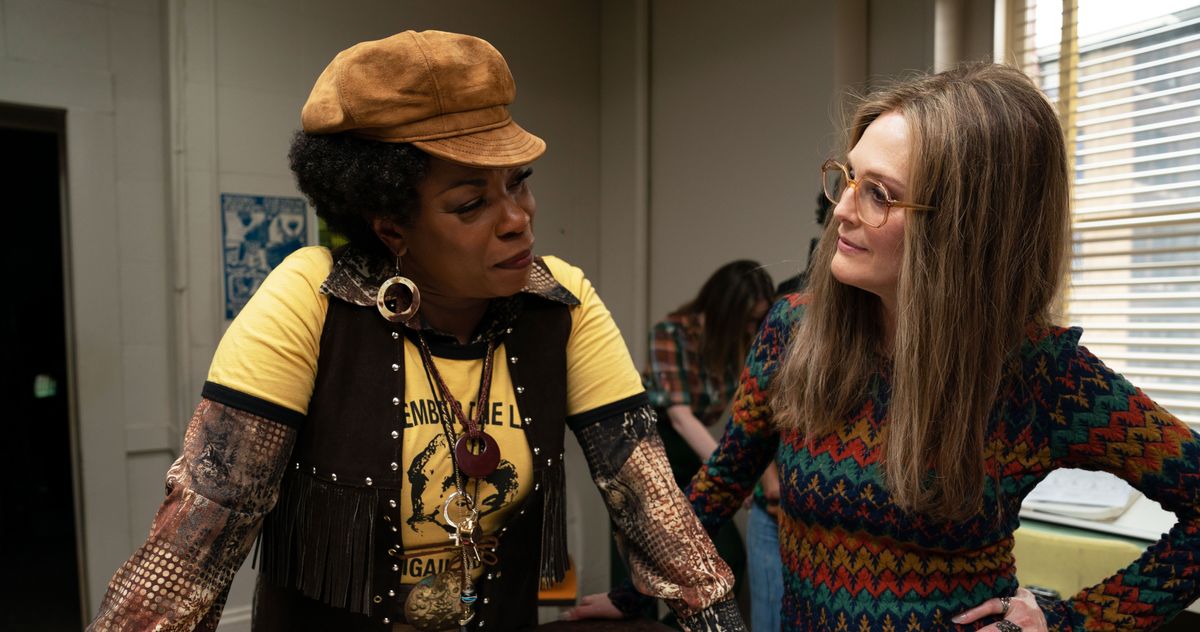 "The Gloria's" also feels very pastiche, and, more importantly, it is dramatically involving but very messy and overlong. The fantasies in the film are much rooted with Taymor's comfortable style, but here they feel very unnecessary and even synthetic as we see Gloria on a bus bounce back and forth between Vikander and Julianne Moore contemplating Gloria's lifestyle, hopes, and regrets. The fantasy involving "The Wizard of Oz" should have bene cut out of the editing room, yet this fantasy among other interludes just fail to resonate.
Taymor, has always showcases herself as being a visionary and innovative auteur, she has always crafted uncompromising films that are unique in style and have often been polarizing, and "The Glorias" finds a right balance of art-house and commercialism, and is far more enjoyable than her previous outing, the disastrous "The Tempest" (2010). "The Glorias" may not be her strongest outing, but it's at least a turn in the right direction and is more comparable with more impressive outings like "Titus,"  "Frida," and the underrated "Across the Universe."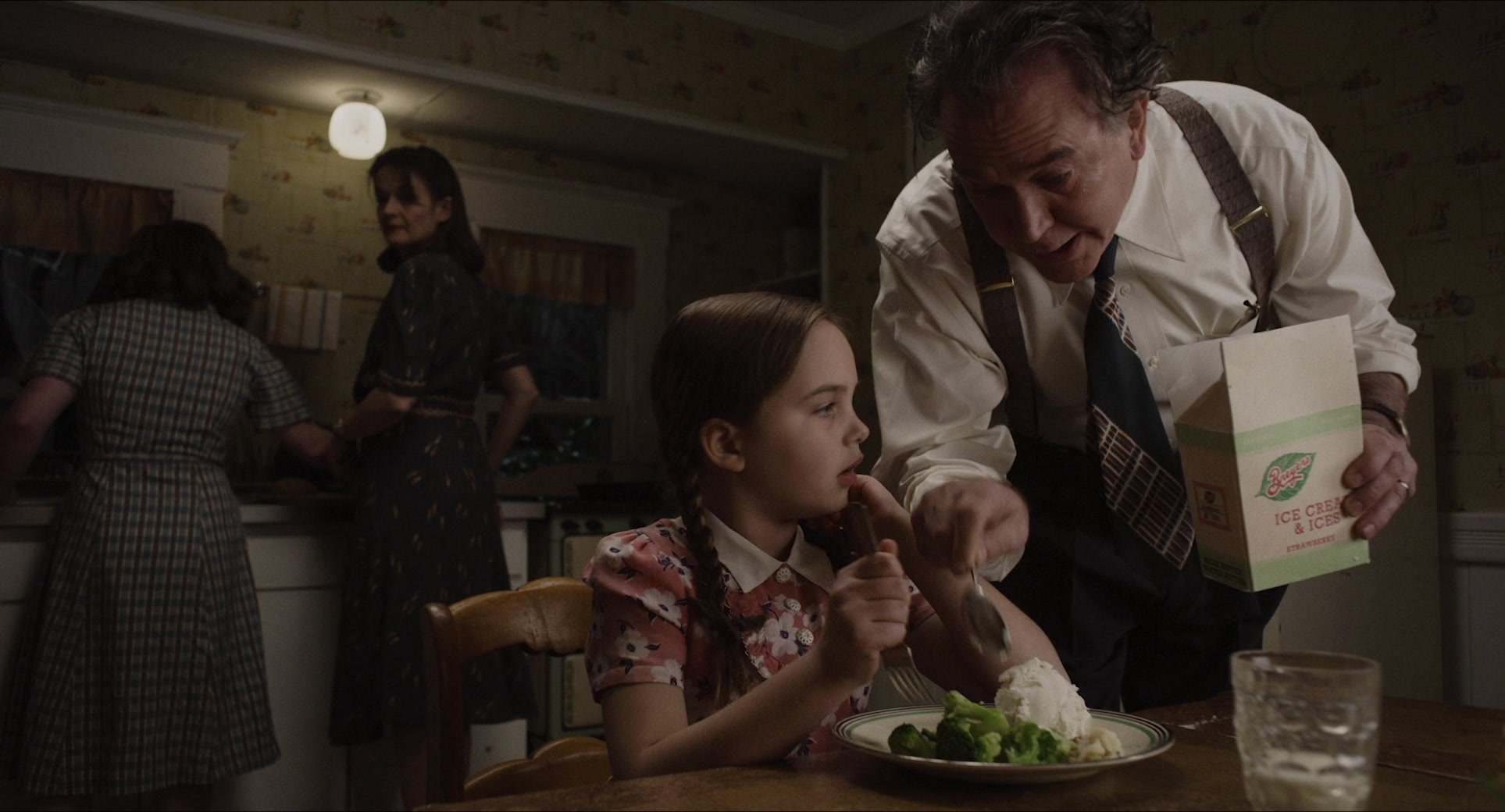 "Frida," the 2002 biopic on the life of Frida Kahlo, was nominated for five Oscars and became Taymor's biggest commercial date. "The Glorias" is also a biopic where Taymor utilizes her stylistic touches and the material feels personal. Those familiar with Taymor's work should be able to determine her style and recurrent themes, which are often about one liberating themselves from social constructs that are shaped historically and politically.
Also sharing a co-writing credit, the screenplay is very non-linear in structure, remarkably though the film always feels accessible and never muddled as Taymor explores the fundamental moments of Gloria Steinem's life. The film explores the early stages of her life as a child and teenager (Ryan Keira Armstrong and Lulu Wilson), who had a strong relationship with her swindler father (Timothy Hutton) and mother (Enid Graham. Once Gloria becomes a young woman, Steinem (Vikander) ends up becoming a journalist for a newspaper who fought for important stories on civil rights and equality that were way ahead of their time.
As a young woman Steinem traveled the world for answers, including a trip to India where she ended up growing courage and passion of her roots in becoming a highly regarded journalist. During her workplace at the office, she often had to endure sexism from her bosses who often downplayed the severity of her bold ideas she wanted to cover.  Once Steinem entered her middle-age years, she became more of an activist, and started the controversial magazine Ms., the first magazine that covered feminism, women's reproductive rights, and equality.
Despite a rocky opening, "The Gloria's" first half is nowhere near as compelling when she is a child and teenager, and the results feel choppy and not needed. The best moments come once Gloria becomes a journalist as she deals with patriarchal mistreatments are the most engaging, and even the elements of her becoming an activist echo the work of an Oliver Stone film.
Ultimately, much of the jumps in between the time periods at times films  jarring and feels unmotivated. These missteps undermine all the dramatic momentum that the film has going for it. Yet, once Alicia Vikander and Julianne Moore becomes the center of the film, the film regains its dramatic moment, but there seems to be lapses and bridges left not gapped where it's not as  seamless as dramatic or as powerful it could have been. Despite these nitpicks, "The Glorias" still remains an affecting and important film.
With four actresses playing Steinem are all wonderfully cast, Moore is certainly the right actress, yet it's Vikander who is given the most character depth and dramatic weight for the role. Moore plays the more honed-in and wiser formed variation of Steinem, while Vikander is glowing as she perfectly picks up so many complexities, small nuances, and layered traits that are found with the younger version of Steinem. We see the younger Steinem as a fighter, who is eager to change the status-quo, as she stands up for the powerless, who is combative, but still holds some insecurities in how much of an impact she can truly make. While structurally flawed, the performance transition between Vikander and Moore certainly works as they both seem synchronized. There is also a strong supporting cast in the film of real life characters fighting for female equality like Janell Monáe as Dorothy Parker Hughes, Bette Midler as Bella Abzug, Lorraine Toussaint as Flo Kenny, and Monica Sanchez as Dolores Heurta.
Despite some  flaws with structure and pacing, however, "The Gloria's" maintains itself as a poignant and involving glimpse of Gloria Steinem, which highlight the notion that fighting for justice, freedom, and equality is always an ongoing fight in a power structure that always manages to leave a group of people being marginalized and vulnerable to the status-quo. With some battles won, others lost, with a brief glimpse of the real Gloria Steinem, writing and narrating about the crushed hope by witnessing the defeat of Hillary Clinton, who was so close in becoming the nations first female president during the 2016 Election which inevitably led to the Donald J. Trump being elected as the 4th President. This film is a reminder that the struggle is endless and the fight will never be futile. The film ends on a hopeful note that what counts and matters isn't exactly what happens at the moment, but the future always evolves and the doom we all endure at the time is only temporary, and that people and cultures do tend to evolve, even when they seem to regress at the moment. The candle will always have to keep burning and hope is always there.
Overall, "The Glorias" might not be as strong as Taymor's previous endeavors, but it still holds all of her filmmaking commonalities and traits. It's innovative, ambitious, messy, sprawling, and ultimately engaging. While the film certainly loses its course in many ways, Taymor reigns it back in with a human emotional center and with her artistic style. This is certainly an important film to watch, especially for teenage girls and young women who are interested in learning the history of the Equal Rights Amendment. It's also an essential viewing right now just in time for the election. Despite the film's quibbles, Taymor is able to build a wonderful celebration and palpable portrait of a remarkable woman who has done so much for women's rights and equality.