More so than usual, reflecting back at the year 1996 it was truly a year of independent filmmaking. Executive Producers were able to raise cash with smaller films, headlined in the aftermath of Quentin Tarantino's landmark independent hit Pulp Fiction that paved the way for many other great indie films including the Midwest crime thriller Fargo, while many other Tarantino-lite pale imitation films like 2 Days in the Valley and Things to do in Denver When You're Dead represented a saturated indie film market. Yet, many other smaller indie films guided their way into an Awards season that year. Ultimately,  Hollywood of course ended up honoring the safe Oscar bait film with The English Patient over Fargo and Secrets and Lies Hollywood still experienced some of very fine finest and enthralling films with big budgets. Brian De Palma was able to awe and rejuvenate an old TV show into the beginning of a timeless franchise with Mission Impossible, Independence Day proved it would indeed take an alien invasion to unite civilization, as Tim Burton subverted the sci-fi genre with the hilariously inventive Mars Attacks!
Meanwhile, it was the smaller, more intimate films that provided striking social commentary with joy merged with tears (Secrets & Lies) and dark laughs (Welcome to the Dollhouse) and Jim Jarmush showcased the origins of Western industrialization in his harmonic Dead Man. The exceptional Big Night embraced entrepreneurship and the value of small business, and Lone Star confirmed the struggles of the American Dream long before there were even discussions in the mainstream about equity and whitewashing of history. Spike Lee's ahead of his time with Get on the Bus, a gripping film still resonates today as the exchanges and discourse found in that film about civil rights still remain pertinent in the ongoing struggles of the Black community.
The wrenching Geoffrey Rush (in Shine) and transformative Billy Bob Thornton (in Sling Blade) solidified themselves as first-rate actors who would later make a substantial dent in American cinema, and Lars von Trier proved himself as his most vulnerable and humane with Breaking the Waves. At the time–Hollywood veterans were advocating for freedom of expression in which the late Mike Nichols was fighting against bigotry and celebrating gay pride in his wickedly comedic The Birdcage as Milos Foreman was standing up for the value of freedom of expression and free speech in The People vs. Larry Flynt. It was a year where the genre found itself transcended as The Wachowski Sisters went bold and sexy with their debut feature Bound, and Wes Craven truly reinvented the horror genre with Scream as both films deconstructed the genre in very clever and innovative ways. But with all this greatness, nothing was quite as exceptional as the Coen Bros. Fargo, a film that showcases how the truth can only stay muddled for so long. To celebrate these films now being 25 years old, down below is the very best films of 1996 along with runners-up, honorable mentions, and how I would nominate and award each category.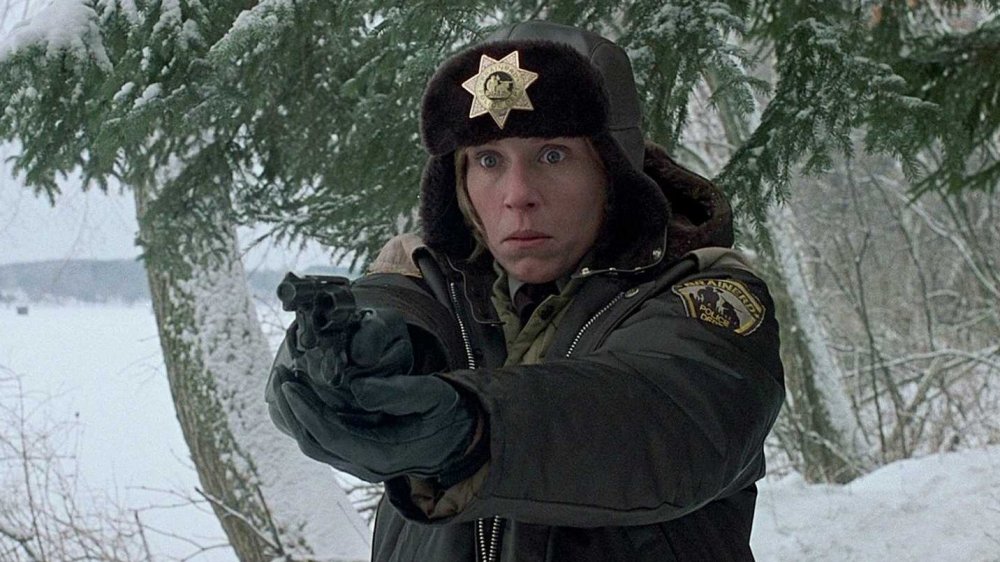 1. Fargo (d. Joel Coen) 
The Coen's 1996 masterpiece proved in this film just how versatile of filmmakers they can be–as they merge engrossing suspense with dark humor and riveting drama. Fargo is still their greatest accomplishment to date. The superb writing, reserved pacing, the intricate storytelling, and the way it unfolds certainly reassures itself as a substantial piece of filmmaking that is done by masters. The brilliance of the Coen's taut, tense script truly elevates itself away from caricature as well and brings a lot of character depth that crackles with a lot of thought and unexpected emotional payoffs as well. It truly is an exhilarating and satisfying film where the Coen's reinvented themselves and proved that they are filmmakers that truly transcended genre with rich narratives that is delivered by a first-rate ensemble that consists of William H. Macy, Steve Buscemi, Peter Storemare, Harve Presnell, John Carrol Lynch, and of course Frances McDormand in her first Oscar winning and iconic role as Margie Gunderson–the witty goodhearted pregnant sheriff from Brainard, Minnesota that delivers such an incredibly memorable performance. Her small monologue at the end about mayhem and money is pitch-perfect.
Ultimately, the Coen's masterpiece unfolds with a lot of vexation on how it's going to conclude, their emblemed themes about discontent so expertly examines how desperate and low humanity can go for money. The film maintains an ingenious grasp on these themes with increasingly impressable amount of nuance. Yet, even when it's aiming laughs at some of it's characters expenses with the Minnesota stereotypes, the Coen's brilliant film blend just enough humor and drama that pays everything off that prevents it from being one-note. Roger Deakins wintry cinematography and Jeff Russo's haunting score progress the viewer in awe with the film's wintry saga about crime gone awry. (All Streaming Platforms)
2. Dead Man (d. Jim Jarmusch)
Jim Jarmusch's Dead Man is a complete poetic and metaphysical revelation. To this date the film remains the most idiosyncratic, stylized, and offbeat western that you will ever see. No other western you have watched will capture the films evocation on the decay of North America and how it's always been plagued by bloodshed, conquest, and violence. Part deadpan hilarity, part surrealism that is always haunting. This film is truly a mystical transcendence of the western genre, Jarmusch feels remains timely as it the saga on the decay of the old west feels of the moment in America where white washing of history and myth is overruled by conquest, self-destruction, and exploitation.
Johnny Depp's character of William Blake (Who is mistaken as a murderer and as the legendary poet) is truly an enigmatic character where his journey towards spiritual enlightenment is quite profound as Nobody (A splendid Gary Farmer) leads William Blake out of the greedy and violent paradigm and into a more harmonic and peaceful one that embraces that natural world rather than the cruel, industrial one. Jarmusch's film is also one of the greatest films to ever be released about Native Americans, that stays away from stereotypes and brings more nuance to his Native characters. The film is also a meditative and solemn condemnation of our nations shameful past of racism against Native Americans. This is Jarmusch's most visionary and impressive feat to date that is never didactic or heavy-handed. The films soundtrack by Neil Young is also one of the greatest scores ever completed. The cast is also strong that consists of Johnny Depp, Gary Farmer, Gabriel Byrne, Crispin Glover, Lance Henrikson, Michael Wincott, Billy Bob Thornton, Iggy Popp, Jarred Harris, Alfred Molina, Eugene Byrd, John Hurt, Mili Avital, and the icon Robert Mitchum.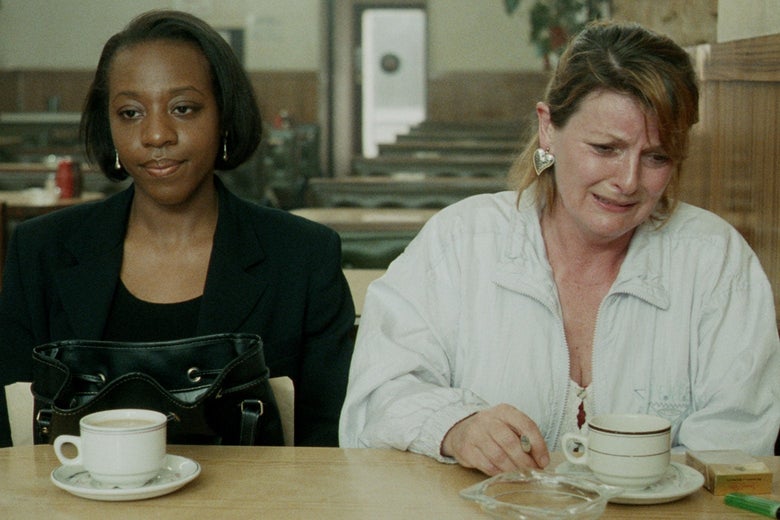 3. Secrets & Lies (d. Mike Leigh)
Hands down, Mike Leigh's greatest achievement to date, Secrets & Lies made a splash in 1996 at the Cannes Film Festival, where it won the Palme D'Or, and the film would later go onto to receive 5 Oscar nominations including Best Picture, Best Director, Best Actress, Best Supporting Actress, and Best Original Screenplay, yet didn't win the awards as it lost out to The English Patient and Fargo. Before Secrets and Lies Mike Leigh always crafted films about middle class families dealing with family matters in London, Leigh went even deeper with his pathos and empathy with Secrets and Lies that dived deep into neglectful mothers and determined daughters trying to seek their roots that stem from separations, adoption, and reconnecting. There is a lot of of lofty themes and issues in the film, and this material could have come off disastrously in so many other directors hands, yet Leigh hones in the drama with so much honesty, pathos, and affection that you can't help not to find it engaging. For a film that is 140 mins, it doesn't hit one false not and every moment reigns with deep humanish and rewarding insights into the human condition. Deeply personal, Leigh never gets trapped in sappy or pat sentimental trappings or melodramatic detours. The film's premise opens with a young woman name Hortense (A superb Marianne Jean-Baptiste), a young black woman residing in London, who ends up discovering that her birth mother is actually a white middle-aged woman, Cynthia (Brenda Blethyn). Hortense ends up going to an adoption office to find Cynthia's whereabouts. Both women end up reconnecting, in which Cynthia is shocked about the situation and believes the office might have made a mistake considering they are different races, only for Cynthia to realize that she is indeed Hortense's mother after she realizes that she had a one-night stand with a black man.
After getting to know each other, Cynthia ends up inviting Hortense over to her daughters birthday, so she can meet the rest so the family while not being up front to them who Hortense really is. A truly heartbreaking and emotionally delicate film, Leigh proved with Secrets and Lies at his most humane. It truly is an observant look at everyday people and the anxieties many endure, it's quite remarkable how Mike Leigh shows ordinary characters and brings so much dramatic weight and emotional depth to his characters. All around Secrets & Lies is so impressively made, more than a routine film, Leigh also scripts the film with his actors where he embraces their input in the film , this brings a true naturalism of humanity to his intensely absorbing film and moving finale.
4. Breaking the Waves (d. Lars von Trier) 
One of the most extraordinary achievements by Danish auteur Lars von Trier, if not the greatest. Breaking the Waves was the one Lars von Trier film where American audiences appreciated the most despite some of the raw and bleak subject matter. An arthouse sensation that very much echoes the work of Ingmar Bergman, Breaking the Waves did very well with critics groups, the Independent Spirit Awards, and even received a few Oscar nominations, even though the top awards into to The English Patient, Jerry Maguire, and Fargo that year. A truly powerful and riveting at a happy marriage that sadly decays after a tragic accident, the film features Bess (Emily Watson) and Jan (Stellan Skarsgard), a newlywed couple who's marriage goes into an unexpected turn once Jan gets paralyzed during his shipping expedition. Jan is distraught and feels unfulfilled since he is unable to perform sexually and is mentally drained, Jan encourages that Bess seduces other men, while Bess feels very reluctant she ends up believing it could be God's work and that it can heal Jan away from depression.
A very raw and uncompromising film and von Trier's most emotionally affecting work, in Breaking the Waves, Lars von Trier gives the fearless Watson, a truly vulnerable and inimitable role. One that gained her an Oscar nomination that ended up going to Frances McDormand for Fargo. As Bess, Watson goes to many emotional depths about a character enduring so many conflicting tones with a character that is putting her spiritual energy out to the word for greater sympathy only to find persecution, misunderstanding, and judgement. Watson's performance is filled with so much emotional bliss that is executed with so much anxiety, guilt, fear, remorse, and deep nuance–her emotions draw you in with her sorrow making her one of the most endearing characters of 90s cinema. A beautiful parable about persecution (Where von Trier would elaborate with other works like Dogville and Dancer in the Dark), von Trier offers a harrowing account of doubt, despair, and solitude. A truly breathtaking work of art and rather searing chronicle of a husband-wife relationship that examines the testament of faith and love.
5. Welcome to the Dollhouse (d. Todd Solondz) 
Todd Solondz coming-of-age dark comedy was an indie gem and one of those little big films that started off as a little word-of-mouth indie that led to many audiences discovering as time passed on. The indie iconic character of Dawn Weiner ( Heather Matarazzo), and out of all the characters Solondz has created, this was the character he held the most fondness for. Solondz ended up becoming a very cynical and perhaps a one-trick pony after his 1998 masterpiece Happiness, but his sophomore feature Welcome to the Dollhouse remains an indie masterpiece today that balances quirkiness with deep complexity.
The deadpan hilarity is merged with sadness that uncomfortably speaks of growing pains and of the human condition. Solondz superb writing and offbeat style gives the character of the 12-year old Dawn an elusive structure that is very observant and brutally honest about an outsider girl being ostracized by her classmates, her first crush, and even her family. The film's brutally honest, almost like a ugly stepsister of a John Hughes movie that's storytelling evolves effortlessly as it unfolds. The brilliance of Solondz unique framework is just how invested he is with his character that he doesn't go for manipulative film arcs or simplistic messaging–he only asks us to accept Dawn in who she is and observes her yearning for love and affection along with the all the confusion it creates. Between Welcome to the Dollhouse and Happiness, these two films showcased Solondz as a talented filmmaker with bold sensibilities along with a memorable and pitch-perfect performance by Matarazzo. The film also deserves praise for not overreaching or making generalization claims about being unpopular, "dorky," or the black sheet of family. And yet, Dawn's journey is a very vivid and even heartbreaking as it captures all the emotional truths about the uncomfortable truths of growing up. Solondz pushes a lot scenes, yet he finds great empathy and kindness, and one coming to terms to discovering who they are.
6. Chungking Express (d. Wong Kar-Wai) 
Wong Kar-Wai's Chungking Express was the film that started to put him in the mainstream spotlight among American audiences, as it was another visually sublime and romantic exploration in his outstanding oeuvre that explored delicate frustrations and human longing. Released in US theaters in 1996 by Quentin Tarantino's Rolling Thunders distribution company, Chungking Express has went onto to be a highly regarded and treasured piece of cinema. A delightful film that truly emphasizes on the human condition in which Kar-Wai composes the loneliness as his the themes about the yearning for human connection feels so genuine and pure. Just like Days of of Being Wild prior, Wong Kar-Wai along with Christopher Doyle create a highly artful and ravishing film that also holds a lot of character depth and rich texture with the impressive aesthetics, along with fascinating and memorable characters along the journey.
Breezily paced with a lot of energy, the film is structured with two films in one and the both films chronicle two different Hong Kong policeman attempting to get over a lost love while a potential new romantic spark is on the horizon for them that ends up creating a lot of unspoken longing and miscommunication. The women they encounter also don't know how to communicate with their longing so they make situations difficult for themselves while still feeling endearing though. Easily one of Wong Kar-Wai's (Also see In the Mood for Love, 2046, Days of Being Wild, and My Blueberry Nights) greatest endeavors, the film is a sublime meditation on love. The film also utilizes a great soundtrack along with the impeccable visuals, it's perfect on all levels and a true milestone in 90s cinema. Right up there with Sofia Coppola's Lost in Translation as one of the most modern romantic films ever crafted!
7. Sling Blade (d. Billy Bob Thornton) 
The riveting Sling Blade remains a deviation of sorts for Billy Bob Thornton, mostly known for acting, he was able to showcase himself as a filmmaker and actor while he made a splash for himself upon the release of this iconic 1996 masterpiece. At once graceful and deeply disturbing, the film is a rigorous exploration of human kindness, human bonding, friendship, revenge, and combating brutality.
Thornton's rigorous exploration of Karl (Thornton) who lives with a mental health issue and his bond between a young boy named Frank (Lucas Black). The kind-hearted Karl is upfront about his past via a series of exchanges with Frank, his mother, and a raw scene where he confronts his father played by Robert DuVall in a standout scene. Karl mainly keeps to himself, as he gets a job repairing lawnmowers at a ship, and he loves to eat French fries with mustard as he refers to them as "French fry potaters". Karl and Frank spark a strong bond together, as Karl drifts through day-by day in his own state of mind. The films muted color pallet of mostly grays, browns, and overcast evokes the texture the past traumas and affliction that's like a dark cloud that hangs over it's characters as they struggle against time. So much of character's including Frank's kind mother Linda (Natalie Caderday) and her openly gay and kind manager Vaughn (The late John Ritter) hold many past traumas including Linda enduring an insufferably abusive relationship with an alcoholic Doyle (A disturbing Dwight Yoakom). More remarkably, Thornton's artfully crafted staging approaches each frame and scene with a heightened sense of tension and even liberation. Mostly using effective angles, striking wide shots with high angles, effective close-ups, Sling Blade uses this staging as a scope of the past intertwining with the present, and how cyclical human abuse and trauma are–for instance when Karl sits on the edge of the couch in silence as a drunken Doyle kicks his bandmates out and verbally and psychically assaults Linda and Vaughn as Frank confronts Doyle back, you can feel Karl's current delicate nature hanging form the edge as brewing tension builds inside his own mind.
The film's slow burn of a build up feels as it if's been woven from the silk of Karl's memories, and Thornton examines how human cruelty is what causes human distress where it can lead us to break at any moment because, despite the raw subject mater, the film unfolds with emotional truths and liberating impact that also feels fragile. Easily one of the greatest films ever created about mental disorder, Sling Blade is also affecting and powerfully moving as it captures so many vulnerabilities, and it's arguably Billy Bob Thornton's greatest achievement of his career–both as an actor and filmmaker.
8. Lone Star (d. John Sayles)
John Sayles in many ways is like a modern day William Faulkner, and there always has been is something literary about his frame work that impresses as well. For starters, almost each of his films take place in the South as they represent a reflection that defines America. Sayles is drawn into the drama of the South and West as it represents the fabric of our progress and decadence, and how they go hand in hand in the cycle of human progress. Sayles 1996 masterpiece Lone Star is an epitomized portrait of a small Texas town that is shaken to its roots after the community experiences rapid change culture of different perceptive, brutal truths, and confronting denial, white washed history, and past sins. The film is very much a diagram, but it's never didactic and always emotionally resonant and modest. Waters style can easily be compared to the late Robert Altman's, yet it's still distinctively affecting with it's clever tonal shifts, in which Sayles turns black humor into a thoughtful saga about the prejudice that's still ingrained in the fabric of Texas culture and America today. Sayles is able to meld each story, characters, and subplots with a rich and reserved film that still feels fresh and highly engaging.
By exploring our nations rooted prejudice, Sayle's film shows the power of community and how progress can only be achieved by accepting and acknowledging who and what we are. Especially with the film's lead character of Sam Deed's (Chris Cooper) who begins to unravel a mysterious skeleton found in the desert that leads to his now deceased father Buddy (Matthew McCaughney–shown in flashbacks) and a bigoted and xenophobic sheriff Charlie Wade (Kris Kristopherson) in which Sam tries to peace together the tension between the two men. Sam is a very kind sheriff, one that accepts an evolving country and embraces diversity just like his father Buddy did. Each scene and subplot in the film is deeply compelling and hopeful, especially timely even revisiting in this post-Trumpian era. The film also has a first-rate cast that includes Elizabeth Pena, Joe Morton, and Frances McDormand.
9. Big Night (d. Campell Scott and Stanley Tucci)
A passionate love poem to food and brotherhood, this delciate comedy finds a great  balance of charm and tenderness. A film that truly celebrates entrepreneurship, food, relationships, ambition, and persistence. While we look at these things as simple, they are everything but. Set in a Jersey shore restaurant, this greatly script and acted (Especially Stanley Tucci and Tony Shalhoub) Big Night( Also co-directed by Tucci) brings out the best of 1990s American indie filmmaking.
Set in a downtown restaurant, this is a small, well-acted (particularly by Danny Aiello) quintessentially New York film that recalls indie movies of the 1980s. If anything, Big Night is right up there with Tamparo, Like Water for Chocolate, and Ang Lee's Eat Drink Man Woman as being one of the more impressive films of the food genre in which the presentation of the food comes across so sensual and watery in this film. For the most part, however, Big Night also comes across like an Altmanesque ensemble film in which the restaurant workers and patrons collide as the two brothers (Tucci and Schlaoub) try their best to revive their new restaurant that is being out competed by another local restaurant that has more money and a personality, yet they fail to have the recipes and substance of the food.
Despite its title, the film takes place during the course of many nights that leads up to the big night where the brothers re open their restaurant as they attempt to reinvent its personality and transcend their food. The film is beautifully observant with so many colorful characters, perfect characterizations, sharp wit, conflicting tones, familial dynamics, and all done with a tight narrative and superb pacing from a great ensemble that consists of other supporting players featuring Minnie Driver, Isabella Rossellini, Ian Holm, Marc Anthony, Liev Schreiber, and Campbell Scott in a small role. Visually rich, the film is also quite well directed, that's staged like a Robert Altman, Fellini or Roberto Rossellini film with many sharp compositions, strong camera movements, and some delicate editing that keeps the drama moving. The film also shows how great meals and food create bond and can even be therapeutic that brings us human connection as the film holds a great mixture of humor and bittersweet drama.
10. The Birdcage (d. Mike Nichols) 
A Hollywood remake of the 1978 Oscar nominated Italian Film Les Cage Aux Folles about a gay married couple Armand (Robin Williams) and Albert (Nathan Lane) discover their son, Val (Dan Futterman), is getting married. Unfortunately, the bride's father (Gene Hackman) is a conservative Republican Senator–and Val wanting to make a great impression convinces Armand and Albert to come up with a plan to coverup their openly gay relationship. Only playing straight isn't quite as easy as it seems.
The film is fiercely comical, executed in a chaotic matter by one of cinemas most experienced and veteran filmmakers. The late Mike Nichols (The Graduate, Closer, Who's Afraid of Virginia Woolf) relishes social satire and sharp commentary about humanities resistance to human progress while celebrating  how the values of family come from love and support. Always staying on point with the humor, the film endlessly delivers hard belly laughs and genuine charm as the material unfolds the anxiety-inducing material and a brilliant energy that effectively brings joy, nuance, and humor. The late Robin Williams and Nathan Lane are quite the duo, it's a  crime how Nathan Lane wasn't nominated that year! Visually sublime and greatly scripted, the film holds great conviction by the stellar cast. One of the most entertaining and funniest films to emerge out of the 90s.
Runners-Up (In Alphabetical Order)
Bound (d. Lana Wachowski and Lily Wachowski) 
Although it wasn't quite the debut the Wachowski's wanted to make in their debut feature, they had to prove themselves before getting greenlit for the mammoth blockbuster The Matrix, so they whipped up this neo-noir that holds a lot of the familiar tropes found in iconic genre, but they keep the material so fresh and intense that the ultimate product is truly transcendent and a nail-biting experience.
Everyone Says I Love You (d. Woody Allen) 
Yes, I know it's fashionable to just write Woody Allen off of film history due to deeply disturbing allegations. However, here at Defacto we try our best separating the art from the individual. Everyone Says I Love You is still a charm and a treat. A visually elegant, nostalgic throwback, hilariously inventive collusion between the modern and the traditional, Woody Allen's first dip into the musical is a very sweet and simple film that unfolds with astonishing musical numbers, an engaging narrative, inventive songs that's such a joyful love letter to the movies.
Get on the Bus (d. Spike Lee) 
Easily one of Spike Lee's most overlooked films, and is as political as Lee has always been. Get on the Bus tells the story of a group of Black men from various backgrounds and life experiences who go on a cross-country bus trip to attend the Million Man March in Washington, DC, in 1995. Spike Lee once again delivers warm characters discussing compelling and crucial topics that surround many topics about the march, identity, race relations, politics, and race. The film features a great cast starring Charles S. Dutton, Isaiah Washington, Bernie Mac, and Ossie Davis. "Get on the Bus" expertly draws parallels of the plight of African Americans then and now.
I Shot Andy Warhol (d. Mary Harron) 
Mary Harron's I Shot Andy Warhol is a highly engrossing and expertly crafted debut feature that taps into the psyche of infamous feminist Valerie Solonas, the female writer who shot Andy Warhol and almost murdered him. Harron explores about Solonas demise was from being an outsider that was pushed to the edge, almost like a female version of Travis Bickle. A truly artful and innovative work that is both dramatic and tragic, the true showcase of the film is Lily Taylor as Valerie, who truly delivered a towering performance along with her counterparts like Jarred Harris as Andy Warhol, and Stephen Dorff in a nearly unrecognize and transformative performance as trans icon Candy Darling.  A elegantly stylized and emotionally resonant work, I Shot Andy Warhol is a truly overlooked gem that more modern film buffs need to seek out.
The People vs. Larry Flynt (d. Milos Foreman)  
The later veteran auteur Milos Foreman truly tells a deeply compelling story, a real-life chronicle of the former Hustler and vulgar Larry Flynt and the abuse of power by the government in a time when conservatives were known for cancel culture. A powerfully told saga with superb performances from Woody Harrelson as Larry Flynt, Courtney Love has his wife, and Edward Norton steals the show as his principled attorney. As usual, Foreman (Amadeus, One Flew Over the Cuckoo's Nest) has crafted an astonishing piece of storytelling. One that is deeply involving in every beat.
Scream (d. Wes Craven)
Iconic horror auteur Wes Craven turned the conventions of horror cinema upside and made an expertly meta piece of narrative cinema that he hinted at in his New Nightmare reworking. By abandoning the routine slasher storyline, he reinvented in and transformed it into something wholly clever while still staying true to the tropes of the genre. Craven along with writer Kevin Williamson, was able to arrange and rework the concept of horror about movie watching obsessions gone bonkers about a killer who stalks local teens who asks trivia questions about classic horror movies, then kills them in between the questions. Scream is an iconic masterwork, a truly defining and highly entertaining film that delivers dark humor, thrills, and splattering fun.
'
Shine (d. Scott Hicks) 
Trauma meets creativity in Scott Hick's 1996 biopic on Australian pianist David Helfgott and it's a wrenching celebration of the human spirit triumphing over affliction. With a rich visual style and exceptional directing skills, the film owes a large power to a refusal in getting trapped with sentimental detours, and the performances are exceptional across the board from Armin Mueller-Stahl, and both Noah Taylor and Geoffrey Rush who both play a powerful turn, channeling both younger and older David Helfgott. Shine is a truly powerful film played with rich drama, charm, complexity, and sophistication, Shine is a highlight in the biopic genre.
Honorable Mention (Other Excellent Titles of 1996-In Alphabetical order) 
Basquiat (d. Julian Schnabel)
Bottle Rocket (d. Wes Anderson)
Caught (d. Robert M. Young)
The English Patient (d. Anthony Mingella)
Flirting with Disaster (d. David O. Russell)
The Funeral (d. Abel Ferrara)
Hamlet (d. Kenneth Branagh)
Jerry Maguire (d. Cameron Crowe)
La Promesse (d. Jean-Pierre Dardenne and Luc Dardenne)
Mission Impossible (d. Brian De Palma)
The White Balloon (d. Jafar Panahi)
When We Were Kings (d. Leon Gast)
Other notable films–The Cable Guy, The Celluloid Closet, The Crucible, Emma, Freeway, From Dusk Till Dawn, The Ghosts of Mississippi, Heidi Fleiss: Hollywood Madam, Independence Day, Irma Vep, James and the Giant Peach, Kingpin, Kolya, Manny and Lo, Marvin's Room, Mars Attacks!, Michael Collins, A Moment of Innocence, The Nutty Professor, Paradise Lost: The Child Murders at Robin Hood Hills, Ponette, Primal Fear, Ransom, Ridicule, The Rock, Romeo and Juliet, Set it Off, Sleeper, Star Trek: First Contact, Trainspotting, Tree's Lounge, Twister, The White Balloon, Walking and Talking, William Shakespeare's Romeo + Juliet
**Crash, Hard Eight, and Waiting for Guffman would make my 1997 lists
Defacto Film Awards 1996 Nominations and winners 
Best Film
Breaking the Waves
Dead Man
✓Fargo
Secrets & Lies
Welcome to the Dollhouse
Best Director
✓ Joel Coen, Fargo 
Jim Jarmusch, Dead Man
Wong Kar-Wai, Chungking Express
Mike Leigh, Secrets & Lies
Lars von Trier, Breaking the Waves
Best Actress
Maria Conchita Alonso, Caught
Brenda Blethyn, Secrets & Lies
✓ Frances McDormand, Fargo 
Lily Taylor, I Shot Andy Warhol
Emily Watson, Breaking the Waves
Best Actor
Geoffrey Rush, Shine
Woody Harrelson, The People vs. Larry Flynt
Nathan Lane, The Birdcage
Stanley Tucci, Big Night
✓  Billy Bob Thornton, Sling Blade
Best Supporting Actress
Juliette Binoche, The English Patient
✓  Marianne Jean-Baptiste, Secrets & Lies
Queen Latifah, Set it Off
Elizabeth Pena, Lone Star
Lily Taylor, Girls Town
Best Supporting Actor
Stephen Dorff, I Shot Andy Warhol
Gary Farmer, Dead Man
Cuba Gooding Jr., Jerry Maguire
✓  William H. Macy, Fargo
Tony Shalhoub, Big Night
Best Original Screenplay
Dead Man, Written by Jim Jarmsuch
✓  Fargo, Written by Joel and Ethan Coen
Lone Star, Written by John Sayles
Secrets & Lies, Written by Mike Leigh
Welcome to the Dollhouse, Written by Todd Solondz
Best Adapted Screenplay
The Birdcage, written by Elaine May
The English Patient, written by Anthony Minghella
Hamlet, written by Kenneth Branagh
✓ Sling Blade, written by Billy Bob Thornton
Trainspotting, written by John Hodge
Best Documentary
The Celluloid Closet, directed by Rob Epstein and Jeffrey Friedman
Heidi Fleiss: Hollywood Mad, directed by Nick Broomfield
Looking for Richard, directed by Al Pacino
Paradise Lost: The Child Murders at Robin Hood Hills, directed by Joe Berlinger and Bruce Sinofsky
✓ When We Were Kings, directed by Leon Gast
Best Cinematography
Breaking the Waves, Robby Müller
Chungking Express, Christopher Doyle
Dead Man, Robby Müller
The English Patient, John Seale
✓ Fargo, Richard Deakins
Best Editing
✓ Breaking the Waves–Anders Refn
Chungking Express–William Chang, Kai Kit-wai, and Kwong Chi-Leung
Fargo–Roderick Jaynes
Scream–Patrick Lussier
Trainspotting–Masahiro Hirakubo
Best International Film
Breaking the Waves (Denmark)
Chungking Express (Hong Kong)
La Promesse (Belgium)
✓ Secrets & Lies (United Kingdom)
The White Balloon (Iran)
Best Original Score
Dead Man, Neil Young
The English Patient, Gabrial Yard
Everyone Says I Love You, Dick Hyman
✓ Fargo, Carter Burtwell
Shine, David Hirschfelder