The artistic and critical success of such films as "The Godfather," "The Best of Youth," "The Tree of Life, "Boyhood," and "Another Year" have truly revived more sprawling films to chronicle the passage of time as each of these films explore family dynamics and human tragedies (Both historical and human). Once in a while we get films like this that are ambitious in scope, that attempt to explore the human condition that celebrates and observes the human experience in a resourceful manner.
The latest film to attempt this is the Taiwanese drama titled "A Sun," a seminal film which was a huge success in it's homeland having won each of its major awards at the 56th Annual Golden Horse Awards which is equivalent to Taiwan and China's Oscars which honors the best in Chinese-language films. Indeed one of the highlights of modern Asian cinema that is sadly being put under the radar in the United States due to a large array of film content and streaming services that makes it far more accessible than ever before to watch more films from other countries, however, it's also a lot easier for a wonderful film like this to be undiscovered and trapped in "under the radar" limbo.
It took online outrage from Variety film chief film critic who named "A Sun" as the best film of 2020 in his annual top ten list to give the film a small boost of word-of-mouth that led to the film being discussed on Twitter feeds. As of right now, there are only 11 film reviews on RottenTomatoes as the film sits with a 91% rating. With a film that has such emotional and visual splendor, it's a shame that more US critics aren't watching and championing this film.
Netflix is also the culprit of bad marketing. After acquiring the North American rights for the film, however, they have done very little marketing with the movie. Therefore, they have put more of their resources and campaigned heavily for their prestige films like "Ma Rainey's Blackbook," "Mank," and "I'm Thinking of Ending Things" instead. Which is a shame that Netflix couldn't be more enthusiastic because the film is truly remarkable and highly engaging. It's a film that American audiences would connect with, and with the proper marketing Netflix could have positioned this film as this year's "Shoplifters" and even "Parasite"–which were also about lower-middle class families trying to sustain their livelihoods.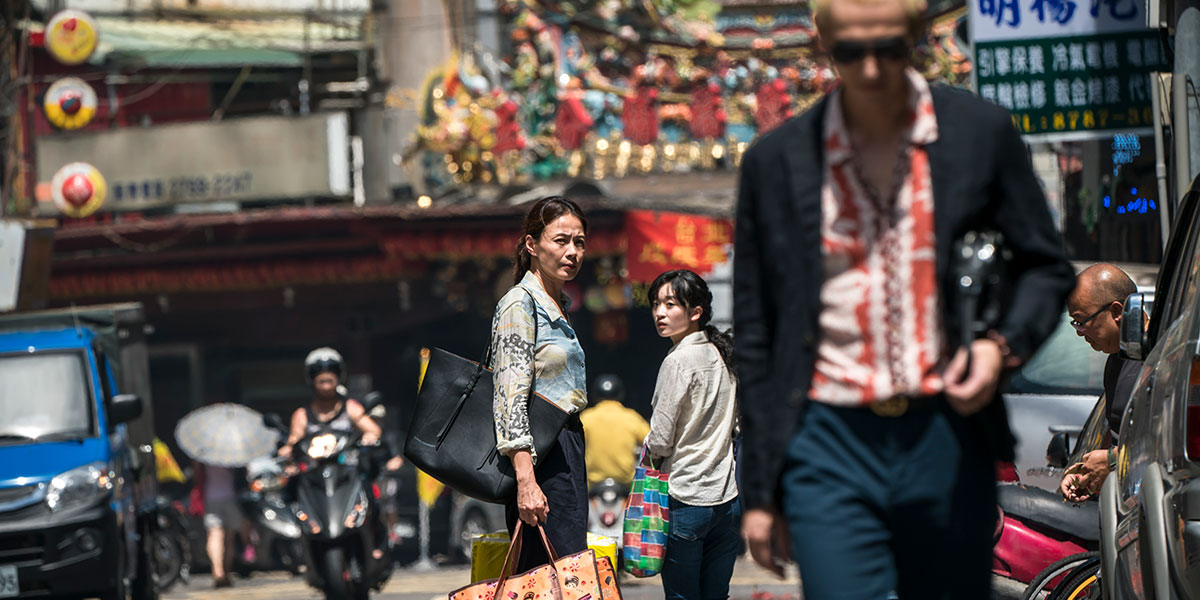 Directed and co-written by Taiwanese filmmaker Chung Mong-hong, the film explores the life of a middle-class Taiwanese family. The father, A-wen (Chen Yi-wen) is a driving instructor, the mother Qin (Samantha Ko) stays at home and mostly keeps to herself. They have two sons: the older brother A-Hao (Greg Hsu) has recently graduated high school and has aspirations in getting into the medical field, he has a younger brother A-Ho (We Chien-ho) who is in a street gang and a delinquent who is sentenced to a juvenile detention center after committing a horrific violent act during the opening scene of the film.
Due to A-Ho's violent traits, this creates a lot of tension in the family, as A-Wen disowns his own son, as he embraces and loves A-Hao more. The drama escalates and unfolds in the most engaging and compelling ways that it would be a disservice to the experience if I were to reveal all the major plot points. Not since Marco Tullio Giordana's "The Best of Youth" has a film about the dynamics of brotherhood and family been so absorbing, so heart-wrenching, and rewarding to watch.
Clocking in at two hours and 36-minutes, "A Sun" is quite the yarn of a film, it has the scope of "The Best of Youth" while reminding me about the strongest aspects of Derek Cianfrance's 2014 flawed but dramatically riveting drama "The Place Beyond the Pines" while showcasing an elegant visual style that echoes the visual grandeur of P.T. Anderson.
Structurally, the film is attempting many things at once. On one level, it's a saga about two brothers who live through their own adversities and hardships. A-ho finds himself standing up for himself against a small gang of delinquents inside the youth detention center, which his violent nature allows him to fight back against the group of young individuals that outnumber him and are twice his size. A-hoe is determined in going to medical school, despite A-Ho's flaws he still holds compassion and love for his younger brother. He even tries to sort out his relationship complications once A-ho's girlfriend Xiao-You (Apple Wu) reveals she is pregnant with A-Ho's baby.
As expected the film explores themes of family, forgiveness, redemption, and transcendence. There are many strong character depths in the film as well. A-wen has his own guilt and grief to attend with as the story progresses on. He has his own set motto's and principles as he uses a recurring phase he read off a bridge that states "Seize the day. Decide your path." He tells many others this, including his driving students to abide by the phrase, yet he doesn't live by it as he struggles to forgive A-Ho for his horrendous mistakes.
A-Hao is also very lonely, while ambitious there are forms of depression and anxiety that plague him in the story. Qin as the mother and wife tries to keep the family from collapsing, as if she is the peacekeeper and reformist in the family. One of the best scenes in the film involves one of A-Hao's girlfriends who tells Qin the status of their relationship. Eventually everyone's anxieties and emotional detours eventually push Qin into her own emotional state of turmoil. The film is akin to "The Best of Youth" with its domestic drama,  and echoes "The Place Beyond the Pines" as it mixes crime-thriller tropes with the riveting drama as A-Ho is pulled back into the dark underworld of street grime and gangsters once he is released from juvenile prison. It's a common story-arc that we have seen in numerous films, yet it's handled with such delicacy and earned character-arcs that you can't help but root for A-Ho to maintain his life. You pull for him to triumph over the forces that keep pulling him away from living a decent life which now consists of fatherhood, being a devoted husband, attempting to become a better son to Qin and A-Wen, and working a regular job at a car-detailing shop.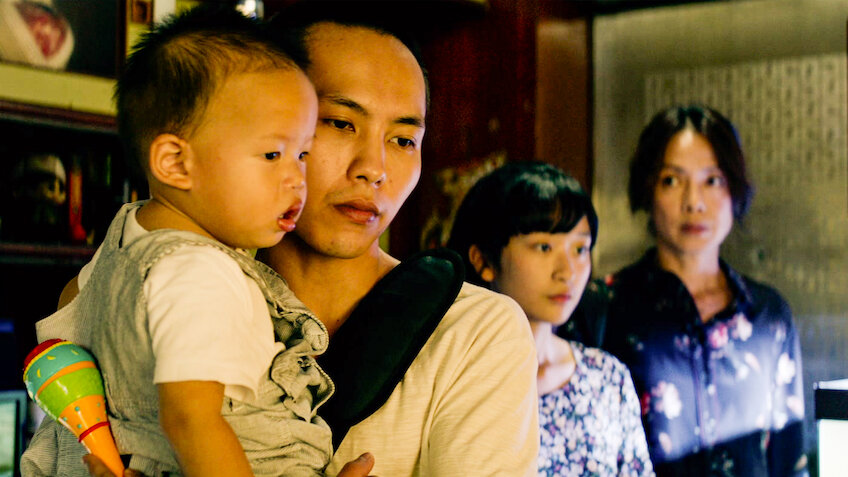 As mentioned above, Chung Mong-hong is quite a visual and technical craftsman. His visual style echoes the work of P.T Anderson as he often uses a lot of beautifully framed wide shots, moving tracking shots, motivated pus-ins, and cuts in close for the emotionally pivotal scenes that invites the viewer to be engaged with the empathy that is on display. The locales are also rich, a lot of the film is shot in the exteriors of Taiwan that give the film a poetic and vivid beauty.
The film must have deep resonances for the Taiwanese moviegoers, since this film was also a huge commercial success as well; because of it's engaging story, complexity, and emotionally wounded characters. I can see this film sadly being remade into an American one, but hopefully before that even happens let's hope more audiences and critics discover this film as time marches on.
The family endures some tragedy, among many other tensions and heartbreak. The best performances of the film come from Yi-Wen and Ko who deliver truly shattering performances including a great scene on a mountain where A-Wen and Qin unravel their repressed emotions they have had bottled up inside. It's a pivotal scene about the principles of being a parent and spouse, and there is a sense of authenticity in their emotionally raw performances that convey genuine human emotion that never hits one false note.
The film is available to stream on Netflix, two and half hours during a season where many will be hunting out all the big award season movies. I assure you that a film like "The Sun" is just as great as something more mainstream like "Mank," "Minari," and "Nomadland." It is a luxury to have access to such extraordinary pieces of cinema like "A Sun" and I am sure there are other films out there that are lost in the large sea of streaming services and oversaturation of movies.
Hopefully this film will continue to have legs and reach the audience that it deserves, the Japanese drama "To the Ends of the Earth" that was just released also falls victim to the "under the radar" scenario. When you don't hear of these smaller foreign films, when they don't reach the hype of something like "Parasite" or "Roma" it might make you feel skeptical, just reflect to yourself that it's also just as resonant and as greatly executed as any of the films receiving all the buzz and hype right now, I assure you.
With a new year upon us after enduring a very challenging one, 2020 appears to have been a year where many reflected on their life and had epiphanies of what defines their life. Just as Pixar's "Soul" explores this terrain,   "A Sun" is also contemplative in tone, the title is no mistake since it's the sun that gives us life. The characters will continue to live on "A Sun" even through their challenges, where we see nothing but darkness smother us, there is always the shining beamer of life to pull us through. The metaphor of the sun in this film assures us this, just as the title. "A Sun" is a perfect film to start your new year off, and truly a highlight of 2020 cinema.
Now Streaming