To say that Juliet Triet's courtroom drama Anatomy of a Fall is riveting and worthy of all its praise on the festival circuit would be something of an understatement. This is one of those gripping murder mystery dramas that stands out from many others in the genre, especially for its superb writing and emotionally raw performance by its lead, Sandra Hüller. An emotionally charged, paradigm-shifting movie, Anatomy of a Fall is a film that deserves its praise and deserves to find a wide audience. It won the prestigious Palme d'Or at the 2023 Cannes Film Festival back in May, and nearly every critic is enthusiastic about it. After seeing the film twice, I have to say that the high praise is certainly warranted because it's that gripping and haunting of a movie.
One part murder mystery, another part courtroom drama, Anatomy of a Fall is a wrenching portrait of many other things: career, ego, jealousy, marriage, relationship, resentment, motherhood, and being wrongfully accused of murder. (Just imagine being accused of murder for an accidental death.) At its core, though, the movie is about being a woman during a time of individual crises: a renowned German author, mother, and wife named Sandra, played by Huller, who is arrested for murder in the French alps following her husband's sudden death during a wintry snow day. At first, the death looks accidental, and she is convinced he slipped on some ice, and the fall led to a severe head injury, which led to his death. Then she finds out that there is much circumstantial evidence, including a recording of a heated argument the couple had the day prior, and that the fall could actually be from his house in the top-story bedroom. Sandra finds herself indicted of first-degree murder in the French courts, where she must prove her intonaco while reconciling the relationship with her 11-year-old blind son, who was the only eyewitness to his father's death that day. This is Trier's brilliantly absorbing female version of a Hitchcockian mystery.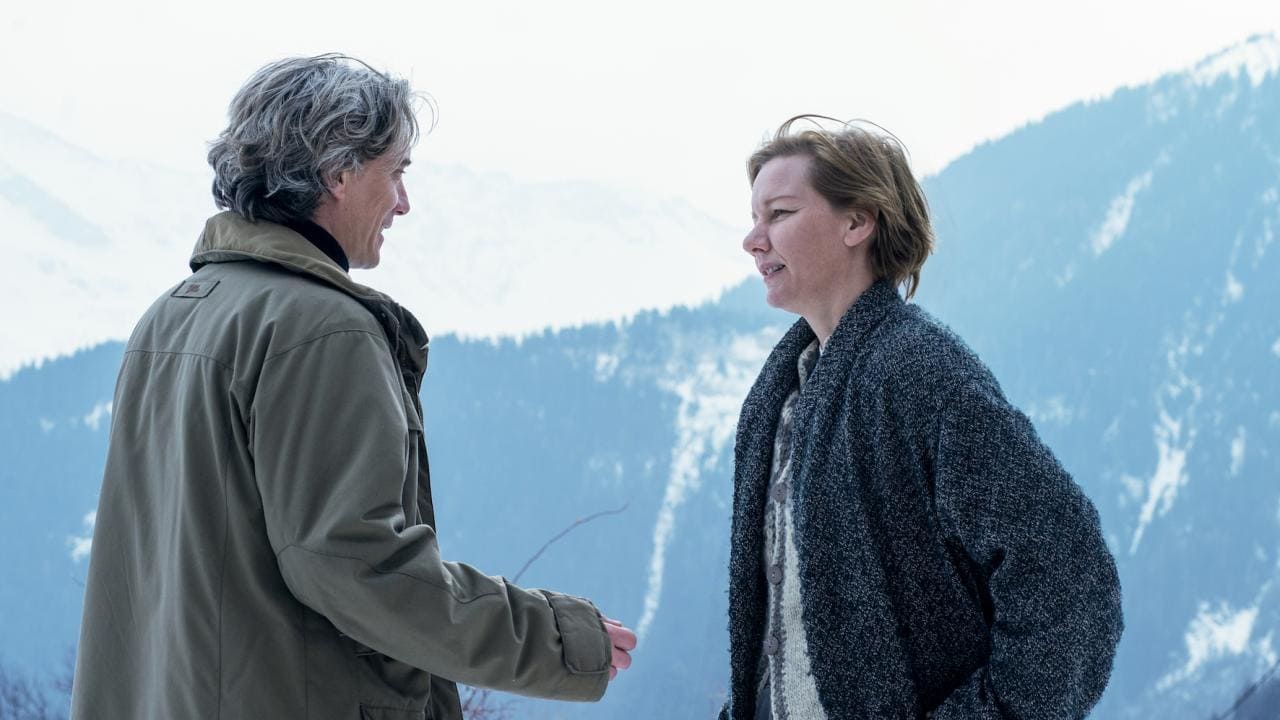 Courtesy of Neon
If the wrongfully accused concept sounds all too familiar, like something we have seen many times before in cinema, novels, and endless TV shows—well, on paper, it has certainly been overdone. But there's a reason why Anatomy of a Fall stands apart from the rest. The film still feels refreshing, simply because it engrosses the tension that arises in its exploration of relationships and just how personal an artist's work can reveal about their true nature and how outside perspectives can easily conflate the two. The defining quality of the film is the unsettling questions it asks about the power dynamics of a relationship as well as how hidden emotions within a relationship can eventually usher in dark turmoil. The film unfolds psychologically and with a taut build-up that ends in a satisfying climax that keeps you engrossed throughout Sandra's uncertain journey as she fights to prove her innocence.
Huller, the German female lead actor for Maren Ade's 2016 masterpiece Toni Erdman (which made my 2016 to ten) and the upcoming Zone of Interest, delivers one of the most commanding performances of the year as Sandra. She resides in a retreat house with her 11-year-old son, Daniel (Milo Machado Graner), and husband Samuel (Samuel Theis) in French. Triet immediately throws the audience into an anxiety-inducing scenario as she stages Sandra in a very tight close-up of her face as she is getting interviewed by a grad student about her work. As Sandra is humbled by the questions, her answers are disrupted as her husband blasts an instrumental version of 50 Cent's Pimp as it plays on a loop.
Courtesy of Neon
Embarrassed and annoyed by the disruptive song, the student leaves, the song still plays on constant repeat, and Daniel goes on a walk with his dog named Snoop. He returns to the house and finds his father on the ground with a suffering head wound. As Sandra believes her husband slipped on the ground and hit his head from the fall, the investigation and autopsy show that his death was a sudden head wound where he had to have fallen off the top of the house. The local police believe it was homicide, and Sandra's lawyer, Vincent (Swann Arlaud), analyzes the autopsy and trajectory of the fall and is convinced it was either suicide or an accidental fall from the top of the window.
Vincent is very serene and understands that Sandra is a woman of integrity. The physical evidence is ruled inconclusive, but there is a lot of circumstantial evidence that is heavily stacked against her. Vincent explains the amount of evidence the prosecutors will use against her, and she pleads her innocence. I did not kill him," Vince conveys. "That's not the point." This dialogue exchange gives emphasis on the film as the firebrand. The prosecutor (Antone Renartz) not only attempts to persuade the court panelists of her guilt of a tragedy, but he also deludes the case on a very personal level, accusing Sandra of manipulating the marriage for her own creative pursuits so she can carry on a hostile relationship for "authentic" material for her books.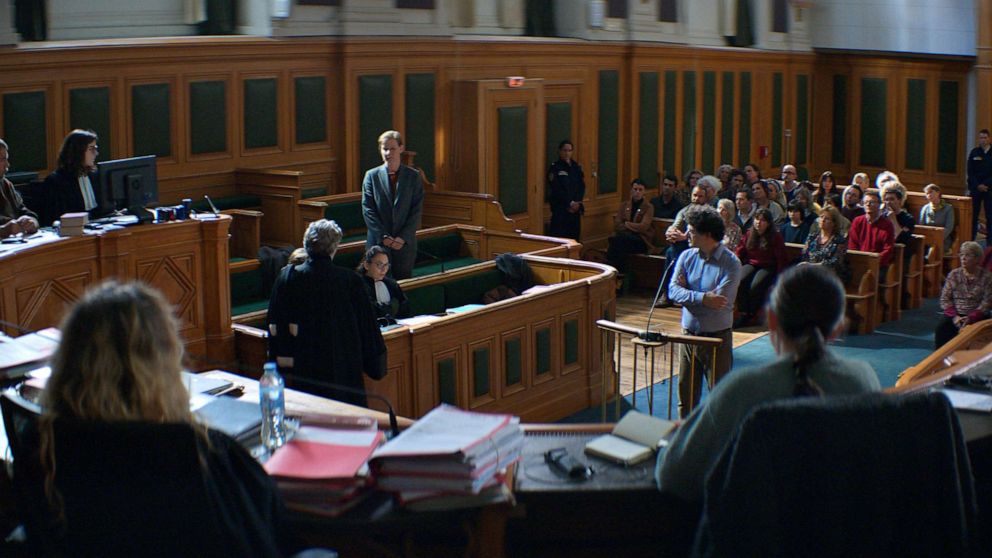 Courtesy of Neon 
Trier takes a lot of approaches here with genre tropes and themes. There is something rather revaltory about her approach as she merges an illuminating whodunit with courtroom drama and even a flashback that shows a very wrenching exchange between Sandra and Samuel, where Triet brilliantly cuts away from the escalating argument as it turns physical. Triet also doesn't make this a cloying pity story about Sandra, as it reveals she is a very intricate character with many flaws of her own. At the same time, you find yourself always rooting for Sandra, as Huller's first-rate performance is filled with anguish and vulnerability. One in which she does it in two languages (English and French) that aren't her German native language, which makes it even more impressive. Huller reminds the audience of how internalized misogyny still exists within relationships, marriages, and institutions. Triet also shows how these pressures on a woman are difficult to combat, as they are sly in manipulating the language and revealing how they disguise their cruelty with moral overtones.
The character of Daniel also brings an emotional core to the story. Here is a young boy who just lost his father and grows distant from his mother as he fears his mother's potential imprisonment. As a blind observer, he had to listen to their arguments, debates, and insecurities, and he became even more traumatized having to live through those hardships again. He ends up holding a very key element and revelation that can pivot Sandra's case during the trial.
Anatomy of a Fall is not a simple film with simple answers and resolutions in its writing. It holds a lot of emotional complexities and an equal number of ambiguities in the motivations and narrative outcomes. Perhaps what transcends the material so well is how this whodunit becomes more of a portrait of a collapsed marriage. Thanks in part to Triet's engaging writing along with co-writer Arthur Harari, whose tightened screenplay has the shades of a Pultzi prize-winning play, for which he also co-wrote Triet's previous feature, Sibyl. The drama is potent, and the exchanges in this film are masterfully acted, scripted, and staged. The result is a film that is spellbinding and haunting, one that burns through the protagonist's psyche as it unfolds with its taut stronghold.
Anatomy of a Fall is now playing in limited theaters.