Sophisticated, meta, and deadpan, Asteroid City finds world-renowned auteur Wes Anderson recapturing a similar story as he has in the past but working on a much larger canvas where he gets to experiment more with narrative structure and take greater risks this time around. Cleverly written and mostly engaging despite some elements not working, this layered ensemble will certainly leave audiences and diehard Wes Anderson champions more divided. The film is more in the vein of his more radically stylized films like The French Dispatch and The Life Aquatic with Steve Zissou, where the artificial style often overwhelms the narrative, but Anderson takes a more embedded narrative approach with his latest that renders some genuine payoffs and characterizations that prevent it from being one-dimensional.
Of course, Anderson's latest comes with all of his personal traits: highly stylized aesthetics, rich production design and decor, eye-popping colors, and offbeat characters that consist of wounded artists, intellectuals, young geniuses, overachievers, and other quirky socialites. As bright and skillful as any other of Anderson's films, his satirical targets here echo his 2018 film Isle of Dogs, about a desert town having to quarantine during a crisis that draws modern parallels in how governments and society reacts in times of crises like the global response to COVID in 2020 and 2021. Thematically, the film is perhaps Anderson's most existential yet, especially how society reacts in times of anxiety. Structurally, the film echoes The French Dispatch as much of it feels like a sketch with its unconventional narrative within a narrative approach with a very large ensemble that doesn't always work, but when it does, there is a continued flow to the narrative where many sequences and exchanges ignite on an emotional and technical level.
Courtesy Focus Features
With Asteroid City, you nearly get two films for the price of one since it's structured with three acts, has an epilogue, and is broken up by scenes. Anderson's main narrative about a grieving family visiting a space-obsessed desert town ends up holding some elements of Rushmore, The Royal Tenenbaums, and Moonrise Kingdom together. This segment of the story is the most conventional and feels the most accessible, as it holds charm, humor, and genuine pathos. The behind-the-scenes narrative, which is arbitrarily dropped in throughout the narrative, is deconstructed in a way that holds a love letter to art, performance, and creativity. It's perhaps Anderson's most formally playful approach yet, and this segment may come across as detached and play out like small vignettes or even short films that feel like missing reels from The French Dispatch, but they end up holding a clever payoff, even after a few of them fall flat, including a finale that doesn't fully satisfy.
While detractors are already armed with criticisms of Anderson for pointing out how the auteur is still fixated on his same style and traits, that has made him a household name around the world as his style has its own cinematic vocabulary that is celebrated and equally parodied from SNL to YouTube and TikTok videos. Some might say Anderson hasn't really grown as an artist over the years, or rather stayed stagnant, as The Royal Tenenbaums and The Grand Budapest Hotel remain his finest works. One thing is for certain: Anderson takes formal risks, and Asteroid City certainly stands apart from his other work in that it doesn't feel redundant while he gets to stay true to his style at the same time. From the astonishing cinematography by Robert Yeoman to Adam Stockhausen's breathtaking production design, the old-fashioned, tactile decor is nothing short of visually arresting, as one would expect. The stellar production design certainly recalls the work of Jacques Tati and Jacques Demy.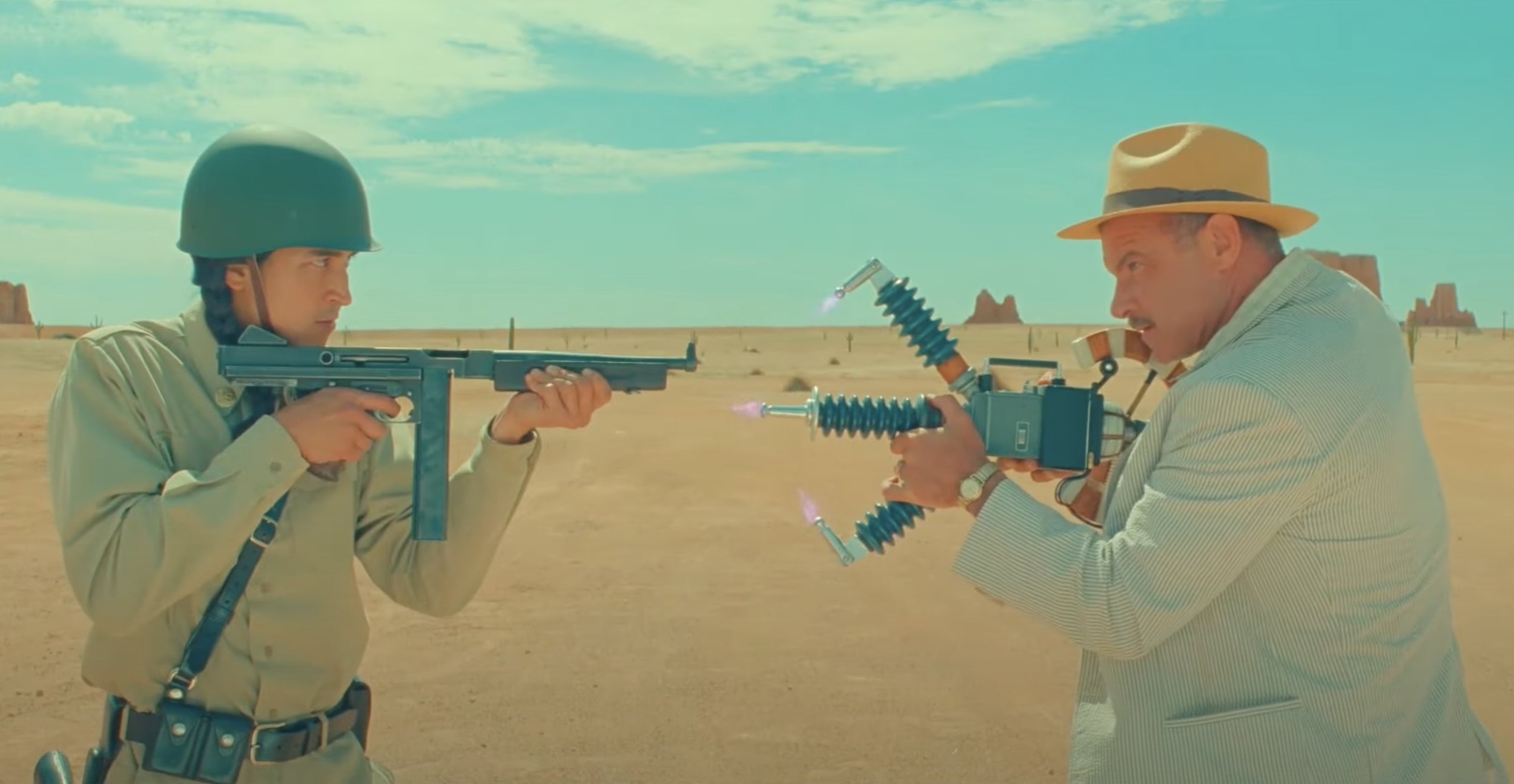 Courtesy Focus Features
While Anderson's settings as of late have taken place in either Europe (The French Dispatch) or Japan (Isle of Dogs), Anderson returns his setting to mid-1950s America in a fictional US desert down called Asteroid City, which is named after a meteorite landing that supposedly hit the vicinity 3,000 years ago. The town is now under U.S. Government jurisdiction for the time being, but the site also holds an annual science fair that honors the brightest teen inventors with their high school science projects. Some of the inventions include laser guns and other space inventions. It appears to be a convention that is preparing the nation's brightest to be advanced scientists, astronomers, and astrophysicists as each teenager is awarded what is called the Junior Stargazer Awards that are hosted by Army General Grif Gibson (Jeffrey Wright).
During the convention, a staggering event occurs, which is even more alarming than the continued atom bomb tests that leave mushroom clouds on the horizon. The U.S. President orders General Gibson to quarantine the whole town, which is mostly all family members of the children, and the only locale outside the military is a local mechanic named Hank (Matt Dillon), a hotel manager (Steve Carrell), and a group of cowboy musicians that play country music. The whole town is put under lockdown until the threat is cleared and the parents learn to live together in a small community. The film's main character, Augie Steenbeck, is a recently widowed war photographer and father to Woodrow (Jake Ryan), who is one of the recipients of the Junior Stargazer award. Augie also has three other daughters, and he convinces his father-in-law Stanley Zak (Tom Hanks) to pick her up  after his car breaks down, but he finds himself under quarantine as well. Meanwhile, Auggie ends up encountering Midge Campbell (Scarlett Johansson), an actress and mother to her inventor teenage daughter named Dinah (Grace Edwards). Auggie ends up falling for Midge, and their exchanges through the windows in their small, confined motel rooms are some of Wes Anderson's most poignant scenes he has staged and written. Both Swartzman and Johansson's chemistry really flourishes, making this possibly the best romance executed in an Anderson film thus far. Hope Davis and Liev Schreiber also turn in amusing roles among the parents, and Tilda Swinton plays the scientist of the government-run observatory.
Courtesy Focus Features
From there, Anderson' introduces a unique framing device in the film that is hosted by an anthology television show host in the vein of Rod Sterling (Bryan Cranston), who gives insights into a legendary playwright named Conrad Earp (Edward Norton), who is writing a play that is to be directed by Shubert Green (Adrien Brody), and we see other cast members come in and out of these vignettes, and while at first they alienate and feel detached from the material, they end up coming full circle. The irony is that the story and narrative in Asteroid City were engaging enough that the other narrative-within-a-narrative takes away a lot from the narrative momentum of what was a superbly tailored narrative to begin with, even though it is unconventional and self-referential to what Anderson is doing. But so much of the film happens to work.
While Anderson is easily accused of just "repeating" himself, I see a refreshing side to Wes Anderson with his last few films like Isle of Dogs and The French Dispatch, where he is experimenting and still trying new things while maintaining his sensibilities. Overall, Anderson's approach provides an intriguing window into his imagination and style. Yes, his visual style and approach remain singular, but Anderson deserves much more credit for taking risks. He's still artistically evolving as an artist in refreshing and bold ways, in spite of some of the film's small shortcomings. Whether you consider Anderson's approach smug or redundant, he still makes some of the most distinctive films released today.
Asteroid City opens in theaters everywhere Friday, June 23rd.