Emily the Criminal is a gripping neo-noir film that explores a human story of desperation beneath the surface, looking beyond the modern-day desperations of a debt nation and the horrors of income inequality. It focuses on an early 30s young woman from New Jersey, who now resides in Los Angeles, as she drowns in college debt and keeps up with living expenses, who walks into a side job involving credit card fraud. Writer-director John Patton Ford's riveting and strikingly impressive debut maintains its dramatic momentum throughout as it explores a woman's financial despair, whose spontaneous choices pull her unexpectedly into the criminal underworld of L.A.
Echoing a strain of other films and TV series that have explored ordinary people who resort to crime with such titles as Breaking Bad, Maria Full of Grace, and No Country For Old Men, to name a few, Ford's film holds a lot of familiar trappings that could easily be dismissed as routine, but Aubrey Plaza's skillfully conveyed performance continues her impressive record of playing emotionally charged roles of complex and independent female characters that attempt to hold their lives together before it continues to completely fall apart. While the film is too much of a small fair independent drama to generate Oscar buzz, Emily the Criminal is poised for some Independent Spirit Award nominations depending on how the rest of the year goes.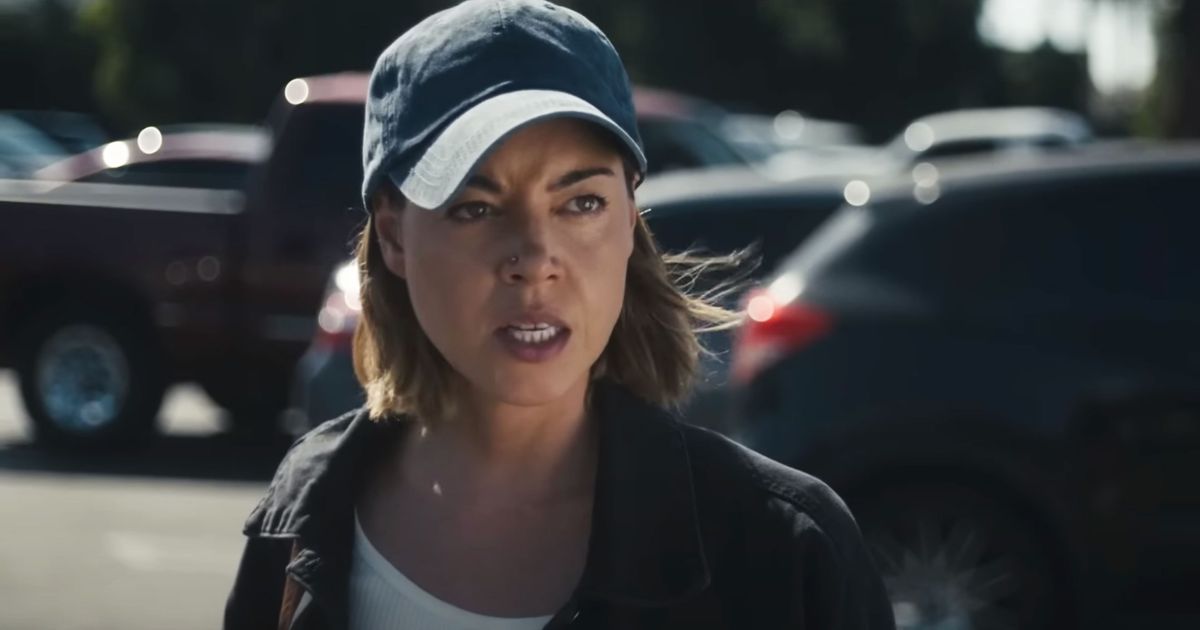 In this gritty and intense neo-noir thriller, Emily the Criminal has the spirit of a working-class drama as well. Plaza gives one of her most raw and vulnerable performances as Emily, a New Jersey native who made some irreversible mistakes in her college years, including a DUI and an aggravated assault charge that remains on her record. The film opens up with Emily being interviewed for a position by a hiring manager who has a very passive-aggressive strategy in exposing Emily's background on her resume. At first, he appears to be friendly and inquisitive, but you can sense how he's patronizing and hoodwinking Emily into revealing that she lied on her application. Throughout the film, this appears to be an ongoing situation that Emily finds herself in as people who appear kind at first are very combative in what their ulterior motives really are.
She is burdened with over $70,000 in college debt for an art degree that she wasn't able to complete due to substantial fines, court costs, and other unforeseen circumstances that involved taking care of her ill grandmother. Emily has a job as an independent contractor for a food catering company, in which she delivers food and trays to office meetings and special occasions. Emily can't seem to get ahead either. Even a $400/month payment can barely pay the interest, which constantly keeps her in a state of limbo. Emily also has roommates in a tiny apartment that she shares with an immigrant couple, and she can't even afford to pay for artist supplies. That prevents her from pursuing her true passion and talent for painting.
Overworked and underpaid, her fellow co-worker Javier (Bernando Badillo) kindly asks her to work his shift so he can attend and support his kid's baseball game. In return of the favor, he ends up texting her a number to call where she can make a quick $200 an hour with a side job. She calls the number, and she's given a time and an address that lead to a shady warehouse that seems very gated and suspicious. They run her driver's license and even the front-desk workers call Javier to confirm that he vouches for her. She is given back her card and enters a room with a charismatic man named Youcef (Theo Rossi), who tells them right off the bat that they will be making an easy $200, but Youcef makes it clear that what they'll be doing is against the law, and few people leave, and Emily begins to exit the room–but Youcef can sense something determined in her demeanor. Emily decides to stay and listen to the pitch.
It's soon revealed that Youcef, along with his corporeal cousin Khalil (Jonathan Avigon), are running an underground operation of stolen credit cards and driver's licenses that they got off the dark web and are able to modify on their own. Emily is given a credit card, her own separate cell phone, and a fake ID. At Emily's first job, she buys a flat-screen TV under a modified driver's license and the assumed identity of a person whose name has her picture on it. With it being quick money, Emily soon finds herself making more money and buying higher-end flat screen televisions, which leads to her selling them online and meeting shady individuals in parking lots where they pay her up to $600.00 for the TV. This impresses Youcef, which leads him to offer Emily an even higher stake job, where he offers her $2000.00 to buy a high-end sports automobile from some suspicious auto dealers, which turns into a ruckus.
From there, the film will keep you engrossed, and filmmaker Ford's non-judgmental script explores the state of affairs and type of gritty desperation that leads Emily to acquire such a dangerous and unlawful undertaking. She's never made to seem manipulated, persuaded or driven by materialism, but instead she has hopes and aspirations of traveling to South America, living life to its fullest, and she longs to paint again because it brings her great joy. She steps into the situation due to financial despair. It's quite commanding just how Ford brings such empathetic insights to the character and to actress Plaza, who builds the character up so well that you can't help but find sympathy for her plight.
The film offers quite a few palatial scenes as well, where so many stakes are raised as Emily descends further into the criminal whirlpool, which includes a very intense scene where Emily is robbed for her cash and they attempt to steal her friend's dog, and how these scenes play out are expertly staged and brink with high intensity.
Emily and Youcef become closer as Emily becomes more inquisitive about how Youcef pulls off this underground profession. He ends up revealing to her some tips, secrets and instructs her on how he pulls off his schemes. Meanwhile, there is still a part of Emily that wants to return to normalcy, which leads her to her best friend from high school, Liz ( Megalyn Echikunwoke), where she secures her an interview at Liz's marketing agency. Gina Gerson is an absolute scene-stealer as Liz's boss, in which she holds a brilliantly acted exchange with Emily, who isn't too keen on Emily's criminal past and the fact she didn't finish college but is willing to give her an unpaid internship. Emily feels insulted and has bills to pay and just can't afford to work 8 hours a day with no pay. It's a brilliant commentary on class warfare and just how people on the corporate level coerce just as much as someone like Youcef, but companies can get away with it without unions and lax labor laws.
Filmmaker John Patton Ford never glorifies or has a pity party about the situations his anti-hero finds herself in, but the film remains a richly empathetic study of how a person can resort to such actions based on their struggles. The drama in this film is superbly executed at every turn and always ignites. At times nail-biting and resonant, its thrilling suspense is fueled by just how emotionally invested you are with Plaza's character and what's at stake for her. Ford avoids stylish visual flourishes and uses a more stripped-down realism style that adds to the film's grit. The approach heightens the authenticity of the film, which is supported by Harrison Atkins's impressive editing skills and by Jeff Bierman's simple yet impressive camera work. In the end, Emily the Criminal becomes a personal chronicle of crime and an unflinching drama about the financial struggles and last resorts people succumb to. Ford ends up humanizing the very dark depths of a fraudulent business such as identity theft, and the result is a very gripping framework.