The 13th Amendment to the U.S. Constitution put an end to slavery and involuntary servitude in 1865, but it didn't put an end to social injustices and inequality. The recent tragic murders of Ahmad Arbery, George Floyd, and Breonna Taylor just puts a deep emphasis of the injustices that tragically still exist in America, even in the year 2020. While progress has been made, the cancer of institutional and systematic racism is still explicit as the struggle for equal rights always seems like an endless battle–everything from criminal justice reform to police brutality are just many of the relevant and galvanizing topics that have generated for some essential filmmaking. If you can't make it to a demonstration or protest, at least try to watch these timely films now so we can pave the way for a more peaceful and sustainable country, society, and world.
One of the most combative ways to empower change for the better is through the visual medium.  Here are 10 timely films that chronicle black livelihoods in America fighting for liberty, justice and civil rights.  Defacto Film Reviews support the Black Lives Matter protests and all individuals who continue fighting against racial injustices, police brutality, racism, and oppression. In this small list I refused to include films with white savior archetypes and slave films.  We have had enough of those films in the past, moving forward we need more films with diverse voices showcasing the true injustices and oppression that minorities are enduring today, among many other stories and themes. We hope more audiences revisit, recommend and treasure these films during these peril times.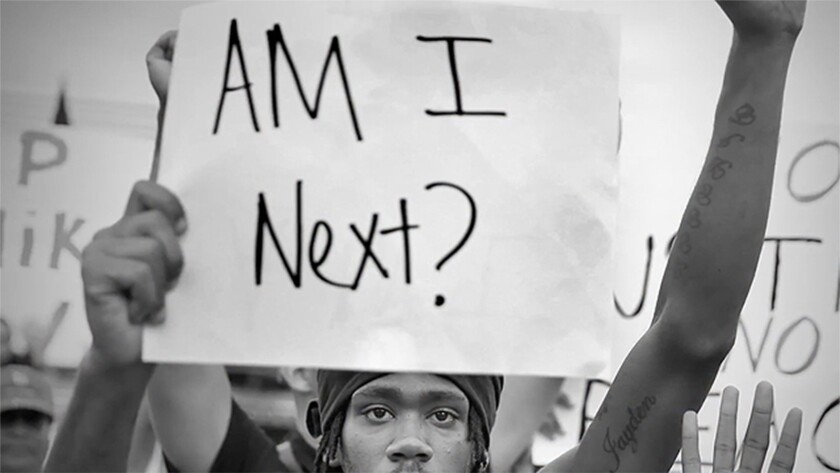 13th (d. Ava Duverney)
A documentary that is named after the thirteenth amendment of the US constitution, the movie explores how slavery was an economic system built for power and wealth, and in order to regain lost profits the government allowed the one flawed wording—"except as a punishment or crime"–which allowed slippery slopes of further servitude. In order to make money from a prison system, fear of African-Americans had to be generated. The film examines how incarceration is how it is today with most of the U.S. Presidents using methods of "War on Drugs" and "Law and Order" rhetoric that amps up the worlds largest incarceration ratings that we see today. Filmmaker Ava Duvernay makes a passionate and thought-provoking documentary that includes interviews with Angela Davis, Van Jones, and Newt Gingrich who even admits the drug laws in the 80s and 90s were unfair. The documentary is very erudite, provocative, and it should be watched by every American. (Netflix)
Blindspotting (d. Carlos López Estrada)
This indie comedy-drama has some bizarre tonal shifts, but always remains on point. One moment it is comical, the next visceral, and the characters always remain affecting. A very complex film that explores many dynamics of friendship, privilege, and police brutality. The film is about an Oakland resident Collin (Daveed Diggs) who just gets released out of jail and is on parole. With only three days left until his parole ends, his best friend Miles (Rafael Casal) buys a gun, and while he is driving home, waiting at a stoplight, Collin bears witness to a white cop shooting an unarmed black man on the crosswalk. Colin becomes traumatized by the incident which leads Colin down a path of more self-discovery about his own reality and the hidden oppression that exists around him. Diggs has a great screen presence that is very inviting, and the film raises a lot of essential topics in a film that provokes and equally amuses and entertains. (Hulu) (Amazon Prime $3.99)
Do the Right Thing (d. Spike Lee)
A fearless film that is formally daring and still restraint, Spike Lee's "Do the Right Thing " remains the greatest film of his oeuvre and it's easily one of the greatest pieces of cinema of all time, despite how the Oscars ignored it for Best Picture and Best Director . The story is set on the hottest day in a Brooklyn neighborhood. The film follows several characters throughout the course of the day, that uses the heat as a metaphor for the escalating tensions that about to boil up and erupt, which leads to a shattering climax where Radio Raheem (Bill Nun) confronts Sal (Danny Aiello) on his prejudices. While the film dives deep into racial tension, the film is mostly relaxed and exuberant to watch with its seamless pacing. The film builds up the stress, but Spike Lee also delivers affection and empathy for each of his characters. Amazon Prime $3.99 Vudu $3.99
Fruitvale Staition (d. Ryan Coogler)
Ryan Coogler made an explosive feature directing debut with the factual based drama, "Fruitvale Station", and Coogler went into bigger things with "Creed" and the blockbuster sensation "Black Panther", yet it was "Fruitvale Station" that showcased his greatest depth. Coogler reconstructs a wrenching event of racial tension and senseless police brutality. Upon the release of "Fruitvale Station" we had a large array of many films exploring police brutality and other issues of social justice, but "Fruitvale Station" is easily one of the most essential films that touches on these subjects. It's an emotionally charged piece of art and an undeniably powerful and moving film that will leave you shattered and heartbroken. Tubi (Free) Amazon Prime $3.99
Get on the Bus (d. Spike Lee)
"Get on the Bus" is Spike Lee's most overlooked film, and is as political as Lee has always been. "Get on the Bus" tells the story of a group of black men from various backgrounds and life experiences who go on a cross-country bus trip to attend the Million Man March in Washington, DC, in 1995. Spike Lee once again delivers warm characters discussing compelling and crucial topics that surround many topics about the march, identity, race relations, politics, and race. The film features a great cast starring Charles S. Dutton, Isaiah Washington, Bernie Mac, and Ossie Davis. "Get on the Bus" expertly draws parallels of the plight of African Americans then and now.  (Netflix)
I Am Not Your Negro (d. Raoul Peck)
Last decade paved the way of many invigorating documentaries on racism, but Raoul Peck's is perhaps the most cultivated and scholarly documentary from the last decade. The film also uses the unfinished manuscript by the author and activist James Baldwin (1924-1987), that recollects his past friendships with civil rights leaders Medgar Evers, Martin Luther King, Jr., and Malcolm X who were all murdered during the Civil Rights movements. Samuel L. Jackson narrates the manuscript with deep melancholy and wisdom that matches Baldwin's own sophisticated vernacular and manner of speaking. The film also flows over with powerful imagery, archival footage of Baldwin speaking about racial discrimination with clarity that was unorthodox at the time. The film is only 96 mins as you never want it to end. The documentary is a beautiful time capsule that should be watched in every civics class. (Amazon Prime-Free with Subscription)
Just Mercy (d. Destin Daniel Cretton)
In response to the current events, Warner Bros. Is offering free streaming rentals for the film "Just Mercy," in hopes the film will be an educational resource for people who want to learn more about how institutional racism that exists in our society. The film is very traditional that plays on the courtroom procedural drama, but it always remains engrossing and deeply moving. The film has striking commentary on racial injustice and memorable performances by Jamie Foxx, Michael B. Jordan, and Brie Larson. The film is about a, young lawyer Bryan Stevenson (Michael B. Jordan) who decides represent death row inmates. He moves to Monroeville, Alabama (Ironicaly a town that prides itself as being the home of Harper Lee) in which he joins up with Eva Ansley (Brie Larson), and takes on the case of Walter "Johnny D." McMillian (Jamie Foxx). Johnny D was falsely accused and convicted of killing a teenage girl that was based on the testimony by two erroneous witnesses. This film is a modern day vararation of Harper's "To Kill a Mockingbird" and every American needs to see it. Free on Amazon Prime
Malcolm X (d. Spike Lee)
Spike Lee's sprawling and passionate film remains one of his most ambitious and personal films to date. Lee was also snubbed out of a Best Director nomination that year Lee in which Lee committed some of his strongest craftsmanship and directing skills of his career in this outstanding film. Lee truly transcended the biopic out of familiar terrain in just how connected and passionate Lee is to the material. While many filmmakers can direct films about historical figures, but nobody would have brought the energy and energy to the story of Malcolm X the way Lee did. Denzel Washington also delivered the performance of his career in this film, in which he was snubbed to Al Pacino in 1992 for the embarrassing "Scent of a Woman." Spike Lee's magnum opus not only remains one of the greatest biopics of all time, but easily one of the greatest films ever made about civil rights.
O.J. Made in America (d. Erza Edelman)
While this ESPN 6-Hour 30 for 30 documentary's primary focus is on O.J. Simpson, the wealthy, black star athlete who ultimately went down a rabbit hole of trial, murder and self-destruction. Deeply compelling from beginning to end, "OJ Made in America" is a masterful examination of bigotry, class, sex, celebrity, and the cult worship of sports heroism and celebrity in America. It shows how the American Dream can destruct into the American nightmare without self-control. The film also remains as a gripping condemnation on the police abuses and corruption within the LAPD during the aftermath of the beating of Rodney King.
Selma (d. Ava DuVernay)
Also directed by Ava DuVernay, "Selma" chronicles the ongoing fight of Dr. Martin Luther King's struggle in obtaining African-Americans the right to vote. The film explores Dr. King's (David Oyelowo) lead from a peaceful protest that turned violent from Selma to Montgomery, Alabama, which was known as our "Bloody Sunday." Just as protests across the nation and world led to the arrest of the officers involved with the murder of George Floyd, "Selma" explores the power of protest. Whether protests begin peaceful and violent, they are needed in peril times, in which the Selma march led to President Johnson signing the Voting Rights Act of 1965. "Selma" reminds that the power of protesting indeed unites many for the common good.