Based on the remarkable and nearly impossible biographical true story of long-distance swimmer Diana Nyad's persistent efforts to swim straight from Cuba to Florida without a shark cage, Nyad, the latest Netflix sports movie, is a triumphant modern sports movie that hits many familiar beats of many other underdog movies. The film still prospers in part due to its resonant writing, immersive swimming sequences, and grounded performances.
The film's aging athlete trope is certainly similar to ones akin to The Natural, Rocky Balboa, and The Wrestler, which were all about older underdogs who never give up. Yet thanks to the documentary duo of directors Elizabeth Chai Vasarhelyi and Jimmy Chin's approach to the material and Annette Bennings and Jodie Foster's genuine portrayals of Diana Nyad and Bonnie Stoll, respectively, they bring genuine insights to the characters that are both emotional and physical. Even though at times their performances are sidelined by an overdone editing montage of flashbacks that feel more distracting than involving,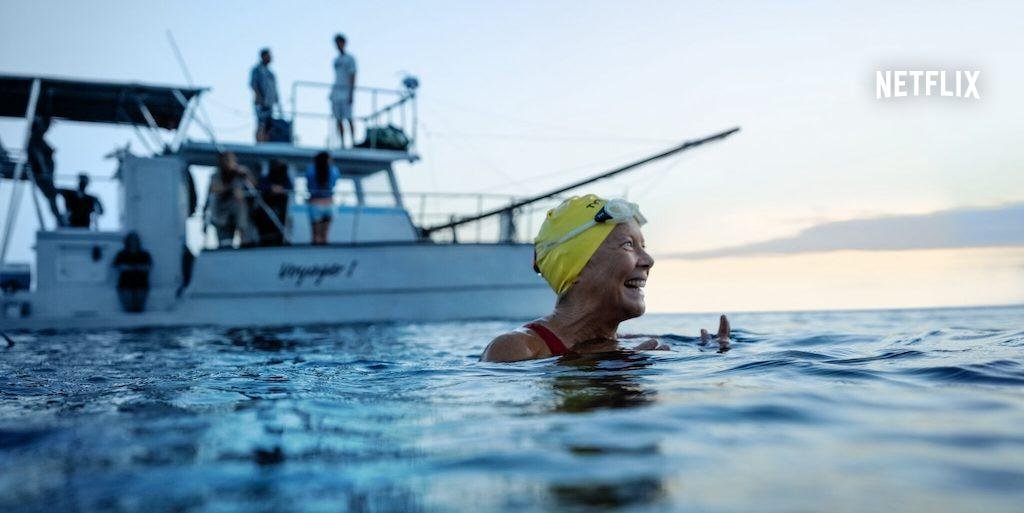 Courtesy Netflix
If anything, Nyad begins on a playful note and ends on a very empowering note, with an ending that serves as an elegy to the hopeful LGBTQ community who continues to stay strong, and Nyad (a lesbian athlete) was a symbol of empowerment in an era where the LBBTQ community felt the country was progressing in the right direction during the Obama era setting of the 2010's, when the nation was becoming more socially inclusive and marriage equality was to pass nationwide on the Supreme Court. Symbolizing the persistence of human rights and staying true to oneself after enduring one failed swim attempt dating back to 1997 and aiming to try again as Diana turns 60-defeat hits hard for Diana as she faces various obstacles from Mother Nature, such as tropical wins, deadly sharks, and jellyfish, not to mention the toll swimming a far distance has on body temperature and on the human body. The swim expedition hits Diana and Bonnie financially hard as well, where they put their mortgage on the line and struggle to find sponsors to pay for the boating, medical, and other protective expenses. It's also a 50-mile expedition that has never been achieved by any athlete or swimmer.
What could be dismissed as trite and practicable, yet Bening's performance is quite commanding and more intricate than meets the eye. Her performance as Diana is quite flawed, to the point where you can see that her determination can be alienating to other's. Especially to the people who support her the most. While Bening's performance is quite transformative, Foster's supporting performance is more restrained. We don't see Foster in as many films these days, so it's always rewarding to see her in a film. She delivers many warm scenes that counterpoint Diana's ambitions that appear to benefit her own gain. At any rate, they were once in a relationship and are now strong friends, and Bonnie serves as a loyal mentor, coach, and friend.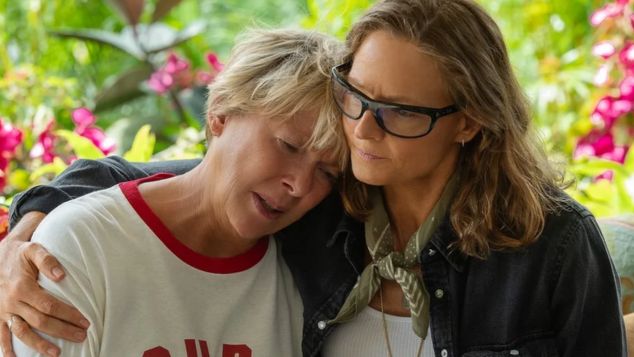 Courtesy Netflix
Another notable performance in the film is Rhys Ifan as John Bartlett, a sea navigator who believes in Nyad's goals and believes she can achieve her goal of swimming across the Florida Strait that connects the area between the Gulf of Mexico and the Atlantic Ocean and between the Florida Keys and Cuba. He pushes back and brings her to her senses about what can be achieved. He is the type of person Bonnie believes is needed to be on the journey.
Nyad's swim was never fully ratified by the World Open Water Swimming Association, and many marathon swimmers believe she never accomplished the swim without assistance. Filmmakers Vasarhelyi and Chin do show Nyad abiding by the rules, and her struggles feel harrowing. There are some moments that capture the visceral adventures endured that are comparable to Vasarhelyi and Chin's thrilling 2018 Oscar-winning documentary Free Solo. Sadly, the film takes some detours with some fragmented flashbacks involving Nyad's unnamed swimming coach, who left a traumatic mark on Nyad and her fellow swimmer athletes. While the flashbacks have the potential to be potent and they build up characterization of Nyad's trauma, they feel overly stylized and undermine the dramatic momentum of the narrative. What does work is the amount of archival news media merged with documentary footage that is utilized in the film that echoes the work of Oliver Stone and Spike Lee.
Even though it doesn't break any new ground, you can't help but feel empowered by Diana Nyad's story. If anything, her friendship with Bonnie Stroll is every bit as engaging. It eventually becomes a story of friendship, aging, and determination. It's also a portrait of how dreaming big comes with delusions, and those delusions can eventually become reality. It may seem that Diana's struggles feel endless. But by the time her momentum gets going, so does the narrative, thanks to just how invested we become in Bening and Foster's onscreen exchanges that ignite all the way to the outcome of this inspirational underdog story.
Nyad is now streaming on Netflix