Easily one of the most extraordinary and gifted visionaries working today, Paul Thomas Anderson is one of the world's most celebrated and renowned filmmakers of our era. With the release of his latest film, titled Licorice Pizza, in which P.T. Anderson returns to his San Fernando Valley roots in an era where teenagers could sell waterbeds and pinball machines. With high acclaim and awards season buzz behind it, to honor the release of Paul Thomas Anderson's latest masterpiece, I decided to do a retrospective to honor his impressive body of work.
What's remarkable about his filmography is that P.T. Anderson has never made a bad or even mediocre film. Each film has strong defenders, many of which are even Oscar nominated films that all reached a high level of critical and commercial success. A filmmaker with a singular style that consists of beautiful long-takes, exquisite, astonishing tracking shots, impeccable camera movements, skillful writing, rich characterizations, memorable characters, Paul Thomas Anderson's style is certainly inspired by many of the great filmmakers such as Stanley Kubrick, Martin Scorsese, Steven Spielberg, and, of course, Robert Altman, which you can still see, to this date, Altman's sensibilities and traits shine through with PTA's vision. Below is my best effort of where I stack each of his films, and regardless, the list will ruffle some PTA feathers because everyone has a list of their own favorites.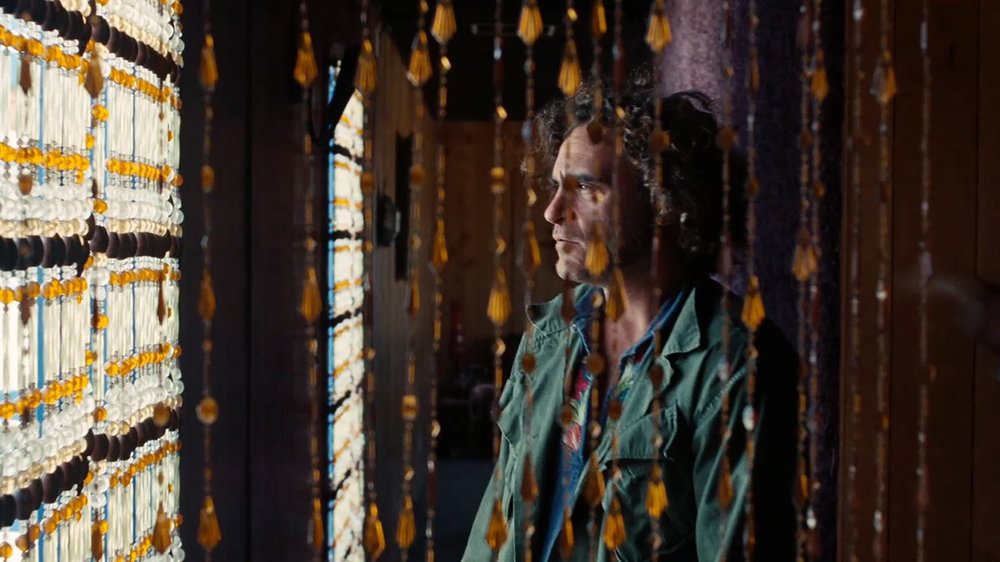 9. Inherent Vice (2014)
After coming off the major successes of both There Will Be Blood and The Master, P.T. Anderson returned to the 70s and crafted a far less serious movie that held his comical sensibilities with Inherent Vice. Based on the acclaimed Thomas Pynchon novel of the same name, the material is difficult to adapt due to how dense it is, but P.T. Anderson spikes the experience with many hysterical moments and some visual flourishes to make it a memorable experience. The film incorporates a neo-noir, pseudo-mystery approach that's certainly an ode to Robert Altman's 1973 noir film The Long Goodbye, and the result is a little messy and exhausting. Nevertheless, the film adds up to a considerably enjoyable experience where it holds up better in parts than as a whole, simply because the film is dry in many areas and not as energetic as one would expect. A pseudo-hard-boiled detective story told through the perspective of stoner hippie Doc Sportello (Joaquin Phoenix), the film holds some clever voice over narration with Sortilege (Joanna Newsom), who holds some sweet wisdom for Doc's moral compass and who is probably a part of his psyche and ego, and who guides Doc and the viewer into the convoluted twists and turns. In this film, Doc, who has long hippie hair, bushy sideburns, and wears hippie clothes, forms an unlikely friendship with fellow LA detective and actor Det. Christian F. Bjornsen (Josh Brolin), who tries to solve cases involving bizarre murders and corruption that point to the Golden Fang crime syndicate.
8.  Hard Eight (1997)
A towering debut feature by P.T. Anderson, led by an impressive cast headed by Phillip Baker Hall, elevates Hard Eight, Anderson's crime drama. Certainly, a notch or two above most of the Tarantino imitators that were released after Pulp Fiction. Centering on Sydney (Phillip Baker Hall), a career gambler and retired criminal who takes a younger protégé, John (John C. Reilly), under his wing to show him how to profit off casinos, PTA's debut feature shows so much competence in writing, crisp dialogue, and, of course, craftsmanship that unfolds as if it was crafted by a veteran. You can easily sense an Altman and Scorsese vibe in this film, and PTA keeps the yarn small for his calling-card movie, as you never quite know where the story goes. P.T. Anderson Hard Eight has a lot of heart and emotional payoffs for a crime film. As is evident throughout most of his films, P.T. Anderson is a humanist who understands the human condition and doesn't manipulate the audience. He also imbues the film with his rich visual touches that include master shots, exceptional blocking, great tracking shots, and impressive dramatic writing. Addressing strong character arcs, reveals, as well as deeply flawed characters, Hard Eight paved the tone for the rest of his filmography. Ultimately, Hard Eight is stronger than most debut features as it's involving, wise, moving and rendered with very strong performances. Samuel L. Jackson also delivers an impactful performance as Jimmy, a criminal who holds unkempt knowledge of Sydney's past, and Gwyneth Paltrow is very authentic and convincing as Clementine, a casino cocktail waitress who reminds Sydney of his daughter.
7. The Master (2012) 
Paul Thomas Anderson's sixth feature is perhaps his most idiosyncratic one. Frustrating but addictive, perplexing but memorable, The Master is the type of film that reveals new meanings with each viewing because of how psychologically rich and layered the material is. A complex meditation on the impact of emotional trauma on a troubled World War II veteran named Freddie Quell (Juaquin Phoenix), who seeks refuge in a cult-like community that echoes the Church of Scientology and is led by Lancaster Dodd (Philip Seymour Hoffman), this period piece that takes place in the early 1950s is made up of mainly sensory visuals and hypnotic moods that feel transporting. Meticulously shot with woozy storytelling techniques that involve hypnosis, flashbacks, dream states, and montages as Lancaster Dodd attempts to heal Freddie's trauma and anxiety that stem from his troublesome habits that consist of boozing, holding a hot temper, and sex addiction, The Master is more problematic with its enigmatic approach that feels more distant and detached, but still, there is no denying just how sophisticated Anderson is as a writer and director where so many moments and scents hold effective dramatic force that is never undermined by the film's peculiar style. Everything from the astonishing opening act that's paired with the elegant moving camerawork found in There Will Be Blood, Punch-Drunk, Boogie Nights, and Magnolia, to the "processing" segment of the film where Lancaster drills Freddy on personal questions during a research survey, all the way through the brutal confrontation of Freddy and Lancaster unleashing their emotions in a jail cell, to a detractor questioning Lancaster's methods, all prove just how much of a hypocritical fraud Lancaster could really be, or is he? The end result is a deeply ambiguous and fascinating yarn that lingers in your mind for years upon watching.
6. Punch-Drunk Love (2002) 
Oddly charming and whimsical with its off-beat humor and a melancholic exploration of loneliness being empowered by the power of love, P.T. Anderson's follow-up to his sweeping 1999 masterpiece, Magnolia, didn't disappoint. P.T. Anderson once again delivered an artful portrait of an outsider in Punch-Drunk Love, which feels like an abandoned subplot that didn't make it into the final draft of Magnolia. The film explores the anguish and isolation of a warehouse business owner named Barry Egan (Adam Sandler), who deals in a supply chain of plungers, holds a lot of anger issues, and is quick tempered from the constant harassment that he still endures from his older sisters. In his most complex and sympathetic performance of his career, Anderson weaves some affecting psychological and emotional details into an energetic and vibrant film topped by Sandler. Anderson was inspired by an article he read about a business owner who found a fine-print loophole in Healthy Choice's frequent flyer mile campaign that encouraged him to spend over $3000 on  pudding that led to one million frequent-flyer miles, which is basically free flights for life. With a bold stylistic visual style that consists of mostly hues of blue and a brisk pace of 95 minutes, this is easily one of P.T. Anderson's most enjoyable films of his career. It's also one of his most tender, as Barry is a loner, who is quick-tempered, lashes out at people, and very weak when pressed with confrontation–including the events where Barry calls a sex-phone line number during a lonely night, only to become a victim of distortion and threats. But Barry ends up becoming a transformed person once he encounters Lena (Emily Watson), a co-worker of one of his sisters, with whom he ends up developing a relationship that enables him to become a confident and more secure person. Punch-Drunk Love unravels as a beautiful ode to the need for human connection as it gains sheer emotional resonance and remains one of P.T. Anderson's most joyful films.
5.  Phantom Thread (2017) 
Phantom Thread provided a counterpoint to the idiosyncrasies and mystery of P.T. Anderson's recent previous films like Inherent Vice, The Master, and There Will Be Blood. Although it retains the same majestic visual artistry of his earlier, more accessible work, Phantom Thread is his most controlled and personal work to date. It is also his most complex and unique meditation on love, as it examines both constructive and destructive power of love, desire, and passion, and how they affect individuals who are either introverted or extroverted. This is a stunning cinematic achievement by one of America's greatest modern filmmakers. Switching landscapes from California to post war London, Anderson creates a striking cinematic and personal tale of one introverted and equally artistic man trying to accept love and the changes that happen once you welcome someone close to you. The film has excellent storytelling nuance, and Anderson once again employs his technical prowess to create long, internal visual passages that capture the depths of human conflict. Daniel Day-Lewis, the notoriously selective and methodical actor, delivers a masterful performance as Reynolds Woodcock, a fashion designer of popular elegant dresses whose life, routines, and patterns are turned upside down once he encounters a young woman, Alma (Vicky Krieps), who becomes his muse and lover. Anderson here successfully helms a film that resonates as it examines the sacrifices, the hard work, the compromise, and the ultimately contradictory impacts of love and desire. This is perhaps Anderson's most intimate film yet.
4. Licorice Pizza (2021) 
With film number nine, director Paul Thomas Anderson has created the most exuberant film of the year, which is not unexpected considering his monumental track record. A love letter to a bygone era, two young souls from different backgrounds and even age brackets find a strong bond in each other. But what to do when there is such an age gap that keeps them apart? Silly controversies have already arisen, but at its core, Licorice Pizza remains a very charming and endearing film about longing and self-discovery. In their onscreen debuts, rock musician Alana Haim brings a radiant screen presence for the new decade, and Cooper Hoffman (son of the late Phillip Seymour Hoffman) delivers one of the most impressive breakthrough performances in years. Astonishing from beginning to end, Licorice Pizza is P.T. Anderson at his most charming. A chronicle of first love in Southern California circa 1973, the film is a visually arresting coming-of-age story, centering on what it's like to grow up in the film industry, seen through the perspective of an ambitious teenager trying to diversify what he wants to do next with his fading acting career. The film is a high-energy and nostalgic ode to first love, faded memories, and a certain era that Anderson adores.
3. Boogie Nights (1997)
With Boogie Nights, the sophomore effort to P.T Anderson's impressive Sundance debut feature, Hard Eight, Anderson proved his position as a skillful craftsman and dramatic storyteller at such a young age. P.T. Anderson has directed an exuberant depiction of the Golden Age of Porn from the late 1970s to its "artistic" demise in the 1980s.With a brilliant ensemble cast, kinetic energy, and an impeccable visual style, P.T. Anderson's Boogie Nights is a fully realized masterpiece that remains an extraordinary feat. The veracity of this sprawling saga, at its core, is really about a family of outsiders attempting to find some reconciliation and meaning in their lives. The result is an endearing film filled with rich characterizations, earned pathos, and first-rate performances from a uniformly first-rate cast—especially Burt Reynolds, who plays Jack Horner, the adult film director of Diggler, who puts a lot of passion, creativity, and technique into porn back in the days when adult films had some standards, were shot on film over digital, and offered some production value. Julianne Moore shines with vulnerability as Maggie/Amber Waves, Dirk's co-star actress in the adult films, who yearns to be a mother as she pines for a son who has been dragged away from endless custody battles due to her lifestyle choices. Compassionate and deft, P.T. Anderson's Boogie Nights leaves a great dramatic impact that has remained a treasure of 90s cinema and of P.T. Anderson's majestic career.
2. Magnolia (1999) 
Revisiting this film now, 20 years later, dispels all the detractors' theories that it's a big failure. Watching the film now, the film still has a timeless quality that still feels ahead of its time. Ambitious in scope, visually marvelous, and dramatically operatic with many interconnected stories that add up to P.T. Anderson's most personal vision yet of his career, helmed right after the passing of his father, P.T. Anderson explores death and grief on a very profound level, along with many other heavy topics involving child abuse, depression, longing, loneliness, petrified first dates, and game show productions. It's a landmark film that is simply one of the most visually arresting, energetic, and well-directed films in cinematic history. Very much in the vein of Robert Altman's Short Cuts, the film is a rich drama that holds many strong characterizations and empathy for every one of its flawed characters. Above all, it's a compassionate ode to the human experience. Powerfully moving and technically innovative with so much visual splendor, superb writing, astonishing craftmanship, and filled with so many emotionally raw performances from everyone across the board in the endlessly impressive ensemble that includes William H. Macy, Julianne Moore, John C. Reilly, Phillip Seymour Hoffman, Melora Walters, Phillip Baker Hall, and, of course, Tom Cruise, who has a very powerful scene of attempting to say farewell to his ill and dying father (Jason Robards), who is under the care of nurse Phil (Phillip Seymour Hoffman). P.T. Anderson's most energetic and sprawling film perfectly fits the emotional instability of the characters' milieu. Magnolia is a remarkable achievement that is accomplished with breathtaking cinematography by Robert Elswit and first-rate camera work that includes jaw-dropping tracking shots, beautiful long-takes, awe-inspiring set-pieces, and intimate close-ups where PTA cuts in the most emotive moments of the film. The fervent performances by the ensemble cast and P.T. Anderson's skillful writing also give so many characters enough character depth that they unfold with so much dignity and grace. So many great films were released in the 90s, but not many hold a timeless quality on a visual or storytelling level the way Magnolia does. It's truly an extraordinary feat and a majestic experience.
1. There Will Be Blood (2007)
An ambitious, visionary, and highly philosophical epic, There Will Be Blood remains P.T. Anderson's most grandiose and accomplished film to date. Thematically, there are clearly elements of John Huston's 1948 western The Treasure of the Sierra Madre that run through the film in inspiration and subtext, from the ideas about the corrupting force of greed, as well as how man's desolation leads to more self-destruction. Adapted from Upton Sinclair's classic novel Oil, the saga focuses on Daniel Plainview (Daniel Day-Lewis, in a career-defining performance), an oil businessman who wears a thick mustache and has a voice that echoes John Huston's, whose voice has now become iconic. The character of Plainview represents the fabric of America's DNA when it comes to capitalistic competition and conquering. Daniel is cunning, callous, competitive, greedy, and will destroy anyone that stands in his way. Plainview even admits to his brother Henry (Kevin J. O'Connor) that he sees the worst in people, and he quotes, "I have competition in me." I don't want to see anyone else succeed. Which eventually leads to Plainview's worldview being reassured once he notices Henry could be an imposter of his long-lost younger brother whom he never met, since he doesn't know some personal family details involving a peach tree dance and a local house in their community. We also see Plainview's worldview get tested by his son H.W. (Dillon Freasier) and by Eli Sunday (Paul Dano, who also plays twin brother Paul), who uses the community church for his own personal gain, and Plainview can see right through it. Once again, the film is technically astonishing; every frame and scene is stupendous, and P.T. Anderson's ability to build dense, greatly staged sequences proves as deft as ever. P.T. Anderson's and cinematographer Robert Elswit's most visually impressive shots of their careers come in shots of the desert, of oil fields exploding, and other visually arresting tracking shots where P.T. Anderson is given enough space that he's able to float the camera along without spatial constraints. Jonny Greenwood's ominous score stresses an eerie, often high-pitched tone that matches Plainview's psychology and self-deterioration into complete madness as the film progresses. A masterful study of greed and entrepreneurship, There Will Be Blood is a brilliantly intense and sprawling work by P.T. Anderson, who has crafted his most satisfying work to date, one that will be difficult to top.