Based on the 2013 award-winning short film of the same title, Pleasure, the feature film debut by Swedish filmmaker Ninja Thyberg is an impressive debut feature in this harrowing, deeply disturbing character study about a young woman who moves from Sweden to Los Angeles to become a porn star actress. The Sundance premiere film was originally supposed to be distributed by A24 who wanted an R-rated edited cut. Eventually Neon picked the film up to its original cut and has not altered or changed the film, although the explicit scenes often indicate commercial trouble with U.S. theatrical releases. However, with strong word-of-mouth and its uncompromising vision of the adult film industry, Pleasure should have no problem building a reputation and finding a cult audience in years to come.
Thyberg's film already comes off high praise with strong critical reviews in America and on the film festival circuit, where it premiered at the 2021 Sundance Film Festival and played at the 2021 AFI Film Festival, Thyberg's film jumps continents from her short film, about a young Swedish woman named Linnéa, who ends up finding roommates in the suburbs just outside Hollywood Hills. The film recalls the work of Sean Baker, most notably his 2013 underrated gem Starlet, which was also about a young woman working in the porn industry. Though not as affectionate or emotionally resonant as Baker's film, Thyberg's vision is more fearless and uncomfortable to endure, as it holds a feminist perspective on just how degrading and misogynistic the adult film industry really is. Thyberg's story has the authenticity of Baker's vision found in Starlet, but it also has more subtext as a cautionary tale about capitalism, stardom, and other forms of narcissism found in our overly saturated digital era. Like Baker and Harmony Korine, Thyberg shows great confidence as a gifted storyteller that captures the behind-the-scenes realities of a subculture like the porn-industry that never feels romanticized and always in the female gaze.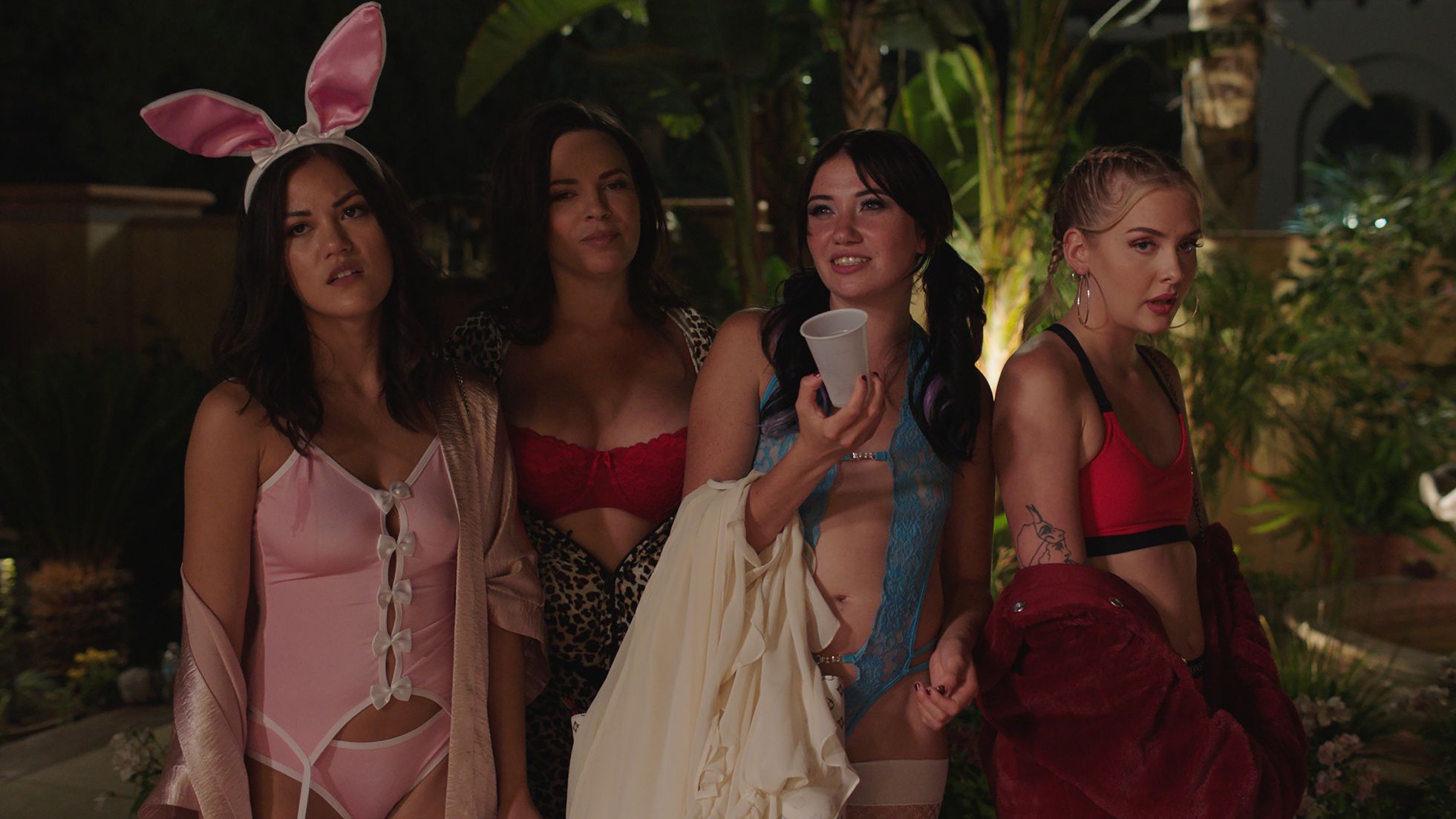 Explicit and at times very uncomfortable, Thyberg's execution of the material here is non-judgmental on Linnéa's decision to work in the porn industry. Thyberg shows it as a life choice, while bringing a lot of empathy to the character of Linnéa and her determination to rise into stardom. The film uses a very cinema verité approach to the porn industry world as it shows Linnea working behind-the-scenes as well as behind-the-scenes motions of porno filmmaking that capture the hollowness and chauvinism that are so deeply rooted in porn films today. Thyberg, along with co-writer Peter Modesti, don't hold back on the abuse, degradation, and torment most women must tolerate to please an industry that is mostly dominated by male producers, directors, and agents who give their audience what they want to see, which is mainly hardcore porn that undeniably makes women objectified.
Thyberg also deserves credit, though, as while the film has strong sexual content, nudity, and holds many explicit scenes that would certainly tap into NC-17 terrain and beyond, she does a commanding job of making the material feel vulnerable and the scenes hold a lot of merit that never feel exploitative. Her goal is to expose the exploitative nature porn has on women. While the film is certainly cynical of the adult film industry's mistreatment of women, and rightfully so, the film ends up holding some hope in the third act as you become very invested with the film's protagonist. In the end, Pleasure ends up becoming a transcendent work that delivers a tour-de-force for audiences to defy their misconceived notions of the stereo-type world of the adult film industry as it becomes a compelling character study of one woman's determination where a line must be eventually drawn.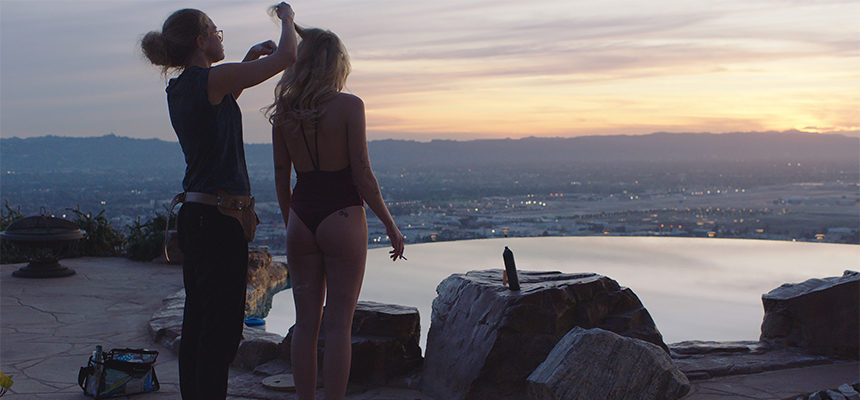 The films open with the sound of moaning and other aggressive sexual sounds of pleasure. Then the film opens with Linnéa's going by the stage name of Bella, signing consent forms with Bear (Chris Cock), a producer of the production, in which Bear ends up becoming one of the films' more redeemable characters as he almost serves as a mentor for Bela in the early stages of getting into adult films. The production begins and we begin to see Bella's first venture into porn with a fellow male co-star who also deserves to be his cameraman as he does POV-camera work of the action going on.
In many moments, Bella seems to embrace her choice of being a porn actress. She is very determined to rise to stardom, but her goal doesn't seem so much to do it for pleasure—even though she does proclaim throughout the film that she traveled to the U.S to do porn, but later in the film she reveals that she is a performer that enjoys being in front of the camera and wants an audience. In the end, her goal is no different than any actor who goes to Hollywood to be in films. Her main goals are to gain notoriety and a following, and to gain the instant gratification of fame. In fact, we never see Bella have sex once the cameras are off. She spends most of her time hanging out with her fellow porn actress roomies, in which her friend Joy (Revike Reustle) tries to show her around the Hollywood sign, in which Bella has no interest in walking up the hill and seeing more of LA.
In a very disturbing scene, Bella ends up going to a more secluded porn set with a trio of porn bros who are directing a very amateur film in the basement of one of their homes. As the director and Bella agree, the scene is going to be very intense—it leads to a lot of aggression and it's one of the most visceral moments of the year. One that is inspired by the scene of Steve McQueen's Shame where Michael Fassbender's character begins to self-deconstruct with fragmented cuts, the film's editing, and intensity capture the suffocating and assault that Bella endures as her male collaborators take the scene way too far. It's a very assaulting and difficult scene to endure. Even though the cameras stop rolling, they apologize, act concerned about her well-being, and encourage her to do her scenes, it ends up becoming quite clear they don't have Bella's best interest at heart as they manipulate her to finish the scene.
While the porn industry has made strides over the years in proclaiming they have safe sets that are consensual, the film ends up making a bold statement on the hypocrisy of how men's fantasy of being pleasured and being overly dominant towards women carries over into reality as denial and egos collide. We see this earlier in the film as a famous porn actor ends up being shoved in a pool after calling Joy "trailer trash," only for him to be reconnected with her on set again as he ends up degrading and abusing her while also saying other derogatory insults and passing her in a room that Bella walks into.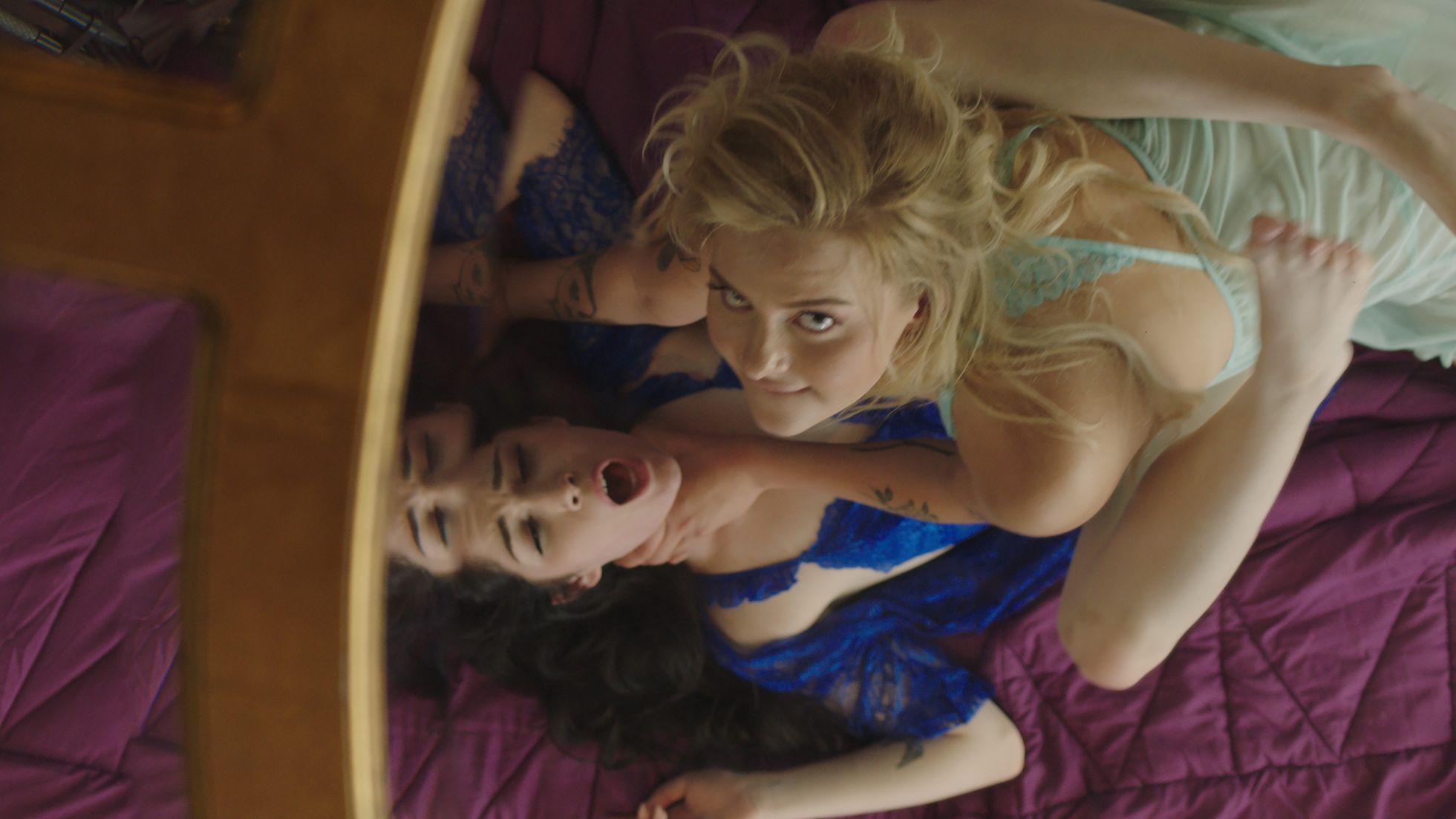 The film is exquisitely shot by director of photographer Sophie Winquist, whose visual style bounces between handheld and some meticulously framed compositions depending on the scene, bringing a rich stylization to the film that aesthetically recalls the recent work of Sean Baker and Harmony Korine. The images and colors are mostly blue, purple, red and white; a lot of the sex scenes have tight-close-ups, and the nighttime shots often have glowing neon purples and pinks. Pleasure is certainly a journey into Belle's psychology; it's her perspective, a film that holds no punches in showcasing the cruelties of the porn industry, eventually ending with a very empowering and earned finale that feels relieving and equally liberating.