Melancholic, poetic, and deeply empathetic, Sofia Coppola's biopic Priscilla follows Priscilla Presley and her relationship, marriage, and breakup with Elvis Presley. The film is a compelling, stylish portrait of a vulnerable soul. Cailee Spaeny delivers an impressive performance as Priscilla and the chemistry and power dynamics by fellow actor Jacob Elordi are very intricate. The eighth feature (nine if you count A Very Murray Christmas) takes a vastly different approach to Baz Luhrman's flashy energy of Elvis and his mythos and even music (not one single Elvis's song is ever played), but Coppola manages to make a more restrained period piece, filled with more delicate human emotion and a muted atmosphere, and it doesn't sugar coat Elvis's flaws of grooming, infidelity, and drug use that led to the break-up of the iconic couple. It's really unfair to compare the two films, as both have such different approaches. Regardless, the Elvis purists will have it out for this film, but fans of Luhrman's Oscar-nominated Elvis film should watch Priscilla to compare the different styles and approaches and to gain a deeper perspective and greater empathy for Priscilla, who was very underwritten in Luhrman's version.
The film spans from 1959, when Priscilla was just a teenager, to her break-up with Elvis during his tour days at Westgate Las Vegas Resort & Casino, just prior to their divorce in 1973 and his death in 1976. Audiences familiar with Sofia Coppola's work like The Virgin Suicides, Marie Antoinette, and The Beguiled will recognize similar themes and styles, which all deal with coming-of-age desires where the young women characters feel confined inside claustrophobic spaces as they feel imprisoned from the outside world. Whether it's the Detroit suburb home of the Lisbon sisters in The Virgin Suicides, who are deprived of their teenage youth by their strict Catholic parents, or a portrait of a young Austrian teenager who is arranged into a marriage with the Dauphin of France and becomes France's Queen in Marie Antoinette, her adaptation of Thomas Cullinan's 1966 novel The Beguiled, which was also adapted by Don Siegel for the 1971 film starring Clint Eastwood, Priscilla carries on these themes; Graceland feels every bit as claustrophobic as the Lisbon household, and even the hotel setting of Lost in Translation and Somewhere was used sublimely as a metaphor for isolation and the longing for a deeper human connection. Sofia Coppola once again puts her own personal touch and singular styles of meticulous compositions, a remarkable soundtrack, and the internalization of her characters that set her talents apart from most modern American filmmakers.
Courtesy A24 Films
Despite some sweet and innocent moments, the tone of this film is considerably less heartfelt and goes into some very dark places. It makes for a heartbreaking chronicle of the ill-fated marriage between Priscilla and Elvis, whose script is penned by Sofia Coppola and adapted by Priscilla Presley's 1985 memoir Elvis and Me by Priscilla Presley and Sandra Harmon. The film opens with Priscilla, just 14 years old—a freshman in high school—drinking soda at an Army base diner with the cover of Frankie Avalon's beautiful song "Venus" playing in the background that holds lyrics that bear resemblance to Priscilla's hair. A soldier on the base approaches Priscilla and asks if she likes Elvis Presley. She responds swiftly with a yes because Elvis was the rock n' roll heartthrob at the time. He informs her that he knows Elvis quite well and asks if she would like to meet him. After persuading her parents, Priscilla finds herself at a small gathering where she encounters Elvis (Elordi), and this part of the film feels like an innocent fairy tale that transitions into a cautionary story of weaponized celebrity power and grooming, or it could be viewed as an empathetic portrait of a man who falls for Priscilla because she reminds him of home. Priscilla Presley has opened up about over the years and it will make Elvis purists very uncomfortable where the truth has been alleviated over the years.
But Coppola hasn't made a movie condemning Elvis. She is far more of a subtle storyteller than that. She explores the era, and even after Priscilla and Elvis hit it off at a party, she is back in high school, taking tests and learning calculus. Even after not hearing from Elvis for months at a time, Priscilla's mother, Ann Beaulieu (Dagmara Domińczyk), suggests that she date boys her age. Priscilla stays persistent and patient, and Elordi (Saltburn) brings a charisma and relaxed charm to his character of Elvis, where he becomes likeable enough in the movie. Elvis persuades Priscilla's parents when she's 16 that he loves her and that she reminds him of his hometown of Tupelo, Mississippi. Just as Priscilla states in her memoir, it's a long time before they have sex, and Elvis waits until marriage until they have sex, and the two don't marry until 1965, when Priscilla is 22 years old. The problematic age gap is shown as a fact, and Coppola allows the audience to observe and decipher their own ethics and projections into the film, as Elvis had sides of groomer and sincere lover. Priscilla consented, and what would be easily scrutinized today speaks more to the cultural patriarchy and norms at the time than it does to the approach of the film here.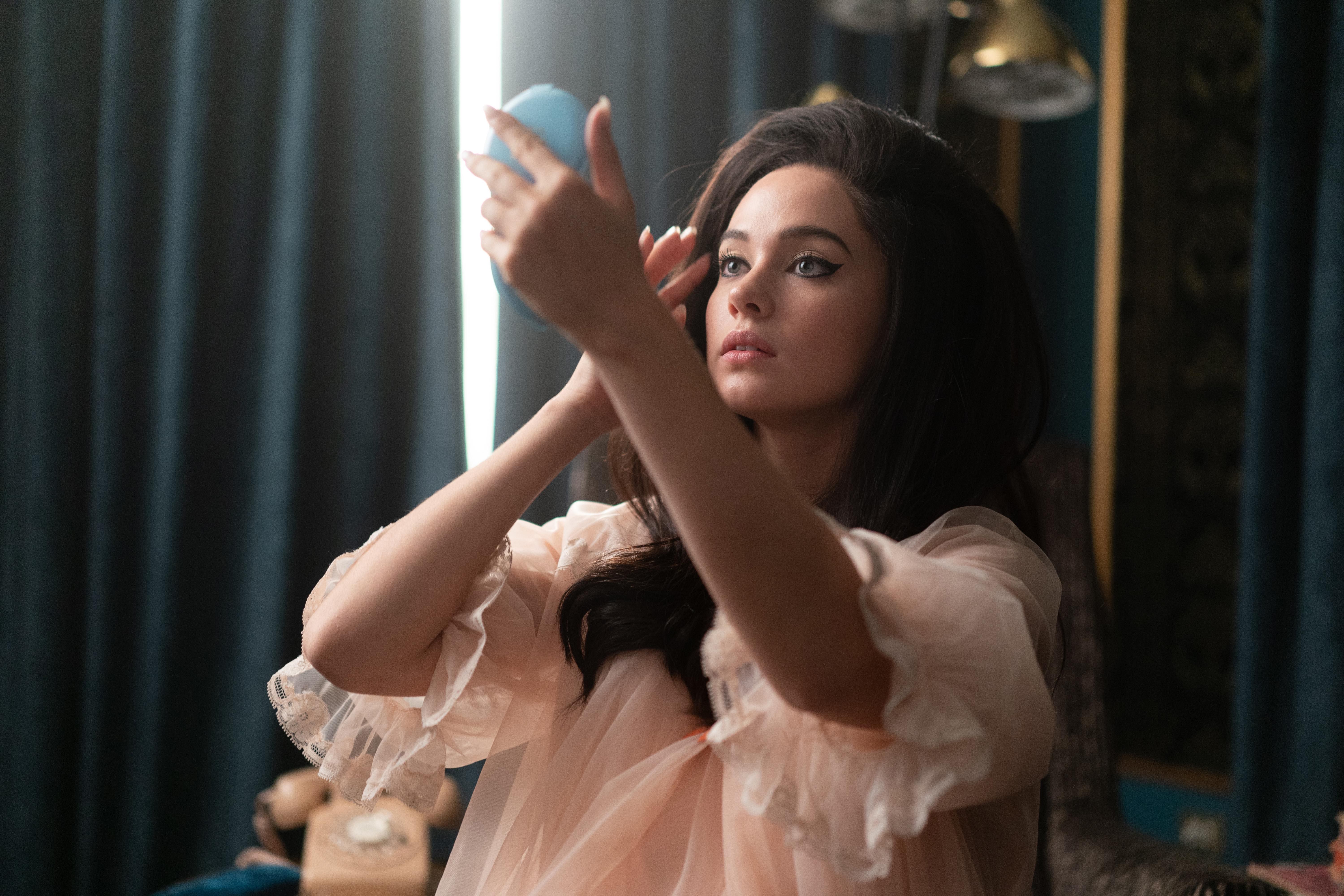 Courtesy of A24 Films
At first, their love and romance play out like a daydream with innocence. Coppola utilizes grainy film stock along with frequent cinematographer Philippe Le Sourd to replicate their marriage, and there are other sublime moments of Elvis and Priscilla together shooting guns, gambling together, hanging out at a roller-skating rink, driving bumper cars, or riding golf carts with Elvis's friends as they watch fireworks from afar in some the film's most breathtaking shots. The film's structure is a series of seamless vignettes that have an episodic structure similar to P.T. Anderson's Licorice Pizza and Quentin Tarantino's Once Upon a Time in Hollywood. Once the relationship intensifies, Priscilla finds her residence, at Graceland, becoming more prison for Priscilla. She is forbidden by Elvis to leave the Elvis estate when he's on movie sets or on tours, and Elvis even controls what she can wear. He also convinces her to take sleeping pills, where she holds reservations and has some violent outbursts during a brilliant montage of the couple taking Polaroid pictures together in their bedroom that begins playful and ends terrifying. On top of it, Priscilla must deal with constant distrust and heartbreak as there is an endless tabloid frenzy that covers his ongoing affair with his fellow Viva Las Vegas co-star, Ann Margaret.
There is something very profoundly authentic once again in Coppola's eighth film. Not only does it hit so many emotionally resonant moments, but Coppola also once again makes this film feel preserved with her personal vision. The film's authenticity and honesty work because not only do we get Priscilla Presley's stamp of approval as she also serves as an executive producer, but Sofia Coppola herself is married to a musician, Thomas Mars of the French indie rock band Phoenix, who also helped compose the score for this film along with many others. It's not to say Thomas Mars is anything like Elvis, but Sofia shares similar experiences of the difficulties it can be for a spouse to be married to a musician—where there are long periods of nationwide and world tours, producing albums, and the amount of trust that comes with the inevitable distant relationships. This is certainly a kinship that Sofia and Priscilla share together, and it shows in the final vision.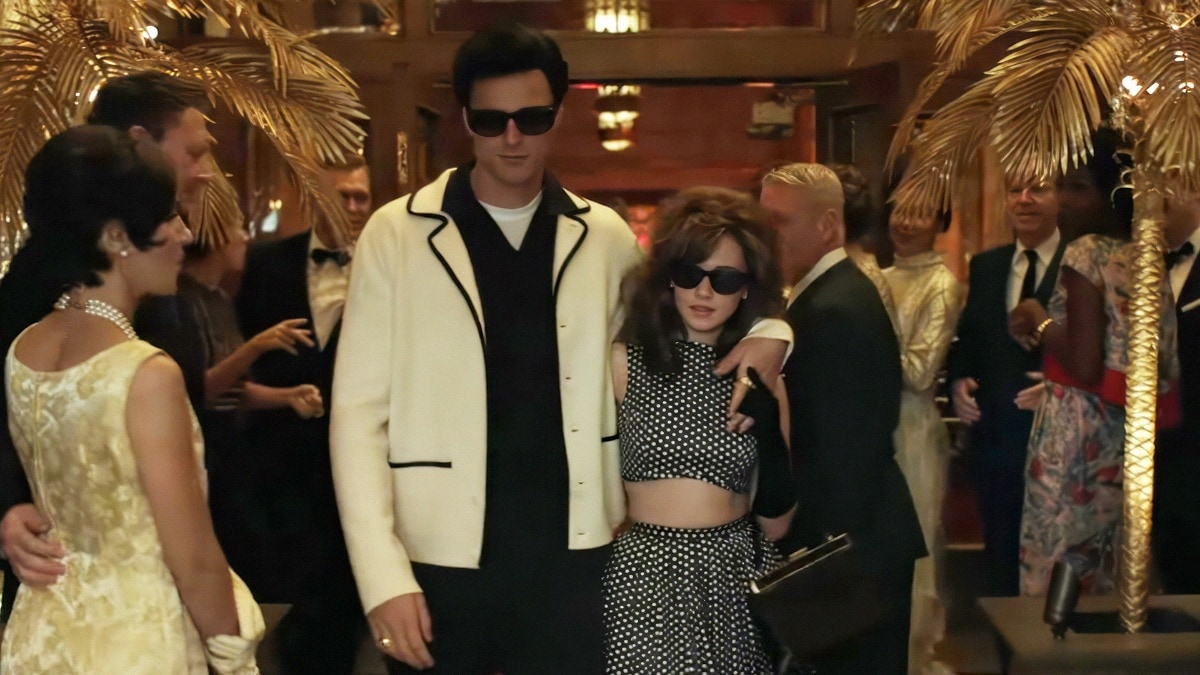 Courtesy A24 Films
Then there is the much-discussed soundtrack, which doesn't feature any songs by Elvis as the Elvis estate didn't grant Sofia Coppola the rights to the music. This actually allows Sofia Coppola, Thomas Mars, and music supervisor Randall Poster to become very inventive with the music. Which isn't a rare thing for Sofia Coppola, as she has done this before with Marie Antoinette, which featured modern music from The Strokes, The Cure, New Order, and Bow Wow Wow's "I Want Candy" playing over the striking imagery of her 2006 masterpiece that is now more celebrated all these years later.
Then there is Sofia Coppola's recurring observational style of loneliness, which she always beautifully captures in the most refreshing ways. One of the most sublime moments in the film is Priscilla waiting around in Graceland, surveying the space, touching objects, and feeling like she's lost in a colony. So much time is spent with Priscilla alone, waiting for Elvis to return home. Once he returns home with his entourage of band members, she still feels disconnected and left out of the conversation as jokes go past her head. Coppola captures her close-up on her face, which examines her loneliness in the most subtle ways. On many levels, this film is very much a companion piece to Marie Antoinette and Somewhere, where their celebrity status feels confined, where each protagonist yearns for something deeper than the vapid privilege lifestyles that they are surrounded in outside of their own makings.
  Courtesy A24 Films
Alongside Todd Field and Paul Thomas Anderson, Sofia Coppola is possibly the greatest American filmmaker at the moment when it comes to the internalization of her characters. She surveys her characters emotions and impressions. She shows instead of tells, and she does it with so much control and subtly. She always brings so much deep humanism to her characters. Sofia is on par with Alexander Payne when it comes to empathy for her characters, and while her stories are about privileged people, she is on the opposite side of the human spectrum as Sean Baker, who makes stories about struggling Americans living in poverty and dealing with other adversities, whereas Sofia's stories are about privileged characters. However, human adversities—emotional abuse, loneliness, heartbreak, and other emotional struggles—remain universal. Coppola once again builds up small moments, and those small moments can lead to substantial changes. This happens to be a very powerful ending with a memorable song that I will not spoil here.
During the release of this film, you will hear many say they are burned out from biopics. Or that they hold Elvis fatigue from last year, but the movie allows you to live through these experiences, and Coppola vividly transports you there, and she doesn't hit any false notes. Sofia Coppola once again proves that she is a master of her form, who holds a deeply compassionate heart and a sumptuous eye. She has once again crafted a visually rhapsodic work of art that also happens to be deeply moving. It's another brilliant piece of filmmaking in her impressive oeuvre, and how Cailee Spaeny embodies the role of Priscilla is remarkable and worth the price of admission alone. The performance holds a variety of emotions and transformations. It sustains a wide array of happiness, anxiety, isolation, depression, and finally hope. This is Priscilla's story; it's her perspective, and it's quite an absorbing one.
Priscilla opens in theaters nationwide on Friday, November 3rd, 2023