An inspiring teacher seeks to switch up traditional teaching methods for himself and his troubled students, only to find that there are many roadblocks set against his good intentions. Persistence for needed change is the moral compass offered by newcomer writer-director Christopher Zalla's cloying Radical, which, despite Eugenio Derbez's genuine lead performance and the film's plight for reform in Mexico's education system, emerges as an earnest but familiar crowd-pleaser. Still, the film addresses some essential topics, like how some school districts in Mexico's border towns are overrun by drug cartels, where children learn just enough education and are coerced to drop out so they can work for the cartel right when they turn 12 or 13 years old. The film takes a very bleak subject, and the approach is problematic; it goes for a heart-tugger, but the final act has an emotional payoff that elevates itself away from feeling overly mawkish in thanks to the performances and some poignant writing.
The fact-based story based on the 2013 Wired news article "A Radical Way of Unleashing a Generation of Geniuses" by Joshua Davis stars Eugenio Derbez as the unorthodox teacher who uses unconventional methods to get the students interested in the material he teaches. On his first day at the elementary school, the students find him rolling on the ground as each desk is overturned. He tells the students to imagine that they are lifeboats instead of desks. The lesson is about buoyancy, and the metaphor he is trying to convey is that education is like a life raft. He also encourages them to not worry about grades and to embrace making mistakes.
Very much in the vein of many other classroom dramas like Stand and Deliver, Lean on Me, Dangerous Minds, and The Class, the backdrop isn't an inner-city school like the films mentioned before. The film takes place in Matamoros, which runs along the Rio Grande across from Brownsville, Texas. The town is very laisse-faire, known for increasing gun violence, mule smuggling, and tent towns as migrants seek refuge from havoc in central America. The film is set in 2011, at the height of Mexico's drug wars.
The community children attend classes in a gated school during open hours. Most of the students find class uninvolving and dull. Sergio ends up getting the young kids to participate and open up about his methods. He allows for open discussions, debates, and other forms of engagement from the students as he pries the correct answers out. Sergio even reassures the school principal, Chucho (Daniel Haddad), that students are so smart that they don't really even need him. The power dynamics between Chucho and Sergio are also very genuine. Their first encounter starts off bumpy but ends up as a friendship. He even ends up becoming a collaborator as he jumps into a cold tub of water, but in the class's experimentation on buoyancy, their exchanges are some of the sharpest in the film, as is the makeup for the trite detours. Sergio also persuades him to get use the school funds to get computers.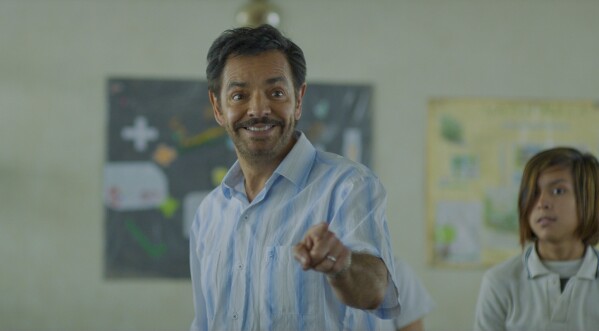 A wiser, more mature film would have explored the milieu of the community more. We get some glimpses of their hopes and dreams and how few opportunities are available in their vicinity. We also get other formulas of the students holding distrust at first, in which they eventually warm up as the narrative progresses. We also have skeptical parents who believe Sergio is giving them false hope for an inevitable bleak future. The film is very paint by the numbers, but Mexican actor Derbez brings enough charisma and charm to the role that it is easy to forgive these shortcomings. He is effortlessly sympathetic as a teacher who, whatever obstacle stands in his way, is clearly an idealist who yearns for opportunity and a safer environment for his community.
The child actors are quite natural as well, and they all have various backgrounds. There is Nico (Danilo Guardiolo), who is being trained by a drug carrier; Lupe (Mia Fernada Soiles), who is very erudite and deeply philosophical; and finally, there is Palama (Jennifer Trejo), who lives next to a landfill that her father works at. All the students must prove to the strict and skeptical super attendant (Enoc Leaño) that Sergio's methods are indeed effective. The stakes remain high in Radical, and Derbez captures the film's idealistic tone with a portrayal of a teacher overcome by both hope and fear. While very predictable and mundane, there are many scenes that find deep tension and sincerity along the way. Overall, it does a credible job of delivering its incredible heart.
Radical is now playing in theaters