The massive undisclosed mansion at and around Drayton House, Northamptonshire, is the stage for desire, imitation, and obsession in Saltburn, the sophomore feature by Academy Award-winning filmmaker Emerald Fennell (Promising Young Woman). Though even more shocking and far more explicit than her remarkable debut film, this is essentially an enthralling and darkly comedic modern retread of The Talented Mr. Ripley, spiced up with intoxicating visuals, some lurid moments, and psychological thriller elements. Shot in lush decor in the vein of baroque paintings, Fennell's rich stylization and visual influences hold some aesthetic influences from Francis Ford Coppola's Bram Stoker's Dracula and Stanley Kubrick's The Shining. Cinematographer Linus Sandgren (La La Land, Babylon) uses a lot of serene widescreen imagery. This cinematography is certainly breathtaking and makes for an alluring experience, though there are many vulgar scenes that make some moments feel eye-rolling and uncomfortable.
Set during the beginning of summer, Saltburn opens at the titular Oxford University—one of the elitist schools where the wealthiest, most privileged, and most sophisticated have the privilege to attend. Fennell instantly subverts our expectations as she explores how human nature and other forms of egocentrism even get into the way of a polite society. Set in the mid-2000s, Saltburn holds elements of dark comedy, surrealism, and eroticism compounded into an original screenplay that Fennel also wrote. While schematic and not consistently thrilling, there is something addictive and alluring about the iniquitous storytelling and grazing performances.
Courtesy MGM/Amazon Studios
Barry Keoghan delivers another discomforting performance as Oliver Quick, who just finished his freshman year at Oxford. Keogan has played unorthodox characters before in such great films as Yorgos Lanthimos in The Killing of a Sacred Deer, and he had some charm as a socially awkward islander in Martin McDonagh's The Banshees of Inishrin. He continues his eccentricity again as he is drawn into fellow classmate Felix Catton (Jacob Eldori, fresh off Priscilla), a young aristocrat whose aura draws attention everywhere he goes due to his charisma, wit, charm, and looks. Many of his fellow classmates from both sexes are attractive to him, including Felix's gay cousin Farleigh (Archie Madekwe).
Oliver longs for both friendship and companionship with him, obsessing and deceiving his way into Felix's life as he convinces him he is every bit as affluent. Yet Farleigh holds suspicions and can sense his middle-class background due to how unkept and unfashionable Oliver is with his clothes and demeanor. Farleigh is also more of a bohemian and an outsider himself. Oliver ends up getting invited by Felix to visit the estate for the summer. Oliver ends up getting acquainted with the family, where each character is just having a field day as they are hamming it up. Oliver gets introduced to Felix's mother, Elspeth (Rosamund Pike), who was once a model, where Pike gets to deliver cruel banter and sharp wit. Richard E. Grant is sweetly irritable as Felix's father, Sir James, who mostly keeps to himself and is always nitpicking the flaws in everything. Venetia (Alison Oliver) is Felix's stylish sister, who hides her depression and sexual desires. Carey Mulligan returns in a very small supporting role as Pamela, a family relative who is about to travel back to London. Farleigh also tags alone as he watches Oliver's every move as the tension slowly builds throughout the course of the narrative.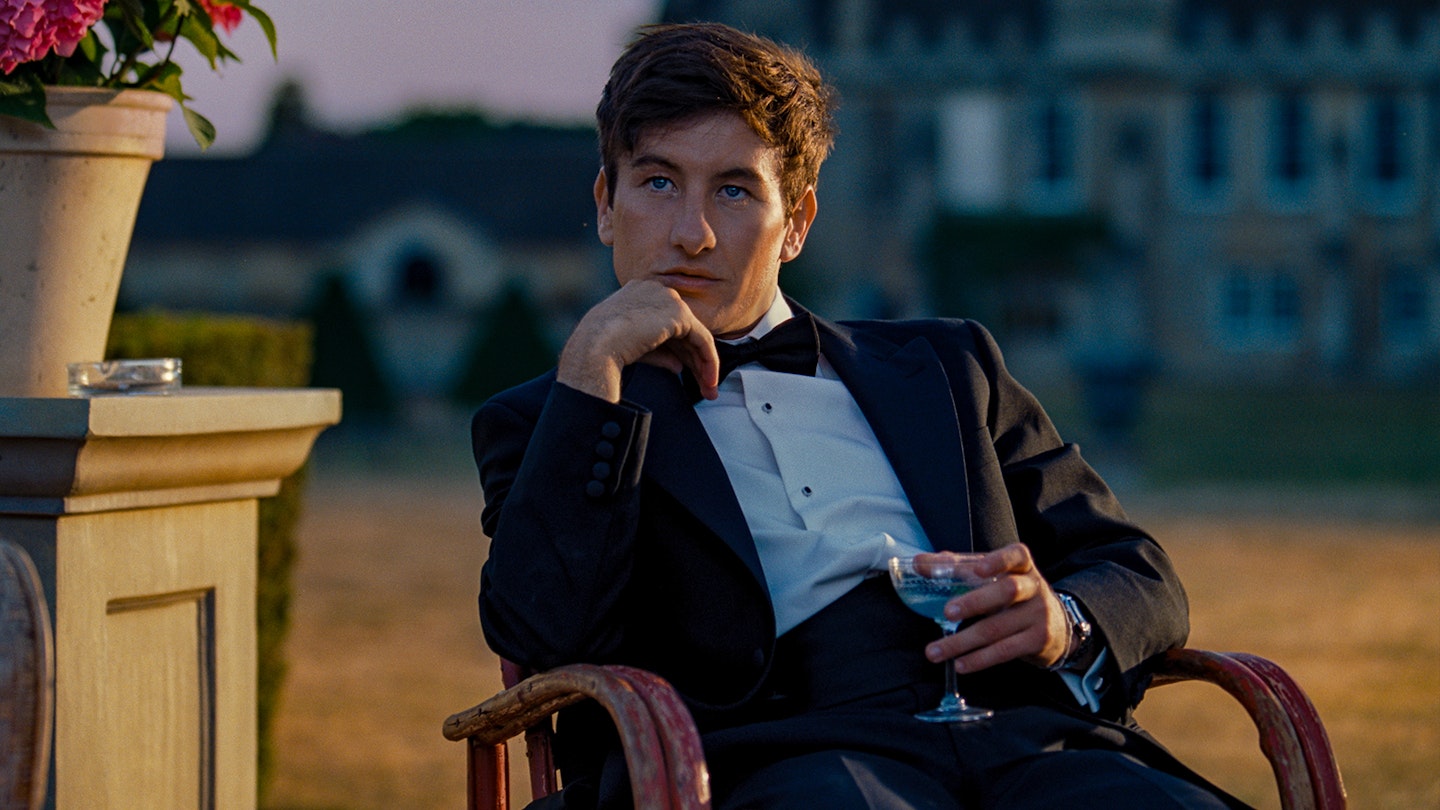 Courtesy MGM/Amazon Studios
The film starts off like a daydream, with early morning breakfasts, sunrises, swimming pools, and summer innocence surrounded by the classical chateau in the background. Eventually, this world becomes more depraved as we get further into the night of drunken dinners, late-night parties, perversion, decadence, and nocturnal encounters involving body fluids, where Oliver seduces Venetia, Farleigh, and other sexual encounters in the most grotesque ways. These scenes are a little excessive and really do nothing to push the story forward other than showing Oliver is a weirdo. Perhaps that is the point, but it grows tedious after a while, and Fennel feels like she is just being shocking for the sake of being shocking, all for people to just talk about the squeamish moments. While the result gives Oliver a more vampiric character, devouring the rich as they devour each other. It's one deviant moment after the next, which includes Oliver licking the drain of bathroom tub. Aside from those juvenile moments, the film is darkly comedic and elegantly crafted. What sells the film are the performances. Especially Keoghan, who is certainly too old for the role, but he ends up delivering a disturbing enough performance for the uncanny character.
Fennell takes us through a modernist tour de force, and while on the surface, it feels like another by-the-numbers modernist version of The Talented Mr. Ripley. There is still something altogether fresh, perhaps how transgressive and nocturnal it ends up feeling. By exploring identical themes in Patricia Highsmith's 1955 novel that spawned the 1960's film Purple Noon and 1977's The American Friend, it was followed by the acclaimed 1999 Anthony Minghella film The Talented Mr. Ripley that starred Matt Damon and Jude Law, which spawned into 2002's Ripley's Game and 2005's Ripley Underground, but it was never a series. However, there is something modernist about Fennell's approach, a suggestion that desire and obsession can swiftly turn worlds and perceptions upside down. The movie shows us this up until the compelling finale that defies our expectations. Gratuitous and equally glossy, the film's execution and performances alternate between the giddy and the surreal. I couldn't imagine any approach here as the credits roll, which is, quite simply, possibly more original than what it is getting credit for. At least in terms of style and execution. While taking a step backwards from Promising Young Woman, Fennell shows she is still a hellishly stylish filmmaker who will probably hold even more surprises in the future.
Saltburn opens in theaters Wednesday, November 22nd.