After the high acclaim of First Reformed (2018), iconic writer-director Paul Schrader is once again back at directing his own screenplays that continues his brilliant sensibilities of traumatized and isolated men who recount their thoughts in personal voiceovers during their odyssey into self-demise. Schrader's work is also rich in political subtext, in which his work is always subversive as he explores the vile nature of mankind and society. These traits are reassured once again here.
These commonalities and characterizations started of course with the iconic Travis Bickle character  in Martin Scorsese's 1976 masterpiece Taxi Driver, which many people still correlate the name and reputation of Schrader as "The writer" of "Taxi Driver" and "Raging Bull". Soon after the success of Taxi Driver, Schrader launched his career as a filmmaker which he would serve both as writer and director, and even sometimes directing other writers scripts.  His feature film debut was the riveting Blue Collar (1978), and ever since he has delivered a very prolific body of work that consists of many high quality masterworks such as Hardcore (1979), American Gigolo (1980), Cat People (1982), Mishima: A Life in Four Chapters (1985), The Comfort of Strangers (1991), Light Sleeper (1992), Affliction (1998), Auto Focus (2002), and First Reformed (2018). Each of these films remain a highlight of Schrader's monumental career, and The Card Counter joins the ranks of those impressive pictures.
With a verbose style merged with rich visuals and striking compositions, Schrader's visual style is every bit as visually impressive as the artistry you would find in a Scorsese film, even though the visual style is more restrained and less energized, it is very reserved and meticulous. Thematically, his films are always rich in philosophy and literary influences that are influenced by Fyodor Dostoevsky and Leo Tolstoy. Conceptually and thematically, Schrader is easily influenced  by the work of Robert Bresson, Carl Dreyer, Ingmar Bergman, and even Martin Scorsese. Schrader once again delivers a highly existential and contemplated film about lonely souls searching for redemption, closure, and attempting to heal themselves from the world's unsettling forces that lead his characters to the brink of self-destruction.
While flawed, The Counter does have some issues in terms of pursuing too many ideas and narrative mechanics. In some aspects, the film is a polemic on post 9/11 Bush-era geo-political policies that have led to much trauma both as a nation and on many individuals years following September 11th and the War in Iraq and Afghanistan. The other part is a character study about a man trying to find atonement of his past sins. Thanks to Schrader's maturity and attention to character detail, along with a very powerful performance from Oscar Isaac who plays a professional poker player with a lot of emotional wounds–Schrader and Isaac together prove to be quite a productive duo and the performance ranks up there with Nick Nolte in Affliction, Ethan Hawke in First Reformed, Willem Dafoe in Light Sleeper, Ken Ogata in Mishima: A Life in Four Chapters, and George C. Scott in Hardcore as being one of Schrader's most impressive and richly drawn characters he has ever wrote and directed.
The film is about William Tell (Isaac), who goes by Bill for short. Through flashbacks that drift between the past and present, Bill in the modern segments just gets released from an eight year military prison sentence. Before his jail time, Bill was in the military police and worked in the Abu Ghraib detention center in Iraq. He was ordered Major John Gordo (Willem Dafoe–A Schrader regular) a private contractor who allowed the abuse of power which consisted of violent and inhumane  interrogations, torment, and torture. The flashbacks are quite unnerving in these scenes, as Schrader and cinematographer Alexander Dynan use extreme wide-lens fish eyes, perhaps even enhanced GoPro cameras that give the film a more visceral impact.
While in prison, Bill found his love for reading and card playing while in prison. Upon his release, he finds himself utilizing his love for poker and blackjack at casinos as he's able to make a living going from one casino to another. His talent is able to count cards, in which he is able to calculate which cards to play with and how they will fall. He ends up encountering La Linda (Tiffany Haddish), a backer who scouts talented players and builds a stable and offers to invest in their stakes with a return on investment. La Linda and everyone else always walks away as the winner as they compete against each other, she is able to invest all the stakes, and everyone walks away with a profit, and nobody goes deep into debt.
Bill ends up encountering Cirk (Tyler Sheridan), a young man who is the son of one of Bill's military interrogators, who has long been dead. Cirk has an agenda to want to avenge the death of his father, in which he knows the torment led by Major Gardo created his demise that led to alcoholism, depression, and eventually death–Cirk wants to persuade Bill too kidnap, torture and avenge the torment he created, in which Major Gardo now does seminars in Casino's lobby rooms on modern surveillance and interrogation.
Upon each film, Schrader has always flourished as a skillful director just as much as he is a superb writer. Mishima: A Life in Four Chapters and The Comfort of Strangers remain his most visually elegant films that show the most visual grandeur. The Card Counter is a mix of Schrader at the strength of both his talents, with many expertly staged sequences that involve impressive tracking shots in casinos and a great scene involving a date between Bill and La Linda walking through a light exhibit.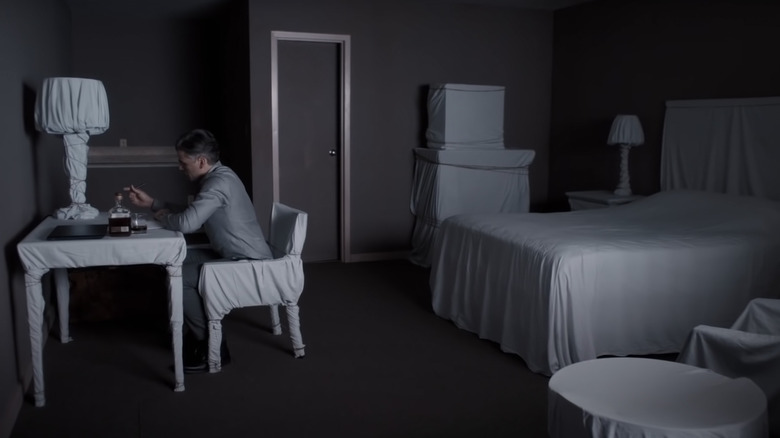 Schrader also has expertly staged dialogue exchanges and scenes that involve slow push-ins whenever Isaac has his wrenching moments, and of course Schrader utilizes his clean shots of well-balanced compositions of his characters delivering dialogue that were used to the pristine in First Reformed. The visual confidence is certainly there, although it feels Schrader needed one more draft as scribe to his screenplay. While the subplot involving Billy and Cirk–in which Bill ends up calling him The Kid in reference to The Cincinnati Kid–the encounter doesn't quite feel as augmented as it could have, and the La Linda character needed more characterization and depth to her role that would have made her more dimensional.
Where Schrader succeeds in this film is of course his political subtext that involves America's morally repressible practices in it's invasion in Iraq. To add in a layer of implicit meaning, one of Bill's fellow gamblers on the pro circuit, is dressed in all stars and stripes of the US Flag, and his entourage shout out "USA! USA" whenever he wins the deck of cards. Despite some quibbles, Schrader reassures his framework with a gift of raw and insightful emotion that hasn't abandoned him.
The best moment in the film involves Bill and The Kid in a hotel room where Bill tries to get through to Cirk to make amends with his mom, and pay off his college debt, and return back to college to earn a degree. It's a very powerful and even disturbing scene that is a proven testament to just how great of an actor Oscar Isaac really is. It's moments like that where one realizes that The Card Counter is a work of art that captures the reality of internal conflict and personal trauma. Gritty and unpredictable, Schrader's film once again leaves a strong impression on the feeling of an emotional wounded and lonely man living day by day in the gambling den who's trying to find redemption and closure for his past sins.
One can feel the empathy and great sympathy Schrader has for his characters and for the human condition. Schrader examines how places and experiences make us who we are, and how anxieties can trigger our darkest emotions. Schrader once again triumphs with The Card Counter as it's another impressively spellbinding and stylish work in his  splendid oeuvre.