A truly devastating and shattering drama about dementia, director and co-adapted by Florian Zeller based on his own play. The Father holds some Bergmanesque moments to chronicle the life of a father Anthony (Anthony Hopkins), a man enduring his fading memory. The film is a cross between Michael Haneke's Amour with it's emotional truths on aging, and is also very much in the vein of Christopher Nolan's Memento in the way of perception. Zeller's film is truly a harrowing and terrifying account of one's psyche enduring such a horrid syndrome.
The film opens casually, where we see Anthony with his daughter Anne (Olivia Colman), in which Anna informs her father that she is moving to Paris, only for later she isn't moving. Anne ends up hiring a caregiver, Laura (Imogen Poots), and eventually we see Catherine (Olivia Williams) who Anthony mistakes as Anne. We also see a strange man appear in Anthony's home, Bill (Mark Gatiss) who we find out is Anne's husband that Anthony doesn't seem to remember Anne marrying. We also find out that the flat Anthony resides in isn't it, but is Anne's even though he is convinced that he is. Then another strange man appears (Rufus Swell), who is more unkind to Anthony and the location changes. Everything keeps changing in Anthony's world, and everything seems deceptive, and the film bounces between what can be real and what isn't.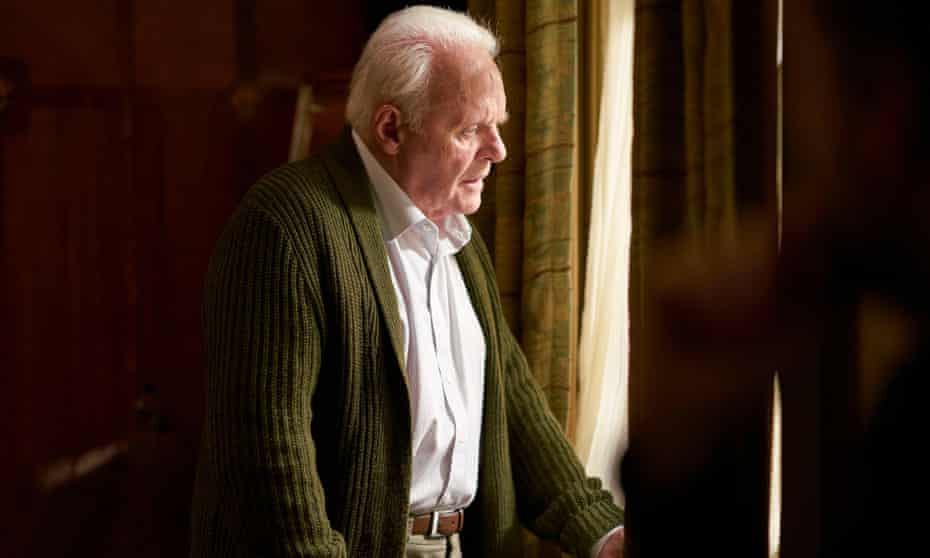 Like Memento or Bergman's Hour of the Wolf, the film is told right from the perspective of Anthony, and Zeller does a commanding job in presenting how horrifying dementia can be with the shifts of Anthony's perception. Zellar allows the perception and exchanges slip away from logic and context as it gets into the deep levels of how one's mind can decay away. Like Bergman's approach in Hour in the Wolf on the deterioration of the mind, Zeller expects us to accept the narrative rather than constantly second guess or question what is real and what isn't.  The strategy works emotionally and dramatically without ever feeling gimmicky.
In many ways the film also recalls the 2014 film Still Alice that brought Julianne Moore home the Oscar, and Zeller presents the film with just as much empathy and the end result is a truly harrowing film experience. Had Zeller just brought in some deeper characterizations and perhaps a little more insight on Anthony's backgrounds it would have held even great impact. Hopkins is truly outstanding here, and ranks up there with The Silence of the Lambs, Remains of the Day, The Elephant Man, and Nixon as being one of his greatest performances. The film's screenplay is also co-written by Christopher Hampton (The Quiet American, Atonement, A Dangerous Method).
Even though some scenes recall other films, The Father is a superb acting showcase where the whole cast opens up their perfectly rendered performances with rawness and skill. Colman brings a lot of heartbreak and grief, but it never dissolves into melodrama. Colman holds beautiful restraint as she tries to calm her anxieties with the emotions boggling up inside her. Hopkins' performance is also greatly rendered, delivered with sublime subtlety that is emotive but never histrionic and perhaps Hopkins at his most vulnerable.
The Father displays the deterioration of the mind with stark realities and emotional truths. It effectively shows Anthony's mass confusion and how his anxieties set in with his internal dislocation. The exchanges with Hopkins and Sewell–the other man he sees and is traumatized by are heartbreakingly brutal to watch. Zeller allows the audience to perceive Anthony's world and it becomes an affecting and empathetic approach where it leaves you second guessing what is real or not, but it never feels muddled or confusing. The character of Anthony has become trapped with his own condition and Anthony can only exist and endure deceptive, fragmented memories before everything is completely vanished. All around The Father is a delicate and humane drama about a whole man's reality being stripped away from him.