A deeply humane and fully sustained absorption in loneliness, grief, world history, and philosophy, along with frequent quarrels between a history instructor and a small group of New England boarding school students The Holdovers marks Alexander Payne's return to his quirky humor and sharply observed character drama, which easily compares to his more acclaimed films like his 1999 sophomore film, Election, as well as his early 2000s masterpieces like About Schmidt and Sideways. Expertly written and directed on all levels, the film fully satisfies with its literary and equally witty dialogue that excels both on an emotional and comical level. The Holdovers is easily one of the most satisfying and moving films of the year. A comeback movie for Alexander Payne and easily Paul Giamatti's finest performance since Sideways
After the huge disappointment of Payne's ambitious but uneven Downsizing, Payne went back to the drawing board (as his character Miles in Sideways would say) and ended up gaining inspiration from an undisclosed 1930s French short film that is rumored to be Jean Vigo's Zero for Conduct, in which Payne hired TV producer and writer David Hemingson to help co-write the script with him due to Hemingson's experiences at a boarding school in his youth. With that, you can see Payne's sensibilities conveyed throughout the narrative as the writing captures many familiar themes Payne has covered before, such as loneliness, aging, grief, and other painful human truths about unfilled inspirations and dreams.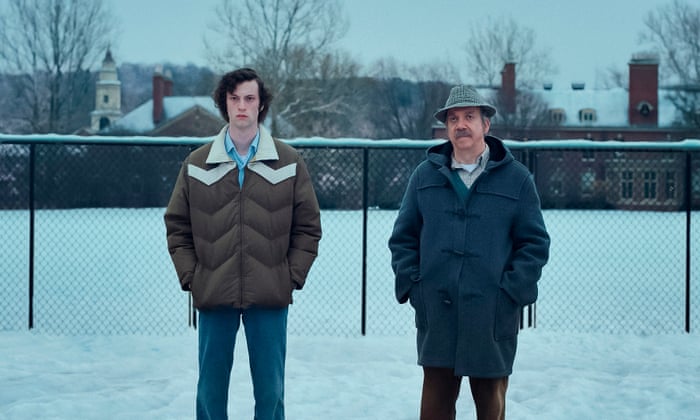 Courtesy of Focus Features
Stepping away from his often-Plain state settings to the setting of a New England school in 1970, the film echoes the tone and style of films from that era. Think James Bridges 1973 The Paper Chase with the sensibilities, humor, and texture of a Hal Ashby movie from that era, and you have The Holdovers. A holiday movie that holds bite, that is moving but never cloying, and a film where Payne once again isn't afraid to tackle grounded human anguish.
Paul Giamatti reunites with Payne for the first time since Sideways, and it's now been nearly 20 years since that masterpiece was released in 2004. With their second film together, they once again prove to be dynamic collaborators. One that I hope continues in the years to come because Payne knows exactly how to write a character for Giamatti, who returns a nuanced character. Giamatti stars as Paul Hunham, a curmudgeonly ancient historian who is very sophisticated, pompous, and universally disliked by students. He holds very high standards for his students, as he refers to them as "Philistines" under his breath as he grades their papers in private. He doesn't grade on a curve, and he shows no sign of leniency for his standards.
Courtesy of Focus Features
His standards are for the students to pay attention to the lectures, do their homework, study the material, and come fully prepared for the tests. Of course, most of the grades on the tests that he gives are mostly F's and D's, with B+ being the highest grade. Paul is so principled that he has no issue flunking a senator's student. He also refuses to get personal with the students and is eager to start a whole new lesson just hours before the students are to leave for their Christmas break. Paul even holds reservations when a colleague bakes him Christmas cookies.
Paul ends up drawing the shortest straw for holiday holdover duty, where he must chaperone the students who have to stay on campus during Christmas break. a wide range of reasons. The group of students has various ages and backgrounds, including Angus Tully (newcomer Dominic Sessa), who is one of Paul's best students, but he has a very irreverent and snarky attitude that puts him at odds with his wealthy and entitled peers. Angus is a holdover because his mom ends up taking an overdue honeymoon on a beach vacation with her new husband.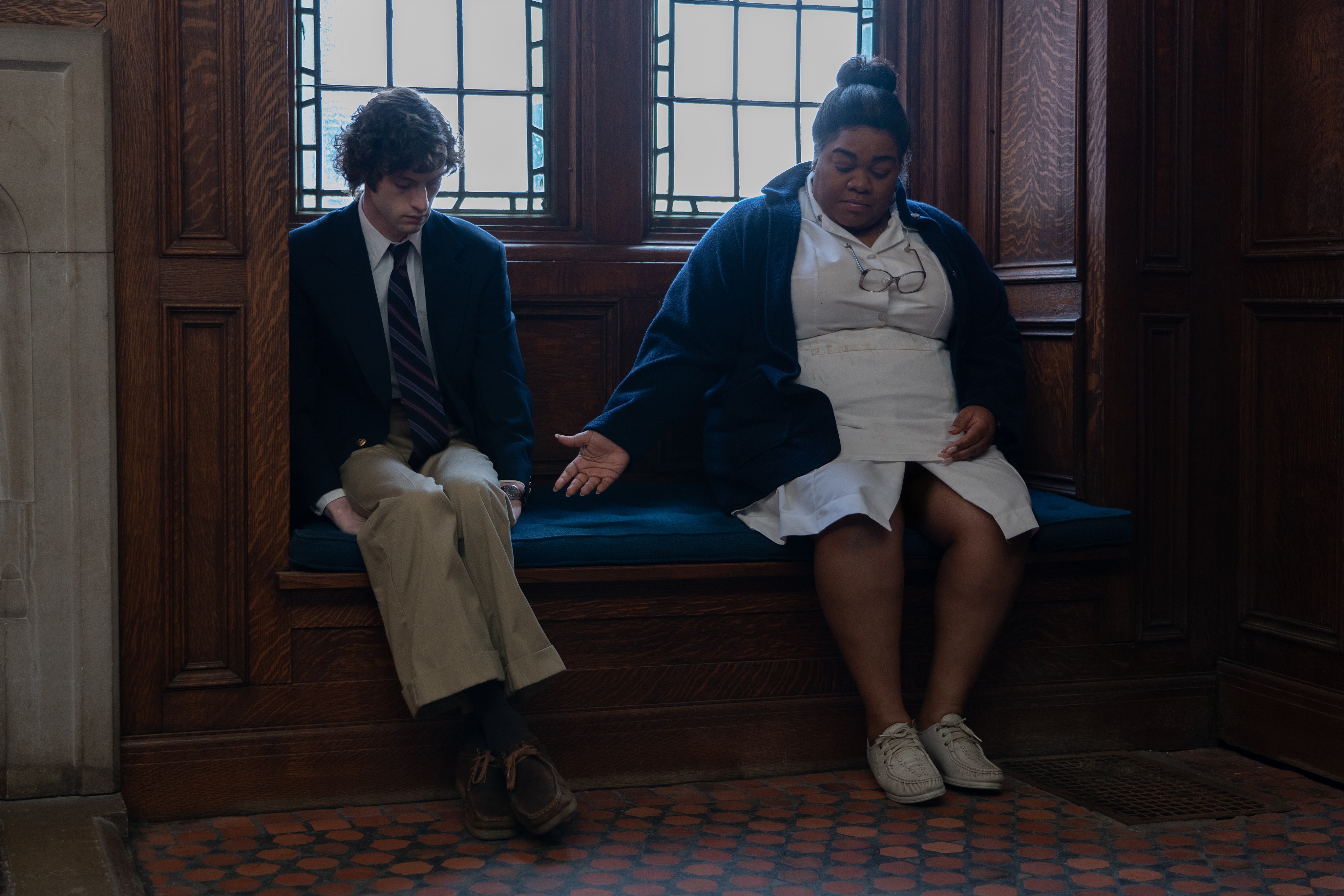 Courtesy Focus Features
This only brings out more anxiety and emotional tensions for Angus, one in which he is constantly having squabbles with his fellow holdover classmate Jason (Michael Provost), who he ends up almost getting into a fight with. Jason (Michael Provost) ends up getting picked up on a private jet from his father, where he brings all the other holdovers along besides Angus, who is instructed that he must stay on campus. So, it's just Paul and Angus stuck together with Mary Lamb (Da'Vine Joy Randolph), the head cafeteria chef, who is grieving the recent death of her son, who died in Vietnam.
The exchanges between Paul and Mary are also beautifully written and conveyed. The amount of character depth that Payne and Hemmington put into these characters is exemplary. In one particular moving scene, as both Mary and Paul watch The Newlyweds, we learn so much about Paul's past relationships and loneliness in the most subtle ways, and Mary opens up about how her son died a few years younger than when her husband sadly died. We learn what Mary has gone through, and Randolph pulls in some very delicate emotional channels that never feel forced or manipulative. The writing and Randolph's character go to dark places with this character, and Payne delivers sincere empathy for the character's depression.
Courtesy Focus Features
Meanwhile, Angus begins to feel more claustrophobic, and his anxiety grows. He wants to get out of school as Christmas approaches. He ends up becoming more anarchic, which is at odds with Paul's sternness, in which the two have hysterical exchanges, banter, and other mischief together that leads to memorable sequences in a hallway where Paul does a back flip and lands on the gym floor, where he ends up at the hospital. To make matters worse, the heat is turned off in the school during the break, the food delivery stops at the school, and there isn't any Christmas spirit. Angus really wants to go to Boston, and Paul ends up going to a Christmas party after being invited to by Lydia Crane (Carrie Preston), a faculty member who happens to also wait tables at the local pub after Paul and Angus run into her. Lydia shows a great interest in Paul's wit and banter, you can sense a human connection igniting, and Angus encourages them to all go. Paul reluctantly agrees and the Christmas party sequences end up being one of Payne's most genuine sequences he has ever staged, as each character's hopes and vulnerabilities' end up unwinding in very heartbreaking ways. Like Miles in Sideways, both Mary and Paul are very flawed characters that turn to liquor to deal with their inner turmoil.
Just as he always does, Payne allows his characters to break through all the tropes that are set up for them (the cranky professor, the privileged troubled student, the grieving mother), and he navigates these characters with earned pathos and intricate complexities. Each of the characters troubles are sincere, and Payne brings a poignancy and a level of deep poignancy to their character arcs. There is also a razor-sharpness with each of the characters, where Payne once again merges the comedy with the delicate.
Courtesy Focus Features
While The Holdovers builds up all the marks of being something contrived and sentimental, this film is far from a trojan horse. The film's second half, which I will not spoil here, holds so many terrific payoffs for each of the characters. It's just one great moment and scene after another. We get to learn more about Paul's vulnerabilities, his hopes, and his broken dreams once he encounters an old classmate. Payne once again shows his strengths do not hold as a great storyteller, but as a great craftsman as well. His visual style is meticulous and elegant, but never flashy. For instance, there is one particular great sequence of Paul and Angus going into a party store to find whiskey, Payne stages in a very long take that doesn't draw attention to itself, but its staged so expertly by cinematographer Eigil Bryld and Payne. Payne certainly deserves Oscar attention as Bryld and Payne together not only sustain the tone of a 70s film, but they also match the aesthetics as well without ever feeling gimmicky.
Payne once taps into self-discovery, mental health, free-thinking, and the unfortunate costs loneliness and grief can have on the human psyche. It's an achingly beautiful story about human growth where Payne excels in the routine teacher-student dynamic. The story sings every time newcomer Sessa is on screen with Giamatti. Da'Vine Joy Randolph also excels here, turning in a remarkable performance that earns all the Oscar buzz she is receiving at the moment. Of course, Giamatti hits an onscreen grand slam here, as Paul Hunham has a quality of sophistication, genius, and empathy that is merged with sadness and isolation inside. Payne has once again delivered a tragicomedy of deep resonance that is both hilarious and often heartbreaking while still setting his eighth film apart from the rest of his films in his extraordinary oeuvre. He is a master of humanism, and The Holdovers reassures this.
The Holdovers is now playing in limited theaters and opens wide on Friday, November 10th, 2023.