It was an election year with a terrible recession. After eight years of the Bush Administration, the public grew very tired of cronyism, corruption, and war. Reflecting back, we had so many thoughtful films to get us by. It was a year where The Dark Knight broke many box-office records and made its stamp as that most essential superhero movie at the time while the MCU made its mark with Iron Man and The Incredible Hulk.  However, 2008 was also more than just superheroes and escapism. It was a year where many films felt like a call to action, with such titles as Hunger, Milk, 4 Months, 3 Weeks 2 Days, and The Visitor that tragically still feel relevant today. 2008 offered so many great small titles were released that are just waiting to be rediscovered by modern film buffs today. I built Defacto Retrospectives as an archive in hopes that future generations will discover these films on these lists. I'm hoping most film buffs will track these titles down and hopefully watch them as they will realize how well these mesmerizing films have aged. Here are the very best outings of 2008:
1. Paranoid Park (d. Gus Van Sant) 
Gus Van Sant's Paranoid Park was released just after his "Death Trilogy," which is easily his most visually bold era of his career. While the film is certainly more accessible than Gerry, Elephant, and Last Days, it still carries on the artistic sensibilities in so many ways. Paranoid Park was also released in theaters the exact same year as Milk, but without the budget, historical significance, or Oscar hoopla. For the remaining 2000s, Gus Van Sant appeared to be at an artistic peak, making very oozy and hallucinatory films with a craftmanship that echoed the great Bela Tarr. Van Sant also walked through a lot of existential issues about the human condition. Paranoid Park is by far his most engrossing and a very underrated coming-of-age story that examines the perplexities of transforming into an adult. The plot device involving murder mystery with subtle commentary of the Iraq War going on is utilized with rich subtext. Van Sant, using a fragmented style, captures the disoriented psyche of his protagonist, Alex (Gabe Nevins), a high school skater who accidently kills a security guard while train hopping one night near his favorite skateboarding park. Paranoid Park and Milk were Van Sant's last great movies, and I like to imagine that he crafted this film at his peak (If nothing else, Christopher Doyle and Rain Kathy Li deliver some of the most intoxicating imagery of Van Sant's career). With his artful use of atmosphere and alluring visuals, Van Sant has crafted a masterful portrait of disaffected youth attempting to unravel in a cruel and uncertain world.
2. 4 Months, 3 Weeks and 2 Days (d. Cristian Mingui)
How could the overturn of Roe v. Wade rights that is a complete derailment of women reproductive rights do not have you want to revisit this 4 Months, 3 Weeks and 3 Days which is sadly still timely today. Released during the Romanian New Wave movement during the time of such films as The Death of Mr. Lazarescu and 12:08 East of Bucharest, Cristian Mingui's 2007 masterpiece (which always made top 10 list in 2008 due to the Detroit release date in March of 2008) is the most powerful and gripping one among them. Winner of the 2007 Palme d'Or at the Cannes Film Festival, 4 Months, 3 Weeks and 2 Days was a well deserving film to win that prestigious award. Rich with politics, but never heavy-handed in its commentary with its cinema verité style that consist of long takes, impeccably staged sequences, wrenching emotion, and of course first-rate performances. Set during 1987 as the Romanian government was transitioning away from the Communist regime to a Nationalistic one, two college roommates, Otilia (Anamaria Marcina) and Gabita (Laura Vasilu) are planning a bizarre trip together at a hotel. Otilia tries getting out of her dinner party with her boyfriend's dinner party at his parents' house. Once Gabita and Otilia arrive to a motel, it is revealed that Gabita has an unwanted pregnancy and they have arranged an illegal abortion. The doctor who shows up, Mr. Bebe (Vlad Ivanov), is very vile and a great indication how back-alley abortions are never healthy. Not to reveal what happens, but the film becomes searing portrait of desperation, sacrifice, and friendship. Highly involving, non-judgmental, and of course powerfully moving, 4 Months, 3 Weeks and 2 Days is done with delicate grace. The film does an exceptional job with subtly as well, as it actually feels non-judgmental as it just observes in riveting detail the desperate implications women find themselves in when women reproductive rights are suppressed in a society.
3. The Wrestler (d. Darren Aronofsky) 
This is a work of grace, almost like a Hal Hartley or Bob Raffelson film transported into the 21st century. Director Darren Aronofsky and screenwriter Robert Siegel Delver saw a naturalistic, emotional, and raw portrait of the life of an aging and troubled pro wrestler. Mickey Rourke delivers a career-defining performance as Randy "The Ram" Robinson, a pro wrestler who was once on the top in the 80s but now wrestles in small indie promotions for a few hundred dollars in small gymnasiums and VFW posts on the weekends. Aronofsky grounds the film in a wounded reality, where Randy is a deeply flawed man who begins to reevaluate his priorities in the aftermath of a brutal hardcore match that left him near death from a severe heart attack. This allows Randy to seek redemption from his estranged daughter (Evan Rachel Wood), whom he abandoned years ago. Randy also attempts to embark on a romantic interest with Pam (Marisa Tomei), a single mother who goes by Cassidy at his nearby strip club. With plot machinations that would have been cloying in anybody else's hands, Aronofsky's sensibilities and themes of self-destruction of the body were quite ubiquitous here. It's a film about legacy and fading away, and it's a perfect coda on how one's artistry cuts you into two, destroys relationships, and leaves you in exile where all you have left is your craft and devoted fans.
4. My Blueberry Nights (d. Wong Kar-Wai) 
It may have been Hong Kong auteur Wong Kar Wai's least critically acclaimed film yet, but I still consider it an overlooked masterpiece. Revisiting this film, one just can't deny its luminous beauty and romance. Wong's luminous slow-motion and vibrant frames are filled with glass windows, reflections, neon lights, and dazzling colors. We feel this romantic world of characters yearning for something deeper, something more. We feel the air as the characters smoke and eat blueberry pie, and it has a lighter tone than most of Wong's films. This film is made with so much grace, skill, heart, and, most importantly, sophistication that many American filmmakers fail to get right. Sadly, Wong Kar-Wai's first English-language production is perhaps his most accessible and genuine. My Blueberry Nights touches on heartbreak, alcoholism, gambling, and other human complexities that remain universal. It's a splendid film about reinventing oneself out of heartache, and Wong Kar-Wai explores just how alive the world can be if we allow ourselves to be open to it.
5. The Flight of the Red Balloon (d. Hou Hsiao-Hsien) 
If The Red Balloon was one of the greatest short films ever created, The Flight of the Red Balloon is every bit as essential. Taiwanese director Hou Hsiao-hsien not only pays a serviceable homage to Albert Lamorisse's art-house short classic, but he also puts his own modern sensibilities into it, and it becomes clear that the entire film is roiling with many deep character depths and delicate visuals, from Juliete Binoche's internal conflicts of being a single mother on the go as she attempts to work her puppet shows as an aspiring film student from Taiwan who also babysits her kid. While the film offers plenty of playful tributes to The Red Balloon while using a lot of breathtaking camerawork to capture the balloon fly throughout Paris, Hsiao-hsien has crafted an impressively layered film about artistry in addition to themes about motherhood, friendship, loneliness, and the passage of time. Hsiao-hsien's film has somber moments, but he is more subtly upbeat as he captures the small joys of very small moments that humans take for granted. Some may find it simplistic, but it's an emotionally complex film that just happens to be equally hypnotic and visually sublime.
6. The Class (d. Laurent Cantet) 
French filmmaker Laurent Cantent continued his social realism with the riveting The Class, a classroom drama that observes the social and class struggles of French immigrant "problem children. What could have been just another "teacher savior" film that plays for cloying sentiment and hokey empowerment ends up becoming an honest film that always feels authentic as the film observes and subtly questions the school's methods and hidden prejudices. François Marin plays the quick-tempered French language teacher who quickly loses his patience with the students; the performance is raw, and the narrative maneuvers through many sharply scripted exchanges. There are many debates and misunderstandings, and Canet never resorts to liberal didacticism in his narrative. He moves the story forward with dramatic moments and emotions that thrust the narrative forward. Yet you still walk away with greater empathy because you know you watched a film of great defiance that never feels heavy-handed or forced but is always gripping from beginning to end.
7. Happy-Go-Lucky (d. Mike Leigh) 
On the surface, Mike Leigh's Happy-Go-Lucky appears to be a feel-good Hollywood movie about an enthusiastic elementary school teacher trying to sort herself out as she approaches 30. Leigh plays with some rom-com tropes, but as the film progresses, it becomes more sophisticated, intricate, and layered, as you would expect from the great British auteur. Leigh once again explores loneliness and how people hide their sadness with either happiness or rage, and she finds so many emotional truths along the bittersweet journey. While the character of Pauline, aka Poppy (played to perfection by Sally Hawkins), holds many joyful and radiant moments, there are so many melancholic moments with her character where her shielded enthusiasm brings out the worst in others, including her irritable driving instructor named Scott (Eddie Marsen) and her pregnant older sister, who is jealous of Pauline's single life. Beneath all the wonderful moments Leigh unfolds, there is a tender character study that examines how lonely people handle their emotions in different ways with different coping mechanisms. A splendid masterpiece that I hope more people rediscover.
8. The Visitor (d. Tom McCarthy)
Up there with The Station Agent as Oscar-winning filmmaker Tom McCarthy's most genuine and affecting film yet. McCarthy's human drama manages to incorporate a story of great empathy during Bush-era post-911 xenophobia that still resonates today in the post-Trump era. The film is about a lonely, widowed literature professor named Walter (Richard Jenkins) who finds undocumented immigrants Tarek (Haaz Sleiman) and Zainab (Danai Gurira) after finding them staying in his New York apartment after his landlord swindled them to stay there as he's gone. Walter ends up befriending Tarek and Zainab and allowing them to stay in his apartment. Tarek teaches Walter how to play hand drums, and they play together in the subway. Sadly, Tarek is accused by Metro police of jumping a subway turnstile and ends up getting detained at a customs detention center. Faced with being deported, Walter ends up doing everything in his power to prevent Tarek from being deported. Like The Station Agent, McCarthy focuses on deep character depth and honest pathos. I know Spotlight won the Best Picture Oscar and is McCarthy's most celebrated film, but The Visitor holds more resonance and staying power.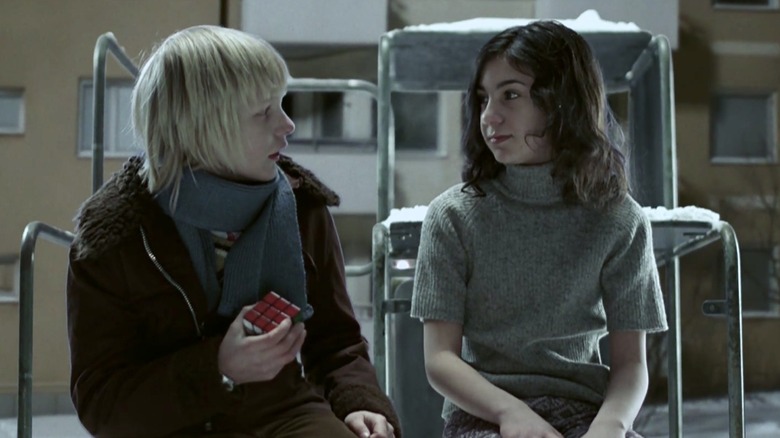 9. Let the Right One In (d. Tomas Alfredson) 
Swedish filmmaker Tomas Alfredson's much anticipated and haunting sophomore feature Let the Right One In had the markings of being just another disposable genre exercise. But in truth, the horror movie ended up being both a brilliant coming-of-age story and a thrilling vampire movie. The film, which is about a young boy named Oskar (Kre Hedebrant), who is 12 years old and lives with his single mother in an apartment complex in Sweden, ends up meeting a mysterious new neighbor named Eli (Linda Leandersson), with whom he ends up forming a friendship with. Eventually Oskar discovers Eli is not an ordinary girl but an immortal vampire who is tied to some local murders that are committed by her guardian, who kills the local citizens to sustain Eli's own thirst for human blood to stay alive. Both resonant and stylish, not since Brian De Palma's Carrie has a film about alienated youth felt so frightening and so compelling.
10. The Dark Knight (d. Christopher Nolan) 
Ever since Tim Burton's 1989 Batman, we have had many different Batman films with different series and variations. It has left endless debates on which Batman film is "the best," with many Batman trilogies falling short, and most of the Batman films fall off in quality by the third film. But Christopher Nolan's The Dark Knight was not only an event of its time, a sensational blockbuster, but an impeccably crafted, thrilling saga of the caped crusader that stands on its own. While DC co-CEO James Gunn might dislike it, I stand by the fact that The Dark Knight is the Citizen Kane of superhero movies. Those who continue to embrace it find it thrilling, with many layers and rich themes about fear, chaos, destruction, and moral conundrums, along with many other stellar set pieces that have aged very well in part due to Nolan's practical ways of doing things. Yes, we can easily complain that The Dark Knight Rises didn't live up to The Dark Knight or that Nolan's trilogy feels incomplete in scope. But as a stand-alone Batman movie, it's still the greatest Batman movie yet. Also, Heath Ledger's posthumous Oscar-winning performance of the Joker will forever live on.
Runners-Up in Alphabetical Order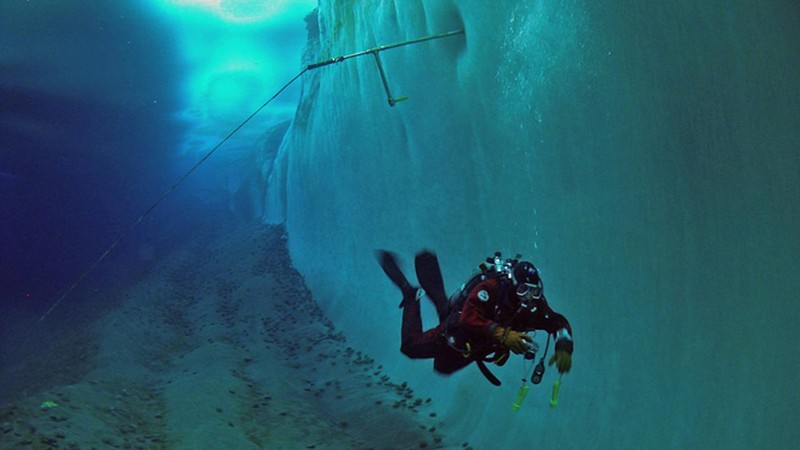 Encounters at the End of the World (d. Werner Herzog) 
The German iconoclast Werner Herzog always bounces between documentary and narrative. His documentaries are just as eccentric and metaphysical as his elliptical features. Having crafted over 40 features in over 50 years, Encounters at the End of the World shows Herzog at his most contemplative and curious out of all of his documentaries. Herzog explores our planet's terrain, interviewing scientists and researchers who temporarily reside in Antarctica as they research existential questions about our climate and planet. The movie offers a lot of visual splendor, especially the underwater photography of the ocean, which looks otherworldly. Scuba divers dive deep into the Southern Ocean of the Arctic, surveying the ice nilas with their cameras, as Herzog finds moments of wonder and philosophy in how alien and remote our planet can be. The movie is about nature at the bottom of the planet, and Herzog does it with awe.
Hunger (d. Steve McQueen)
Steve McQueen's debut feature, Hunger—his first of the three collaborations with actor Michael Fassbender, which yielded the masterpieces Shame (2011) and 12 Years a Slave (2013)—has lived on quite well, just as many other of McQueen's films have. While Hunger failed to get any Oscar nominations that year due to limited distribution and a slow rollout release date where it opened in December of 2008 in New York and didn't make its way to Chicago and Detroit until April of 2009, for the longest time I had Hunger on my 2009 list. Since I saw it, the film has plagued my memory. As with McQueen's other films, it's a very visceral film about defiance. One that is every bit as physical as it is psychological. Fassbender's performance is a very commanding one, in which he starved himself for the role and lost over 50 pounds to play it. McQueen's vision of the horrifying price of being a vigilant political prisoner during the Northern Ireland conflict taps into the human condition and shows how we allow cruelty to persist over unity.
Milk (d. Gus Van Sant)
Most of Gus Van Sant's films from this era were his most artful films yet, indicating he was on a great artistic streak. His biopic Milk, which was about gay rights activist and San Francisco councilman Harvey Milk, was a return to commercial filmmaking for Van Sant. However, while I think Gerry, Elephant, and Paranoid are career peaks for Van Sant, it was Milk that brought Van Sant back to great acclaim. Milk was released during the 2008 election and seemed like a response to the Bush administration and its disdain for marriage equality and gay rights. But years later, Milk still feels relevant today, as many on the hard right are still hostile towards the LGTBQ community. But in addition to the film's messaging, this is a greatly acted and superbly crafted film. One made with great passion and hope. This is certainly one of Sean Penn's greatest performances, one that guided him to his second-best actor Oscar.
Revolutionary Road (d. Sam Mendes)
Revolutionary Road is that rare kind of studio movie that Ingmar Bergman would have been proud of. It's a mature work of art that recaptured some of the themes of American Beauty, including marital complications, longing for something more substantial, the facade of suburbia, and resisting conformity. The film doesn't particularly care about pleasing the audience with earnestness. It's focused more on rich characters, brutal honesty, and raw emotions rather than being some romantic 50s fable. More importantly, it doesn't care if the audience finds the film to be too harsh.  In many ways the film feels like a companion piece to "American Beauty" as Mendes returns to suburbia, but the film is more than just another exploration on the facades of suburbia. It's a heartbreaking exploration of the hardships of marriage and shattered dreams.
Synecdoche, New York (d. Charlie Kaufman)
Charlie Kaufman's directorial debut, Synecdoche, New York, of course held the same surrealist and hyperreal sensibilities of his previous work like Adaptation, Being John Malkovich, and Eternal Sunshine of the Spotless Mind, as it's also a dizzying film about lonely individuals enduring an existential crisis about life, love, and purpose. Not to mention, it's a visually bold imaginarium of a film, with its surrealism on the creative purpose deserving comparisons to Federico Fellini's 8 1/2. Kaufman once again dives into life's bleakness as it's about a theater director named Caden Cotard (the late Phillip Seymour Hoffman) who faces many anxieties once his wife (Catherine Keener) and daughter move to Paris without him. He has a therapist who endlessly promotes her new book rather than helping him. Time quickly passes in the film, and Caden moves to New York City to embark on his personal magnum opus of a stage play that reflects his own life and is endlessly in the pre-production phase of casting, recasting, and rehearsals. Caden faces anxiety, depression, and other strange diseases that cause him not to function while trying to stay afloat along the maddening creative process that is a reflection of life's uncertainties. Kaufman proved he can direct extremely well, just as he can direct. He has delivered a very moving and daring film, full of oddness, melancholy and humility that would carry on with Anomalisa and I'm Thinking of Ending Things.
Wendy and Lucy (d. Kelly Reichardt)
A great film for all animal lovers like that is only 80 minutes long, and it's a remarkable independent movie. Like Sean Baker, Kelly Reichardt chronicles the type of characters and daily struggles that are rarely glimpsed in American cinema, and with that, she has created a deeply empathetic and undeniably moving film of the human condition. It's a somber film about Wendy, a drifter from Indiana trying to make her way up to Alaska for work and to start a new lifestyle. Meanwhile, she finds herself stranded in an old mill town once her car breaks down and she loses her dog. This really is a rewarding film, one I loved even more on rewatch. Please watch it if you haven't already. Certainly, Reichardt's greatest film to date. Michelle Williams deserved an Oscar nomination for this little film as well. With the recent release of Showing Up and the success of First Now, hopefully more modern film buffs will dive into this little movie as well.
Honorable Mention 
A Christmas Tale (d. Arnaud Desplechin)
The Curious Case of Benjamin Button (d. David Fincher)
Dear Zachary (d. Kurt Kuenne)
The Duchess of Langeais (d. Jacques Rivette)
The Edge of Heaven (d. Faith Atikin)
Frozen River (d. Courtney Hunt)
In Bruges (d. Martin McDonagh)
Iron Man (d. Jon Favreau)
Man on Wire (d. James Marsh)
Rachel Getting Married (d. Jonathan Demme)
Silent Light (d. Carlos Reygadas)
Vicky Christiana Barcelona (d. Woody Allen)
Wall-E (d. Andrew Stanton)
Waltz with Bashir (d. Ari Folman)