As a follow-up to Cory Finley's feature debut "Thoroughbreds," "Bad Education (2020)" represents a step forward for the young filmmaker since both sagas deal with issues of deception and trust, except that the scope of the new film is more mature and ambitious, going beyond the "Heathers" inspired teenage satire of the 2018 film.
The story of New York public school attendants who betrayed their school district by embezzling millions of tax-payer dollars into their own expenses. "Bad Education" (not to be confused with Pedro Almodovar's polar opposite LGBTQI thriller of the same name) is a richly layered drama that unfolds like a procedural thriller that is in the vein of a David Fincher film.
Set behind the scenes of a Long Island public school district, which holds some of the highest graduation and success ratings of their graduates completing college at Ivy League universities, these schools have the honor of serving their community and taxpayers.
The film, scripted by Mike Makowsky ("I Think We're Alone Now"), is inspired by true events. In 2002, renowned Long Island school super attendant Frank Tassone was found guilty of money embezzlement and fraud against the state of New York. Over the course of a decade, Tassone systematically and deliberately used taxpayer dollars to enrich his whole life while rationalizing it for his own net gain.
"Bad Education" is certainly elevated by the complex, multi-nuanced performance from Hugh Jackman thank ranks up there with "The Fountain" and "Prisoners" as being one of his most effective and emotionally charged performances to date. Jackman is supported by Oscar-winner Allison Janney ("I, Tonya," "American Beauty), who plays Pam Gluckin, Franks assistant who also embezzles a lot of money for her family. This is revealed once a high school sophomore named Rachel (Geraldine Viswanathan) is writing puff pieces for the school newspaper that is promoting the approval of the school district's next annual budget.
Frank is the one that actually empowers Rachel to embark on real journalism and ask more challenging questions. Rachel eventually observes a lot of financial loose ends that just fail to add up to the 7.2 million skywalk for Roslyn High School. The school ceilings are leaking and the pizza ovens that are bought aren't to be found in the school cafeteria. It's the type of fraud that has occurred off the backs of many tax-payer money in numerous other school districts in the past as well.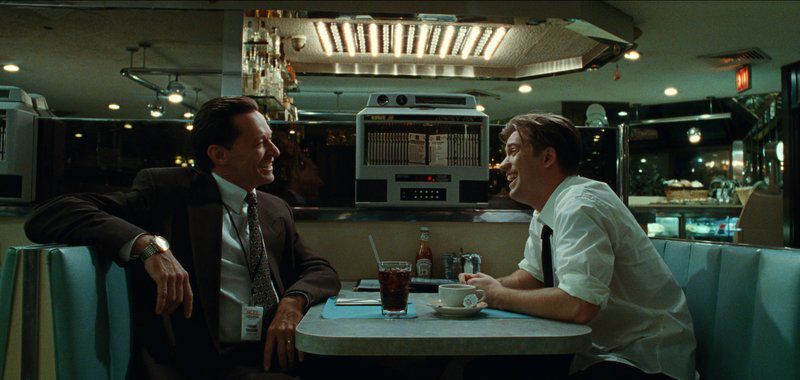 Finley is obviously drawn to stories about deception, and to characters that hold their own double life, individuals that deceive many others on the outside, to love one kind of life on the outside, and a vastly different kind of inner lifestyle. Credit to Jackman for transforming his mostly masculine driven roles as he digs deep with the nuances of a closeted gay man who keeps a photo of his, deceased wife to keep the facade that is straight man. Frank holds a secret relationship with life partner (Stephen Spinella) while reconnecting with Kyle (Blindspotting's Rafael Casal), a former student of his that he ends up having a romantic relationship with during a school convention in Las Vegas.
Kyle, who was a former exotic dancer-turned-bartender allows Frank to open up to his suppressed youth that he still years for, in which Frank still attempts to keep his younger self going with face-lift treatments that are paid by the same deceptive book-keeping formula that Pam also uses to remodel her house, pay for her daughters college, and keep other family members prosperous with necessities.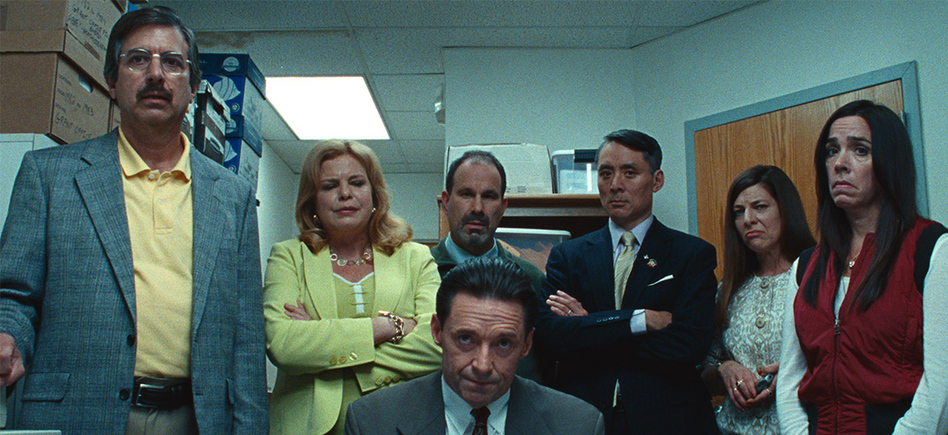 In this regard, "Bad Education" is another rise-and-fall saga of an essential American citizen who gets co-opted with the temptations of greed and the abuse of power. Nonetheless, unlike "Thoroughbreds," which was narrowly focused on just a few characters that had a setting of just  one locale, "Bad Education" pays equal attention to plot and characterization, making the material both refreshing and engrossing.
The plot, particularly the premise and first reels, is rather fascinating. When Pam is terminated out of her high-level super attendant job into her husband's car dealership, her dreams of becoming a full-fledged superintendent like Frank gets further from reality once Frank and his board decides not to take further action in return of her peacefully dismissing herself from her field.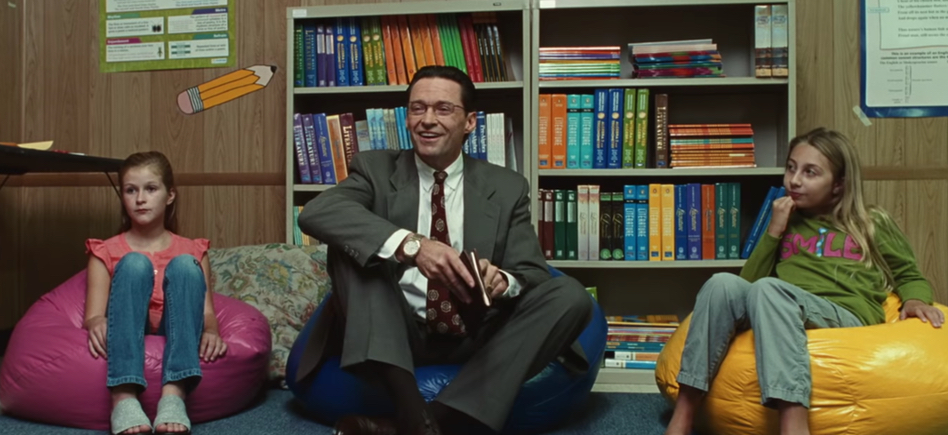 Frank also has his own aspirations in furthering the district into great prosperity, in which he took the school district from one of the lowest ranked public school districts in the state, to one of the best in the nation. Frank is getting closer to getting the larger budget that he wants, a budget that he believes will push the school further in where it needs to be, or will it only go further more into his own self-interests?
However, Frank's own reality soon turns to anxiety, when Rachel digs deeper and finds that many addresses on their write-offs are in fact an address to Frank and his compassion's own elegant and fancy apartment in New York's upper east side. It is revealed to Rachel that Frank's budget and monetary spending is going to his own gain over the interest of the school. Things only worse once the school's own auditor begins to do a deep dive into the schools finances and discovers many discrepancies.
The story of "Bad Education" began just a few years into George W. Bush and his Administration. An era that resulted in much corruption, endless ongoing investigations, and deceptions that led our nation into disastrous war. It was also an era that had a lot of scandals with many financial institutions like the Enron scandal, which was only the beginning chapters of other types of corruption that ended with the housing bubble crash of 2008.
In this sophisticated, complex, and intriguing dramatic thriller, Frank is depicted as a man of unsettling contradictions, who damaged his own reputation and harmed his own schools by successfully looting millions of dollars on his own behalf for years before being caught. Jackman, who over the years has specialized in playing in many dramatic roles, even his role as Wolverine was an emotionally raw performances in the "X-Men" franchise films, most notably in "Logan," or the conflicted husband and scientist (And even Conquistador) in "The Fountain" still remains his most fragile performance to date, yet in his performance in "Bad Education" ranks up there with another distinguished and accomplished performance.
As Frank Tassone, he brings out the man's own securities as well as regrets, emphasizing the man's many layers and nuances, colors and contractions. In Jackman's interpretation, Tassone is forgotten, neglected, and not appreciated for what he does for the parents and their children in his community, a man that feels he and the teachers he represents hold more self-worth than they are given for. A man at odds with his own original principles of knowledge and pushing the children of today into a better tomorrow. All around the films set-up and layered themes on the surface is truth pays off with great dramatic effect, especially with Rachel's journalist character that plays out very like a procedural in many ways like Fincher's "Zodiac" or the forgotten Oscar Best Picture winner "Spotlight", a few more scenes would have benefited the films premise and tied in the themes into even greater impact.
Due to the pandemic, "Bad Education" ended up being released on VOD directly to HBO. While the Academy recently changed their rules on VOD/Direct-to-Streaming films, it appears "Bad Education" will not be eligible for the Oscars since HBO is considered TV instead of "Film", in which Jackman was just nominated for an Emmy for this performance. Regardless, the film's style and technique is very cinematic and polished.  While the performance by Jackman remains a stellar one inside of a thoughtful film that remains both cautionary and empathetic.