The Jane Austen tender and sardonic spirit converges expertly in photographer and music-video director Autumn de Wilde's feature film debut of "Emma", an opulent period drama that applies the classic Jane Austen romantically cheeky novel to a rigorous commentary about British upper-class society in the 1810s. The terrific accomplished film, is easily one of the finest Jane Austen adaptations, ranking up there with Ang Lee's "Sense and Sensibility", Joe Wright's "Pride and Prejudice", and Whit Stillman's "Love and Friendship". The film is very stylized that flaunts all the energy and charm the source material has to offer, while also modernizing the material effectively well at the same time.
A stellar cast, among them Anya Taylor-Joy, Johnny Flynn, Bill Nighy, Rupert Graves and Mia Goth (who give the film's most outstanding performance), parade on screen with great charisma and richly visual details. Primary target audience for this elegantly crafted film is the arthouse crowd, though a great word of mouth may broaden the film's appeal and attract a larger demographic and wider audience.
Though Wilde is a quintessential photographer who's directing mostly consisted of music videos and shorts has made a movie that feels like it belongs to a seasoned and experienced director in both thematic and stylistic approaches. The aesthetics are ravishing, the approach is quirky, and themes are multi-layered that cast irrelevant commentary on a privileged society. Over the past four decades, there have been countless of Jane Austen adaptations  made, many even reinvented the classic stories that have mostly consisted of "Pride and Prejudice" and "Emma", there has been the teenage comedy "Clueless", an iconoclastic and hysterical retelling of "Emma"; a Bollywood retelling, "Bride and Prejudice"; modern retelling, the sweet and clever "Bridget Jones's Diary"; and even the inferior 1996 adaptation of "Emma" starring Gwyneth Paltrow was a solid adaptation that offered striking landscapes, but was missing the comedic and visual flair that is so apparent in this one.
If anything "Emma" can be compared to Sofia Coppola's 2006 masterpiece "Marie Antoinette"; as being an inventive exercise in style and attitude, but as Coppola did in that masterwork you can observe something deeper beneath the surface. De Wilde crafts a flamboyant satire and commentary on upper-class family spectacle that is sprinkled with absurdity and some farce, while always keeping the romantic and rhythmic spirit of the novel alive. The film's tone and aesthetics are also very offbeat like Coppola's "Marie Antoinette". Everything is so delicate and sumptuous as the landscapes feel like they are seen through a vapor of moisture, it feels almost like a dream or fragmented memories of 1816.  The films setting is welcoming and warm, yet the characters that inhabit the world are often very unpleasant and worry about their daily lives. Many of the characters also seem to up and arms about each other that it reaches a level of comedic absurdity.
The charm and whimsy is found with our title character of Emma (Anya Taylor-Joy), who is very lively and radiant. She dresses with prestige and holds stark charisma. The costume design, as well as the art-direction and cinematography, are ravishing, making "Emma" a colorful and vibrant film. Between Emma's pleasures for dressing elegantly, she also enjoys matching people up or rather intruding in other people's affairs. Sometimes she does this out of concern and compassion; other times she is doing it for her own self-gain.
Emma ends up finding delight in consulting and rather manipulating Harriet Smith (Mia Goth), who adores Ema well and stays aloof to Emma's manipulations. Emma also consults another village resident named Jane Fairfax (Amber Anderson), a young woman who holds attractions towards a wealthy and charming Frank Churchill (Callum Turner). Jane could pose a threat to Emma's wants since she also holds some affections for the same man. Then there is Emma's childhood friend George Knightley (Johnny Flynn), who often confronts and advises Emma about her cunning and manipulating methods. With sharp dialogue and pristine adapted screenplay writing by Eleanor Catton, the direction and writing together find the right energy and rhythms that capture the romantic longing and tensions between Emma and George. Bill Nighy is also a show-stealer as Emma's father, Mr. Woodhouse, the wealthiest man in the village who is always trying to find balance and unity in the community and with his family.
Conceptually and visually impressive, everything feels very polished and textured. Almost to a point of full stylization as the gloss also reaches a level of absurdity and exaggeration, Wilde implements the dislocation of image and reality, making this one of the most hyper-real Jane Austin adaptations yet. Anya Taylor-Joy is as expressive in her role and interpretation as Emma. Emma is very fashionable and cares about appearance, and other forms of materialistic things. She also loves matchmaking, but learns before she can fix others up, she needs to work on herself.
Taylor-Joy is a pure delight here, she is surrounded by rich decor, an impressive score, and striking wardrobes; and this "Emma" is much funnier than the 1996 one, yet there is also some melancholic truths about self-discovery and one's attempt at finding human happiness. All around the film holds a great balance between style and substance just as Coppola did with "Marie Antoinette". The style is also a feast to the eyes. It has vibrant colors, awe-inspiring wardrobe and costume design, that also utilize themselves as great metaphors as the characters use these costumes as protection or rather shields from their true selves.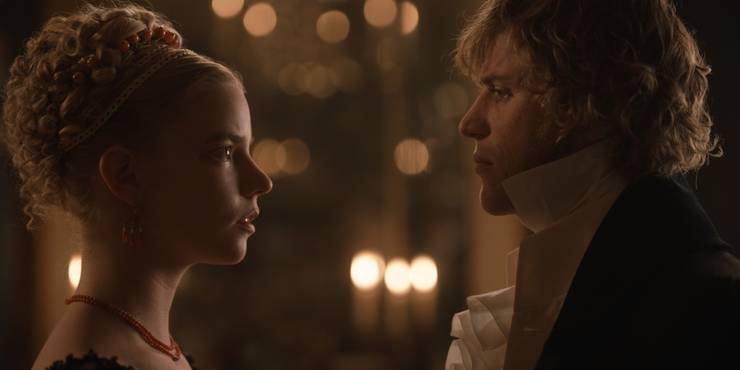 De Wilde should be commended for avoiding a number of trappings. First and foremast, entering into a period-piece territory can often feel dry and stuffy, she proves that a period piece doesn't have to be stuffy or stale. Second, reinventing the Jane Austen type of movie (Clueless, Emma (1996), De Wild proves that, despite numerous retelling of the same story, it's not a matter of what you tell, but how you tell. The movie prevents itself from feeling clichéd and familiar, in fact it feels more fresh and inventive. "Emma" is very much a slapstick and witty film, but there is nothing ever dull about the filmmaking: De Wilde's notorious staging and energy of the film always pushes the film over to where it needs to be. While the film gets chaotic from Emma's unintended consequences and blow-back, everything sorts itself as the end, with laughter, tears and all. Fans of Jane Austen will rejoice is just how delightful and exuberant this snappy rom-com really is.