Coky Giedroyc's "How to Build a Girl" offers an inside, honest look as being a teenager that holds some charm,  but is vastly inconsistent with its tonal shifts, even when there is character arcs the film isn't particularity revelatory. The best compliment to give this film is that its sporadically charming but very cliché and jarring with its tonal shifts.
In the role that is easily comparable to her previous roles, Beanie Feldstein, embodying her similar roles in "Booksmart" and "Lady Bird," gives an astute and conflicting performance that she elevates the teeenage comedy way above its shortcomings and overly familiar terrain. The problem is, there a lot of inconsistencies with the character and narrative structure in the writing and directing, in which Feldstein performance is all over the map as she attempts to find who she is and wants to be. Director Gidroyc seems enamored with some low-brow sex humor that feels like it belongs in a different movie, several montages show Fieldstein carelessly being promiscuous, shaping the film into a jarring and uneven experience.
The balance between Fieldstein's conflicting personalities is restored in the second half, when Feldstein is given a few well-written and prolonged scenes that enable her as being one of the most amusing young actresses working in cinema today. The script takes liberties, particularly in the ending, with the best-selling novel by Caitlin Moran, which was the Sunday Times bestseller list and generating great acclaim by literary critics. Even so, "How to Build a Girl" is all too familiar, but also the first comedy this year for adults. It is a comedy that can also appeal to teenagers and it relies on witty humor and a character study approach, resulting in a film that feels like a Judd Apatow film and even Olivia Wilde's "Booksmart". The fact that the book is femme-driven, offering a female lead, audiences of "Booksmart," "The Edge of Seventeen," and "Lady Bird" should enjoy this film about a young teenage woman trying to find her way in England. Moreover, her relationships and friendships in the film resemble the interactions and exchanges the characters had with their friends, family and boyfriends
Feldstein plays Johanna Morrigan, an insecure teen whose booksmarts and whims hold a lot of potentials and she just doesn't know it yet. With no boyfriend, no f and a lack of confidence, Johanna is the sophisticated ugly duckling type wants to find greater fulfillment. She imagines talking to historic icons that are pinned up on her all like Freud and Sylvia Plath (Lucy Punch) because she doesn't have many friends. While feeling very lonely and living in a small British town with a working-class family. The very basic plot begins to kick once Johanna gets a job as a reviewer for a London music magazine. Once she surprises the magazine with her youth, the film is almost like a British version of "Almost Famous," except with gender roles reversed and the film is nowhere near as affecting as Cameron Crowe's 2000 masterpiece.
In the beginning, the writing gig is all about parties and meeting with bands, and Johanna is of course not taken serious because of being a nerdy teenage girl from a small town. This inspires her to get a severe makeover where she starts wearing mascara, eye lashes, dying her hair red, and dressing sexier than before. She attends nightclubs with a top hat and starts getting more cruel and vicious with her writing. Feldstein pulls it off because of her wits and energy. It makes her transformation far more interesting than her flatness in the first act which fails to spark.
Even "How to Build a Girl" being centered around the musical world, we fail to really get a sense of it. The film is set in the 1990s, in which she uses a typewriter and ink to embrace or dismiss homegrown bands. Johanna is more of a writer than a music enthusiastic, and she finds a new discovery in her enjoyment of sex that leaves her younger brother subdued after hearing the details.
While Feldstein delivers the good, the narrative and story does not. It all feels too cliche and familiar, we get the routine rise to infamy and the inevitable decline. There is very little depth and build-up in her transformation from being a shy lone wallflower to a edgier bohemian to her transformation, it all feels too rushed. We see some exchanges with her family, including her musician father who still yearns to be a musician (played by Paddy Considine), but her family feels lightly sketched and their exchanges don't go as deep as they did with much better films like "Almost Famous" and "The Edge of Seventeen" that cover the same ground. There is also a subplot involving her attraction towards John (Alfie Alen) a rising pop star that respects her writing and passion, but it feels tacked-on and basic.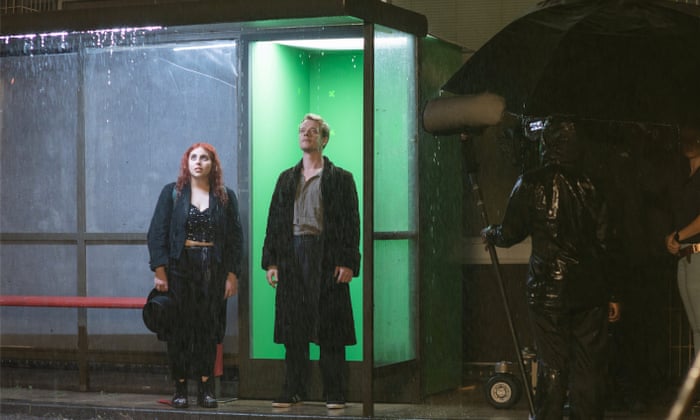 In technical terms, "How to Build a Girl" is competently crafted.  The collaborate creative team of Giedoroyc do a serviceable job in transporting to a certain era and the movie has a solid pace. The use of pop songs add to the 90s semblance. This film really belongs to Feldstein, who is an American actress playing a British girl and she does all she can with her performances that ranges from insecure to energetic. Sadly her character is very unlikable and unsympathetic, while there is a character arc to be found–it all feels unearned and you never fully connect with her.
The film also is a mixed-mag where many parts do indeed hit, including a moment where she confronts the band she is covering in a pool after she eavesdrop on them ridiculing her,  as well as a well-written and performed scene of Johanna confronting her family about their lack of ambition. Meanwhile, a few other scenes just fall flat like all the exchanges with John that feel overly sentimental and feel like they belong on a Disney Channel movie. It's a coming of age teenage comedy that never fully engages or surprises, making it a hodgepodge of a movie that could have benefited by another draft or two in the writing room.