Authentic transgender driven films are rarely featured as genuine or as honestly as Isabel Sandoval's "Lingua Franca", the latest intimate and emotionally raw indie film which is one of the strongest and most complex films of the year. Vastly superior in writing, storytelling and directing to more mainstream films featuring transgender identity and issues like "The Danish Girl" and "Dallas Buyers Club" that featured cisgender actors playing transgender characters. While those films were certainly well acted and had essential commentary on social acceptance and human rights, they still lacked a certain authenticity as they felt like they were made from a distance or from a gaze.
Cinema would only progress as we now see transgender players getting roles playing transgender characters with such highlighted films like Sean Baker's "Tangerine" and Sebastian Lelio's wonderful "A Fantastic Woman," but even both of those films were directed by cisgender filmmakers, and now we have a film like "Lingua Franca" which is written, directed, and starring a Filipino transgender female immigrant creating insightful material on mirroring subject matter.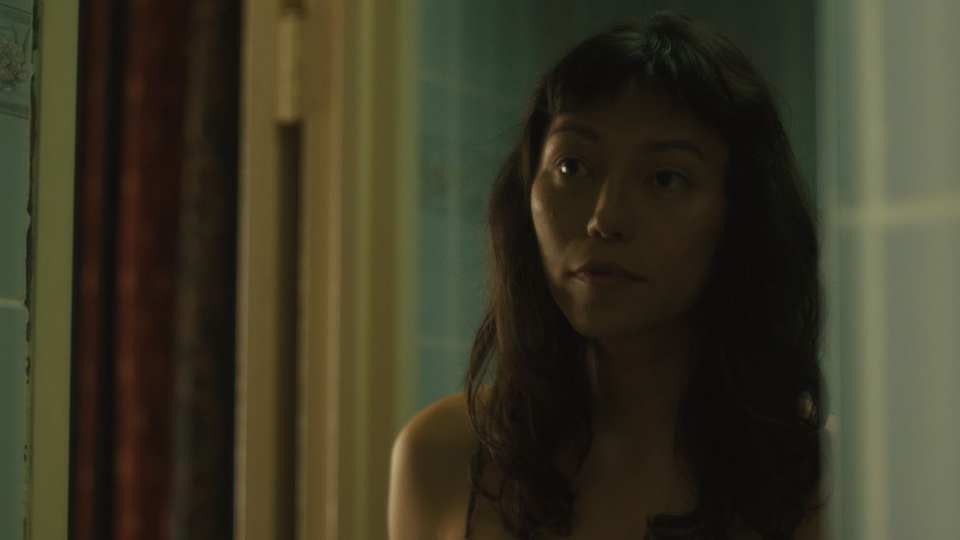 "Lingua Franca" boasts a delicate, multi-nuanced narrative from its writer, director and star Isabel Sandoval, who is a gifted transgender woman that's crafted a deeply personal vision that is rough around the edges, but very soft at its center, her debut feature "Lingua Franca" is certainly worth seeing for its artistry, engaging narrative, raw performances, and timely commentary on immigration rights. The film is remarkable for avoiding trappings and detours of its melodramatic approach and dramatic conflicts.
The film is a deeply empathetic study of immigrants trying to survive day-by-day in the Trump era. In most mainstream American films and ,the topic of immigration and transgender lifestyles are rarely explored so honestly and pure as "Lingua Franca," especially at the same time. Moreover, "Lingua Franca" is not just another message movie about immigrants seeking citizenship like "Brooklyn" and  "A Better Life," which was released a few years ago. This film feels more fresh and alive because it comes from an insightful and personal vision that doesn't miss one false note.
Olivia (Sandoval) is a caregiver from the Philippines, who like many immigrants held in Trump's America lives in deep anxiety and fear about ICE coming to the  door to deport her. Day after day, in a Brooklyn apartment, she takes care of Olga (a wonderful Lynn Cohen, who died earlier this year), an elderly woman who is showing signs of dementia. With elegant craft and artistry, Sandoval uses meticulous compositions to capture the mood and tone of isolation. Shot in the borough of Brooklyn and in the Filipino diaspora, Sandoval expertly utilizes the city that includes lonely boardwalks, empty train stations, and confined apartment settings that express her character's displacement and confinement from freedoms and longings.
Olivia has a childhood best friend, who is also a transgender woman named Trixie (Ivory Aquino) who ends up marrying an American man that allows her to secure legal documented status. Olivia ends up finding a man who agrees to marry her in return for a substantial payment who ends up bailing out once he falls deeply in love with another woman and ends up leaving Olivia more desperate and in fear of retaining her citizenship in the United States. Olivia also provides her mother with her income who still resides in the Philippines.
Olivia remains patient and keeps herself together, as we see this each time she takes care of Olga. There is a beautiful scene where Olga reflects back to her younger years where she treasures memories of the first time she met her long-dead husband. Ogla's grandson, Alex (Eamon Farren–Twin Peaks:The Return) enters the film, who is fresh out of rehab after a run-in with the law. He ends up also care-giving for Ogla during Olivia's off-time, but Olga has very little patience with Alex, especially once she realizes he retreats back into alcoholism after she can smell vodka in his breath. He tries getting her to eat and taking a bath but is met with deep resistance and stubbornness that leads to frustration.
Olivia ends up calming the tensions down, and Olivia ends up finding herself attracted to Alex. Alex also ends up showing curiosity, and they both end up developing a friendship and eventually get romantically involved. Sandoval and Farren are both great together in their scenes and their chemistry never misses a false note. The beauty of the film is the ambiguities the film raises as well, Sandoval never fully explores if Alex knows he's romantically involved with a trans woman–or even if matters—but Sandoval churns in the complexities and dynamics of what the situation would be like. Meanwhile, news reports circulate about ICE having mass deportations and pulling immigrants away from their families only escalate Olivia's fear and anxieties.
Meanwhile, Alex seems to be in complete control when he is around Olivia, outside of her presence, he's on the edge of consciousness. His dynamics and conflicting side leads him back to drinking and being pressured by his old friends to take shots. The film depicts how Alex juggles his hangovers and his work at a meatpacking factory, keeping his two lifestyles separated and hidden just as Olivia is with her immigration and sexual identity. From their first awkward encounter, Alex and Olivia stumble into an unexpected relationship that ends up blossoming into a genuine friendship and loving relationship. Despite differences in culture, ethnicity, and defied circumstances, both Alex and Olivia both need each other in their crossroads in their life that is about to change drastically. In one very beautiful and tender scene, the two slow stance to an instrumental version of "Smoke Gets in Your Eyes: that echoes Andrew Haigh's 2015 masterpiece "45 Years," the camera focuses on Olivia resting her head on Alex's shoulder as they both live in a moment of warmth as their future remains uncertain.
You could say that "Lingua Franca" is a message film, but it's far more restraint and understated that never fully hits you over the head with what it's saying about personhood and identity. In the end the film is about a disillusioned and self-destructive young man whose unlikely relationship with his grandmother's caregiver inspires him to reclaim his life while Alex also offers Olivia hope for her dire situations. There are no easy choices or answers for these characters, a testimony to Sandoval's ability as a talented storyteller that infuses her work with genuineness and moral foundation. Fully realized, the characters aren't given full details of their backstory, yet you can sense their internal trauma is beautifully externalized, which gives the actors a lot to work with.
Both Sandoval and Farren are authentic in their roles here as their relationship is handicapped by outside forces of transphobia and draconian immigration laws. As a filmmaker and actress, Sandoval is a revelation among today's new and fresh voices within indie cinema, and her filmmaking style is equally affecting and meditative as her social commentary is hopeful, pragmatic, and universal in theme.
"Lingua Franca" might seem like, but is not only, an unconventional love story about two vastly different people coming together from their circumstances. Instead, the film also explores rich political and philosophical themes, such as the failure of the liberal dream that consists of acceptance and human progress. However, the candle has to keep burning as Sandoval offers ambiguities of hope, which the story certainly earns, indicating how two estranged people can succeed while human progress slows down. Sandoval triumphs in transporting us to a intimate and dangerously uncertain world of what it means to be transgender and an immigrant living in the Trump era, the setting for a deeply involving and empathetic story about an impossible relationship enduring the possibility of optimism and redemption in an otherwise cruel and impossible world.