Lee Isaac Chung's "Minari" clutches you from the very start, with stunning landscape shots and inserts of nature that instantly draws comparisons and influences from Terrence Malick where humans realize they are in fact alien to the natural world. We begin with a family traveling through the landscapes of America's heartland, and we sense this is a new and foreign world for them. In these opening moments, we realize the nature and insights to this family. It is a stunning opening, one that pulls you in with a certain pureness that summons you instantly that this will be a chronicle of new beginnings.
"Minari" is a traditional immigrant story, one that echoes films like Jim Sheridan's "In America" and James Gray's "The Immigrant," but yet it still feels singular on it's own. At its core it's also a family drama that holds many funny and endearing scenes. We are introduced to a Korean family, the father is Jacob (Steven Yean) and his wife Monica (Yeri Han), migrated from Korea in the 1980s where they spent some previous time in California working on a chicken farm, where they separate baby chickens by genre. Looking for new opportunities and beginnings, they have moved their two American-born children, their daughter Anne (Noel Kate Cho) and her younger brother David (Alan S. Kim), after David buys large acres of vacant farm land in rural Arkansas.
Deeply personal and emotionally affecting, "Minari" is a well-intentioned audience award style movie that won both the U.S. Dramatic Competition Grand Jury Prize awards at this year's Sundance Film Festival, just before the COVID-19 outbreak where we had audience awards in a not-so-long time ago era before we had virtual film festivals and online screening rooms. Accessible but never didactic, "Minari" should be commended for being a deeply moving film that never feels too simplistic, and its artful enough for cinephiles to appreciate, and enjoyable enough for it to have mass universal appeal.
Examining the film's basic storytelling mechanics, it's easy to understand why festival audiences and jury members at Sundance championed it. For one, "Minari" is tender, at times upbeat, other times emotionally layered exploration of capturing the American dream as an immigrant during the Reagan-era of American optimism and the folklore of American exceptionalism. Yet never cynical or even allegorical as some cautionary or foreshadowing tale on the draconian immigration laws, film writer and director Chung isn't interested in making some polemic on the current set-backs on our broken immigration experience, nor is he interested in making some sentimental film, while at times romanticized and almost drawn from past experiences, "Mural" feels semi-autobiographical and rather neutral as its main priority is to explore the human experience of being an immigrant in America. Chung does this without simplicity but instead with candid empathy as a family attempts to hold everything together as they endure many barriers and impediments on their journey.
Let's me return to the film's visual style: Director Chung along with cinematographer Lachlan Milne decorate this engaging saga with a poetic eye and artistic detail, which could be described as junior-league Malick, the gifted auteur of such masterpieces as "The Tree Life," "The Thin Red Line," and "The New World" which all went onto to stand the test of time with his ravishing imagery. However, with a mostly disappointing streak since "The Tree of Life," which most of Malick's films have been left to mostly mixed emotions, it is refreshing to see a style like this pulled back and more into a cohesive story where you wish Malick would tone it down and make more of a film like "Minari" instead.
On a narrative and storytelling level, "Minari" triumphs as well. Exploring culture clash, and defining what geographical dislocation really means. Jacob and Monica hold a lot of hidden tensions towards each, that lead to resentment and uncertainty. Jacob has a goal of growing vegetables on his 50-acres of vast land which leads him further into debt with banking loans. Monica isn't too impressed with the new location, it's too remote, and everything is too far including a hospital in case their son David gets ill as he has a heart condition. Monica yearns to be back to California, while Jacob has aspirations of reaching for more prosperity other than just working the tedious job of separating chickens into a bin each day. Their tension grows, just as they get to know their community more. They also find themselves in financial problems as they lose water due to Jacob spending most of their earnings on growing the crops.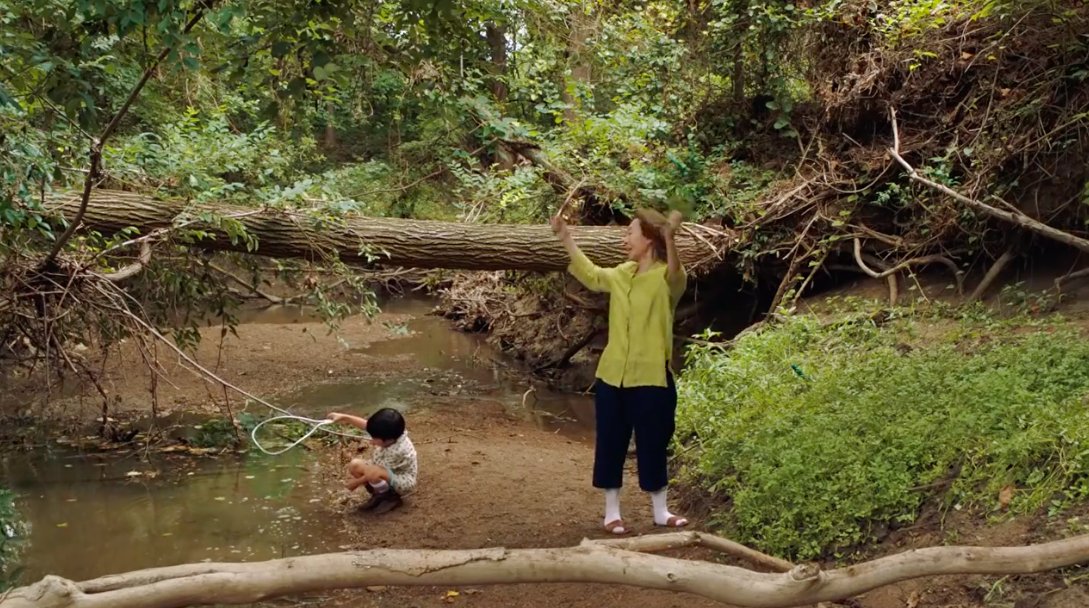 Their life becomes more and more routine. Monica certainly doesn't like their home which is a large trailer on the property. She also feels culturally disconnected from her white, Christian-faith community which Chang is never condescending or snarky towards. But she eventually suggests moving closer to another town a few counties over that has a large Korean American population, however, Jacob is more determined in raising the crops. He ends up even hiring a local farmer named Paul (Will Patton) who is an evangelical who constantly prays aloud, even in tongues, and every Sunday he carries a massive wooden cross on his back on the nearby country road.
Yet, Chung never condescends Paul, as he elevates him out of what could have been caricature into a genuine character. Patton's performance in this is quite notable and equally noble.  Chung also isn't interested in making an overt film about prejudice, while microaggressions are certainly apparent, it is quite subtle in his commentary about America's attitudes on encountering cultures outside of their own. Some of the strongest details in the film involve Monica, Jacob and their kids attempting to adjust to their new surroundings. They attend their local church, they attempt to make new friends, and get used to their new lifestyle. A highlight of the film involves Jacob taking David out to the fields as they survey the land together to find out where the crops would be the best to plant, David replies "over there near the trees" because trees of course use the water in the soil and release it back into the atmosphere.
In many ways, "Minari" works well as a mini-ensemble film. While not all the attention is given to just Monica or Jacob. A large part of the story involves young David and his grandmother, Soonja (Yuh-Jung Youn) who recently moves from her native country to assist Monica and Jacob house sitting and watching the kids. Young David is very distant towards his Grandmother, he isn't easily drawn to her, and even plays cruel jokers on her as he holds disdain for her because she isn't a typical grandmother that cooks. She is certainly an atypical grandmother indeed, she enjoys watching pro-wrestling, speaks her mind, and does some negligent things while Jacob and Monica are at work She even steals money out of the offering plate at the local church. Young is also a standout in this film and certainly has many sincere and moving moments.
There are so many wonderful and authentic moments in the film, each character is given a great moment to shine. You can't help but not root for Jacob to get the land, and you hope Monica will find some fulfillment with this new lifestyle. You also hope David will eventually take a liking to his grandma. One stunning moment in the film is where Soonja takes the kids out to the woods, near a creek, where she suggests she would like to plant some Minari trees there. We also see a snake nearby that frightens the kids, and she reaffirms them to "only be scared of things that are hiding." There are so many beautifully tender moments in film like this that uphold it's genuine nature.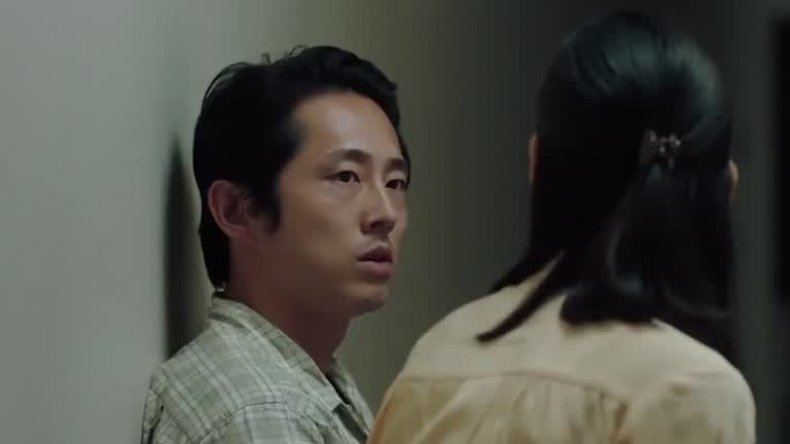 At the risk of sounding like a cynic, I will say the final 10 minutes or so didn't work for me as much as rest of the film did. It felt like it belonged in a different film, almost borderline contrived but thematically perhaps it works, it stems more from personal preference. There was one perfect frame where Chung could have ended the material, even when the latter scenes feel a little forced due to the personal triumphs and struggles Monica and Jacob find themselves in. Nevertheless, it just a small quibble that never undermines the films earned emotions that are persistent throughout.
All around this is a delicate, empathetic, measured movie about what truly defines American values. It's a treasure of a film that is gentle in what its saying about humanity; something we all need in this post-election Trumpian/COVID-Era; becoming more empathetic, reconnecting with our loved ones, revaluating ourselves, and searching for deeper meaning in a world that appears to be chaotic, while reality is potentially starting to shed some light at the end of the tunnel as the old cliché goes. Like Sofia Coppola's "On the Rocks," this film will bring some compassion and joy, and "Minari" is indeed a celebration of the human experience, and certainly a film we could all use right now.