Life father, like son "Possessor" is a shocking and distressing addition into the body horror genre, merged with sexual anxiety and avatars–"Possessor" delivers a muted style with shock and grisly gore. In this artfully accomplished work, directed by Brandon Cronenberg, son of the iconic auteur David Cronenberg, is submerged with rich visuals and conveyed with a cerebral approach that ends in a very disturbing and memorable way.
Highly original in concept about brain-implant technology, "Possessor" tells the story of a corporate assassin Tasya Vos (Andrea Riseborough) who operates through other people's bodies to plot out deaths on ruthless, corporate competitors. Even though the motivations remain very muddled and unclear, you will never get lost as the narrative always maintains dramatic momentum as it unravels with mind games, relationship complications, madness and murder. The themes of the tensions between mind and body feel merged with technology seem quite exclusive and refreshing.
The film opens with a woman, Holly (Gabrielle Graham), walking through an elegant hotel overlooking a towering skyline, where she eventually shoots a man, and gruesomely stabs him over and over. Upon the murder she attempts to shoot herself in the head and is reluctant, but once the police arrive, they end up shooting her to death. Suddenly, Tasya wakes up gasping for air and is very nauseous from the other body experience. She was strapped inside a teleportation device that allows her to submerge with other bodies and control their conscience as she carries out her assassin duties.
Her boss is Girder (Jennifer Jason Leigh) who guides Tasya back to her own reality. Tasya also has a family, she is very disconnected from her husband and son because her line of work takes up a lot of her time. She ends up receiving a new task to embody the mind and identity of Colin (Christopher Abbott), who has three days to kill Collin's girlfriend Ava Parce (Tuppence Middleton) and her cunning CEO Father John Parce (Sean Bean). Yet Tasya's own psyche becomes vulnerable inside of Colin's, in which she ends up even building some fondness for Ava, bringing conflict in completing the mission.
Unfortunately, Brandon Cronenberg doesn't go as deep or as layered as it could have, and the details of how the body-possession is left hazy. It does allow Cronenberg to use some dazzling and inventive experimental visuals of both Collin and Tasya's own subconscious coming together, and if anything it feels like a Christopher Nolan film on acid. A fever dream of a movie that not only echoes the work of David Cronenberg, the visuals on display also reflect the work of Nicholas Winding Refn (Drive, Neon Demon) as Brandon Cronenberg uses stylized neon colors of blue and red throughout the course of the film. The result is an astute command of visuals, color, memorable mise-en-scene, and visually slick camera movements. The film also has outstanding special effect makeup and the film will make you cringe with how gruesome it can get.
The younger Cronenberg continues to show great promise as he conceptualizes with an artistic eye of Tasyla's internal conflict. The opening of the film hooks you immediately, and the dramatic momentum merged with horror and sci-fi elements stays persistent throughout. Unsettling, and often compelling, there is no surprise that the film comes off cold. "Possessor" is a highly unique film that also shocks with its display of gore. The film isn't just an exercise in senseless violence though, the film raises disturbing questions about where technology could be going during an era where it's constantly evolving into the unimaginable.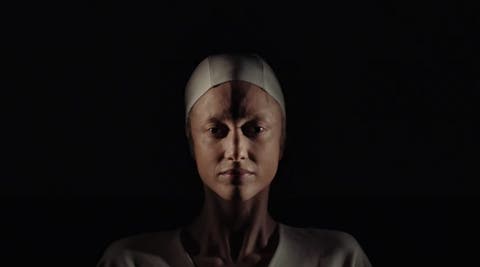 It will be interesting to see where Brandon Cronenberg's filmography takes him, like his father he has a distinct and skillful style. The film ends on a devastating note, as it raises questions on identity and free will. The performance by Christopher Abbott is quite a tour-de-force just as the movie is. The whole notion of seeing Tasla wrestle with her own anxieties as she loses control of Colin brings some rich character depth into play. The use of the cross cutting between Riseborough and Abbott is very inventive and formally daring, and it's commanding how both actors maintain a sense of sympathy with how bizarre and grotesque the film can be.
There are also many well-staged suspenseful moments that bounce between nihilism and spectacle, yet it's nothing short of gut-wrenching. Cronenberg has made a wildly creative film that uses the dichotomy between human emotional and psychical suffering and could be read as an allegory how technology impacts us, especially in times of algorithms and social media addiction. Like Nolan, Cronenberg yields a cerebral and tripping film that taps deep into the tapestry of the human psyche, though Cronenberg is even edgier and dives a little deeper the characters internal yearnings and emotional dislocations than Nolan's "Tenet"–which also bounced back between different dimensions. This allows you to be more captivated by the narrative, especially the final act that is diabolical but hopeful. Part horror film, part sci-fi, and part hit-man action thriller, Brandon Cronenberg expertly hones a high-minded and a robust genre film that will more than likely build a cult following in years to come.