Antonio Campos's "The Devil All the Time" is his fifth feature, following the critically acclaimed "Christine" and the artfully made, "Simon Killer." This is without a doubt Campos's most ambitious film to date. An adaptation of Donald Ray Pollock (Who also narrates in a beautiful voice-over) best-selling novel, this adapted saga spans two generations within a 20 year stretch. The narrative consists of of two sprawling stories of emotional tales as it aims to explore a commentary on religious hypocrisy that tie fathers and sons, family dynamics,American violence, and ultimately human frailty.
The ambition is certainly there, but the film is severely flawed. The film does get stronger and stronger as it builds up, leaving the viewer kind of lost and muddled in the earlier sections of the film as the viewer attempts to connect how all the characters are involved. You are indeed left wanting more and the adapted saga might be more effective as a mini-series rather than a 138 minute feature film. After the first hour or so, the dramatic momentum begins to build to an effective payoff. With an excessive running, the film does feel slightly long by at least 30 minutes. But despite these shortcomings, the film as a whole leaves much to be admired, and the last 80 minutes or so are quite engaging, largely due to the wrenching performances by an impressive ensemble cast.
"The Devil All the Time" offers strong roles for two skillful actors who continue to impress, Tom Holland (in his first lead dramatic role) and Robert Pattinson, just recently seen in Christopher Nolan's "Tenent," who is once again proving to be a great talent of our times in which his range goes way beyond his Edward image in the "Twilight" series.
"The Devil All the Time" is haunting and deeply disturbing. Saga follows a number of characters whose lives converge in two rural communities of Ohio and West Virginia between the years of 1945 until 1957. As noted above, the casting is superb, that truly feel embodied and transported that gives the film a rich authenticity. The performances and last hour are so strong that it's easy to forgive the film's weaknesses. The film begins in the opening years of the Vietnam War in 1957, and then flashes back to the aftermath of WW2. The time shifts are jarring but easy to grasp, and the settings bounce back and forth between two small towns in southern Ohio and West Virginia. We see both communities brought together by worship, as both communities showcase a dark facade beneath the surface. We meet a young 9-year old boy named Alvin Russell (Michael Banks Repeta), who is praying with his father Willard, who are both kneeling and praying with a crucifix in the woods.
Arvin is harassed and bullied in school, and Willard, who is trying to keep a roof under their head, instructs and empowers young Arvin how to hold his ground. We go back to 1944, in which Willard returns home from the war, in which his mother Emma (Kristin Griffith) really wants him to develop a romance with a local churchgoer Helen (Mia Wasikowska, in a brief but outstanding role). Despite his respect and caring for his mother's wishes, Willard isn't too interested in being involved with a devoutly religious person at the moment. He ends up developing strong feelings for Charlotte (Haley Bennett), who is a waitress at the local diner.
Charlotte ends up being fascinated with the preaching of a firebrand preacher named Roy Lafterty (Harry Melling), who pours a jar of venomous spiders all down his face as he claims he isn't afraid as the lord will protect him. Willard and Charlotte begin to bond and this showcases the origins of how the family was formed and the themes are set that wickedness plagues these communities through the facade and exploitation of religion.
The layered yarn of a film flashes forward to 1957, once Helen is murdered by her now husband Roy after he is attempting to resurrect her with his delusional practices, this occurs right in front of their daughter, a young Lenora Lafferty The film pushes forward to the 1960s and stays there once Arvin (Tom Holland) is now in his late teens and he lives with Emma after he is orphaned. Grandma Emma is now raising a teenage Lenora (Eliza Scanlen–See her in "Babyteeth" and the recent "Little Women"). Both Arvin and Lenora develop a sibling type of bond as they bond closer and even stand up for each other.
If you think that narrative is dense enough, we are introduced more to the town's local Sheriff Lee Bodecker (Sebastian Stan), who's younger sister Sandy (Riley Keough) is married to Carl (Jason Clarke), who go on road trips together and pick up male hitchhikers (mainly soldiers returning back from the war), in which they take erotic photos of the as Carl persuades them to seduce Sandy and eventually brutally murder them. The killers of the dead men are left unsolved for at least a decade. This also sets the theme of the film of the loss of innocence and brutal savagery in which Antonio and his brother Paulo Campos adapt the best-selling novel of the same name by Daniel Ray Pollack.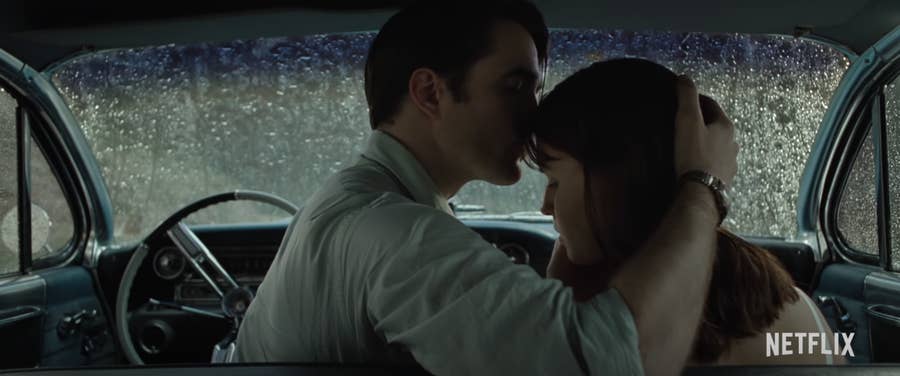 The subject explores how something so pure and divine as religion, in which the teachings and gospels of Christ are eventually perverted and misplaced by carnage and decadence that does nothing but bring anguish to its characters and community. The most vulnerable victims to such mayhem is Arvin and Lenora, who together showcase many affecting and empathetic moments, including Arvin standing up for Arvin as her classmates attempt to assault her. Arvin is a calm young man, but what lies beneath the surface is his primal nature that combats back with violence just as his father taught him.
The highlight of the film involves Roberet Pattinson who deserves serious Oscar consideration in the Best Supporting Actor category as a charming and equally cunning pastor named Reverend Preston Teagardin. Right in his introduction scene you can see past his hypocrisy–after he embarrasses Emma's delicious cooking for his own personal gain after condescending her recipes–he is admired by his community for his passionate sermons. Preston ends up developing a sexual relationship with Lenora, which leads to greater heartbreak for her once she finds out he is just using her for his own physical needs. This leads to more family tragedy and a brilliant confrontation as Arvin digs deeper into the wormhole only to discover Preston often lures high school girls into the woods to seduce him. This confrontation ends up making Arvin on the run from the lawn as the stories all end up coming intertwined in the third act.
The film takes a while to comprehend how every dot and time shift is connected and suffers from muddled narrative structure, however the plot structure is anchored by outstanding performances and the story progresses into something highly engaging and even poignant. Campos acquits himself as a great craftsman who always puts out atmospheric films with notable performances (See Rebecca Hall in his 2016 feature "Christine") While the stories all seem loosely connected and the adapted screenplay a little uneven, it would be easy to dismiss this film as "misery porn," however,  there are many standout moments that carry a lot of dramatic weight. Aiming to offer commentary on religious fanaticism, hypocrisy, justice and morality, fatalism, and finally grace.
The film is very expressive and equally pulpy, and frankly the film probably would have had even greater impact had it dived into more areas with some of the characters. All around this is a step down after the impressive "Christine" and "Simon Killer" for director Antonio Campos, but all around it mostly hints at greatness and there is no denying the haunting power the film has to offer with its mood, performances, and tone on display. This is certainly one of the year's most tragic films as it chronicles religion and violence with such grit and grace.