A truly gifted filmmaker, Garrett Bradley has been crafting shorts and small independent feature films for the last 8 years. This year, Bradley was awarded best director in the U.S. documentary competition at Sundance for her first documentary feature, "Time," in which she became the first black female to be awarded for that category at Sundance.
A gripping, emotionally powerful film, "Time" is indeed revolutionary in terms of approach and technique, and not just because of its little to no-budget approach. It represents a new style of a mosaic style of filmmaking that is undeniably poetic and deeply empathetic that can easily unite audiences in divisive times like this.
Combining a wide range of styles, formats and narrative conventions, "Time" is a refreshing documentary that also unravels like a narrative movie that is part home movie, part essay, and part video diary–in which Bradley creates in stunning black-and-white footage of a dramatic cycle of snapshots, digital video recordings, cell phone calls, video diaries, and other snippets into the life and journey of her compelling subjects.
The end result of this affecting mixture of miscellany that delivers as an in-depth chronicle of an American family tragedy that is both remorseful and redemptive, a therapeutic piece of dramatic documentary filmmaking that achieves so much earned emotion for its scrapbook, cinema verite approach.
Admittedly, Bradley's personal saga of a Louisiana family enduring patience and hardship is devastating to watch, but it's never bleak and always moving and undeniably entertaining. The drama pulls you in and instantly absorbs you as it touches your heart and mind. There is a fascinating approach to the style of filmmaking as Bradley explores human life experiencing agonies and hope in real time. The film is an essential documentary essay on black lives suffering from the repercussions of our broken judicial and socioeconomic system as well.
The film spans during the course of 20 years,  in which out of dire desperation, Robert Richardson was convicted of armed robbery. He was sentenced to over 60 years in prison with no parole during that time. His wife, Fox Richardson, who was pregnant during the time of arrest with twins, and already a mother to their four children, was an accomplice since she was the driver– in which she ended up taking a plea deal that prevented her from serving a harsher sentence. Fox and Robert were a loving couple, who also happened to be entrepreneurs and small business owners to a clothing store in which they were struggling to keep afloat from low sales and crushed hopes.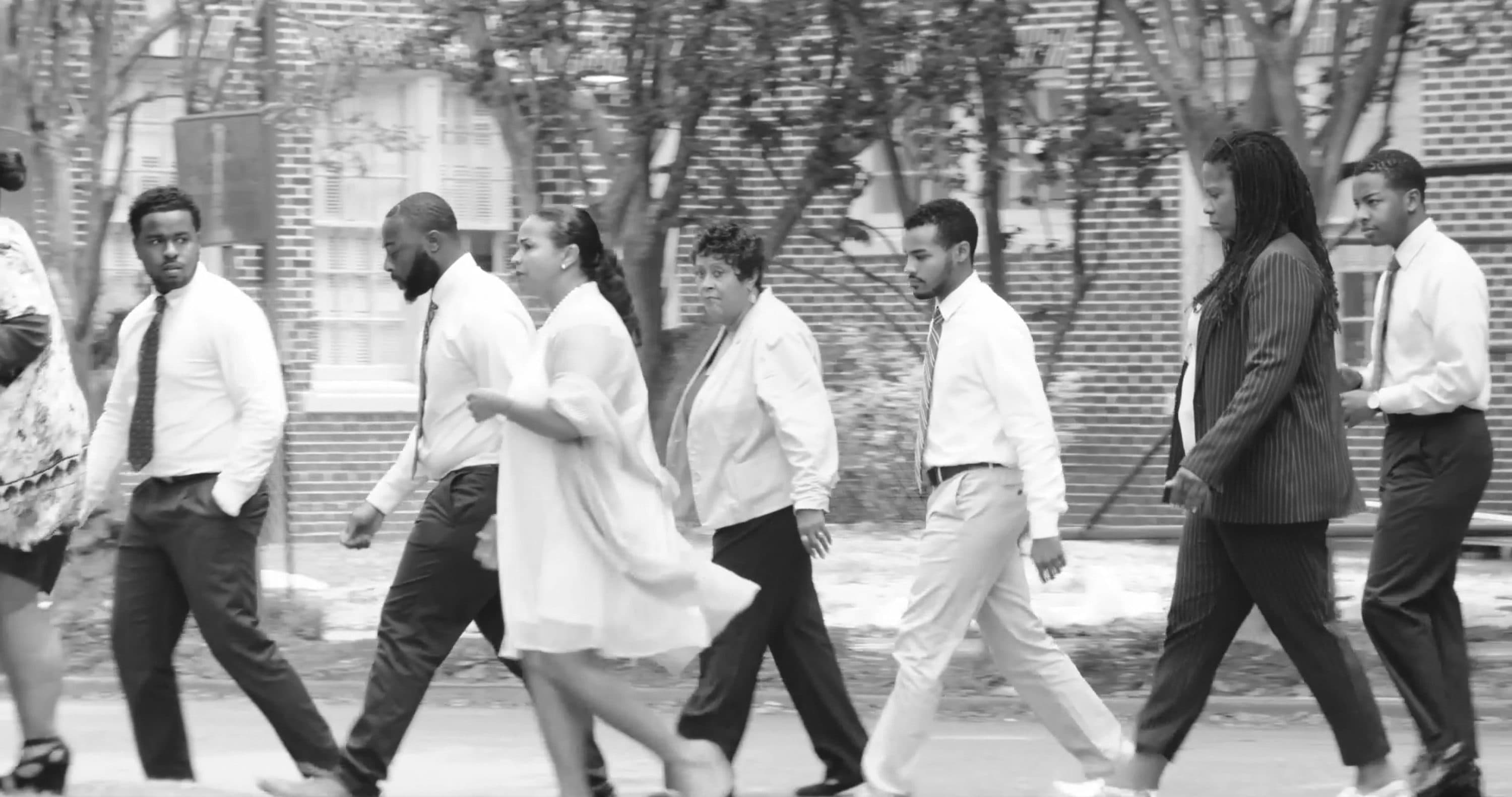 This left Fox shattered as her husband was locked away little hope of ever returning home from the overly harsh sentence. "Time" unwinds as a meditation on sorrow, regret, love, and trying to maintain hope while everything appears to be hopeless. The title of the film isn't a direct reference to Robert's prison sentence, but rather it becomes a deep introspection on how Fox and Robert's time away from each other becomes a destitute from being apart from one another. The film is like a documentary variation of James Baldwin's 1974 book "If Beale Street Could Talk"–which is also about a young couple enduring separation due to mass incarnation that ended up being adapted into an impressive narrative feature in 2018 that was elegantly directed by Barry Jenkins (Moonlight).
While the film does explore the social injustices that currently exist in our current criminal justice system, "Time" never becomes a polemic, but it rather becomes a catharsis on the passage of time as Fox is fully determined in throughout the course of Robert's sentence to capture her children growing-up so he doesn't miss out on their youth. We also never cut to Robert serving his sentence either, we just patiently await during the course of time of Robert and Fox hopefully reconnecting. With the newer and more present day footage, Bradley is able to hone in a modern approach with the old footage as it becomes a sorrow contemplation of the emotional stress Fox is enduring, along with the solitude it bears on raising her children alone. Fox ends up getting a job as a car dealer, and there are moments in between talking with customers on the phone where she can no longer hold back her repressed emotions as she longs for her husband. This is where the film becomes a profound implementation of how people can be deprived of time, however the use of the camera captures time indefinitely and holds onto it eternally.
The film's details and narration are always alluring and elegiac to even empowering as Robert and Fox's children twin children go off to college, one ends up going to dentist school, while the other appears in a to a savvy politician in the making as he discusses reforms in school. It's a film that explores how the American dream is challenging to capture, yet the film unravels that empowerment can still exist with many adversities as it highlights some relieving moments of personal responsibility triumphing over misfortunes. There is an inspiring moment when one of Robert and Fox's son's graduates dentistry school as Fox discusses how the world is all about appearance as clean teeth always make a great first impression, yet deep down inside one can never get away from the distraught emotion and despair that often exists within.
While the film explores our mass incarceration indeed diminishes livelihoods within minority communities and families, the film strays away from commentary on criminal justice reform and systemic racism within current policy, is there anything else really to say as our nation eagerly awaits reform? If anything the film explores the consequences of our current socio-economic structures that have been induced over the years from ongoing tax-cuts for the ultra-wealthy, increased deficit spending, inflation, and stagnant economic growth and fewer opportunities.
These systems create economic inequalities and desperation, and these trickle down impacts are what leads people down a journey of resorting to crime out of acts of dire need and desperations. Bradley explores a world that is wounded from these disparities, but she does it all of this without ever being didactic or obvious, but rather she allows the viewer to observe and ponder these ideas as the dramatic momentum unfurls throughout.
Sociology and oblique insights aside, the film never loses focus on Fox, a brave and endearing woman who would be worthy of a live-action narrative of her own. Bradley expertly captures who this woman is, what pain she has lived through, and how the separation has shattered her, yet also embolden her to be a more determined other, patient wife, and ultimately a more tenacious person, "Time" easily becomes one of the most momentous experiences of the year.