Urgent and certainly essential during the tragic COVID-19 era, "Totally Under Control" unfolds less like a documentary and more like a riveting cable news story.  Still there is no doubt this film should be commended for it getting released in such a timely matter where our democracy and public health are on the line in this crucial election. Crafted by Academy Award winning documentary filmmaker Alex Gibney (Enron: The Smartest Guys in the Room) that also features co-directors Ophelia Haratyunyan and Suzanne Hillinger deliver a sophisticated and engrossing expose how the Trump administration failed with their response to the tragic COVID-19 pandemic that is released in a prompt matter–just weeks before the upcoming election and the virus' inevitable second wave of infection.
Done with passion and vigor, the film is very up with the moment. Even the end credits inform us how Trump contracted COVID-19, in which he sadly still downplays it today for his own political gain. While there will no doubt that there will be even more truths and revelations to be revealed with this administration's incompetent and reckless handling of the virus, with even more individuals, staffers, and aides will probably remain coming forward in telling the American people the exact truth. Gibney and his directing team rushed out an important disclosure of a film that will hopefully open up more people's eyes to the scandals and horrid decisions that are sadly covered-up by conservative media outlets and equally dangerous conspiracy theories. This is a reminder that everyone who has been following the pandemic outside the arena of Fox News and InfoWars will realize that our nation's leadership failed us during a time where public safety should have never been politicized during the midst of a global pandemic that still carries on today with no national plan at sight.
Watching "Totally Under Control" at the moment feels just as frightening since we still see no end of sight on this pandemic, therefore much of the interviews, information, and testimonies from CDC staff, scientists, doctors, and other medical experts isn't that revealing to anyone who has been watching the daily news cycle this year. Although at times you are often reminded of all the incompetency from this administration. From the very beginning of the virus, the Trump administration endlessly downplayed the threat of the virus–everything from dismissing it originally as a "Democratic Hoax" perpetrated by the "Fake News Media" as other nations around the world swiftly took action with lockdowns, rapid testing, contract testing, and social distancing.
The documentary even points out how South Korea politicians stayed out of the way and allowed their health institutions to do their job.  Meanwhile, Trump told the American people in his own words that the novel virus was "totally under control." AS the film chronicles into March of 2020, the Trump administration still didn't have much of a strategy as they continued to downplay the severity of the virus, and Trump even got irritable when CDC experts came out warning to the public that there would be upcoming disruptions in their daily life. Now with the revelation of Bob Woodward's damming recordings Trump knew this whole time just how airborne and contagious the virus was, yet, he still spreads falsehoods about the disease to appease his base.
The documentary highlights how many nations ended up saving their economies and even containing the virus by using proper lockdowns, slow re-openings done in transitional phases, while many nations didn't politicize masks that has now become a demoralized, divided, and politized reality in the United States that has resulted  under his leadership. Now in the early stages of the Fall season, things are still looking bleak, especially in America, where infection rates are still high as the United States holds 4% of the world's population but currently holds 20% of infections and death. Masks are still controversial, while many Americans are still denying science and logic in their pseudo principles of "freedom" and "patriotism." The documentary also explores how there is an anti-science fabric within the Trump administration who appoints people based on their political ideology instead of being credible scientific minds while contradicting and discrediting Dr. Anthony Fauci who is the solo voice of scientific reason that is left in this administration. Sadly, the individuals that did come forward during the pandemic were fired, vilified by conservative media and Trump, and not even replaced. The result has been a dysfunctional White House that only cares about winning re-election than putting the will and health of the people first.
For a film being rushed into the public mainstream, there is a mournful tragedy to be found in this polemic that holds a lot of credible and fascinating interviews with many health experts, doctors, medical suppliers, and former CDC whistleblowers who lived through the beginning stages during the epidemic phase as they share their disdain and shattering disappointment. "Totally Under Control" is an expertly constructed documentary that is also very well paced for it's 122 minute running time. Gibney, along with fellow co-directors Hillinger, and Haratyunyan  aptly expose Trump's own contradictory words against him as it proves everything Trump does is always for his own self-interest over the benefit of the nation.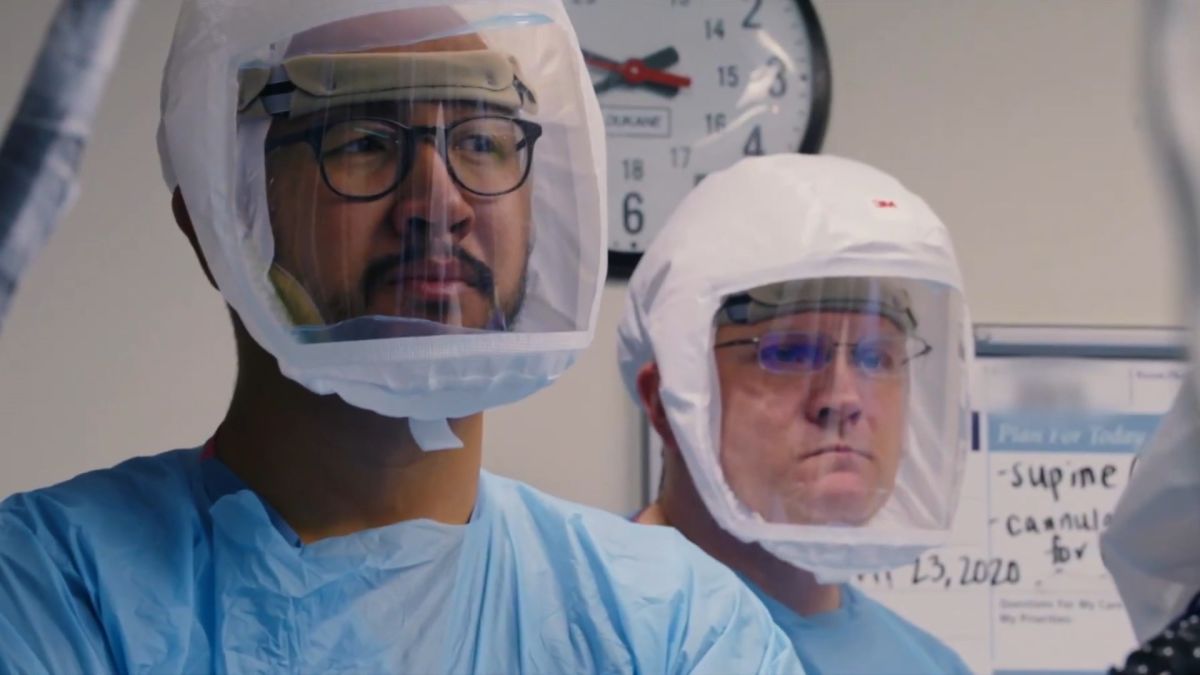 The strongest argument in the film is just how the pandemic has become a huge political football area, a battle between two parties that should bring American's together during a time like this, and sadly this distraught battle has derailed  into science squaring off against confirmation bias, politics over unity, and loyalty over safety. Throughout the film, the film cuts to Trump saying "The disease is going to go away by itself," or  "We've got it totally under control," as he says it throughout the course of various interviews and press briefings.
As "Totally Under Control" you really get a sense that Trump and his base could care less if there are daily cases. In fact Trump to this day still cascades miracle cures and spreads other falsehoods that "it's just the flu." Even Facebook had to delete his false claim on that as COVID-19 is far deadlier than the flu. Sadly the disease is more fatal for minorities, the elderly, the poor, and people with underlying health conditions. "When America gets the flu, Black folks get pneumonia," states a COVID ICU director, Dr. Taison Bell, quotes his mother. As we see unethical debates today rise for the cause of "herd immunity," which is nothing more than a cause for social Darwinism that will lead to more deaths. Herd immunity is event questionable now has people can indeed contract it twice, and many patients who have recovered from COVID-19 are facing other serious health issues and organ failures later on makes one baffle how many still ignore mask mandates, disrespect social distancing, and defy common sense.
The disease also gives medical staff trauma as they had to deal with overcrowded hospitals and PPE shortages during the height of the pandemic. The film also shows how PPE was used as a bidding war as many states were left to fend for themselves as the Trump administration overbid them, and even seized their supplies once they did receive their supplies. It is infuriating just how our once beloved institutions have now lost credibility that will take years to repair public trust that was damaged by this administration.
Each of Gibney's interviews hold a wide variety of expertise and credibility. They all put their careers on the line to speak truth to power, and history will prove that they did the right thing. We get interviews from former CDC director Dr. Tom Friedin that proved through emails how the Trump administration was warned back in early January to act now. One of the more fascinating interviews is with Max Kennedy, a young 20-year-old volunteer who had to sign an unusual NDA (Non-Disclosure Agreement) under Gerard Kushner in which he had them hire a team to track down medical supplies and PPE with their own contacts that they didn't have. We also got a surprise interview with Dr. Vladimir Zelenko, who did in fact treat patients in his Jewish community with hydroxychloroquine has a trial that was never peer reviewed as Trump instantly pushed it as a cure that leaves Dr. Zelenko even disappointed how his treatment was used for politics. Dr. Eva Lee is also memorable as the documentary points to her brilliant mathematical models predicting exactly when the virus would spread.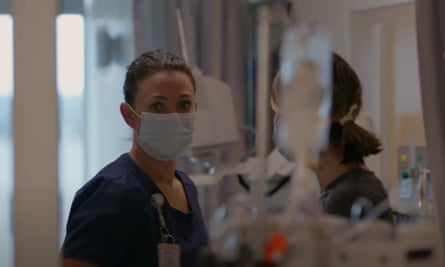 "Totally Under Control" is certainly an essential movie for our time, and could be used as a mandated study in the future of what not to do during the early stages of a pandemic. While I doubt it will turn any Trump voters to seek this film out, it is nevertheless skillfully put together. It is a distressing but powerful film, constructed with truths about the addiction of power over ethics, deceit over truth, and division over public safety.
Now available on demand; available on Hulu on October 20