A film called Vengeance might seem simple at first glance, but writer/director/star B.J. Novak (of "The Office" fame) has a lot more in mind with his first film. The setup is funny and awkward much like it's protagonist Ben Manalowitz (Novak), a writer for The New Yorker. Ben is a womanizer and blue state big shot who gets a call one night from a man claiming to have bad news to share. The news in question is that Ben's girlfriend, Abby, has died of a drug overdose.  On the other end of the phone, Abby's brother Ty Shaw (played to grand comedic effect by Boyd Holbrook of "Narcos" fame), requests that Ben, as her boyfriend, come down to a Texas backwater for her funeral.
There's only one problem: Ben doesn't have a girlfriend. A quick scan of his phone reveals he did indeed sleep with a beautiful young woman named Abilene, but quickly forgot about her amidst the other women he sees. He is goaded and guilted into the trip by Ty, who uses his southern hospitality and Texas twang to bring Ben down south. When he gets there, he finds out Ty's intention to disregard the official police report and seek "vengeance" upon whoever took Abby's life, presumably a local gang member Sancholo (played by Zach Villa). Ben decides to finally draw a line in the sand, saying he doesn't do vengeance, but after listening to the ridiculous things Ty has to say, he has an idea.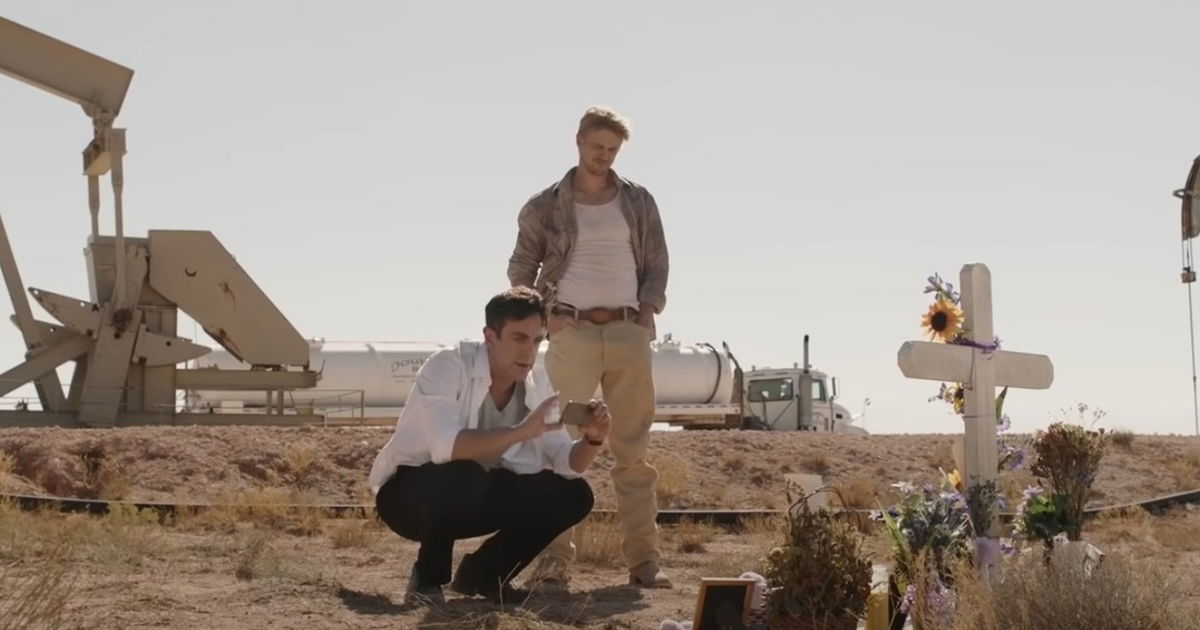 You see, Ben has been struggling with his career and desperately seeks validation and fame. He decides that this would be murder mystery would play great as a podcast (think "Only Murders in the Building") and seeks to interview the Shaw family and get the audience some good entertainment at their expense.  When he is introduced to the rest of the family, his idea seems genius; Abby's mother Sharon, played by J. Smith Cameron from "Succession", is a kindhearted southern mom. Abby's two sisters are also named for cities. Paris, played by "Euphoria" alumni Isabella Amara, wishes to be a famous filmmaker someday. Her less intelligent, but equally sweet younger sister, Kansas City (played by Dove Cameron), seeks to be a famous… something. They are joined by their younger brother Mason, called El Stupido by the family, played by Eli Abrams Beckel.
What follows is a realistic documentary-like film about small town Texans, complete with firearms, What-a-Burger, and huge pickup trucks. Even when the film is critical, it endears the audience to the Shaw family and the state of Texas as a whole. With Southern charm and witticism, Vengeance aims to be much more than a murder mystery. Ben's friend Eloise (played by Issa Rae) seeks to help him develop this podcast and is excited when she hears how crazy this family really is. Ben's superiority complex allows him to look down on the red state Shaw clan and he soon takes advantage of them in multiple ways. Eloise even recognizes that Ben is the "the only white man in America without a podcast." Still, she is excited at the prospect of more money and embraces the cliche idea wholeheartedly. Ben doesn't really care either, he wants fame just as bad as the Shaw sisters.
While Ben lacks self-awareness, the writer Novak does not. He portrays Ben with a penchant for self-loathing and doesn't really offer the character any real redemption until the final scene.  One emotionally revealing scene has Ben going through Abby's room, reading old text messages between him and her in which he was equal parts short and rude to her. Now that she's gone, he longs to be a man that could have cared just a little bit more.  A mystery ensues, and a treasure hunt through the cultural minefield that is West Texas, yields promising results. When Ben interviews Abby's former music producer, Quenten Sellers, played by Ashton Kutcher in what will be looked back upon as his best role, he discovers that not is all that it seems.
Sellers, the outlandish music guru, is a New England blue blood just like Ben; he has chosen to make Texas his home. He has adopted the garb of the state as well, ten-gallon hat included. However, he has not lost his ideals. He is a quasi-cult leader who feeds insightful pontificates to his followers and even impresses Ben with his philosophical ruminations.  Sellers has a relaxed, Southern drawl that seems innocent at first, but one soon realizes that his silver tongue makes him likable and prone to manipulative behavior. Kutcher plays him to excellent effect, taking time with each line, making sure every word is hung on.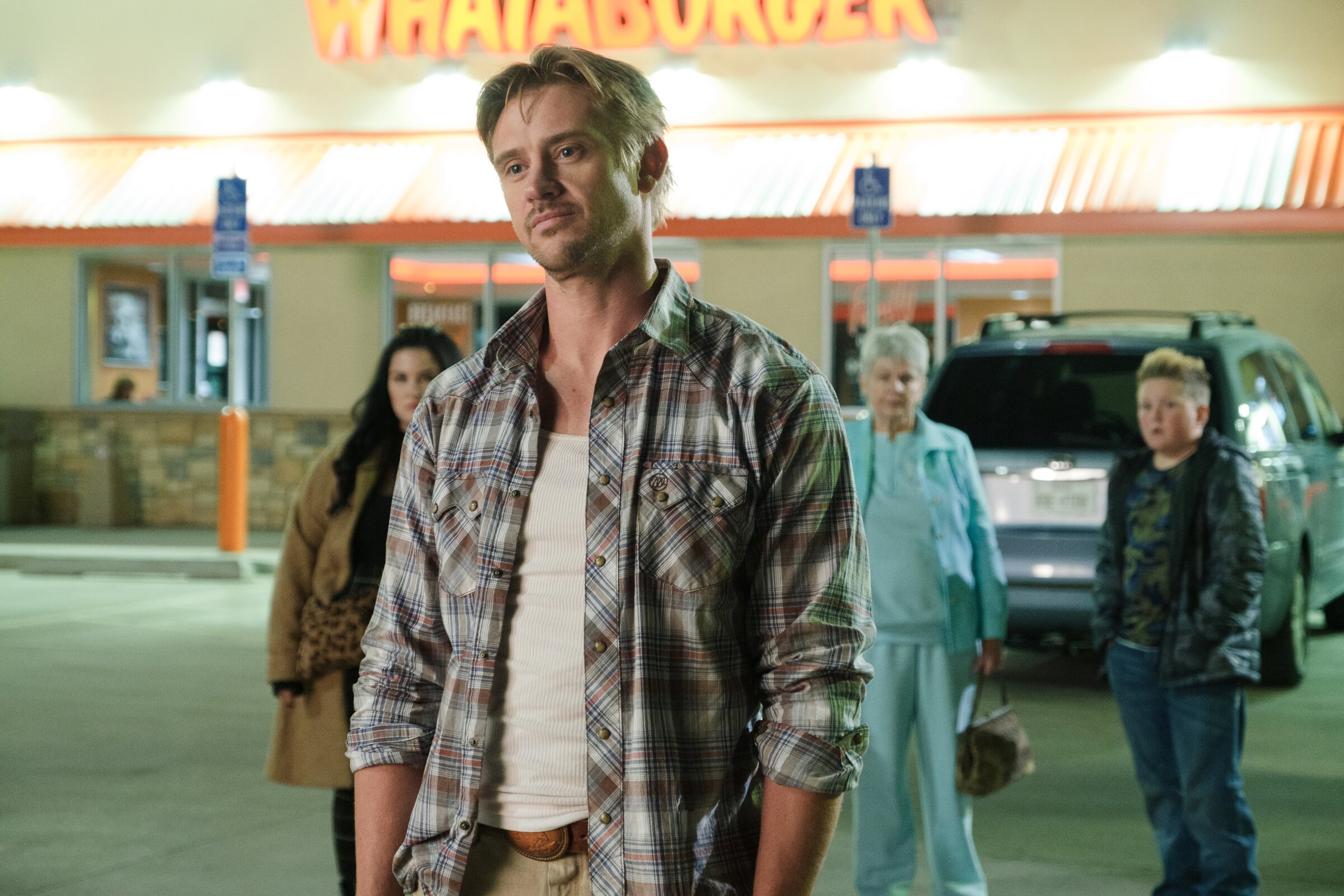 Other standouts in the cast include Smith-Cameron, who, although utilized much better in Succesion still has one of the most powerful scenes in the film, and Holbrook, whose relationship with Ben grows strong as they share tender, brotherly moments. Holbrook is the funniest guy in the film and almost never seems like he's trying too hard. What Ben realizes is that his life in the city is lonely, and he was secretly craving a family like Abby's. They welcome him in and treat him with great respect and kindness. Soon, he starts to feel guilty about his exploitative podcast and decides to give Ty's murder conspiracy idea a shot.
The film itself is also ponderous of many things. It is dialogue heavy and humorously relatable, especially for 2022, but if it has one minor issue, it is the ambition of its scope. Novak is a writer who wants to say many interesting things about America, and while that is well and good, he branches out a bit too far and tries to encapsulate our country's unique problems in one feature film.
Still, it hits the mark in most scenes and the twist in the film is earned and invigorating. If entertainment were the only consideration, this would be a phenomenal film. It is a fun, must-see summer movie. When it lands its witty punches, it offers real insight into the American experience, and when it misses, it's usually negligible. One would have liked to see Novak expand some of these ideas into another film or maybe a series, but there is still hope for the future.
Vengeance is culturally relevant, hilarious and surprising all at once, but it does lean a bit too hard into the cultural critique of modern America. Despite this, the film is an enjoyable, laugh out loud dark comedy which will mostly please those who see it.