While Sam Mendes' latest film, the harrowing, visceral, and technically mind-blowing war picture "1917", brings a lot of attention to itself with Mendes showcasing the entire picture in one continuous long take shot that unfolds in real time (and it is indeed a remarkable feat), the story is actually a very simple one that is really structured in two single takes that take place in the late afternoon in the first hour, and the following morning in the second hour. During the spring of 1917, a pair of British army corporals, Schofield (George MacKay) and Blake (Dean-Charles Chapman), are ordered to go on a dangerous mission beyond enemy lines that were once occupied by the German Army to inform another British colonel to call off an attack that is actually a trap that threatens to destroy their own battalion of up to 1,600 soldiers.
The two corporals set off for their mission and begin a journey of miles as they travel through trenches, corpse-filled battlefields, booby-traps, and destroyed villages, with war and bloodshed surrounding them at every turn. The camera never cuts away–it examines the bloodshed of war in a brutally vivid manner that immerses and allows the viewer to experience what a battlefield really feels like.
Mendes, who won an Oscar for best director for his debut feature film, the 1999 domestic drama masterpiece "American Beauty", and just recently won best director and best drama at the Golden Globe Awards for "1917", is one of the most gifted studio directors working in the industry today. He also crafted one of the most impressive James Bond films ever with "Skyfall" in 2012.
Supposedly the film is inspired by the war stories Mendes' WW1 veteran grandfather Alfred Mendes told him when he was a child. Here, Mendes collaborates with co-writer Krysty Wilson-Cairns, cinematographer Roger Deakins, film editor Lee Smith, and composer Thomas Newmanm, and together they all contribute the grim realism the picture is striving for. The result feels distressing and equally seamless, loud with some subtlety, and it becomes a triumph of hope and survival. The continuous shot has certainly been done to death in cinema, and sadly the technique overwhelms the substance and agony of war that we should be talking about and thinking about. The film's craft indeed holds majestic artistry–it's hard not to appreciate or be in awe with the films camera movements and astounding sequences, set-pieces, and staging. One of the most impressive of these involves Schofield running from a burning church in silhouette, echoing the oil field sequence in P.T. Anderson's "There Will Be Blood". Deakins' cinematography here is very meticulously shot and masterfully framed.
But there are a few missteps that prevent "1917" it from being a complete masterpiece. The Germans are always missing shots as if they can't shoot too well, making it seem like a war-movie cliché when the protagonists are invincible to bullets as if they are in a video game. There is also a scene involving Schofield encountering a French village woman that feels forced and maudlin, though the scene is needed to prevent it from being a detached exercise in pandemonium.
This is a movie done in a similar way as what Paul Greengrass did with "Bloody Sunday" and even "United 93". All films are exercises in technically astonishing filmmaking skill that want you to relive a certain event so  you can viscerally feel as if you are transported there and eavesdropping in real time. But just as "Bloody Sunday" prevented itself from being intelligible, "1917"'s immersive approach doesn't give the viewer really much to think about other than its main issue of making you feel and experience. The result hints at being more interested in visual gimmicks than narrative, making the overall experience feel slightly more hollow than emotionally involving. There are a few artificial transitions in the film that also just draw way too much attention to itself as well, including when the camera begins to float up to a bird's-eye shot of the battlefield going on or a chaotic action that is an easy way to mask a cut.
Despite these shortcomings, there is no denying that "1917" is still an extraordinary cinematic achievement that finds Mendes pushing and developing his visual artistry and craft. "1917" is an intense and gripping recreation of the agony World War I created. Mendes has deliberately decided to utilize an emotional rather than an intellectual response with this film, but it demonstrates a historical retelling formulated in feeling visceral, which fits seamlessly well with Mendes' continuous long take filmmaking style.
By using vignettes that allows the narrative to unfold, Mendes' film makes you recall other war pictures like Steven Spielberg's "Saving Private Ryan", Stanley Kubrick's "Paths of Glory", and Christopher Nolan's technically bold but also emotionally cold "Dunkirk". Mendes' "1917" plays serviceable and commendable tribute to the courage and determination that is generated into war. It's also notabe that we haven't gotten too many modern films about World War I either; only recently Peter Jackson touched on the subject with his documentary "They Shall Not Grow Old", and Spielberg explored World War I with "War Horse", which was too pat and sentimental. Perhaps this is because there have been an endless amount of classics about World War I already with David Lean's "Lawrence of Arabia", Kubrick's "Paths of Glory", and Peter Weir's "Gallipoli". What's always relieving about watching films about World War I is that it takes the viewer back to an era without electronic gadgetry, drone strikes, and surveillance. It transports you to a time of muddy trenches, mustard gas, and old planes swirling out of control.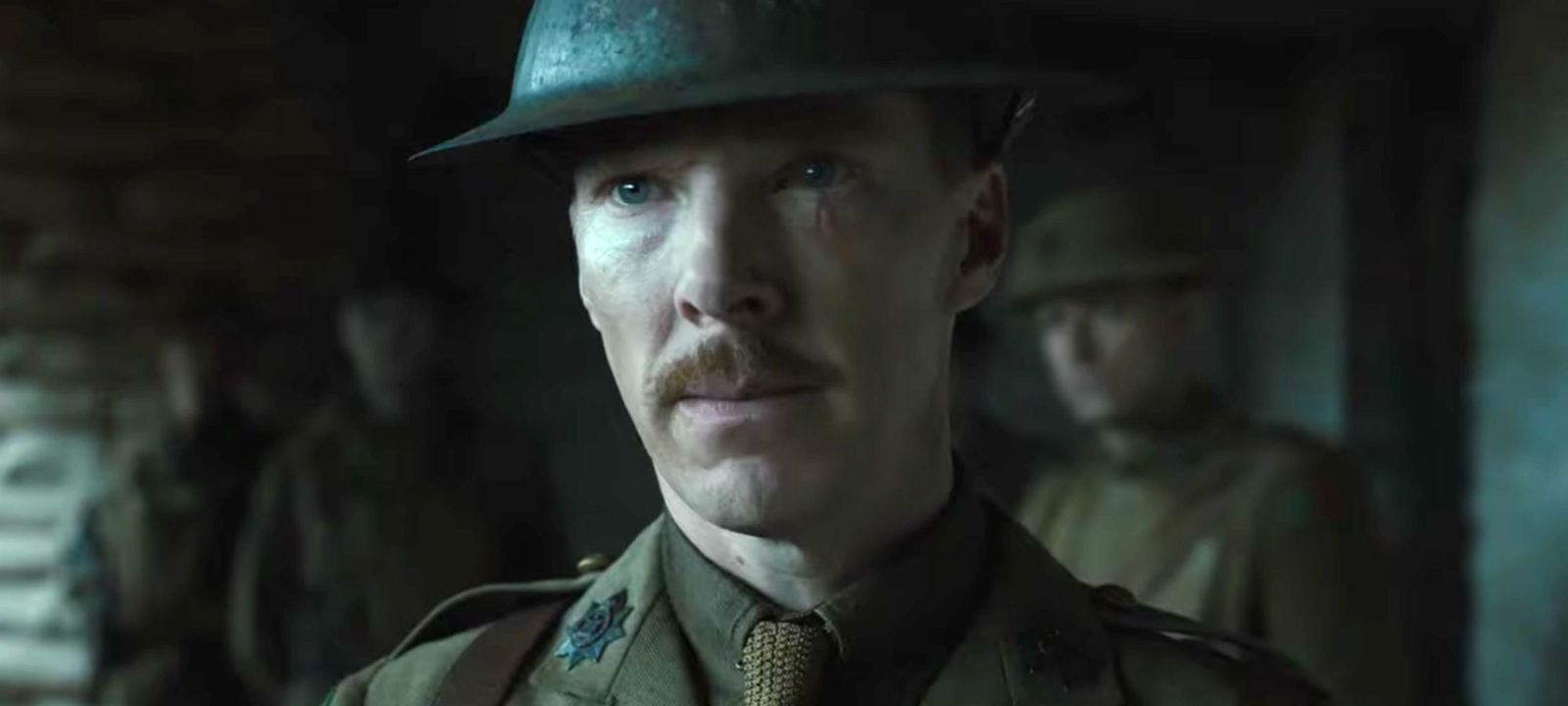 Actors MacKay and Chapan are perfectly cast in their roles as Schofield and Blake, along with a supporting cast that consists of Mark Strong as a sorrow captain, Colin Firth and Benedict Cumberbatch as high ranked officials who are very boastful, and Andrew Scott as a derisive lieutenant that echoes Robert Duvall's Lt. Bill Kilgore character in Francis Ford Coppola's 1979 masterpiece "Apocalypse Now", who has just been accustomed to so much mayhem and bloodshed that the violence no longer phases him.
The film's finale echoes the beginning of the film during the aftermath of the mission as Schofield contemplates his thoughts of all the war horrors he has endured. Has he grown accustomed to the horrors and brutal nature of war just like Andrew Scott's character? Has he truly completed the mission? Mendes plants these ambiguities, making "1917" one of the more unique and breathtaking war films of the last decade.