With 2021 upon us, I figured it was the right time to look back at the year 2001 and the great pieces of cinema that were released. This list runs down my favorite films from that year, I revisited most of these films as of late on Blu-Ray and the list still matches my initial feelings when I compiled this last in late 2001. Just as I did a retrospective last year of 2000, today I continue on the 20-year anniversary with this 2001 list. Please seek out each of these bona fide masterpieces if you haven't watched them, each of these titles are truly stellar pieces of cinema that have stayed the test of time. We will have more anniversary top 10 lists in coming soon that will celebrate other years like 1996 and 2011.
Reflecting back at the year 2001, the beginning of the new millennium, it was a time cinema seemed to be in a very comfortable place, even as the internet and technology just started to grow. It was the first year of the Bush administration, it was rather a year Americans came together to mourn over the tragic 9/11 attacks and conspiracy theories were unanimously brushed off. It was a year where Academy Awards continued to award safe and accessible films with A Beautiful Mind (over In the Bedroom and Mulholland Drive), the greater films that year were of course more formally daring that intended to elevate and reinvent film noir tropes with unconventional narrative methods and bold filmmaking styles. Below is my ten best films of 2001 with five runners-up and a list of honorable mentions.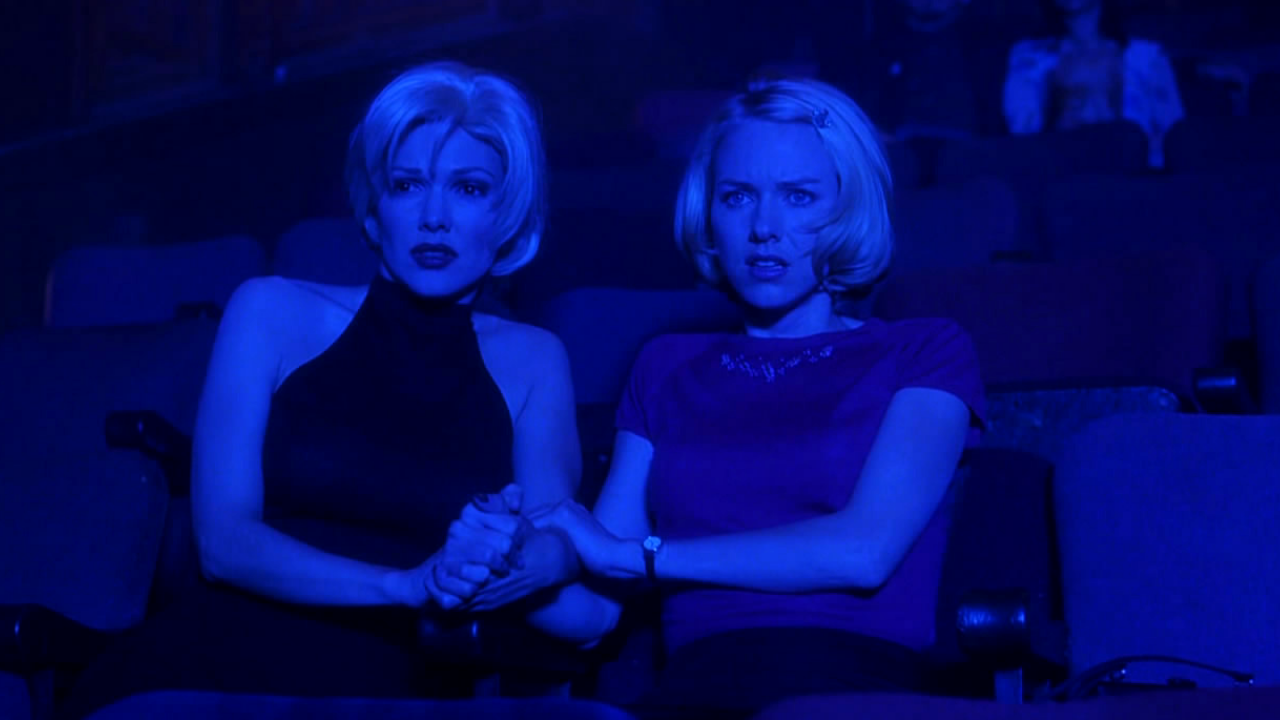 1. Mulholland Drive (d. David Lynch) 
The very best film of 2001 and the best film so far of the 21st century, David Lynch's magnum opus is truly an extraordinary feat. A highly fascinating and perplexing film that is impossible to let go from your mind upon watching. A cautionary saga about Hollywood and show business that also holds many layers about identity, duality, heartbreak, passion, and the façade of Hollywood, alongside with it's rich symbolism allows the film for endless revisits, interpretations, and analysis. A truly enigmatic and  bizarre film about Betty Elms (Naomi Watts) an aspiring actress from a small town in Canada who moves to Hollywood to further career as she walks into a mysterious paradox involving a woman named Rita (Laura Elena Harring) who suffers memory loss from a strange car accident.
All the answers aren't clear in how everyone and everything connects, well at least not on the first viewing. But Lynch's film is all symbolism that reflects the human psyche's through a dreamscape. It's quite an advantageous journey that takes the viewer on an engrossing ride where it allows you to feel every human emotion imaginable. Originally created as a failed ABC pilot, Lynch is able to expertly use the happy accident and turn into a cinematic landmark with two distinctive narratives, one that feels like a dream and one that feels like a nightmare. Is reality more of the nightmare? Does the imagination state in the narrative the true place of harmony? Is this where reality should be? All around Lynch's brilliantly crafted masterpiece is a brilliant exploration of the imagined state of yearnings and the true reality of the opposite is a towering and expressive work of art. A true highlight of the 21st century and Lynch's finest film.   (HBO Max, All VOD Platforms)
2. Memento (d. Christiopher Nolan)
Christopher Nolan's sophomore feature film (Which premiered at the Venice Film Festival in 2000 but was release in the U.S. in 2001) fragmented chronicle of the state of mind of a man suffering severe memory loss is unlike anything I've come across before, even upon revisits, Nolan"s breakthrough and groundbreaking film is his most artful and assured framework yet. Everything about this film–the ingenious writing, the impeccable directing, the innovative editing, superb performances–remains fresh and innovative 20 years later.. The genius of Nolan's work is just how skillfully crafted and unpredictable it all is, Nolan's last independent movie is also his most complex and riveting. Guy Pearce has never been better as Leonard Shelby, who attempts to avenge the death of his wife while his memory vanishes every fifteen minutes or moments. The film's narrative is structured backwards that is so meticulous with how the tory unravels that allows the viewer to live through Lenny's own perceptions while he is trying to solve the mysterious world around him. All around the dizzying and unique experience, Nolan's sophomore feature is an astonishing neo-noir that left an imprint in cinematic history with great force. (Amazon Prime, Tubi, All VOD Platforms)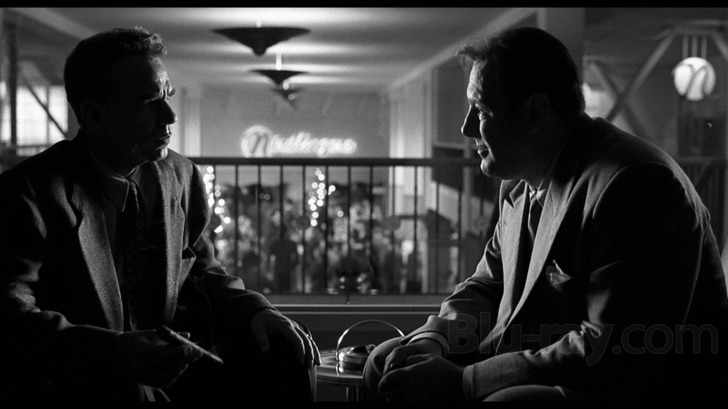 3. The Man Who Wasn't There (d. Joel Coen)
While the Coen Bros seem to be more championed more for No Country For Old Men and A Serious Man for their 2000s work, The Man Who Wasn't There is in fact every bit as resonant and skillfully made as those masterpieces. In fact, I would easily put The Man Who Wasn't There as one of the Coen's top five best films. A brilliantly stylized reinvention of the film noir genre that plays with the many of the same noir tropes, the Coen's should be embraced more for this masterpiece since they truly elevate and transcend genre here. The film has a lot to say about 50s Americana displacement, loneliness , and about an ordinary barber named Ed Crane (played splendidly by Billy Bob Thornton) attempting to rise above a mundane world where he feels alienated. We see the Coen's play with similar  themes in A Serious Man as it's just as cyclical. However, it captures the bleak truths about how horrific life can really be. The elegant black and white cinematography  shot by the great Roger Deakins should have won the Oscar that year, and Joel Coen was snubbed for an Oscar Best Director nomination that year. The film also has a truly stellar supporting cast that consists of Frances McDormand, Scarlett Johansson, Richard Jenkins, Jon Polito, Michael Badalucco, and both Tony Shalhoub and the late James Gandolfini truly steal the show in their supporting performances. All around The Man Who Wasn't There is a true masterpiece, a mesmerizing piece of cinema that is existential and superbly crafted that takes you on a rewarding journey. (All VOD Platforms)
4. In the Bedroom (d. Todd Field)
Actor-turned-filmmaker Todd Field's impressive debut feature might start off feeling welcoming as a knowing domestic drama but it ends in a very haunting and morally ambiguous suspense drawer. Despite only having 2 features under his belt so far (Also check out Todd Field's 2006 masterpiece Little Children), In the Bedroom still stands head and shoulders  above so many other films that have been released since. This quiet film allows the atmosphere and superb pacing allow this revenge story to unravel with grace, sweltering artistry and first-rate performances across. While Sissy Spacek and Marisa Tomei are brilliant in this, as Spacek is the mother to her son (Nick Stahl) who's dating a much older woman in a New England coastal town, it is Tom Wilkenson as the devastated and conflicted father who seeks out revenge of a tragedy that leads to an unforgettable confrontation with Natalie's ex-husband (William Mapohter), a truly gripping and vulnerable performance that measures how far one would go to seek justice for their loved one. The tense, superbly dramatic thriller is supremely mounted by Field's exquisite direction and his care for his actors and characters. While not quite as celebrated as it should be 20 years later, that could all change depending if the next feature by Todd Field titled Tar starring Oscar-winning actress Cate Blanchett can hopefully maintain his artistic fervor, in which it's been 15 years since the release of Little Children. (Paramount +, All VOD Platforms)
5. Monster's Ball (d. Marc Forster)
Right up there with Sling Blade, A Simple Plan, and The Man Who Wasn't There as one of Billy Bob Thornton's most notable performances of his career, a subdued and powerful film that is endlessly compelling, and Halle Berry's performance in this is still one of the most remarkable performances of the 2000s where her character of Leticia finds tragedy, heartache and finally hope within her confinements of poverty and systemic racism. It's truly commanding how filmmaker Marc Forster and fellow screener writer's truly did an exceptional job in never hitting the audience over the head with their themes on this. The film is far from didactic, but surely raw and potent. Perhaps coincidental, but never contrived and convincing, all around Monster's Ball is an artful and riveting drama that is still held up 20 years later due to it's timeless commentary and themes.
What's profound about this film is how the character of Hank (Billy Bob Thornton) is transcended into a more compassionate and empathetic person after he encounters Leticia (Halle Berry). This is a pivotal moment in the film where it appears he has rejected the generational racism that was passed onto him, and how love is truly universal that sees no color. Leticia also rebounds as a stronger person after experiencing her own tragedies. Monster's Ball ends up becoming a transcendent story told from two people coming together from different backgrounds and races, who both reaffirm hope, and no conventional resolution in this film could be as resonant. (Amazon Prime, Hulu, All VOD Platforms)
6. Ghost World (d. Terry Zwigoff) 
Terry Zwigoff's (Crumb) highly engaging and comedic satire confirmed it's directors standing in making films about outsiders who can't conform to humanity while bringing sharp commentary to the ever growing and endless dumbing down of humanity that undermines true individualism.
Although Zwigoff adapted this from the highly regarded Daniel Clowes graphic novels, Zwigoff never allows the material to get bogged down with over quirkiness and preciousness while still keeping it's offbeat edge, on the surface it's a very nuanced and affecting work After Enid (Thora Birch) graduates high school during the summer after her senior year along with her friend Rebecca (Scarlett Johansson), their subsequent friendship slowly fades away as both women begin adulting in different ways. Especially once Enid finds a strong connection with Seymour (Steve Buscemi) whose platonic relationship allows Enid to understand why she feels like an outsider in a vapid world of hollowness and people who are disingenuous. Together Birch and Buscemi to this date have delivered the performances of their careers. The sense of anxiety and commentary on the modern world might sound cynical, however co-writer Clowes and Zwigoff together allow the material to find some melancholy and strong characterizations that truly makes Zwigoff's vision a touchstone of 2000s cinema that defines both teenage angst, and how those universal uncertain emotions still carry over into our adult years. A true masterpiece of 21st century filmmaking. (Amazon Prime, Starz, Sling, ALL VOD Platforms)
7. The Royal Tenenbaums (d. Wes Anderson)
Tracing the lives of a dysfunctional family, Wes Anderson's third feature The Royal Tenenbaums remains his most accomplished and seminal accomplishment to date. While The Grand Budapest, Fantastic Mr. Fox, Rushmore, and Isle of Dogs also rank up there as first-rate masterpieces, The Royal Tenenbaums manages the most levels of rich poignancy. It never once lets it's main protagonist Royal Tenenbaum (Gene Hackman) get off the hook for his fraudulent and negligent ways that brought a lot of agony and despair to his family However, with earned pathos, Wes Anderson does show how Royal along with many other of his children he abandoned ultimately transform and grow into stronger people. The films ensemble cast is also stellar where Hackman co-stars with Angelica Huston, Gwyneth Paltrow, Ben Stiller, Luke Wilson, Owen Wilson, Danny Glover, Bill Murray, Seymour Cassel, Kumar Pallana, and sharply observed third-person narration by Alec Baldwin.
As the film progresses, we begin to warm up to each character while Wes Anderson never loses his equally disincentive style and edge. Despite some detractors always claiming Wes Anderson brings too much attention to itself with his singular style, despite these criticisms, The Royal Tenenbaums remains both innovative and affecting–all and off the quirks, uniquely stylized visuals, meticulous décor, and engaging storytelling provides a great skill and scale for Anderson. If anything, The Royal Tenenbaums still remains Wes Andersons most affecting and humane work to date, which says a lot since he has crafted so many strong pieces of cinema ever since. (Amazon Prime, All VOD Platforms)
8. In the Mood for Love (d. Wong Kar-Wai) 
A truly luminous piece of cinema, In the Mood for Love is also one of Wong Kar-Wai's most emotionally absorbing films in his first-rate filmography, for one cannot help but to be drawn into these people enduring solitude who hold so much repressed love for one another as norms and other outside forces detach their love, struggling helplessly as these characters feel even more lonely after their undeniable affection as they face the passage of time and the doom of their relationship fading away into the tragic realm of non-existence.
The film employs an affecting but detached romance between a married secretary named Su Li-zhen (Maggie Cheung) and a journalist Chow Mo-wan (Tony Leung) as Wong-Kar uses a elegant and ravishing style that consists of impeccable décor, meticulous framing, stunning moving camerawork, slow-motion, and of course Christopher Doyle's illuminating cinematography that easily makes it one of the most gorgeously shot films in cinematic history. This film is certainly inspired by the 1959 Alain Resnais film Hiroshima Mon Amour, as well as David Lean's "Brief Encounter" that would also go into to heavily influence Sofia Coppola's 2003 treasure Lost in Translation.  Wong Kar Wai's poetic vision resonates not only in style, but also in it's themes on the ramifications on how love fades away through the endless passage of time and the ramifications loneliness leaves on the human soul as a true human connection is slipped away into our fragmented memories. Also see Wong Kar-Wai's 2005 masterpiece 2046 which is every bit as equally ravishing and breathtaking. (HBO Max, The Criterion Channel)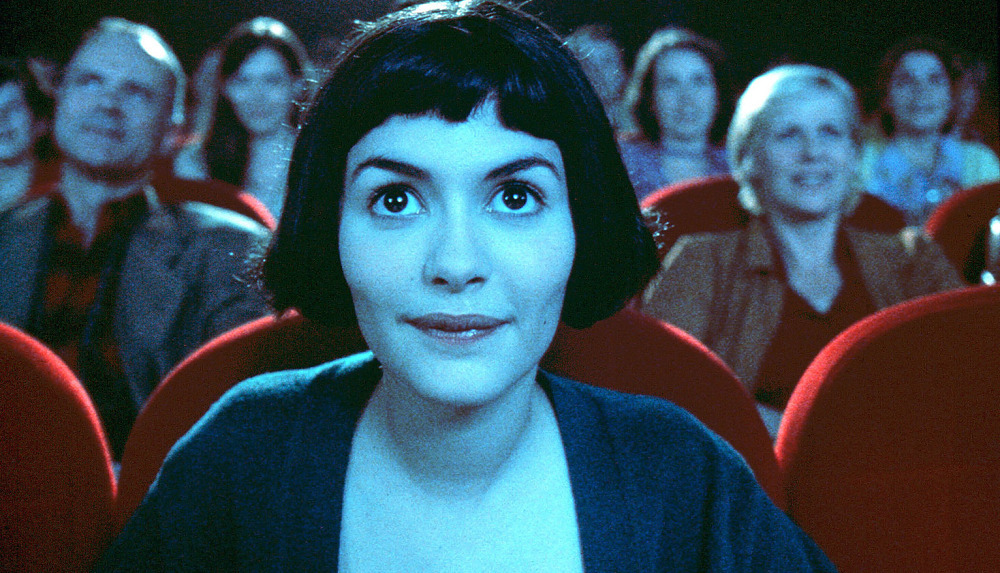 9. Amélie (d. Jean-Pierre Jeunet)
French auteur Jean-Pierre Jeunet's 2001 masterpiece, Amelie, is a hyper-real, stylish, whimsical film, sometimes bittersweet, sometimes a melancholic exploration of loneliness, but always inviting in Jeunet's fantastical vision. The beautiful, charming, and energetic Audrey Tautou was born to play the role of the title character, as a quirky and peculiar young woman who finds joy in bringing bliss to others' lives, as well as finding comfort in the small things we often take for granted. However, with all of her heavy lifting for others and confining to  her own solitude, you can't help but not root for her to find some type of deeper resonance, love and other rewards herself.
The style of the film is elegantly precious, with it's wacky whimsy where Wes Anderson has easily been influenced by. The film also offers other highly imaginative film techniques that still remain unique today. Amelie was Jeunet's last great offering, but it remains one of the most uniquely unforgettable films of the 2000s. (Amazon Prime, Hulu, All VOD Platforms)
10. Waking Life (d. Richard Linklater) 
I'm not overstating when I say this, but Richard Linklater's Waking Life was a life-changing experience for me when I saw it at age 19 due to its new-age perceptions about existentialism and other richly philosophical ideas. 20 years later, the film remains an innovative and highly sophisticated film experience as the world has continued to progress and regress in contradictory fashion just as the philosophers in the dreams anticipated.
Linklater's retro-animated film is perhaps my favorite animated film of the last 20 years. Linklater still invites you into  an otherworldly experience that still allows the viewer to think about the self, our consciousness, reality, the universe, and what possibly occurs after life. This little indie is a masterpiece that is also massive. One of the most fascinating films of the early 2000s. (All VOD Platforms)
Runners-Up–In Alphabetical Order
A.I. Artificial Intelligence (d. Steven Spielberg)
Easily one of Spielberg's boldest and most ambitious films, and one of our first sophisticated and layered films about artificial intelligence that delivered grace and dignity, A.I. is a stellar piece of filmmaking. Steven Spielberg's fully realized, but slightly flawed vision is a highly affecting and breathtaking sci-fi film, despite a slightly meandering finale, the film is deeply powerful and poignant throughout. The direction and Spielberg's conceptual beauty stays true to Kubrick's vision who was the original director attached to the project before passing. Spielberg's vision has true scope with set-pieces and effects that are timeless. Haley Joel Osment was so complex and genuine in this, as well as Jude Law in his supporting performance as Gigolo Joe who together with Osment brought the human pathos to their android characters, as well as to Spielberg and Kubrick's sensibilities.
Donnie Darko (d. Richard Kelly)
Richard Kelly's 2001 feature film debut Donnie Darko went onto to become an instant cult film–surreal, bizarre, and oddly sincere. A strange film with uncanny beauty, what makes "Donnie Darko" remain great today is the ideas, craftsmanship, and it's singular vision that leaves so much ambiguity that is rendered with rich abstractions and humanism. While Kelly hasn't directed anything since his 2007 misunderstood masterpiece Southland Tales, let's hope Kelly can get another feature launched in the near-future.
The Lord of the Rings: The Fellowship of the Ring (d. Peter Jackson)
Director Peter Jackson's production of The Lord of the Rings is without a doubt one of the most ambitious and passionate film projects to ever get greenlit. The film took almost a year and half of production and was shot in over 250 locales in New Zealand. The Lord of the Rings franchise are movies of the ages that will continue to be celebrated by future generations in years to come. While Return of the King is my favorite of the three, Fellowship of the Ring is a striking opening act to the saga. With bold vision and striking visual grandeur, Jackson also brings a lot of character depth, impressive set-pieces, and several conflicting tones to this spectacular film that will always be a defining piece of cinema that began in 2001.
Moulin Rouge (d. Baz Luhrmann) 
Upon release, Baz Luhrmann's Moulin Rouge was a hyper, highly stylized, and spectacular musical filled with modern pop songs, humor, romance, and of course melancholy. For a while there, it felt as if the musical was making a comeback which was followed by the 2002 musical Chicago. However, musicals faded away until La La Land and Sing Street appeared to bring them back. Now with a global pandemic that is still bringing uncertainty, now more than ever we need something like Moulin Rouge back into our lives. Baz Luhrmann's vision is jaw-dropping and highly involving, and all around a memorable film experience.
Sexy Beast (d. Jonathan Glazer)
Jonathan Glazer's debut feature Sexy Beast is a neo-noir thriller features all the pulp, double crosses, violence, and caper elements that come with the genre, but is elevated with a touch of surrealism and some haunting imagery, along with a truly memorable supporting performance by Ben Kingsley who received an Oscar nomination for. There are many effective and shocking scenes that unravel throughout the film, along with effortless, stylish direction by Glazer.
Werkmeister Harmonies (d. Bela Tarr)
An extraordinarily unique film that is sustained with so much rich abstraction, symbolism, and a visually arresting style. Bela Tarr's 2001 "Werkmeister Harmonies" is a film that plays out like a vivid dream or otherworldly realism that becomes a meditation on decay and the cycle of demise. How everything, including the small community that's the focus and setting of Tarr's visionary masterwork eventually has to fade away in the passage of time. There is a purity to the films themes and rich styles, that is mostly in long tracking shots that truly feel vivid as mysterious at the same time. Tarr's vision is truly unique and tangible that hones in a different world we aren't used to seeing in cinema. With ravishing black-and-white cinematography, the film has some bold camera movements, in which the style would go onto to inspire Gus Van Sant's death trilogy Gerry (2003), Elephant (2003), and Last Days (2005).
Honorable Mention (In Alphabetical Order)  
A Beautiful Mind (d. Ron Howard)
Ali (d. Michael Mann)
The Anniversary Party (d. Jennifer Jason Leigh and Alan Cumming)
The Circle (d. Jafar Panarhi)
The Devil's Backbone (d. Guillermo Del Toro)
Gosford Park (d. Robert Altman)
No Man's Land (d. Conor Allyn)
The Piano Teacher (d. Michael Haneke)
Tape (d. Richard Linklater)
Training Day (d. Anton Fuqua)
Best Documentaries
Children Underground (d. Edet Blezerg)
Go Tigers (d. Kenneth A. Carlson)
Mark Twain (d. Ken Burns)
Startup.com (d. Jehane Noujaim & Chris Hegedus)
War Photographer (d. Christian Frei)
Underrated 2001 Anniversary Films  
Bandits (d. Barry Levinson)
Bully (d. Larry Clarke)
The Deep End (d. Scott McGehee)
Gingersnaps (d. John Fawcett)
Hannibal (d. Ridley Scott)
Heist (d. David Mamet)
Hearts in Atlantis (d. Scott Ficks)
Lantana (d. Ray Lawrence)
L.I.E. (d. Michael Cuesta)
The Majestic (d. Frank Durabont)
The Pledge (d. Sean Penn)
The Score (d. Frank Oz)
Vanilla Sky (d. Cameron Crowe)
Va Savoir (d. Jacquest Rivette)
With a Friend Like Harry (d. Domnik Moll)
Notable Mainstream Anniversaries 
Blow (d. Ted Demme)
Bridget Jones Diary (d.Sharon Maguire)
Harry Potter and the Sorcerer's Stone (d. Chris Columbus
Jay and Silent Bob Strike Back (d. Kevin Smith)
Joy Ride (d. Jon Dahl)
Legally Blonde (d. Robert Luketic)
Monster's Inc. (d. Pete Doctor and David Silverman)
Ocean's 11 (d. Steven Soderbergh)
Shallow Hal (d. Bobby Farrelly and David Farrelly)
Shrek (d. Andrew Adamson)
Defacto Film Awards 2001 Nominations and winners 
Best Film
In the Bedroom
The Man Who Wasn't There
Memento
Monster's Ball
✓Mulholland Drive
Best Director
Joel Coen, The Man Who Wasn't There
Todd Field, In the Bedroom
Wong Kar-Wai, In the Mood for Love
✓David Lynch, Mulholland Drive
Christopher Nolan, Memento
Best Actress
Thora Birch, Ghost World
Halle Berry, Monster's Ball
Nicole Kidman, Moulin Rouge
Sissy Spacek, In the Bedroom
✓Naomi Watts, Mulholland Dr.
Best Actor
Gene Hackman, The Royal Tenenbaums
Will Smith, Ali
Billy Bob Thornton, The Man Who Wasn't There
Denzel Washington, Training Day
✓ Tom Wilkinson, In the Bedroom
Best Supporting Actress
Jennifer Connolly, A Beautiful Mind
Helen Mirren, Gosford Park
✓ Carrie Anne-Moss, Memento
Maggie Smith, Gosford Park
Marisa Tomei, In the Bedroom
Best Supporting Actor
✓Steve Buscemi, Ghost World
Ethan Hawke, Training Day
Ben Kingsley, Sexy Beast
Joe Pantoliano, Memento
Tony Shalhoub, The Man Who Wasn't There
Best Original Screenplay
Amelie, Written by Guillaume Laurant & Jean-Pierre Jeunet
The Man Who Wasn't There, Written by Joel Coen and Ethan Coen
✓ Memento, Written by Christopher Nolan
Monster's Ball, Written by Milo Addica and Will Rokos
The Royal Tenenbaums, Written by Wes Anderson and Owen Wilson
Best Adapted Screenplay
A Beautiful Mind, written by Avika Goldsman
A.I. Artificial Intelligence, written by Steven Spielberg
Ghost World, written by Daniel Clowes and Terry Zwigoff
✓ In the Bedroom, written by Todd Field and Robert Festinger
The Lord of the Rings: The Fellowship of the Ring, written by Fran Walsh, Philippa Boyens, and Peter Jackson
Best Documentary
Children Underground (d. Edet Blezerg)
Go Tigers (d. Kenneth A. Carlson)
✓ Mark Twain (d. Ken Burns) 
Startup.com (d. Jehane Noujaim & Chris Hegedus)
War Photographer (d. Christian Frei)
Best Cinematography
Amelie—Bruno Delbonnel
The Lord of the Rings: The Fellowship of the Ring–Andrew Lesnie
✓ The Man Who Wasn't There–Roger Deakins
Memento–Wally Pfister
Mulholland Drive–Peter Deming
Best Editing
Amelie–Hervé Schneid,
In the Mood for Love–William Chang
The Lord of the Rings: The Fellowship of the Ring–Jon Gilbert
✓ Memento–Dody Dorn
Moulin Rouge–Jill Billcock
Best International Film
Amelie (France)
The Circle (Iran)
✓ In the Mood for Love (Hong Kong)
The Piano Teacher (France/Austria/Germany)
Werkmeister Harmonies (Hungary)
Best Original Score
In the Bedroom, Thomas Newman
The Lord of the Rings: The Fellowship of the Ring–Howard Shore
Memento–David Julyan
Monster's Ball–Asche and Spencer
✓ Mulholland Dr.—Angelo Badalamenti