Elisabeth Moss is on a streak of many first-rate performances as of late. See her in "The Invisible Man," "Her Smell," and "Queen of Earth." She once again delivers another raw and emotionally charged performance  in Josephine Decker's "Shirley," she plays the horror novelist Shirley Jackson, and it's once again a gripping and layered performance that is a highlight of the year.
Moss once again plays a fractured and wounded soul,  she has played these characters in latter films. Shirley is in emotional turmoil, a cruel and tormented woman who has a lot of anxiety and depression about leaving the house. She's also a creative genius who endures sudden strokes of creativity in fragments in ideas of her next novel. Shirley ends up encountering a young woman named Rose (Odessa Young) and observes right away that she's pregnant.
But before we first see Shirley on the screen, we follow Rose and her husband Fred (Logan Lerman). Fred just obtained a teaching assistant job to Shirley's husband Stanley (Michael Stulhbarg) at Bennington College in Vermont. Stanley offers that Fred and Rose can temporarily reside in their,house, in hopes Rose can assist in bringing Shirley's energy levels back to where they need to be. Shirley is embarking on her next novel titled "The Hangsman", and we see horror tropes come within Shirley's mind as she imagines the case of a missing woman that is a brooding reflection about her own psyche.
Shirley also endures more emotional hardships as if she is a tormented character out of an Ingmar Bergman film. She has sudden bursts of anger, her depression prevents her from getting out of bed, and she always lashes out in anger and is blunt how she really feels. Decker does an a commending job with her ambiguity here, we never know if Shirley is suffering from mental illness or is putting on an act in front of Rose. Ultimately, Rose ends up growing very fond of her–she already admires her work and Shirley's novel "The Lottery" is one of Rose's favorite works.  Shirley's deplorable behaviors is really a facade to her own insecurities, repressions, and vulnerable uncertainties. Stanley is certainly undermining her creative energy with his constant cynicism and negativity, Rose guides her and helps Shirley realize that Stanley is doing this because he feels inferior and is jealous of her creative aspirations. Shirley also possibly needs Stanley's cruelty so she can fuel rebellion that fuels her inspiration–something that was also explored in P.T. Anderson's 2017 masterpiece "Phantom Thread."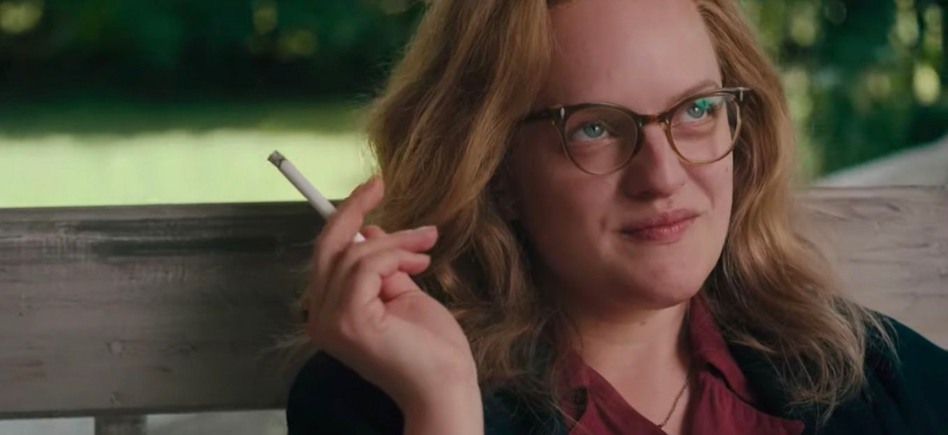 "Shirley" raises a lot of obscurities and subtext on what the character's true motivations are and raises a lot of questions. Does Shirley truly care about Rose, or is Rose being used as a pawn? Are they romantically attracted towards each other? Why does Stanley want to Rose around? These questions ponder the mind upon viewing. There are some artfully crafted and subtly intimate images of Shirley and Rose holding exchanges with one another. The way they gaze into each other's eyes and how Shirley touches Rose's stomach shows the woman hold a deep bond together.
Decker, along with screenwriter Sarah Gubbins, have helmed an exquisite exploration of creativity and madness, and how they go hand in hand. Just like Decker's previous film "Madeline's Madeline," the film speaks volumes on how madness merges with creativity. It's a common film trope that audiences have all come acquainted with over the years. However, Shirley's trauma and disorder is a weapon against the control and sexism that she experiences from Stanley, as she refuses to be just a wife to a college administrator and failed writer, and Shirley's livelihood also serves as caution to Rose's own life who appears to be going down the same path of patriarchal control.
Much of the screen time of "Shirley" does involve Rose gazing and wondering, in which the spacial compositions and imagery showcase Rose being pulled into Shirley's world. To the film's benefits, Rose and Shirley both show growth. While Shirley is calculating and cunning, she ends up transforming herself into greater compassion. She has a way of revealing uncomfortable truths about creativity, marriage, and being an author.
While "Shirley" has moments that feel cold and meandering, it is the ideas and performance by Moss that is extraordinary here. Michael Stuhlbarg also shines, his performance and status is similar to what he played in Luca Guadagnino's 2017 masterpiece "Call Me By Your Name," except it's the polar opposite and like the evil twin brother of his character in that film. Decker also proves she is transforming herself as a mature female voice in cinema today, instead of making a film about trendy girl power with easy solutions, she explores complexities and true human nature that finds subtle and nuanced ways of female empowerment. Her filmmaking might be slow-burn, but it's also ferocious that portrays unspoken longing in a surpassing elegant film.