The expectations of family. The general wariness that can come with age. The baggage and broken feelings that come from past relationships. The societal pressures of race and class. All of these can be stumbling blocks on the path to a new romance. And all of them arise for the central couple the new film from writer-director Clio Barnard.
The film starts by cross-cutting between the lives of the two title characters. Ali (Adeel Akhtar) works as a landlord, collecting rents for his family's properties – though he is quick to offer his friendship and assistance to the tenants. He is also a former DJ and furniture restorer. We also learn early in the film that he and his wife Runa are separating, and that Ali has asked her to keep up the façade of happy marriage in front of his close-knit family. Therefore, the two still live together, though Runa has a new boyfriend she met during her college courses. Ali spends most of his time in his basement room – his self-described "mancave" listening to and performing music. Ava (Claire Rushbrook) works as a classroom assistant for elementary-aged students. She has children and grandchildren of her own and is recently widowed from a husband she has been long separated from. Fate brings the two together because Ali has come to the school one day to pick up the daughter of one of his tenants, who is a student of Ava's. Ali offers Ava a ride home as well. Over the course of the next few weeks, Ali and Ava get to know each other, and form a real connection, learning about each other's pasts, and wondering about the future.
Ali & Ava is a film of many strengths. First among them is Clio Barnard herself. Coming initially from the world of documentary, her first narrative film, The Arbor, was a fascinating blend of actor's artifice overlaid with the real-life recordings of English working-class playwright Andrea Dunbar. Barnard's next two films, The Selfish Giant and Dark River, kept their focus on the working class as well. As a filmmaker, Barnard seems fascinated with regular lives and small moments. But her style is anything but small. Ali &Ava; Ava is full of wonderful filmic moments, most centered around the use of music in scenes. An early, getting-to-know-you type scene involves Ali and Ava dancing together while each listening to their own music on their own headphones. Barnard cuts the action here beautifully between the songs Ali and Ava are each listening to and their own singing voices as they start getting comfortable together. It is a perfect scene. Throughout the film, Ali is tied to dance and rap music, while Ava is tied to country and folk, and Barnard's use of musical motifs is something special.
Barnard's screenplay also does something fascinating that I've rarely, if ever, seen done this way in film. She gives her characters moments of privacy. There are multiple times when characters talk – happy moments, sad moments, and angry moments – and we, the audience, do not get to hear what they say. The dialogue is never given to us in flashback later, or in voiceover. It belongs to the characters. In a scene when Ava and Ali text each other, we do not see their messages. We only see the small smile they bring to Ava's face. Apart from a brief moment of passion at a train station after a weekend away, there aren't love scenes. There are several scenes where we see Ali and Ava wake up together, but Barnard has decided that their time together is theirs, not ours. Even the resolution of the story is not spelled out. It's a fascinating strategy, trusting in the emotional intelligence of the audience to fill in the blanks.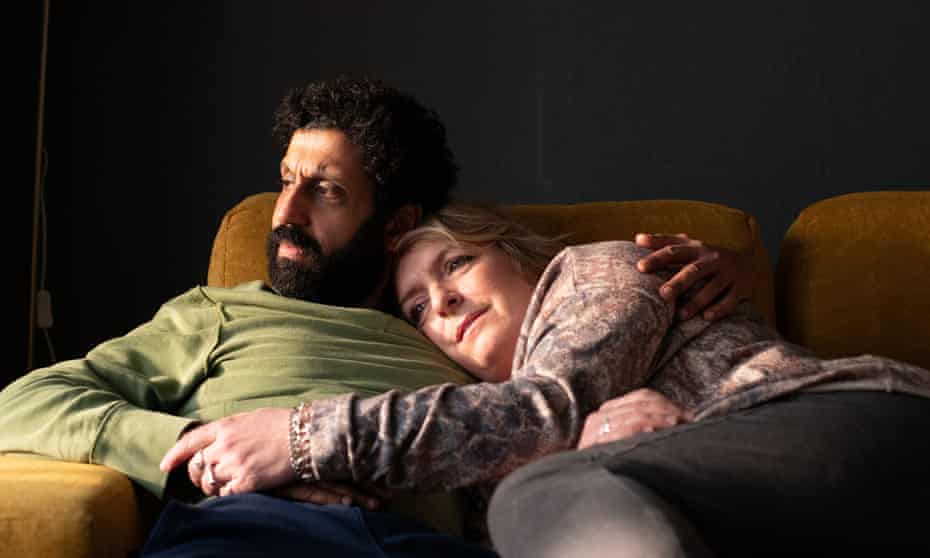 But none of the filmmaking flourishes would amount to much if we didn't care about the characters. Luckily, that's not a concern here. Akhtar and Rushbrook are both doing outstanding work here. Akhtar gives a performance that addresses all of Ali's facets. A man concerned with the approval of his family. A man who is angry about how parts of his life have turned out. A man who still loves and has affection for his soon to be ex-wife but is able to give his heart to a new relationship. Rushbrook's Ava has taken all the hard shots life has to give and is still open and caring. She's intellectually curious and devoted to her children and grandchildren. Both performances are awards level. This is a beautiful film about two lonely people who find comfort with each other. It's a quiet film for adult audiences, something that often seems lost in the shuffle these days.
Ali and Ava will be screening at Cinema Detroit in part of Film Fest Detroit 2022 presented by Cinema Lamont on Sunday, June 26 at 5:30pm. For tickets, please visit https://www.cinemadetroit.org/