A highlight of the 2021 Cannes Film Festival, Annette, the surreal rock opera tragedy and sixth full-length feature film from French auteur Leos Carax is an audacious and unforgettable experience. A remarkable film that will certainly stand the test of time. Even though Carax walked away a big winner at this year's Cannes with the Best Director Award, it is certain the film will be polarizing among critics and audiences. However, with its brief limited theatrical release, among a Amazon Release digital streaming release on August 20th, Annette is a cult movie in the making that will be very much like Carax's previous endeavors such as Mauvais Song, The Lovers on the Bridge, Pola X, and Holy Motors that later get appreciated and praised as time marches on.
It is the most extraordinarily unique and stylized rock musical since Rocky Horror Picture Show, and Brian De Palma's Phantom of the Paradise. Both dazzling and shattering, the vision is a bold tour-de-force that is exquisitely shot and directed. The film is certainly for the more advantageous film goer. It's like a mix of Brady Corbet's Vox Lox meets Richard Kelly's Southland Tales with a tad of Spike Jonze and Charlie Kaufman, but every bit as singular in Carax's own vision. I'm never going to forget the experience I had with this one.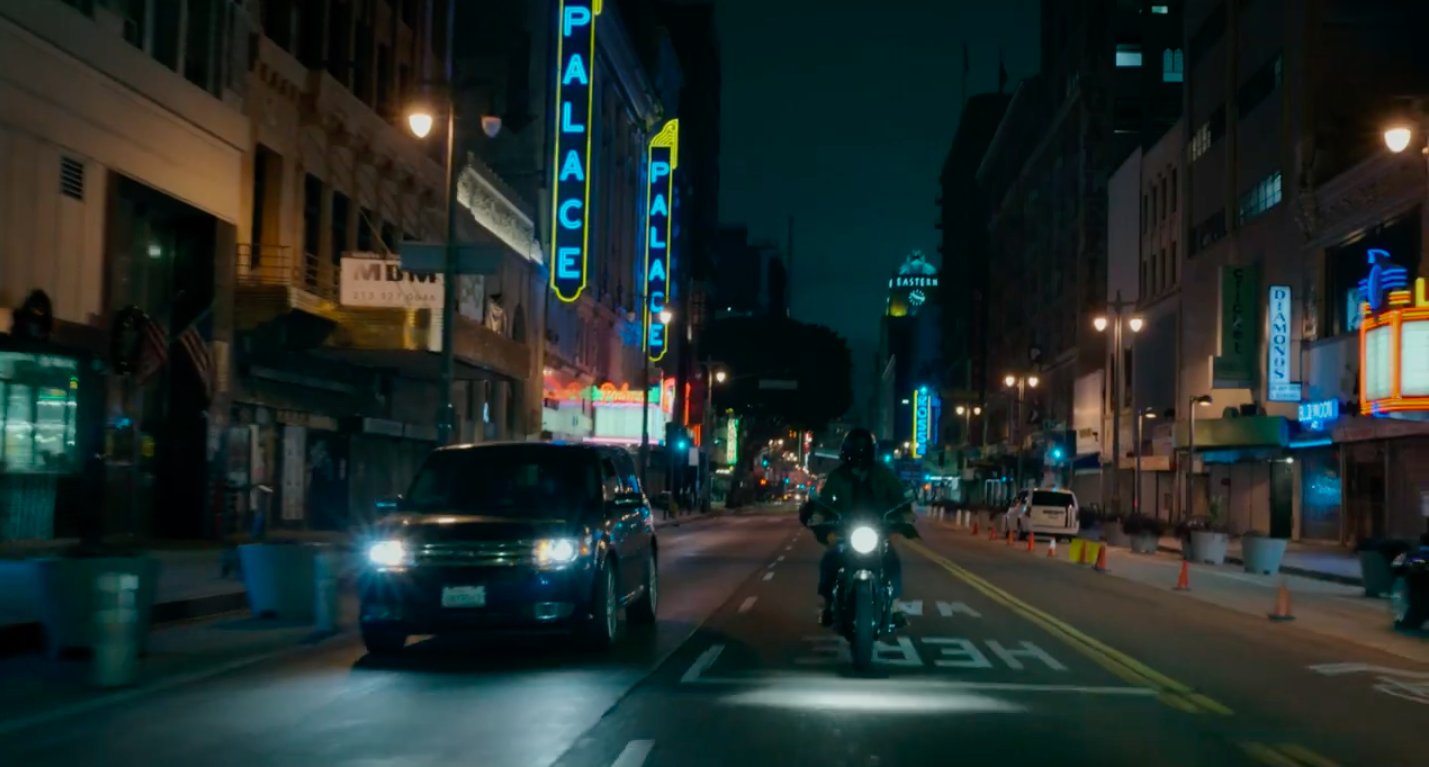 With an outstanding score by the American brother duo Sparks (Ron Mael and Russell Mael), Annette is not only a rock opera, but also very melodramatic, satirical, and surreal. A film about artistry, stardom, love, and self-destruction that all unfolds with immense energy and visual splendor. A film of high emotions that's merged with agonizing emotions and histrionics that are expertly told through lyrics that are both literal and abstract The film's sublime imagery is also metaphorical. If anything, Carax films have always felt like musicals with moments that have dance or musical moments. Whether its the fireworks scene going off as the leads dance on the bridge in The Lovers on the Bridge, or Kylie Minogue performing the song Who Were We in Carax's 2012 masterpiece Holy Motors, Carax one again delivers another astonishing framework amplified with one superb moment and set-piece after the other. Everything from the musical numbers to the technical craft and narrative is bold, spectacular, and staggering. It unfolds with a seamless energy where you never know how its going to unfold.
Adam Driver in a very magnetic and equally raw performance plays Henry McHenry, a very famous standup comedian who uses provocations in his stand-up comedy routine that feel like performance-art where he unleashes all of his anxieties and toxic behavior to the crowd. Sporting a hooded bathroom with an entrance that feels like he's a boxer coming out of an elaborate entrance with smoke in which he always complains are clogging up his lungs. Henry also mopes around, makes politically incorrect jokes, and whips his microphone around, and his audience chants and reacts in accordance with what is going on. It's comedic routine that reflects the humor of Steve Martin's standup in the 70s–and it's clear Henry uses the stage and comedy as a form of therapy for his repressed agony.
Henry is also deeply in love with Ann Defransoux (Marion Cotillard), a distinguished soprano who's also famous that leads a tabloid frenzy over the famous couple and Carax uses a tabloid style show that follows couples in the entertainment industry. In some of the most visually arresting moments, we see Henry on his motorcycle driving through a green Los Angeles tunnel where he picks Ann up after one of her concerts, and the two clamor off into a country note as they sing  We Love Each Other So Much on a countryside highway in a glorious tracking shot. They are a couple who are deeply in love, as we see them walk in a field and they even sing the chorus during an intimate sex scene that's actually passionate, romantic, and works!
However, their love eventually is met with some demise as Henry becomes insecure and has a breakdown of self-hatred during one of his stand ups that ends up ruining his career and canceling his upcoming book. Henry reveals he is jealous of Ann's ex-boyfriend (Simon Helberg), a musical conductor who orchestrates her music. Ann has her own uncertainties, that include her having a nightmare, or rather a premonition of Henry's past and who he really his. During this uncanny moment in the film, Henry's previous girlfriends come out and accuse Henry of  #MeToo situations where the women on the television allege that Henry has anger and control behavior that have led to emotional and psychical abuse.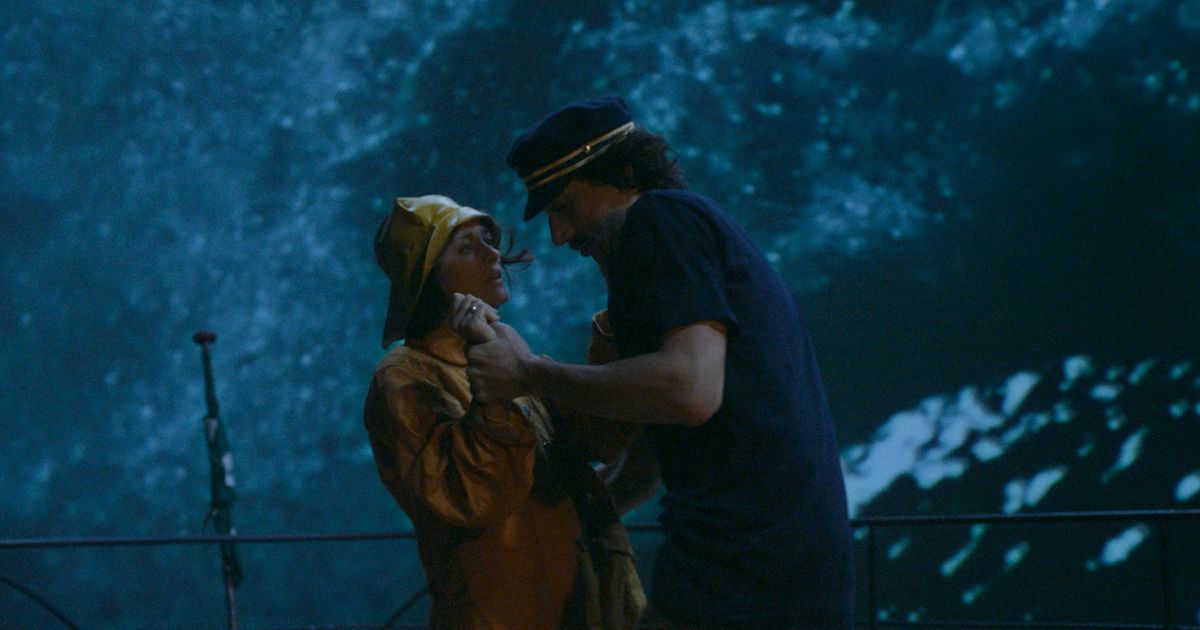 This overlaps during a disaster show where Henry says some very offensive and crude stuff on stage that is the beginning of his own self-demise. Henry has a drinking issue, and there are many shades of A Star is Born, New York, New York, and La La Land in this film, which is also about two creative people who endure complexities and insecurities when one partner ends up gaining more stardom and notoriety than them. During the course of all these uncertainties, Ann and Henry end up having a baby together, and another great musical moment of Ann giving labor is absolutely enchanting as the doctor and nurses sing "Breath In! Breath Out! Breath In! And Push and push! And That's it!" as Annette is born in the number She's Out of this World! is absolutely miraculous. From here, I'm not going to reveal much from here about how the narrative unfolds from here.
The film unfolds very unpredictably with very rich layers and dazzling eye candy. The cinematography by Caroline Champetier is absolutely ravishing, she knows how to bring the osmosis of the camera to the actor and subjects with alluring fashion The musical numbers are all poignant that echo the context of what's going on that makes Annette less of a genre gimmick and more of a confrontation between love and despair. A beautiful set piece where Ann and Henry sing Let's Waltz in the Storm on an ocean boat during a rainstorm serves as a beautiful allegory for the state of the couple's turmoil. Carax makes the material a foil for exploring the loyalty and pain that goes into love and relationships–how our own insecurities can create such a demise of something that is supposed to be so simple and pure as love.
More attentive viewers will be struck with how peculiar and dark some of the material is for a musical. Instead, Annette's impact comes from the commanding performances from both Driver and Cotillard, who together pour so much emotion and energy into the material. The film also triumphs stylistically as Carax continues to use impressionistic sensibilities with luminous color symbolism, merged with actors signing overtures to their feelings with repetitive lines that hold striking melodies. Carax proves once again that he is one of the boldest voices we have today, even though he has only created a handful of films in five decades.
Carax once again delivers an ode and tribute to cinema as Annette has an extraordinary level of artifice that bounces between the supernatural and is always reminding us in a Godardian and Tarantino way that we are in fact watching something cinematic. For the first time in a year, Carax has delivered us an uncompromising vision and musical that puts artistry over simplicity that never feels pretentious or self-aware. Carax convinces us of a deep love between two people and how it becomes a manifestation of anguish, adversity, and finally passion. The elegance of Carax's vision and what he is doing with the genre is not only ahead of its time but also ahead of its audience.
The film's third act is also belabored with so many powerful moments and tragedy. Carax excels here in making something more than just another movie or another musical; he has created a unique world with his singular style that says a lot about illusion. Is love all an illusion? Do we as people live an illusion of how we perceive our reality? Are our own insecurities and self-doubts all an illusion? Carax has always reminded us that we are watching cinema with each of his films, and in Annette he explores the concept of illusion. Each individual will respond differently to Annette, the more auspicious film goer will find it very rewarding. Annette is more than just another film, it's an experience and an unforgettable rock opera that will certainly have everlasting power. This is one of the most remarkable experiences so far of 2021 and the first masterpiece of the year. It's a wild-eye experience where Carax allows the viewer to process many elements that are creative, cinematic, intimate, and even personal. As for the narrative, it lures you in and fascinates you until its poignant finale.