A highly engaging, ultimately intimate drama about a middle-aged woman who is caught in love with two men in her life, Both Sides of the Blade (also titled Fire) is a return to a more conventional wheelhouse that relies more on character depth and linear storytellers that Denis fans have become accustomed to with such works as 35 Shots of Rum and Let the Sunshine In. Greatly acted by Juliette Binoche, Vincent Lindon, and Grégoire Colin, this very complex French love story is more traditional in forms of structure, and not quite as illusory as Denis' other films, but it relies more on the performances, involving storytelling, atmosphere, and emotional shrewdness.
Based on Christine Angot's French novel "Un tournant de la vie", which Claire Denis also co-wrote the adapted screenplay with, Denis and Angot have crafted a modern love story that could take place anywhere at any time; except Denis decided to shoot it under COVID, yet oddly, the COVID precautions give the film a sci-fi ether to it, especially in its themes and set-up; the characters appear to be euphoric on the beaches of the Mediterranean Sea one moment , only to feel disintegration in a virus-induced world in the next. Depending on if we get more viruses in the near future, Denis could be onto something in giving the film a more timeless quality.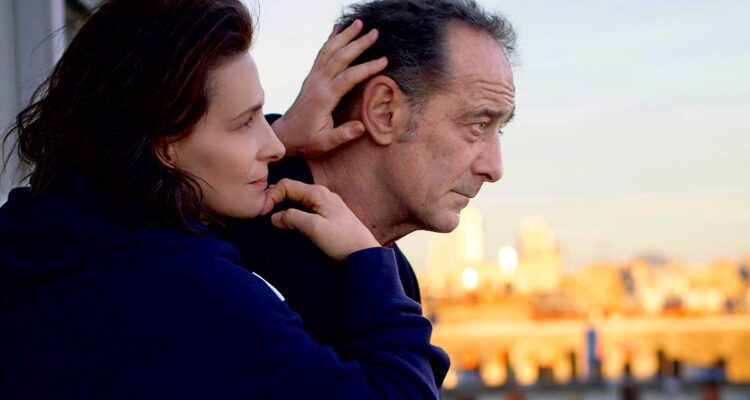 Their radiance of bliss shortly transitions into a world that is less pastoral. As things appear to be soothing still for Sara, she takes on callers on her radio show as they have civil conversations about race, identity, and other discourse in France. Meanwhile, we find out that Jean was a former professional rugby player who recently got out of a prison sentence for an unmentioned crime as he lost custody of his mixed-race son, Marcus (Issa Percia), from a previous relationship. Unemployed, Jean ends up going to the unemployment office and he is so scattered that he even forgets a very essential form. He lives with Sara and frequently visits his mother (Bulle Ogier), who has custody of Marcus in the suburbs on the outskirts of Paris. You can sense Jean is a mess, but he's trying to rebound and resurface his own livelihood.
Jean's financial missteps and struggles seem like a vicious cycle for him, and he even lectures Marcus on how he needs to take control of his life and start thinking about his own future, so he doesn't end up struggling like him. Sara is certainly the breadwinner of the marriage. As she arrives to work at the station, she spots Francois (Gregoire Colin), an ex-lover she was once madly in love with and also a very close friend to Marcus, who ends up becoming a business partner with Jean as they begin to launch their own lacrosse scouting agency.
Eventually, Jean gets busier as the agency takes off, but he tends to grow distant with Sara. He stays out for a long period of time, comes up late from scouting with François, and most of the time he appears to be on the phone with Francois. Jean seems very disappointed that he brings Francois back into their lives, but he keeps him at a distance as well. Sara explains to Jean that she will always have a profound love for Francois that was hard to get over, and that she probably still isn't over, but she assures Jean that she loves her. With masterful staging and exquisite close-ups, Denis masterfully examines Binoche's emotions here with empathy and disquieting anxiety as she can sense her love for Francois is pulling her back.
Both Sides of the Blade end up taking a very wrenching turn once Francois is introduced further into the story. In the story, Denis uses a lot of ambiguities. It's left unclear how or why they broke up. It's certainly draining for Sara to even see the sight of Francois or even be in his presence. There is obviously some sort of emotional baggage between them that strikes an emotional chord for Sara.
In the end, Denis's latest film really becomes a complex study on how life is carried through with endless perception and how we read into things about sociology, society, family, and relationships. In a brilliant scene, Jean has a deep conversation about race with his son Marcus, regarding his future. Marcus ends up processing what Jean tells him, and the interpretations are endless, and the truth is disregarded. This leads to Jean becoming very jealous and suspicious of Sara once she arrives at a client party that Jean and Francois arranged. He ends up building up his own accusations and perceptions after he claims Sara kissed Francois when in fact she pulled away. His sense of control ends up pushing Sara even further away, even to the point where she eventually agrees to see Francois, which leads to some unexpected consequences.
Binoche, who appeared in the last few Denis films, Let the Sunshine In (2018) and High Life (2019), once again delivers a very raw performance that is filled with a complex mix of different traits; she is loving, vulnerable, uncertain, and conflicted. Her unexpected love towards Francois and Jean isn't out of selfishness, but more of how she deals with complexity. She has so many emotions unraveling and she doesn't know how to handle them. Denis doesn't provide simplistic answers here, but she raises some ambiguities about her unspoken longings. Because of her combination of being in control of the relationship only to eventually being indecisive the next, it will leave the audience unsure of what decisions Sara will eventually make, which builds a compelling character study and an engrossing marital drama over the course of the film. Lindon vividly captures the spirit of a stern, but deep-down fragile man who has many emotions boiling deep inside, while Colin, usually cast as a supporting role in Denis films, also has his own ambiguities as to whether he really loves Sara, or if he just desires her more sexually. Denis investigates the healing power of a blank slate in these final scenes.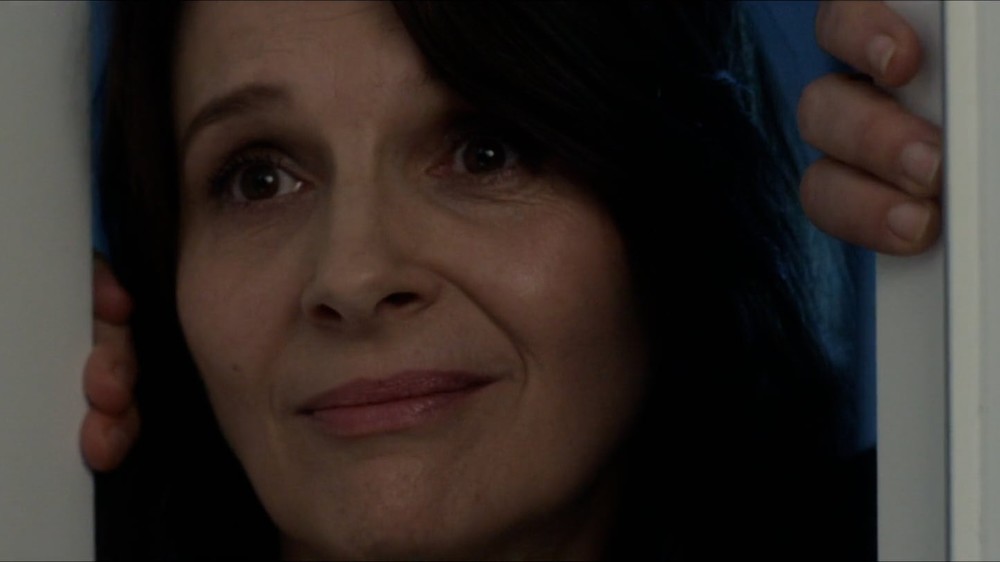 Visually, Both Sides of the Blade is perhaps Denis's most constrained feeling film of her career. Often shot with either tight close-ups or longer lenses, most of the wide shots are just of establishing shots, but Eric Gautier's (Ash is Purest White, Pola X) uses mostly grays and muted colors to capture the characters' abyss into solitude and uncertainty. Contrary to the opening of the film, which is very vibrant and filled with a much wider lens that gives the film an ambient atmosphere, as COVID and racial tension are alive and well in the depths of French society. Denis also utilizes the Paris locales well, both in the city and in the suburbs of Paris, which serve the narrative in very vivid ways. Though not as abstract or as elliptical as her previous endeavors, Denis has once again crafted a very thoughtful and intimate drama, and she pulls great performances from both Binoche and Lindon, who both convey so much raw emotion and anguish with deep resonance.