Veteran Japanese filmmaker Hirokasu Kore-ada makes his second film in a row outside of his native homeland with Broker, an uneven but undeniably poignant crime drama, part road movie. After winning the Palme d'Or in 2018 for his masterpiece Shoplifters, Kore-ada produced and directed a film in France titled The Truth, which was quite forgettable that starred Catherine Deneuve, Juliete Binoche, and Ethan Hawke, and now he finds himself in South Korea. Kore-ada finds him returning to recurring themes on family-related themes and moral quandaries, where it reaches a rich level of humanism that he frequently achieves. Kore-ada is able to collaborate with some of Korea's most gifted talents, including cinematographer Hong Kyung Pyo (Parasite) and its lead actor, Song Kang Ho.
Given Kore-ada's recent success and the success of Parasite, it's not surprising that he's drawn to a story that combines elements of a crime film with influences from an American road movie or thriller. Kore-ada ends up adding nuance to the material by combining genres, while preventing it from falling into the tropes and trappings of Western films, where everything has to be too good or too sinister. While some moments hint at being maudlin, the sentimentality ends up being tamped down-way down, actually—but still resonant and poignant, and the last hour of the film unfolds with grace, after an uneven and borderline dull middle section.
The film is about two friends, Sang-Hyeon (Song) and Dong-Soo (Gang Don-won), who struggle to make ends meet as laundromat workers and turn to the black-market business of being baby brokers to pay off some debts to some local loan sharks. Together, they take babies from a church drop box without leaving contact information about where they got them and attempt to sell them to financially fit families who want children. They end up snagging a baby that belongs to So-Young (Lee Ji-eun), a sex worker who drops her baby off in the opening sequence during a hard rainstorm because she doesn't want to raise her child in a world of crime and poverty. Meanwhile, she ends up being under surveillance by a pair of female police detectives (Doona Bae and Lee Joo Young) who already seem to be onto Sang-Hyeon and Dong-Soo's schemes.
According to Sang-Hyeon and Dong-Soo, though, it's a victimless crime. They rationalize that they are sparing children, and they will just end up living in an orphanage or in bureaucratic red tape that stalls to scan foster parents, where they are able to find the babies' homes on the spot. It's very personal as well, especially for Dong-soo, who was abandoned by his own mother as a child. The detectives end up escalating the investigation by pressuring So-Young to take a plea deal so she can infiltrate Sang-Yyeon and Dong-Soo's small crew, which is accompanied by another orphan, Hae-jin (Im Seung-soo). She is there to gather evidence and to lead the detectives to the traffickers' whereabouts, but things grow challenging once she realizes their attentions aren't so much for exploitation or even money, but for something more noble. They eventually become like a makeshift family on the road trip while attempting to sell the baby.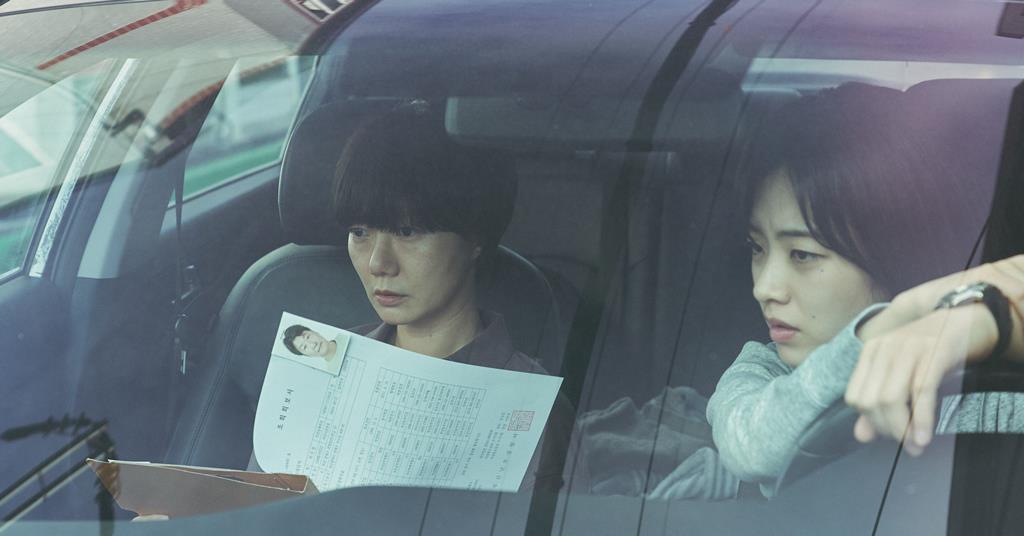 Narratively, the film suffers from an abundance of subplots that feel overly plotted and complicated, involving a murder, gangsters, and a gangster's wife, all of which don't really drive the narrative very far or give it any dramatic momentum. Yet, once the narrative moves past these shortcomings, the film is redeemed with some genuine pathos, which includes a heartbreaking scene of So-Young seeing her baby being held by a potential mother who is being interviewed to buy the baby. While Kore-ada has a big heart and this film could easily have devolved into something more cloying and manipulative, Kore-ada is able to bring subtlety to all characters and situations at play. Even the detectives and a female mobster who sends two henchmen after So-young never fall into one-dimensional caricatures, and Song Kang Ho delivers an assured performance.
Moving and poignant, Broker becomes a study of empathy and moral conundrums in the face of extreme ethics. Kore-ada uses his honest heart to keep you involved, and it always ensures itself with a payoff up until the tender final act that is both ambiguous and rewarding. The movie could have easily been manipulative, but instead, by the time it concludes, you can sense that it's earned its humanism with dignity.
Broker opens in limited theaters Monday, December 26th. It will be screening at the Detroit Film Theater on January 13-15th, 2023 For ticket information please visit Calendar | Detroit Institute of Arts Museum (dia.org)