Cruella, Disney's latest reinvention of the classic story, which opens in theaters and on Disney+, is an amusing, stylish, and equally exhausting film to endure. The film overstays its welcome by at least 25 mins and the film hits a lot of the same notes. However, the film, directed by Craig Gillespie, should be a commercial and widely seen success at the theater now that the distributors are finally beginning to release some of their bigger releases that they have been holding onto during the COVID-19 pandemic.
The screening of Cruella I attended seemed to have a positive reaction that did feel the running time, certainly a star-vehicle for Oscar-winning actress Emma Stone, and filmmaker Craig Gillespie is no stranger to films about outsiders, the origin story is very hit-or-miss that holds a very impressive cast, a first-rate performance by Stone, and some stylized energy for the 101 Dalmatians iconic arch-villain.
Emma Stone delivers an energetic and wickedly charming performance, one that is defined by charisma and some emotional expressiveness in a key scene that almost anchors the entire film. Gillespie should be embraced along with scribes Dana Fox and Tony McNamara for modernizing and taking the familiar material into more original and fresh directions. While part of the Disney franchise, the film stands alone as an origin story and the film doesn't include any appearances from Pongo or Perdita. In fact, there are only a few Dalmatians in the film, they aren't voiced, and they serve more as background animals that help move the narrative forward. It's actually quite commendable that Disney decided to take the film in a more original fashion rather than just rehashing the same thread in their previous  remakes with such live-action disappointments like Aladdin, Alice in Wonderland, and The Lion King.
Stone's performance as Cruella De Vil, a spunky and troubled outsider who's always stood to herself from bullies as the colorful villain turned hero, is quite well-drawn. Remade into a live action version in 1996 starring Glenn Close (who serves as an Executive Producer here). The original Cruella character in the Disney animated and 1996 live action remake (That also had a sequel in 2000 with 102 Dalmatians) was more into fashion and a dog poacher who used Dalmatian skin for fur clothing. Here in the remake, Cruella is more animal friendly and the new Cruella isn't a one-dimensional villain that isn't reduced to old caricatures. While still holding a sinister edge, the new Cruella is an underprivileged outsider that grifts, steals, and goes on pickpocket sprees with her fellow grifters. The real sinister villain in the film is Baroness von Hellman (Emma Thompson), a narcissist fashion tycoon who mistreats and exploits her staff who also holds some secrets into Cruella's past.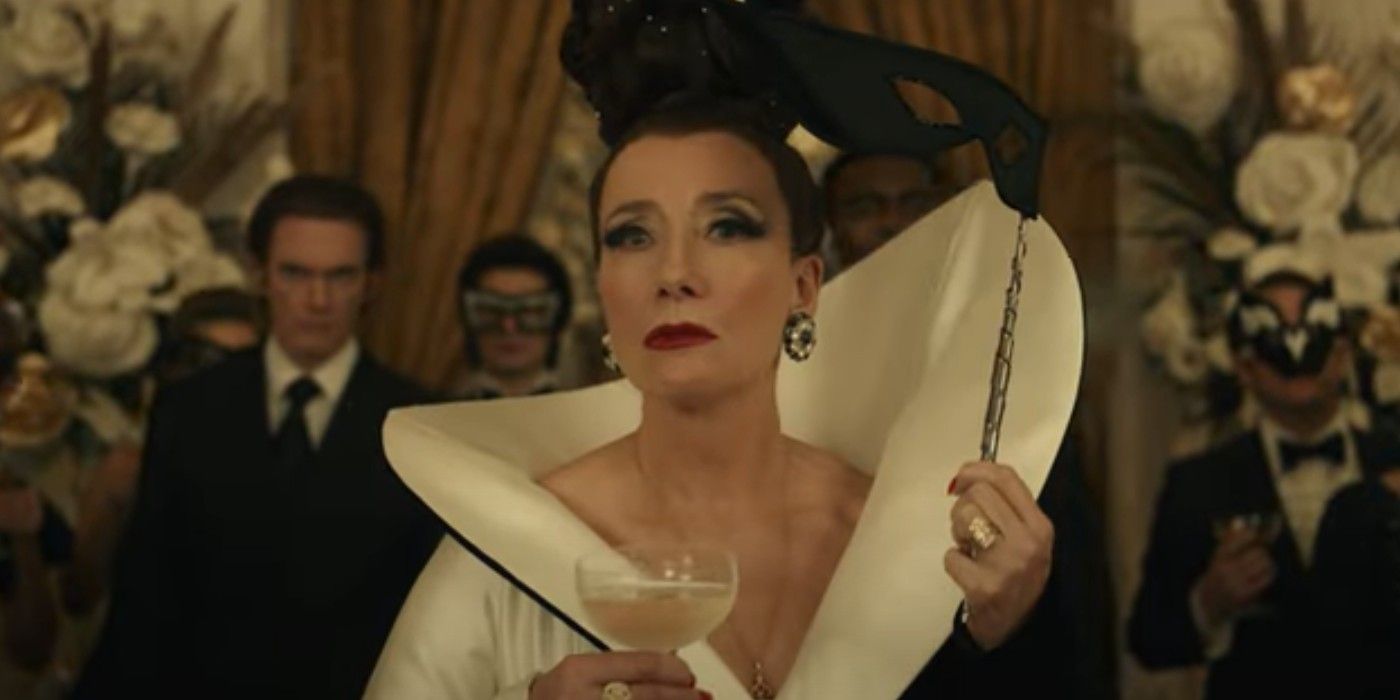 The saga opens with narration from a much older Cruella who gives the audience insights into her troubled childhood, in which her combative nature and defiance of bully classmates and overbearing teachers gets her kicked out of a private school in 1960s London. Young Cruella (Tipper Seifer-Cleveland) ends up starting a childhood friendship with Anita Darling (Florida Kamara). It's there where Gillespie and writers build up Cruella as a marginalized woman who's the outcast of society. It's impossible to watch Cruella and not think of Todd Phillips 2019 Joker and Cathy Yan's Birds of Prey which was the DC adaptation of Harley Quinn. And the fact the film has the stylized energy and spunk of Birds of Prey is quite apparent throughout.
With an abundant use of endless montages, the film transitions into the 70s and we see Cruella (Stone) as a grown woman in which her lifestyle as an orphan has sharpened her street smarts and has certainly made her rough around the edges. Anita (now played by Kirby Howell-Baptiste), has moved on with a career, and her new friends are fellow grifters and capers Horace (Paul Walter Hauser) and Jasper (Joel Fry). Strictly going by her birth name of Estella, and wearing a wig to cover her half black, half gray hair, the future dognaper uses her cons as a way to position herself to Baroness's clothing corporation. There are many secrets that Baroness's past holds that reveal Anita's past and true identity. Disgusted by work ethic, Anita transforms and disguises herself into Cruella as she becomes fixated in starting an ongoing conflict of stunts, vandalism, pranks, and other forms of anarchy that undercut Baroness's ego and abuse of power.
Unfolding as a revenge study, Cruella is an independent and empowered woman, who wants to capture the roots of the tragedy involving her mother and Baroness that left trauma implications for Cruella years later that left her as an orphan. While the conflict between Cruella and Baroness eventually loses momentum due to rhythmic montages that feel overwritten and overstated, it's the smaller and more intimate scenes involving Cruella going back to the mansion to grieve over her mother are moments that allow the viewer to feel empathy and even sympathy for  Anita/Cruella
The film walks a fine line between being a dark family film with shades of Tim Burton and the kinetic sensibilities of a British caper film that echoes the work of Guy Ritchie. Gillespie's framework has always been drawn into misunderstood outsiders, his debut Sundance darling Lars and the Real Girl chronicled a lonely man (Ryan Gosling) who finds companionship with a mannequin doll that never felt perverted or in bad taste, and his previous film I, Tonya was a breezy and greatly acted chronicle of disgraced ice skating figure Tonya Harding. He follows his traditions up with Cruella, which he delivers a flawed, but mostly watchable effort in revamping a classic story that has shades of exuberance and other forms of complete disorganization. Also, for a film so long, it never quite reaches the wisdom or sophistication that the story potentially holds due way too many confrontations between Cruella and Baroness. All around the film has many solid moments, yet is derailed to its very choppy and messy execution. The end result isn't as dramatically engaging as it could have been due to the style and showmanship that suffocates the material. The soundtrack, however, is quite extravagant and on the level of Richard Linklater, Martin Scorsese, Sofia Coppola, and Quentin Tarantino soundtrack good. With a painful running time of 134 mins, the film would have benefited from another edit and two. Overall, Cruella is a watchable and semi-rewarding experience that's certainly hit-or-miss, but should please diehard Disney fans.