"Da 5 Bloods," Spike Lee's follow-up to his Oscar adaptation of "BlacKkKlansman," is another impassioned and timely rendition of the challenges of our modern era. Top-lined by Delroy Lindo, who has appeared in other Spike Lee Joints in the past in "Clockers" and "Crooklyn," "Da 5 Bloods" is the kind of engrossing and galvanizing entertainment that one would you find from a Spike Lee film. And, indeed the film will probably hold some momentum in reaching greater acclaim as the year goes on.
"Da Five Bloods," is easily of the two or three best films he has made in the last 20 years, along with the greatly overlooked "25th Hour" and the exuberant "BlacKkKlansman." Part war film, part deconstructionist film essay, and mostly a heist drama, Lee continues his ambitious and sophisticated craftsmanship to craft a moving drama and engrossing suspense-drawing thriller. Having made social commentary his main priority as a filmmaker and storyteller, with such masterpieces as "Do the Right Thing," "Malcolm X," "Jungle Fever," and "25th Hour," Lee is re-energized by Trump-era polarization where he gets to helm a genre film that unfolds with many approaches and styles. As co-written by Lee and Danny Bilson, Paul De Meo, and Kevin Wilmott, the film benefits from a multi-layered script that ties in relevant subtext and rich themes.
It's no surprise that Lee ventures off into his unrestrained and pioneering filmmaking style as his bold and passionate ideas could appear overstuffed, yet he's able to pull off and accomplished much of what he is after. As stated above, the film merges the war movie with a heist film, and just as he did with "Inside Man," Spike Lee is able to use his voice as a mandate on military interventions and President Trump. Its a film with deep vision and scope, in which Lee utilizes different aesthetics between 16mm and digital that is at times enraged and other times comical. Currently streaming on Netflix, its rare watching a Spike Lee film for the first time on a smart TV instead of the movie theater where it feels like this is meant to be viewed. The material is very dense, perhaps Lee's most staggering film since "Miracle at St. Anna," but it's far more powerful and leaves a greater impact than Lee's other ambitious, yet deeply flawed and unsuccessful war picture.
The timing of "Da 5 Bloods" couldn't be more relevant. As the nation and world feel empowered in bringing essential reforms for the recent murders of George Floyd, Breonna Taylor, and Ahmaud Arbery among many other men and women in the hands of the police and racists; the opening of the film emphasizes on the oppressive nature of the status-quo that remains in place today. The film opens with archival footage of Muhammed Ali, Malcolm X, Angela Davis, Martin Luther King Jr., the Kent State protest, and Black soldiers fighting in Vietnam. Seeing this archival footage truly resonates today as it allows the viewer to realize that status-quo of the current power stricture is still retained today.
Lee's narrative focuses on four characters that are surviving Vietnam soldiers of the Bloods, that is revealed in flashbacks were led under their commander Stormin' Norman (Chadwick B. Boseman). Year later, we follow Eddie (Norm Lewis) has become a wealthy businessman; Otis (Clarke Peters) discovers he has a daughter in Vietnam from a romantic relationship we was once in. Melvin (Isiah Whitlock) became a family man; and Paul (Delroy Lindo) is a proud supporter of Donald Trump, who believes in the president's border wall and believes in the fallacy of immigrants overtaking American labor.
The four men reunite in Vietnam all in hopes of retrieving a fortune of gold that was left buried in the jungle. The men re-brand in Ho Chi Minh City, and it doesn't take long to discover that their mission begins to replicate the bloodshed and mayhem they endured in the 60s. The hunt for Norman's body and the gold drives the plot; while the characterizations and relationships between each of the men remain very complex and nuanced.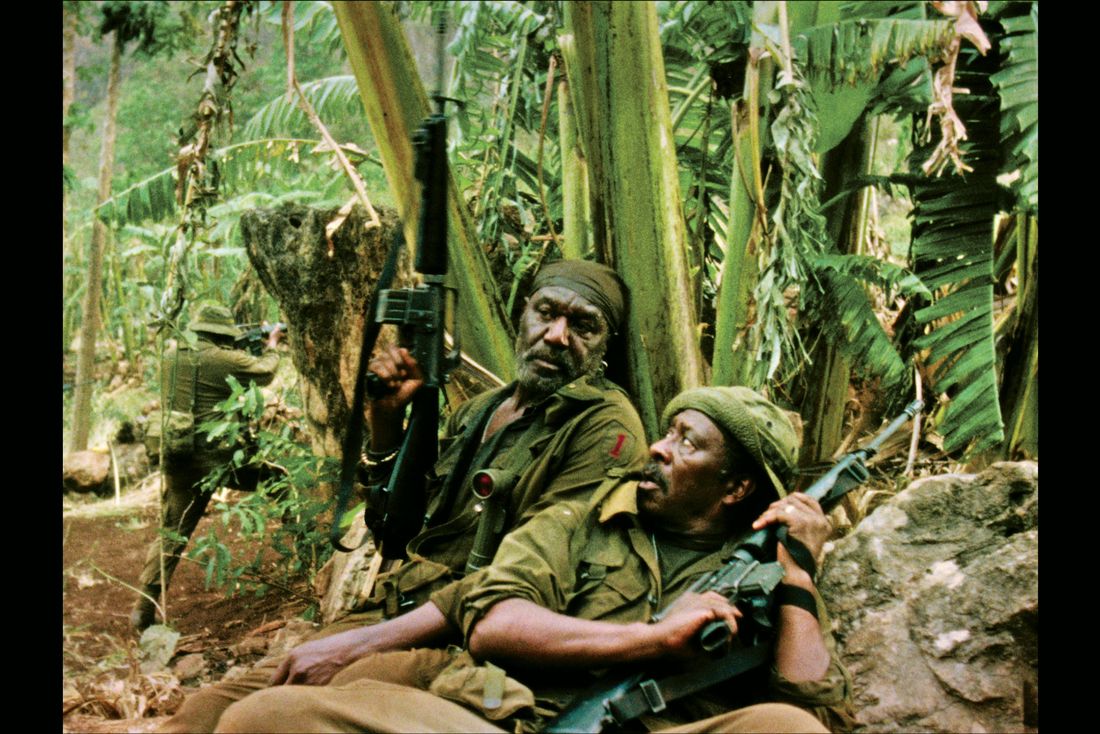 Lee ones again gets innovative with his use of flashbacks, by shooting the war sequences in 16mm, while even having the actors playing the same members, the use of the actors not looking younger does take you out of the film, yet its Lee's style of film stock that allows these moments to feel like faded and edged memories.
The performances are all strong across the board, yet its Lindo who truly stands out the most here. As a Trump supporter who even wears a red MAGA hat, allows Lee to explore the complex and grey areas that he has always done best. Depending on the viewer, some viewers still don't believe Mookie did the right thing in throwing a trash can into Sal's pizza parlor during an uprising on a police murder on an unarmed Black man in "Do the Right Thing." An endless debate that still brews on social media today.
For Lee, Lindo's character of Paul is more of a wounded soul and a survivor of the status-quo that benefits off the misery of people, and Trump's rise to presidency is a result of that fervor that has led to many discouraged people into supporting him. Four years later, we know Trump has indeed hoodwinked many into believing he is this outsider fighting against the status-quo, which in fact we know the president has only furthered the status-quo, by allowing more drone strikes on foreign soils, undermining human rights, and stirring up more racial division and tensions since the beginning of his run for presidency.
Paul's even surprised once his son David (Jonathan Majors) arrives to Vietnam with a surprise visit in hopes of reconnecting with his father. There is certainly disagreements between David and Paul since David is very much against Trump– which shows how the status quo of neo-fascism, war, corporatism, injustices, social Darwinism, and greed has led to disconnects and rifts between family members over the years.
Like Lee's other heist film "Inside Man," Lee has taken the tropes of genre moviemaking of the war drama and heist film and has injected his latest film with sharp social commentary and a deeply personal vision on the healing power of reparations. "Da 5 Bloods" is about world politics, friendship, trauma, power struggles, past sins, decadence, making amends and above all its Lee at his most cathartic."Da Five Bloods" while sprawling and passionate, is still very optimistic. Eventually, a broken system can no longer carry on this much human suffering without a new mentality forming, Lee showcases his plight on expanding and working for a better tomorrow. Lee has spent his entire career making combative art that has truly provoked thought and empathy that will hopefully elevate viewers away from archaic mindsets.