Stand up comedian Iliana Glazer gets to showcase her dramatic chops in TV director John Lee's sophomore feature film, False Positive. A fresh cinematic face where she gets the opportunity to shine in more of a dramatic role, Glazer also serves as co-writer and producer as Lucy– a determined married woman driven by her career, and who is also effortlessly trying to get pregnant by her husband with failed results. Glazer shows a lot of potential in this role and she is certainly a star in the making, I can't wait to see her in even more dramatic and leading roles. She also held comical supporting roles in The Night Before and Rough Night which were very broad and edgy slapstick comedies.
Unfortunately, Glazer's solid performance is enclosed in a vastly uneven film that has jarring tonal shift, in which the build up and first half- of the film impresses as it chronicles the anxiety and alienation of being pregnant. However, as the film progresses into a psychological thriller, it eventually dissolves into a preposterous and ineffective pregnant horror thriller that's just another pale imitation of Rosemary's Baby. Both films actually explored male's coercion of the female anatomy but Polanski's masterwork is delivered in a more ominous and effective way.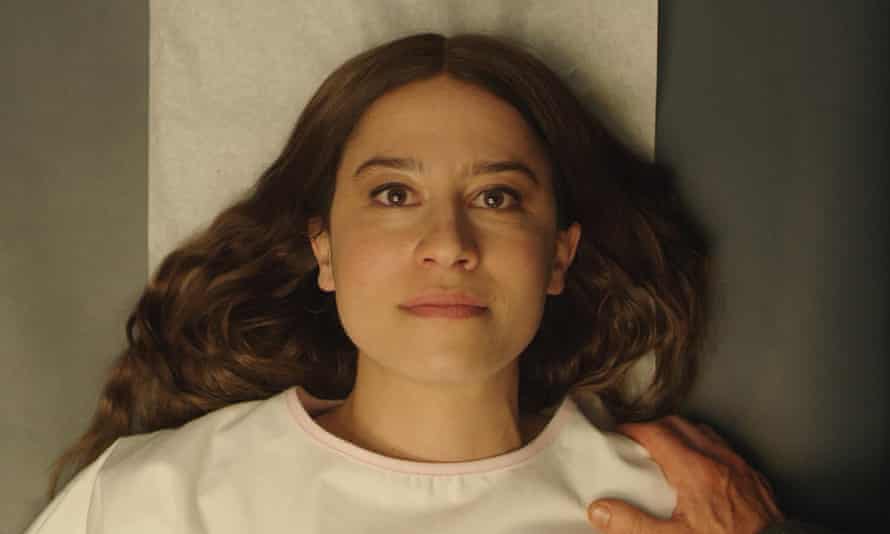 It is certainly a great deal for Glazer and Lee to deliver a film on such topics, the passion and obsessions' of a married couple attempting to have their first child, in which they go through extreme measures to have their first child that ends up putting Lucy's body and fetuses in harm creates some tough choices for the married couple which make an interesting concept for the film. But the strategy by director Lee, a TV director, who begins the film with stylish imagery of a mirror ends up executing the film in a very maudlin and pedestrian fashion that doesn't quite build up the proper atmosphere, chills, or unnerving craft that the script (Also co-written by John Lee) has potential of holding. I imagine what a Nichols Refn or other modern horror director like Ari Aster, Sean Bryne, or Ti West would have done with this material had they helmed it.
Lucy works in advertising, her husband Adrian (Justin Theroux) works as a doctor in New York. After a few years of failed attempts of Lucy getting pregnant, Adrian ends up contacting his medical school teacher Dr. John Hindle (Pierce Bronson hamming it up), who specializes in obstetrician and has unorthodox methods that leads to him gaining high praise in the healthcare industry and science community. After performing an artificial insemination from Adrian's own sperm, Lucy ends up enduring surprising results in which she is soon pregnant with triplets–two boys and a girl–but after filling ill and unease it is revealed that her body and health can have an effect so she has to decide to choose between the boys or the girl.
This ends up causing a lot of stress and panic along with the other daily pressures she already deals with at work that include getting daily lunch for awkward all male co-workers, as her pregnant group of friends just write her stress off as "mommy brain." Meanwhile, Adrian begins to become more controlling of Lucy's decisions as he grows more distant and begins to act strang. She ends up feeling more spiritual and in control of her body over Dr. Hindle once she discovers a more holistic midwife named Grace (Ziinab Jah) who was discovered in a magazine at Dr. Hindle's office.
From there we get muddled fantasies, bizarre transitions into different perspectives, and unearned abstractions that feel discordant and illogical. Glazers comedic sensibilities are hinted at but rather repressed into more dramatic results here, and there is satire to be found in False Positive, but the film drifts away from it as it wants to be and becomes more of a horror film without the chills, frights, or rich psychological effect. The problem is the horror never delivers an impact or punch. Composed mostly of just nightmares that transition into reality, the yarn is populated with horror tropes and familiar horror imagery, along with a lazy third act and confrontation between Hindle and his medical assistant Dawn (Gretchen Mol) and Lucy that is choppy and poorly staged. Ultimately, the film is composed of a compelling build-up and a solid first half that sadly never coheres into the spine-chilling resonance that it thinks it does. While taking satirical jabs of society, marriage, patriarchy, and emotional domestic abuse–False Positive carries potential but the end result is quite unmemorable.