Brimming with confident craftsmanship, cynicism, satire, and dramatic weight, Bruno Dumont's ferocious France views France's political climate and mass media through its anti-hero, a French reporter named France (Lea Seydoux), who manipulates the truth and pushes for ratings for her network. Part character study, part satire, this dramedy owes much of its success to such films as Ace in the Hole, Network, Broadcast, Christine (2016), and even Nightcrawler. Despite some familiar concepts and tone, France is anchored by an emotionally raw performance by Lea Seydoux in her most impressive performance since Blue is the Warmest Color.
Few films since Antonio Campos's Christine have explored a searing, controversial style with the ferociousness and energy that France holds, and Dumont should be embraced for some of his stylistic choices, visual energy, and kinetic style that his film displays. Released just a few years after Bombshell, Dumon's film is more unique, more resonant, and particularly more edgy as well.
At the same time, Dumon's exhausting running time (clocks in over 2 hours), along with some uneven tonal shifts, prevents France from making the masterful film that it has the potential to hold. The film jumbles between having a snide tone and some wrenching drama, leaving the unfortunate impression of the film feeling jarring and even callous towards its character. By merging black comedy with some melodrama, there are times when the film loses its satirical edge and dramatic momentum, which undermines some of the impact the film has to offer.
The film chronicles Seydoux as France De Meurs, France's top news anchor who also holds some celebrity status. Think of her as a French version of Megyn Kelly, who will do anything for attention and ratings, and even start heated debates with politicians she disagrees with. She works for a news network that cares more about profits and ratings than honest journalism, France holds a blithe attitude towards her work as a news anchor. The comic tone is established from the very start and then suddenly takes some sudden detours and surprises that take the film in different directions than anticipated.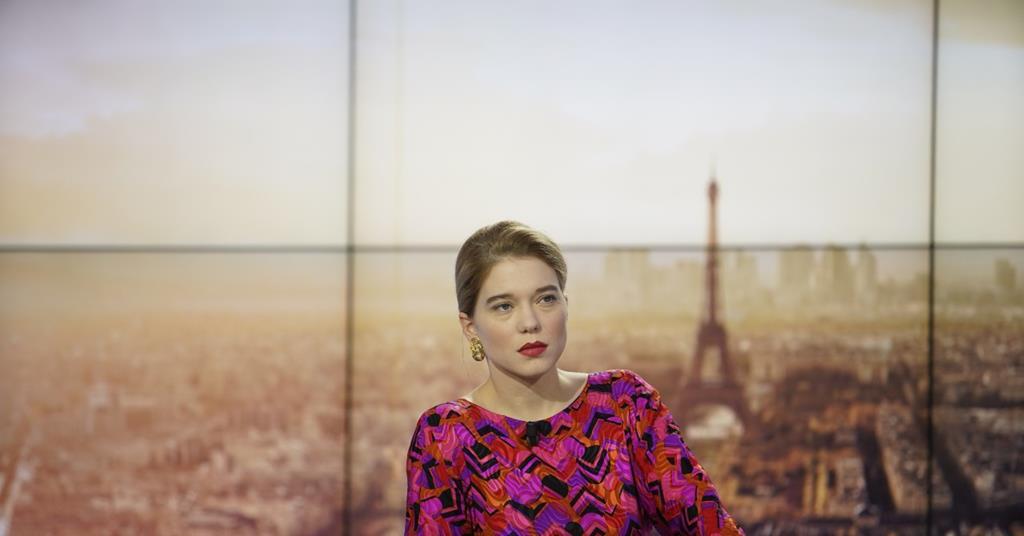 France also has a lot of unethical methods, in which she stages fake travel across the Mediterranean Sea in a raft full of African migrants. while also using reverse angles and doing retakes in between interviews in one take. All of these details are quite fascinating, but it's Lea Seydoux's charisma that grounds the film in a satirical framework where Seydoux brings a certain ruthlessness to the role that echoes Kirk Douglas's determination in Ace in the Hole.
France opens almost like a Borat stunt at a press conference with French president Emmanuel Macron, where it's edited as if France is really there in the press section, in which she gets the first question. Only to get a vague answer by president Macron as her vulgar producer Lou (Blanche Gardin) makes fallatio gestures from the corner of the room making France laugh. This humor recalls the humor also found in In the Loop–but the film transitions into a drama where we're left wondering where all the razor-sharp evaporated. There are some tragic elements that unfold–but it doesn't feel as powerful or as engaging as it could have been. The film ends up becoming a chronicle of fame, in which the script feels like it belongs in the 90s where the internet isn't brought up too much, in which much of the political division today stems from social media platforms who puts profits over unity and ethics. She plays a journalist where everyone treats like a movie star, and she has a vague persona where nobody even knows her political stands (Assuming she even has any principles), which is also off with a little implausibility as we now live in a culture that is drawn into political allegiances.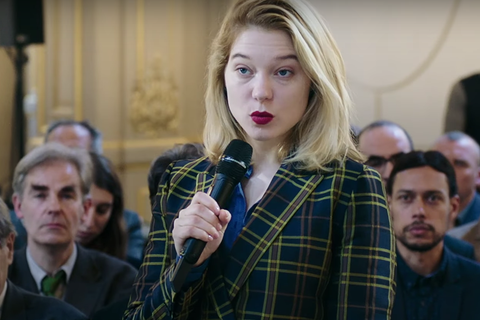 Regularly dressed in savvy dresses and suits, France ends up having a change of heart and begins to care about humanity after she runs into a young migrant immigrant on his bike. Feeling distraught and guilty over the accident, she ends up offering the family some money in which she claims she never gives to charity, and she begins to have a heart in caring about the human condition over her own personal gain. She ends up growing distant from her materialistic husband, and can't connect with her young son who just wants money. A sense of doom slowly impedes on France's character, including an expertly crafted and disturbing car accident scene that is one of the most harrowing car accident scenes staged on film as a tire goes out and swirls on a countryside mountain road with a diesel truck approaching in the background. It's a very unexpected moment in the film, a scene that only brings further tragedy to France's life without revealing spoilers.
Dumont's script isn't as focused or polished as it could be. It appears France's life, departing from being a news anchor, only to return to it while trying to find fulfillment is more material that one feature can hold onto. While Seydoux is superb as France, the script struggles with how to approach her. Lost along the way are some affecting moments that are lightly-sketched such as the mother-daughter dynamic, and the husband-wife dynamic with her detachment from her husband doesn't feel as ripe or has developed as it should be. Nor does a tacked-on relationship with a local skier who ends up being a disguised reporter attempting to cover France, which borders between screwball comedy that doesn't ring true, including a third-act climax that feels like it's unraveling in a completely different film.
By contrast, France misses the mark with some of its aims, but it's Seydoux who shines in her commanding role, as an unethical and superficial journalist who begins to realize the chaotic world around will always have to be reported on. The strength of the film is the character driven stuff towards the end, where you see the growth of France reign in. The weakness is it aims to do too much, but we're really getting a few different movies for the price of one.