Too mean-spirited and overly subversive for its own good, Funny Pages, Owen Kline's (the son of Kevin Kline and actress Phoebe Cates) feature film directorial debut, is an anti-coming-of-age story that benefits from its deadpan sensibilities and disruptive intentions. Daniel Zolghadri, in a very convincing performance, is perfectly cast as the outcast cartoon artist named Robert who's obsessed with dirty comic books, grows tired of his mundane suburban lifestyle, and who moves out on his own after a tragedy occurs to Trenton, New Jersey, determined by any means to make it as an underground cartoon artist in the vein of Robert Crumb or Daniel Clowes.
The film's deadpan hilarity vacillates between Terry Zwigoff's offbeat sensibilities and brutal honesty and that of a crueler, more uncompromising, eccentric style that also echoes the Safdie Bros and Todd Solondz with characters that are misfits and weirdos. This film will certainly divide its audience, as it has an inclusive ending with some downright unlikeable characters, but audiences who like more unconventional indie films about comics and subcultures should be impressed. If anything, Kline should deserve credit for making an original framework where you really never know where it's going or how it's going to unravel as it subverts your expectations on nearly every level.
As written by Kline, Funny Pages already has the tone and feel of Zwigoff's films on many levels. The comic book vulgarity echoes the work of Robert Crumb; there is the suburban satire found in Ghost World; and the film even has a setting for Christmas that echoes the mean-spirited jolliness of Bad Santa. The film's protagonist, Robert (Daniel Zolghadri), certainly looks like Max Mingella's lead in Art School Confidential; he's impolite to his parents, bratty, and is only friendly to people if it can benefit him.
What it lacks from Zwigoff's work, though, is the earned humanism, rich satire, and nuance that is so apparent in Ghost World. It's not to say one should go in looking for sentimental value in films like this. Even Zwigoff's films hold some deep cynicism about people, culture, and society, but Zwigoff's films are never one-dimensional as Funny Pages never holds fondness for any of its flawed characters or aims to find any level of nuance to their nastiness. Despite these quibbles, one can't help being glued to it with its rawness and sharp dialogue.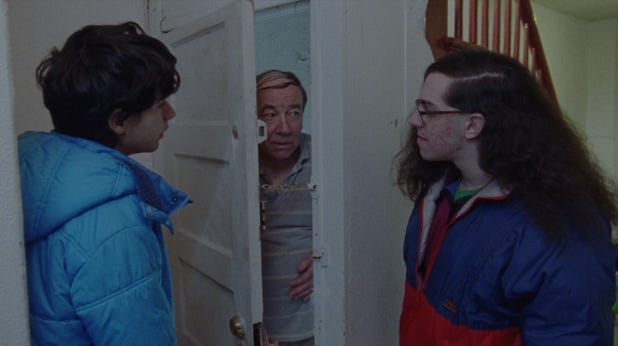 Despite some of these shortcomings, there is still a lot to admire about Kline's directorial debut. There is a naturalism and rawness to it that doesn't miss one false note. While the characters aren't quite as compelling, they are fleshed out and authentic enough that you can easily spot people like this out in public. Off-putting my design, the best way to describe some of these characters is the work of Todd Solondz, who helmed a great array of films about outcasts with such notable works as Welcome to the Dollhouse (1996) and Happiness (1998). It's a film that unfolds with many impressive moments and scenes, despite a very cruel and inclusive climax.
The film begins with Robert staying after hours with his art teacher, Mr. Katano (Stephen Adly Guirgis), who is in awe of his artwork and believes he should not enroll in college and immediately put together an artistic portfolio. Mr. Katano eventually poses nude for Robert to draw. Robert begins to draw him and abruptly excuses himself. As the situation feels awkward, Mr. Katano drives up next to Robert on the roadside as he is walking to his job as a comic bookstore. Sadly, a car suddenly appears out of nowhere and slams right into Mr. Katano, leaving him dead from the accident.
Mr. Katano was about the only person that ever encouraged Robert and his artwork. This leaves Robert saddened and grief-stricken. While there is a lot of sentimental value and artwork of drawings that he holds experiences within Mr. Katano's room, Robert ends up breaking into the work to steal his artwork back before it is thrown away. Robert is caught by the police and is arrested for burglary. He ends up being represented by a public defender, Cheryl (Marcia DeBonis), who gets the charge dismissed due to sentimental reasons over mischievous ones.
Still distraught over the death of his teacher, Robert decides to quit high school with only six months left to go. He also decides to move out on his own and support himself in Trenton, New Jersey. While working part-time at the comic bookstore, he ends up getting a job typing up notes at Cheryl's office and ends up buying a clunker old vehicle from his manager at the comic bookstore. He ends up moving into a very petite apartment in Trenton that is filled with clutter and is boiling hot with an unclean fish tank of murky water. He shares the apartment with two eccentric types, Barry (Michael Townsend Wright) and Steven (Cleveland Thomas Jr.), who are obsessed with old movies, TV shows, and Archie comic books. The furnace is always on full blast, giving the apartment a confined, hell-like feeling as pearls of sweat are always pouring down off their faces. Robert eventually catches them masturbating to his comics one night as they listen to odd music.
Robert's lifestyle change doesn't seem to be working. Even his socially awkward best friend, Miles (Miles Emanuel), seems to be ripping off Robert's cartoon styles, in which he gives some criticism that his latest hand-drawn comic is overly derivative of others' work. Things eventually seem to turn rather hopeful (or so you think) once Robert ends up meeting Wallace (Matthew Maher), a client of Cheryl's, who is very hot-tempered, socially awkward, and grouchy. It's learned that he was a color separator for a popular comic-book chain in Trenton years ago. Despite Cheryl's irritable aura, Robert goes to great lengths to make a connection with him so he can learn something useful from him. Maher's performance here as Wallace is quite the highlight here as it's the most authentic and raw supporting performance so far this year. The performance channels Harvey Pekar from American Splendor or he feels like a a character right out of a John Waters film. He's very disgruntled and just ready to explode at any moment. Their encounter leads both of them to a bizarre confrontation with a Rite Aid pharmacist whom Wallace is accused of harassing, and possibly the worst Christmas you could imagine. If you're looking for a pay-off or character arc between Robert and Wallace, you won't find it here. The film is about subverting cartoons, so this is clearly the direction Owen Kline wanted to take his film in.
The movie gets worse and more cynical as it progresses, forcing each character to be more and more repugnant towards each other to the point where everyone gets punished. As a result, during the Christmas breakfast near the end, Kline vilifies the main characters' parents, all-too-traditional parents (Maria Dizzia and Josh Pais), who have every reason to be suspicious of Wallace's unexpected visit. All of this leads to some hostile confrontations that seem ill-conceived and overly pessimistic, as it becomes a pessimistic film rather than a film about pessimism. While Kline builds up a case of unique artistry and determination, he never quite finds the hypocrisy, vulnerabilities, or payoffs. It ends up just becoming a bleak vista of life's failures and disappointments that are discovered at a younger age. This never quite leaves the viewer with any empathies or sympathies, just a hover of sourness.
In the last segments, when Robert's true intentions become clear and when Kline's theme about mediocrity and artistic failures shines through, the ending turns into a very inclusive one. The film is certainly uncompromising and takes a more unconventional turn as it defies expectations, which is fine, but the measures are taken way too far and that doesn't hold much restraint. Certainly, a filmmaker that holds a large amount of potential, Owen Kline's debut feature certainly holds a lot of merit and insights on modern day creativity and life's disappointments. And while it's always interesting to see a filmmaker's first work, especially to see how it ages as we see future works, it's also sad to see Kline possibly bite off a little more than he can chew here. The film doesn't seem too much in love with comics, artwork, or its characters. What is left is a very cynical film that leaves a lot of room to admire. However, while this indie film is just too sour and mean-spirited, it falls short of reaching something that hints at having greater thematic content, narrative strength, and deeper characterizations. Nonetheless, there is still a very refreshing voice at work here. I hope Owen Kline has a co-writer on his sophomore film because he's onto something, and with that, Funny Pages is a slight, but still oddly engaging experience.