liza Shlesinger's amusing but clunky Good on Paper, directed by actress and Hollywood TV director, Kimmy Gatewood, is mostly a clever and highly watchable rom-com that is now streaming on Netflix. With a breezy pace of just 92 min, Good on Paper is consistently comical, and ideologically complex on the facades of modern dating.
Judged by the results, however, it's hit-or-miss, a comedy of errors filled with many twists-and-turns that keep you guessing (It also has some dead spots) and for the most part it should be embraced for taking a mostly unconventional path with its conventional build-up. A femme driven comedy that could be perceived as a feminist film and partially inventive, in many ways Good on Paper echoes the work of a Judd Apatow comedy, except it's 40 mins shorter and wraps at the perfect running-time.
Shlesinger plays Andrea Singer, a Los Angeles stand-up comedian and struggling actress who goes in and out of numerous auditions, who's still single because she has put her career in front of love, she has a friend with benefit on the side, and gives comedic insights about her experiences in her standup routine, that crosscut in bettween scenes as she reflects what the audience just observed.
Andrea really just wants her moment after all the endlessly handwork and time she has spent on her acting career. Completely drained after one failed audition after the other, in which she has a local rival from the beautiful and charismatic celebrity actress named Serrena Halstead (Rebecca Rittenhouse), but she ends up encountering Dennis (Ryan Hansen), who is charming, kind, sophisticated, and dorky all in one. Dennis, a hedge fund manager who's also educated, a graduate from Yale, has good taste, and is very polite to Andrea. Dennis is very kind to her best friend and local bartender Margot (A hilarious Margaret Cho) There is a catch, Andrea puts Dennis  in the friend zone because she isn't quite attractive to him, well yet.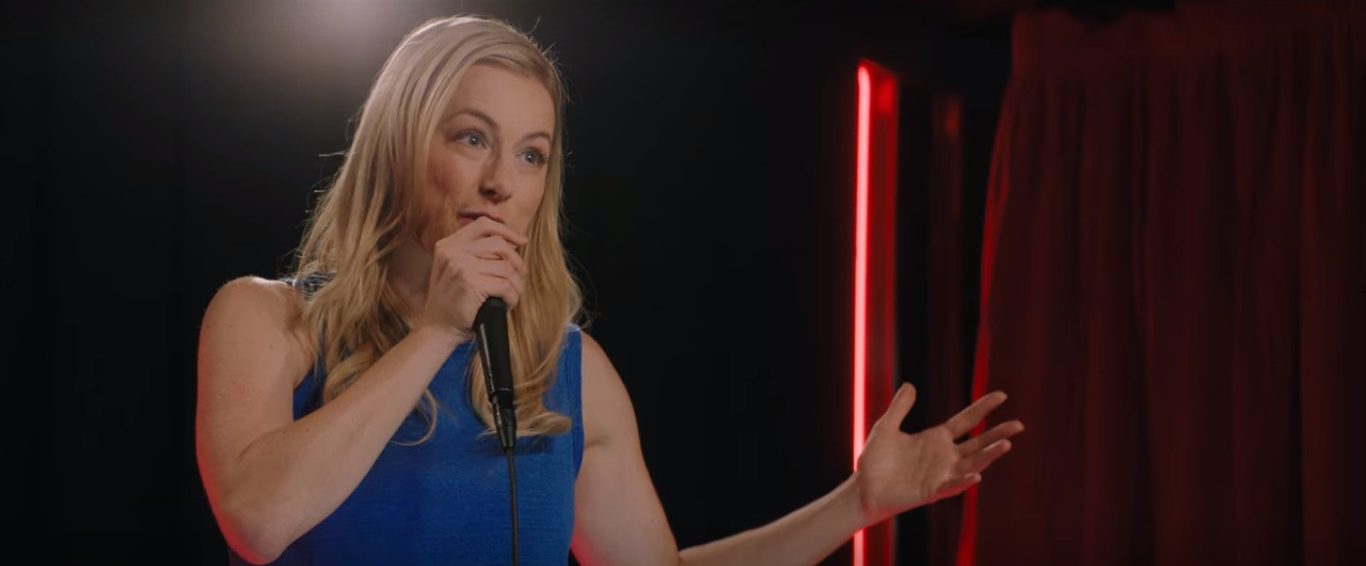 Eventually, Andrea ends up landing a role in a sci-fi TV series and she finds Dennis is very supportive of her acting. Dennis ends up confessing his feelings for her and Andrea is very reluctant in starting a brand new relationship just as her career is starting to launch. She even gains sympathy for him after he informs her that his mom is diagnosed with cancer.  To clear his mind, Andrea feels sorrow so she decides to ease his mind as they both go out and bar hop together one night upon drinking and taking shrooms. Eventually, Andrea ends up  falling for Dennis after she sees his support and care. Everything seems to working out for Andrea, except there is another catch–Andrea never gets to meet Dennis's mother, see his house, meet his friends, see his work, and other odd things being to start happening after he keeps canceling plans with her, and Andrea begins to starts catching him in one lie after the other. Margot is also very suspicious of such behavior, and does a background check, and well the title says it all.
Rest of the tale seems to be familiar stuff of boy losing girl and then girl trying to regain boy, but the duo of Hansen and Shlesinger is quite dynamic that offers a fresh and familiar perspective to anyone who tries dating in this modern world. Inevitable comparisons will be made to Judd Apatow, especially Trainwrecked, which was also about a woman in her 30s trying to get her life back on track.
There is some fresh commentary and ideas in the film about insecurity and misogyny. In which some insecure men out there believe all women are shallow and only want to date successful and well fit men, so some men rationalize that they have to put on this projection of success to attract women. The film also has some ideas on the healing power of best friends and how it's essential sometimes put blind love down and gain a fresh perspective because it's truly your friends who have your best interest at heart.
Good on Paper could have been a more successful comedy had it not stray away from it's comedic momentum. While fresh and insightful on many levels, the film loses it's charisma in the third act during a courtroom scene that felt completely unnecessary, overwritten, and jarring. It's as if Shlesigner didn't know how to end the draft so it feels very tacked on. Despite the movie's quibbles, Gatewood and Shlesinger still deliver belly laughs and charms. With a mix of romantic humor merged with some dark humor and serious overtones, the film wraps up at just the proper running time and never overstays its welcome.